Ad Tiers Are Crucial for Streamers in Their Domestic Battle for Viewers
Most U.S. adults across demographics are in favor of ad-supported services over ad-free ones if it means a smaller monthly price tag, writes media and entertainment analyst Kevin Tran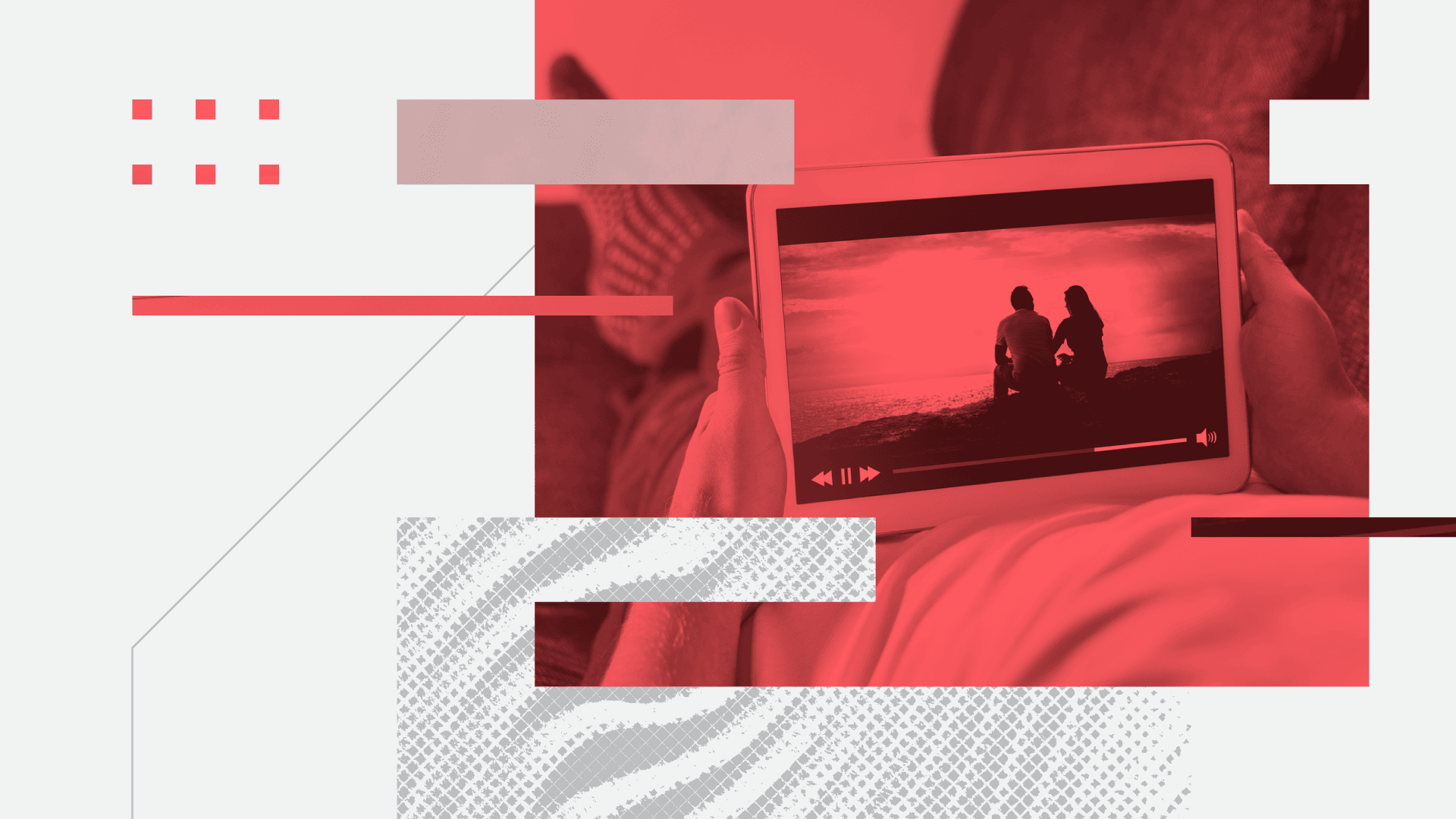 Ad-supported tiers will help video streamers in the U.S. monetize younger viewers and could even extend the lifetime value of their content. Video streamers should also take note of the new and compelling bundling opportunities that arise with the launch of ad-supported tiers.
While free or low-cost ad-supported streaming has been offered on a number of platforms for years, the model is becoming increasingly popular among the major players that have long been ad free-only: In March, Disney announced that it would launch an ad tier for its Disney+ service later this year, while Netflix co-CEO Reed Hastings said in April that the company was exploring how to best reverse its longtime ad-free stance. Meanwhile, HBO Max launched its ad-supported tier in June 2021. 
Economic headwinds have underlined the importance of lower-priced options. And with the domestic video streaming market looking as saturated as ever — thanks largely to Netflix's morbid Q1 2022 results and Q2 subscriber forecast — video streamers simply need another way into consumers' wallets. 
As they push forward with ad-supported options, platforms won't necessarily be driving away a particular age group: Ad-supported streaming services are more popular than their more expensive ad-free counterparts across all generations, per Morning Consult survey research.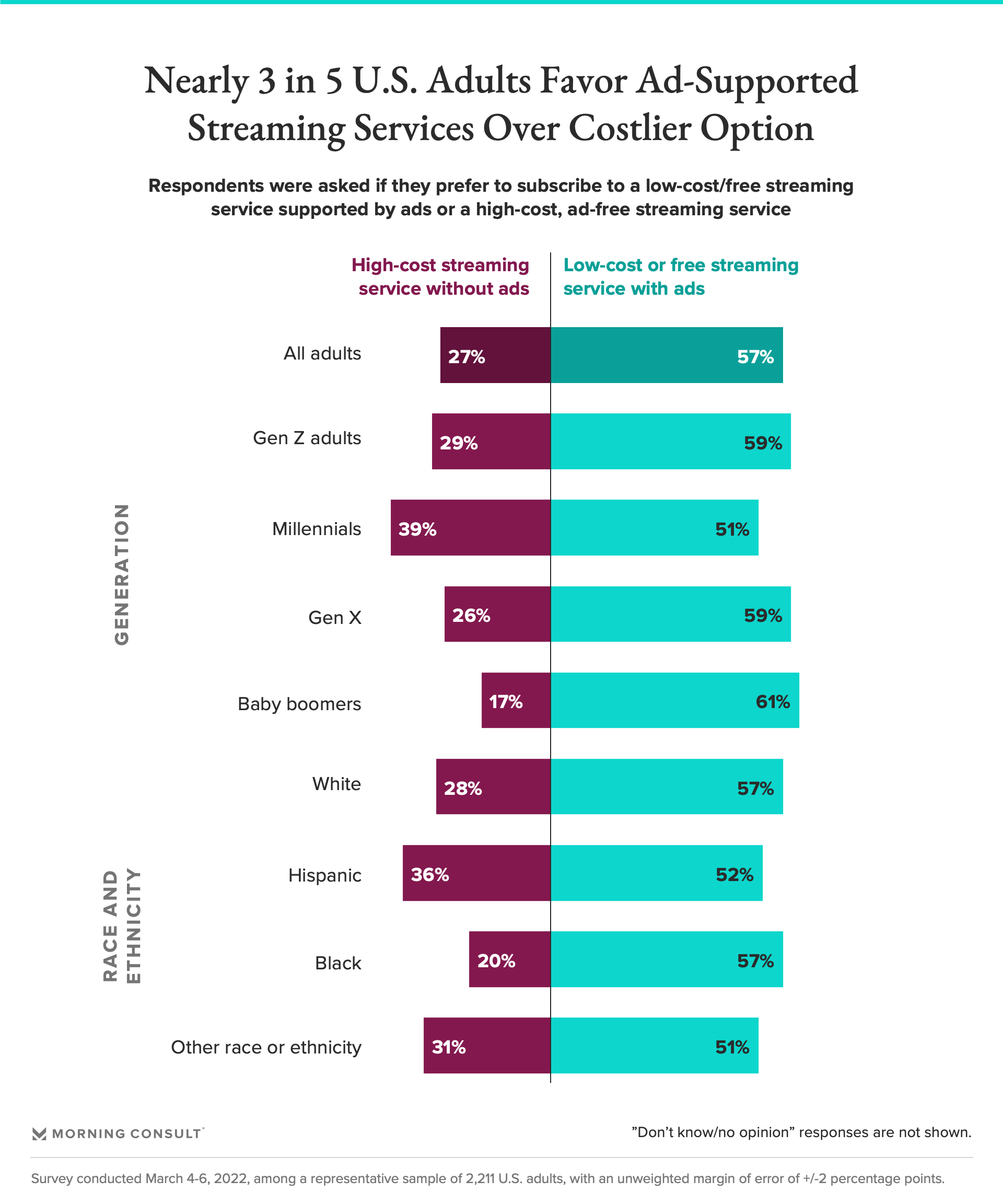 Moreover, a healthy 59% of Gen Z adults indicated a preference for the lower-priced ad-supported streaming option. This research should be particularly relevant to major media conglomerates, which must turn their focus to Gen Z in the decade ahead as that cohort increasingly joins the workforce and gains significant purchasing power for the first time.  
Ad-supported tiers were also preferred by Hispanic and Black respondents, who should be a priority for video streamers interested in luring younger viewers. As of 2019, the median age of single-race non-Hispanic Black Americans in the United States was 35 years, while that figure was 29 for the U.S. Hispanic population, per a 2021 analysis by Pew Research Center. Meanwhile, the median age for the white population of the United States was 43 years.
Demographic support aside, ad-supported tiers will become more valuable because they allow video streamers to get more mileage out of their content by way of staggered releases. For example, Netflix could eventually experiment with debuting new seasons of high-profile series like "Stranger Things" on its ad-free tier one month ahead of their release on its ad-supported tier. 
Keep in mind that previous research has suggested that big Netflix titles nab the majority of their lifetime viewership within the first month following release. Rolling certain big titles onto an ad-supported tier during the second month on streaming allows for a potential second wave of hype, which could end up making the overall lifetime buzz that a movie or show receives greater than it otherwise would have been. For example, the show "You" originally premiered on Lifetime but became a hit when its second season debuted on Netflix a year later.
Ad-supported tiers also open the door to lower-priced bundles. Paramount last September started offering Showtime bundles for $10 and $13 a month that respectively included ad-supported and ad-free Paramount+. Disney could follow suit and introduce a new, low-cost bundle for Disney+, ESPN+ and Hulu once its ad-supported Disney+ tier launches. 
Introducing cheaper bundles could enable media companies to attract more Gen Zers, who tend to be somewhat more frugal than other generations when it comes to streaming purchases: 70% said they spend $45 or less per month on streaming subscription offerings, compared to 61% of millennials and baby boomers and 64% of Gen Xers. 
Respondents were asked how much on average they spend per month on streaming subscriptions
Survey conducted March 4-6, 2022, among a representative sample of 2,211 U.S. adults, with an unweighted margin of error of +/-2 percentage points. Figures may not add up to 100% due to rounding.
In the years to come, ad spending that would have otherwise been earmarked for large social platforms could be funneled toward ad-supported video streaming tiers, which won't host user-generated content that could threaten brand safety. (Elon Musk has already framed his Twitter takeover partly as an effort to boost free speech, leaving some advertisers to express concern that the move could create an inhospitable environment for their campaigns, according to The Information.)
And average revenue per user (ARPU) among ad-supported tiers could eventually be substantial — potentially even surpassing that of ad-free tiers. During the Q1 2021 earnings call of Paramount, then called ViacomCBS, Chief Executive Bob Bakish said he saw Paramount+'s ad-supported tier eventually generating higher ARPU than its pricier ad-free tier. Meanwhile, Discovery has said before that ARPU from Discovery+'s ad-supported tier already exceeds that of its ad-free tier. And former Disney streaming chief Kevin Mayer in April said that ARPU among Hulu's ad-supported tier during his tenure was "materially higher" than that of its ad-free tier due to how much monthly ad revenue the streamer generated.
Even as ad-supported options rise in prominence, the market for ad-free streaming products won't disappear entirely: The ad-free tier will remain a tool that allows streamers to upsell consumers who become power users of their services, while there will likely always be consumers who are willing to pay the premium for ad-free viewing experiences that weren't possible on linear TV.
Kevin Tran is the senior media & entertainment analyst on the Industry Intelligence team, where he conducts research, authors analyst notes and advises leaders in the media & entertainment industry on how to apply insights to make better business decisions. Prior to Morning Consult, Kevin was a media analyst at Variety Intelligence Platform, Variety's premium subscription service. Kevin graduated from the Haas School of Business undergraduate program at the University of California, Berkeley. @ktran223
For speaking opportunities and booking requests, please email [email protected].
We want to hear from you. Reach out to this author or your Morning Consult team with any questions or comments.
Contact Us