subscribe
Data-Driven Insights On the Trends Shaping Your Industry
Powered by Morning Consult's high-frequency survey data and team of industry, economic and geopolitical experts.
What Morning Consult Pro subscribers get access to
---
Quick, vital insights that cut through the clutter
Our expert analysts leverage proprietary, high-frequency survey data to deliver instant, actionable insight into how major developments are impacting public opinion. 
Including
---
In-depth reports & analysis to keep you ahead of the competition
Morning Consult Pro's in-depth reports help subscribers plan for the long term by delivering the foresight needed to navigate major trends that are reshaping industries.
Including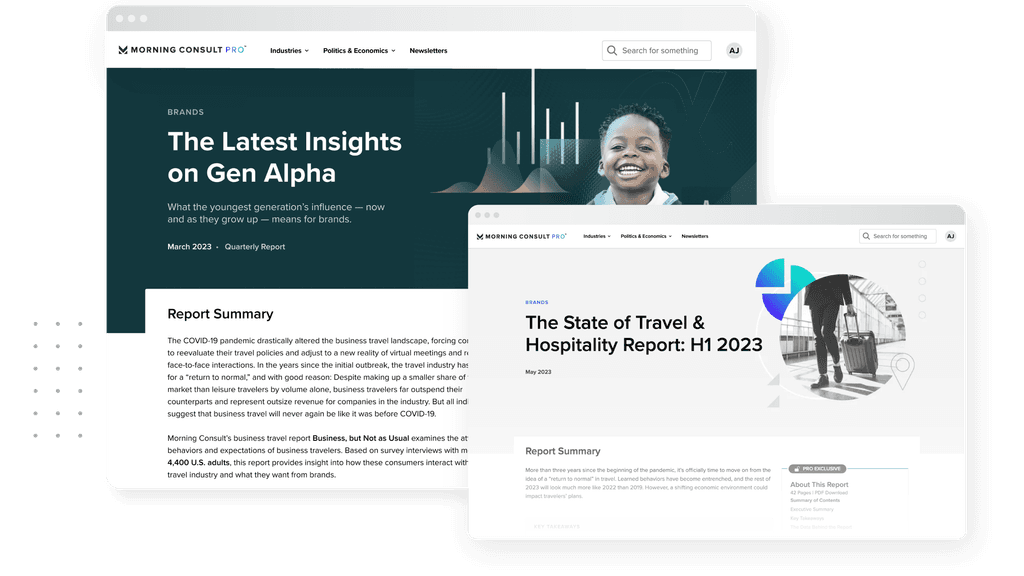 ---
Charts and data built for strategic storytelling
Morning Consult Pro's charts & data help subscribers thoughtfully visualize the impact of news & trends in their industry.
Including
Built with you in mind
We developed Morning Consult Pro as a new content delivery platform to help you get the information you need, in the formats you prefer, with the least amount of friction.
Unlimited access to analysis
Unlimited report downloads
Unlimited chart pack downloads
Try Free for 30 days
What we cover
Stay ahead of the trends and news driving your industry with our expert analysis. Explore our coverage areas:
Pricing
1 Seat
$99
per month
Billed as $1,200 for 1 year. Taxes may apply.
5 Seats
$83
per user per month
Billed as $5,000 for 1 year. Taxes may apply.
up to 20 SEATS
As low as $42
per user per month
Contact us for pricing
Contact Us
Learn how to get everyone on your team Pro access