Alcohol Spending Bounces Back, but Some Consumers Continue to Drink Less
Food & beverage analyst Emily Moquin unpacks the impact of budgetary pressures on drinking behaviors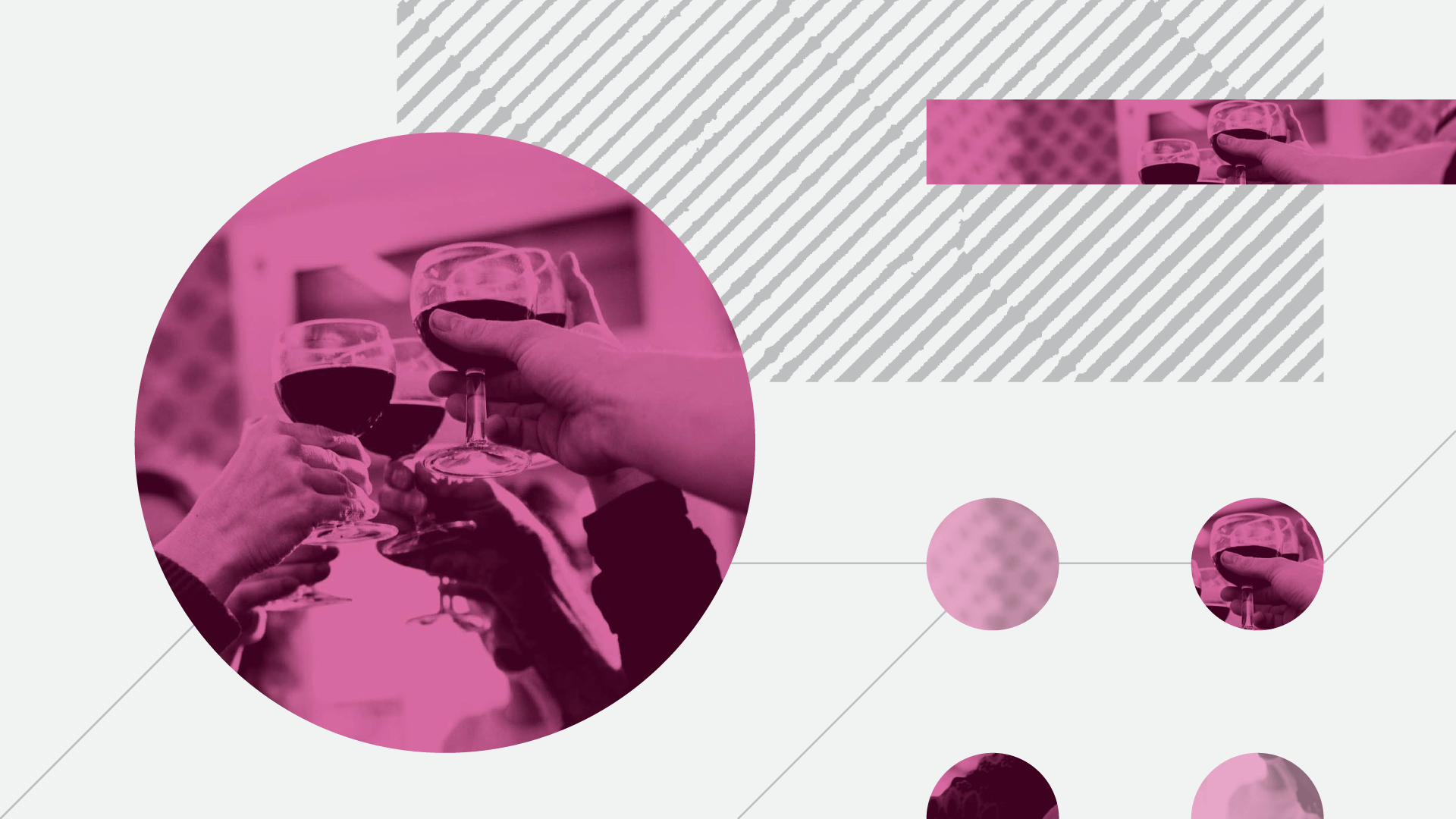 Economic pressures and evolving social calendars are largely shaping consumer drinking behaviors in the summer of 2022, but the wellness-driven moderation movement is still part of the equation and is likely to have long-term implications for the alcohol industry. 
For more exclusive data on adult beverage trends, make sure to download Morning Consult's H2 2022 State of Food & Beverage report, launching on Aug. 22. Subscribe to Our Best Intel, a daily briefing on the most important data, charts and insights.
Spending on alcohol has rebounded, returning consumers' appetite to where it was a year ago. That should be a good sign for the adult beverage industry, but a deeper look at spending data and changing consumer preferences suggests a more nuanced outlook. 
High earners' alcohol spending offsets declines among lower-income groups
In the spring, consumers reported cutting back on alcohol spending and drinking frequency amid climbing gas prices and declining consumer confidence. Now, as gas prices have fallen and inflation has eased slightly, alcohol spending is nearly flat compared with a year ago. U.S. adults ages 21 and over reported spending an average of $34 a month on alcohol in June, a dollar more than the same time last year. 
This comeback is buoyed by higher-income consumers, who unleashed pent-up travel demand in the second quarter of 2022, likely contributing to higher alcohol spending. But for middle- and low-income consumers, budgetary pressures brought on by rising costs in other categories are lingering and prompting cutbacks.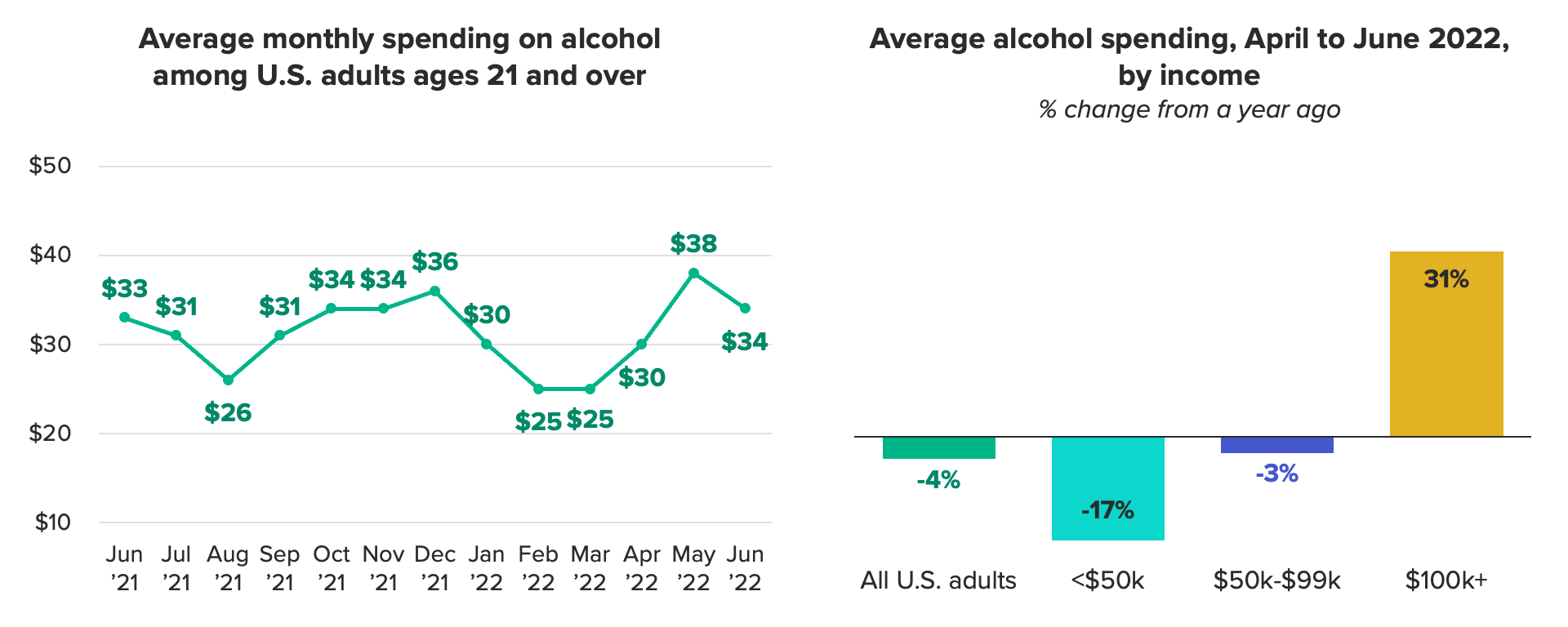 Source: Morning Consult Economic Intelligence. In June 2022, Morning Consult released a new methodology for tracking spending data.
Higher earners' concealing the full impact of worsening purchasing power is not a unique trend to the adult beverage industry. This category-level finding is consistent with Morning Consult's latest consumer spending data, which finds robust spending by higher-earning adults is masking the degree to which purchasing power is deteriorating across the income spectrum.
Spending changes may also mean shifting purchasing patterns in the adult beverage category. Higher-income consumers, not feeling acute strain on their monthly budgets, can continue to purchase premium products to drink at home. They may even purchase more adult beverages for at-home consumption as they look to save by trimming down away-from-home drinking. In contrast, those making less than $100,000 annually may be purchasing lower-cost adult beverage products; switching between subcategories of spirits, wine and beer; or cutting out alcohol spending entirely to try to reduce expenses or keep them flat in this category.
Changes in spending patterns are underscored by changing drinking behaviors
Underlying this spending data is a shift in consumers' drinking habits. Fewer U.S. adults say they drink alcohol at all: The share declined from 63% in October 2021 to 58% in June. For those who do drink alcohol, nearly 3 in 10 (29%) reported in July that they drank less than in the prior month. Millennials and lower-income consumers, both of whom experience lower levels of financial well-being than their demographic counterparts, have made the most adaptations. 
Share of alcohol drinkers who said they drank more, the same amountor less in the past month
Survey conducted July 12, 2022, among a representative sample of 1,253 U.S. adults ages 21 and over who said they drink alcohol, with an unweighted margin of error of +/-3 percentage points. "Don't know" responses not shown. Figures may not add up to 100% due to rounding.
Saving money, fewer social plans and managing weight top the list of reasons for this change in behavior. Cost pressures in other categories, from gas to groceries, are impacting consumers' purchasing behaviors in alcohol, despite the fact that price growth hasn't been as pronounced in this category. Saving money is the goal for around 1 in 3 consumers who say they are drinking less. 
As a largely social activity, drinking is also closely linked to changes in consumers' social calendars, which are in flux due to changes in their day-to-day schedules. Nearly 1 in 4 alcohol drinkers (23%) who are drinking less said it was due to fewer social plans. This goal likely goes hand in hand with saving money, as consumers may intentionally be making fewer social plans to help control expenses. 
For others, budgeting calories is more of a concern than budgeting dollars — 23% said they drank less to manage their weight. While inflationary pressures will eventually ease, the focus on health benefits is here to stay.
Alcohol drinkers' reasons for drinking less last month
Survey conducted July 12, 2022, among a representative sample of 368 U.S. adults ages 21 and over who said they drank less last month, with an unweighted margin of error of +/-5 percentage points.
Closely connected to health benefits is the moderation movement. From Dry January to Sober October, the aim is the same — to take a month off from drinking alcohol. In July, 30% of drinkers (and 36% of millennial drinkers) said they've intentionally taken breaks of a month or more from drinking alcohol. Health is the primary goal: 91% of Dry January participants said they committed because they were trying to be healthier.
Shares of alcohol drinkers who have intentionally taken periodic breaks from drinking alcohol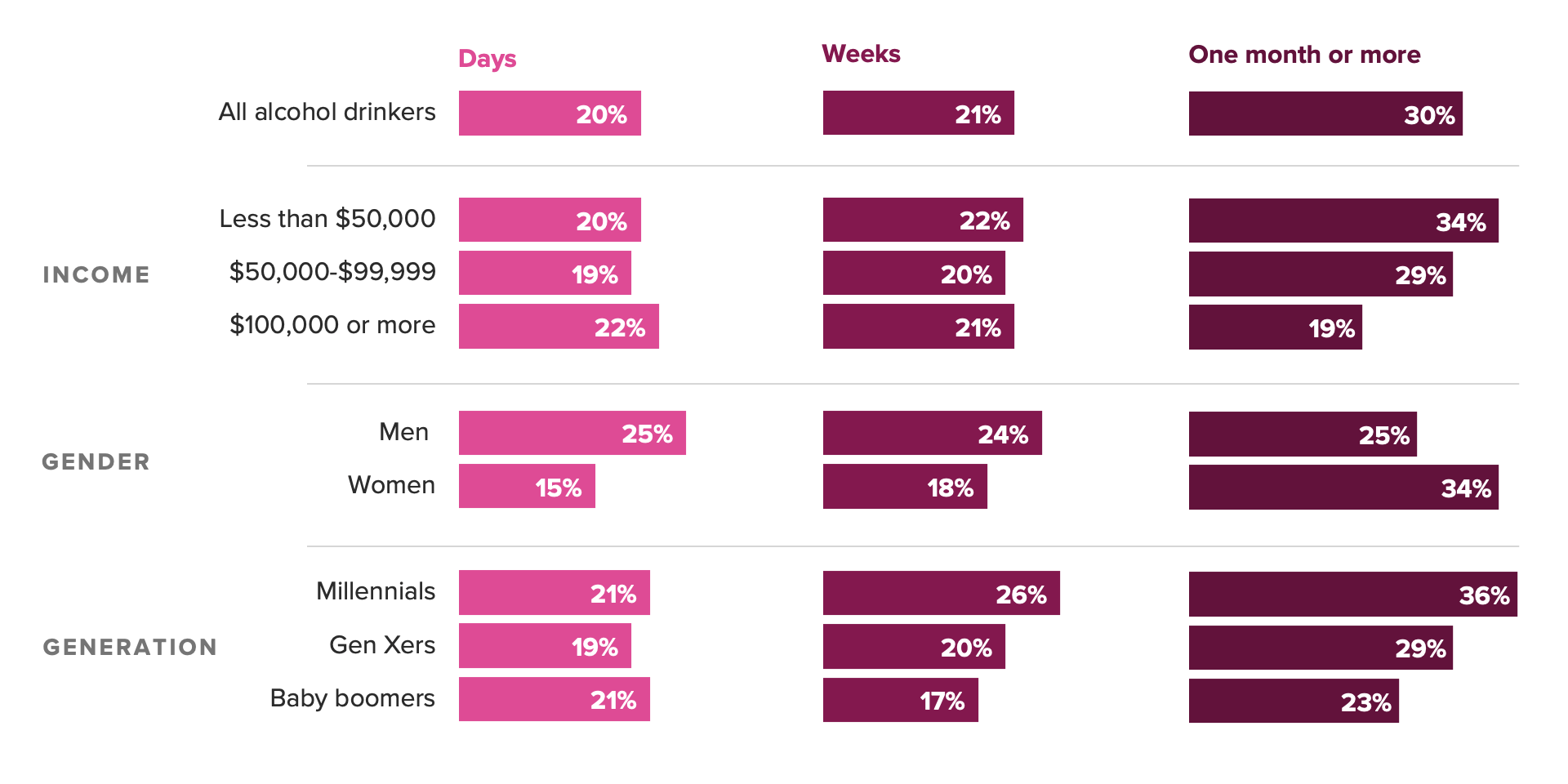 Survey conducted July 12, 2022, among a representative sample of 1,253 U.S. adults ages 21 and over who said they drink alcohol, with an unweighted margin of error of +/-3 percentage points.
Inflation will continue to shape short-term drinking behaviors, while health and wellness will influence long-term changes 
Changes to alcohol spending and drinking behaviors are most pronounced among lower-income consumers, but general stock market volatility and prolonged inflation have the potential to impact consumers across the income spectrum. Even higher-income consumers have experienced declining financial well-being, so while premium product purchases may not have slipped yet, prolonged pressure may cause this group to make adjustments. 
Longer term, consumers' focus on physical and mental health will continue to shape their relationship with adult beverages, including when, what and how much they are consuming. Brands should stay the course with relevant innovations around low/no alcohol and health and wellness.
Emily Moquin previously worked at Morning Consult as a lead food & beverage analyst.
We want to hear from you. Reach out to this author or your Morning Consult team with any questions or comments.
Contact Us