Americans' 2023 Travel Plans Are All Over the Map, Literally
Florida, California and Las Vegas top the list of places leisure travelers are most excited to visit in 2023, though all 50 states were mentioned at least once.
2023 is poised to be a big year for the travel industry, and while mainstays like Disney World, Las Vegas and Europe continue to excite many leisure travelers, more far-flung international destinations and remote domestic locations are also grabbing would-be tourists' attention. Travel brands should expect crowds at all the familiar places but also prepare for growing demand in newly trending areas.
It's that time of year again! The days are getting shorter, there's a festive chill in the air and bold predictions that we'll be back to normal next year abound. For the travel industry, a normal 2023 would be very welcome. After a brutal 2020, a hopeful but muted 2021 and a 2022 that started strong before skidding in the end due to economic concerns, the category is desperately in need of a shot in the arm (too soon?). And although inflation continues to put pressure on consumers' finances, most Americans are excited to travel in the coming year.
Seven in 10 U.S. adults have plans to travel in the next 12 months, and those who do expect to journey to all corners of the globe. Each month, Morning Consult gives consumers with leisure travel plans a blank space to say where they are most excited to go in the next year, and responses gathered between June and November reveal that, while the traditional mainstays remain popular, Americans' travel plans are actually quite varied.
The most frequently mentioned destinations by U.S. leisure travelers when asked where they are excited to visit in the coming year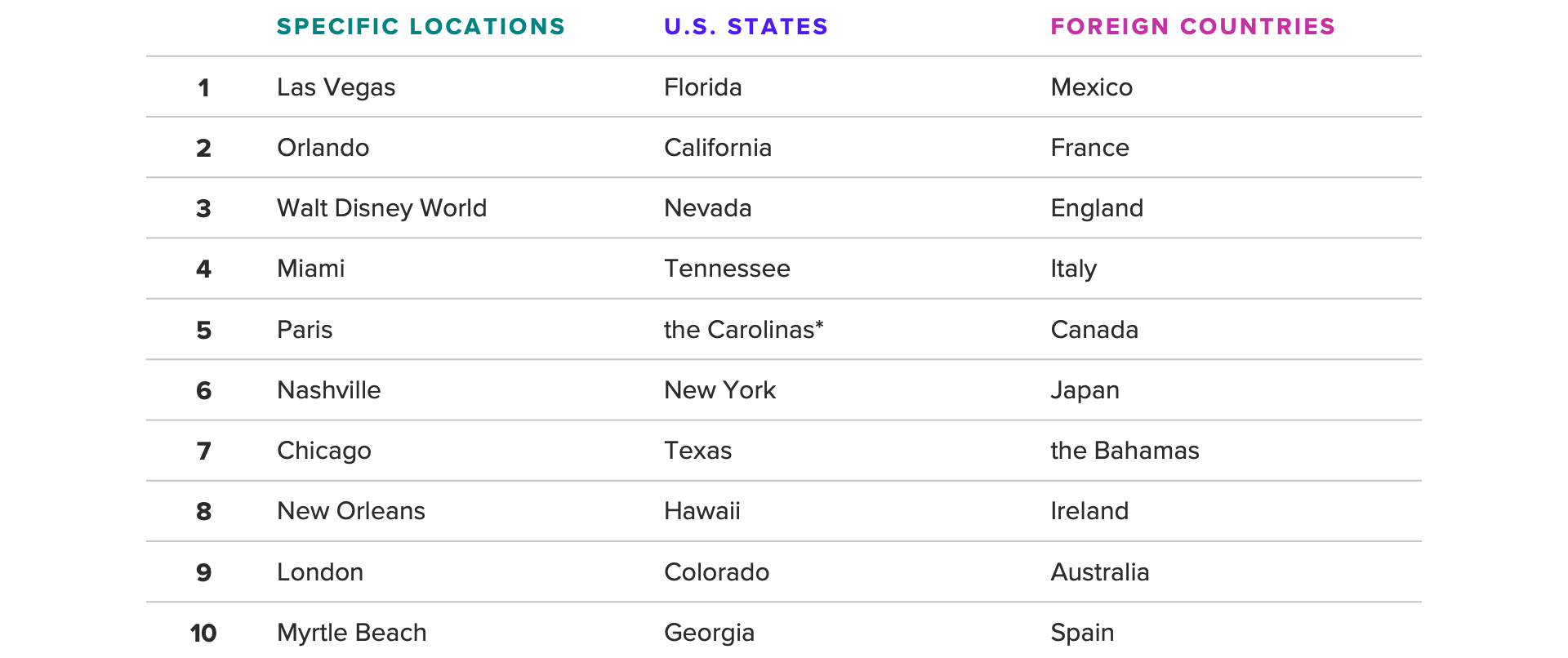 Surveys conducted June 15-Nov. 17, 2022, among 8,891 U.S. adults with plans to travel for leisure in the next year. Ranking determined by frequency of mentions of single words in open-ended responses (the Carolinas and the Dakotas were combined for this reason).
Among 8,891 U.S. adults with plans to travel for leisure in the next year, there were mentions of all 50 states plus Washington, D.C. and Puerto Rico, as well as 69 foreign countries. What's more, all seven continents — yes, even Antarctica — were mentioned more than once. While this is just a small taste of the places consumers are excited to visit in 2023, it reveals some truths about what is compelling U.S. travelers in the coming year.
Domestic stalwarts will remain popular
Nothing is certain except death, taxes and Disney World. OK, perhaps Ben Franklin didn't include the latter in his famous quote, but the popularity of the "most magical place on Earth" is unshakeable, even after a somewhat tumultuous year.
Mentions of both "Disney" and "Orlando" helped anchor Florida as the most popular state among consumers with leisure travel plans, and by a landslide. At least 17% of leisure travelers mentioned traveling to the Sunshine State, more than twice the number who cited the second-ranked state on the list, California. While beaches and palm trees will lure plenty of travelers to Florida and California, the most frequently mentioned specific destination was in neither of those states. Las Vegas was cited by 6% of leisure travelers, which makes that city alone a more popular destination than most U.S. states.
Leisure travelers report which domestic destinations they are excited to visit in the coming year
Surveys conducted June 15-Nov. 17, 2022, among 8,891 U.S. adults with plans to travel for leisure in the next year. Ranking determined by frequency of mentions of single words in open-ended responses (the Carolinas and the Dakotas were combined for this reason). Specific locations in each state, where noted, are listed in order of response volume.
None of this is new, of course. Las Vegas and Disney World perennially top most-visited places lists, and Nevada counted on tourism for 16% of its GDP prior to the pandemic (most states land at 3 or 4%). Ranking the remaining states reveals heat in places like Hawaii, New York and Texas, which is to be expected, but these three states were also outranked by Tennessee and the Carolinas. While international visitors will likely tip the scales in favor of the Big Apple — New York City is America's top destination for inbound tourism — this signals a potential shift in domestic travelers' interests.
While most leisure travelers mentioned a specific destination, some spoke in more general terms that illuminated their travel priorities. Overall, people were much more interested in warm-weather experiences than cold ones. The word "beach" was the third most common word appearing in responses, behind "Florida" and "Vegas," while "ski" and "snow" clocked only a few mentions each. Also notable were mentions of taking a cruise: The word appeared more times than mainstay destinations like Miami, New Orleans and Chicago. Might 2023 be the year of the cruise craze? Only time will tell.
International destinations draw intrigue
While the COVID-19 pandemic certainly muted domestic travel, the impact on international travel has been deeper and more prolonged. But the loosening of restrictions in the past year has prompted a growing appetite among Americans for international travel, with consumers with upcoming leisure travel plans expressing excitement about travel to 69 foreign countries. Unsurprisingly, the Americas and Europe accounted for the most common answers, and though Mexico was the most frequently mentioned country overall, Europe — specifically France, England and Italy — outpaced destinations in the Western Hemisphere.
Leisure travelers report which international destinations they are excited to visit in the coming year
Surveys conducted June 15-Nov. 17, 2022, among 8,891 U.S. adults with plans to travel for leisure in the next year. Numbers represent mentions of single words in open-ended responses. Territories mentioned by travelers but not included on the map are Aruba, Bermuda, Curaçao, French Polynesia, St. Thomas, and Turks and Caicos.
However, diving deeper reveals some farther-flung locations. Specifically, Japan was the fifth most mentioned country, just after Canada, likely due to pent-up demand from travelers who have been deterred from visiting due to the country's strict COVID-19 entry requirements. Australia also proved popular, with more mentions than some closer destinations like Aruba, Bermuda, the U.S. Virgin Islands and Jamaica, despite the long-haul flight and generally more expensive ticket.
Some destinations abroad represent up-and-coming trends — particularly the Middle East. Qatar is drawing travelers who are newly intrigued by its place on the world stage after the Gulf nation hosted the FIFA World Cup, and several respondents cited plans to visit the United Arab Emirates. And while Iceland and Portugal performed well after exploding in popularity in recent years, they were both bested in mentions by Egypt, suggesting travelers may want to book their tickets to Cairo before the secret gets out.
Look out, Disney: Here comes Dolly
Disney World may reign supreme when it comes to amusement parks, but there's another family-friendly destination that's on travelers' minds: Dollywood. The amusement park itself, as well as the surrounding areas of Pigeon Forge, Gatlinburg and the Great Smoky Mountains, garnered nearly twice the mentions of Nashville and catapulted Tennessee to the fourth most popular state on our list. Dollywood, Pigeon Forge and environs are hardly up-and-coming, but the eastern Tennessee destinations' presence represents the confluence of several travel trends, and can offer some clues to other emerging destinations.
First, travelers are more hesitant to visit densely populated urban areas than they were before the pandemic. While coronavirus concerns are much lower now than in 2020, the travel shift away from urban centers has become somewhat entrenched. Additionally, media portrayals of cities as dangerous have influenced the perceptions of many Americans, prompting them to avoid travel to those locations.
Outdoor experiences and exploration of wide-open spaces are emerging pandemic trends that will remain strong. These types of trips play into a desire to improve mental and physical wellness, and to visit places off the traditional tourist beaten path.
Of course, the Pigeon Forge area benefits from the towering persona of Dolly Parton who, though many have long considered her a national treasure (this author included), has had something of a resurgence in recent years with her induction into the Rock & Roll Hall of Fame and an investment in coronavirus vaccine development with biotech company Moderna.
Other emerging destinations may not benefit from the Dolly Parton halo effect, but leaning into calm space, outdoor activities and undiscovered treasures may lure travelers. Destinations that received only a few mentions among our respondents but stand to gain from these trends include Bozeman, Montana; Bend, Oregon; and Asheville, North Carolina. While they may not overtake Las Vegas anytime soon, these idyllic destinations are well-suited to what many travelers want in 2023.
Lindsey Roeschke is the lead travel & hospitality analyst on the Industry Intelligence team, where she conducts research, authors analyst notes and advises leaders in the travel & hospitality industry on how to apply insights to make better business decisions. Before joining Morning Consult, she served as a director of consumer and culture analysis at Gartner and spent more than a decade working at advertising agencies across three continents. Lindsey graduated from the University of Delaware with a bachelor's degree in communications and holds a master's degree in strategic communications from Villanova University. For speaking opportunities and booking requests, please email [email protected].
We want to hear from you. Reach out to this author or your Morning Consult team with any questions or comments.
Contact Us