The Uvalde Shooting and Roe Reversal Have Diminished America's Standing in Europe, Posing Headwinds for Exports and Tourism
Reputational gains that materialized following the strong U.S. response to Russia's invasion of Ukraine have now been undone
Key Takeaways
The shares of adults in Europe's five largest economies expressing positive views of the United States rose sharply after Russia invaded Ukraine and remained elevated throughout the spring.

America's reputational boost evaporated nearly overnight after the Uvalde shooting and plummeted further following the U.S. Supreme Court's June 24 decision to remove federal protection for abortion rights.

A country's image can matter substantially for industries whose profit margins depend heavily on overseas demand, like export-oriented businesses and tourism.

Morning Consult Political Intelligence can help companies in such industries assess the impact of global events on their bottom line through the lens of country reputation, and plan accordingly for the resulting risks and opportunities.
Country reputation matters for exports and travel
A country's image abroad can have an impact on everything from its foreign policy efficacy to its economic clout. Research into how a country's standing in a given market can affect its exports to that market suggests the effects can be huge: One study found that a one position rise in a world ranking of countries by the reputation of their products is associated with a 2% increase in exports, and that the reputation of a country's people can also affect export volumes. Tourism, another industry that depends heavily on overseas demand, is analogous: A number of studies have shown close connections between a country's image abroad and tourists' desire to visit.
America's brand rose sharply in Western Europe in the immediate aftermath of Russia's invasion of Ukraine
In the five largest European economies — all of which are among the top 20 U.S. export markets and top 20 sources of inbound tourists — 2022 has been a roller-coaster ride for the U.S. brand.
Uvalde and Roe Have Undone America's Recent Reputational Gains in Europe
The U.S. received a net favorability* boost in Europe's five largest economies for its handling of the Ukraine crisis, but those gains evaporated after Uvalde and the overturning of Roe v. Wade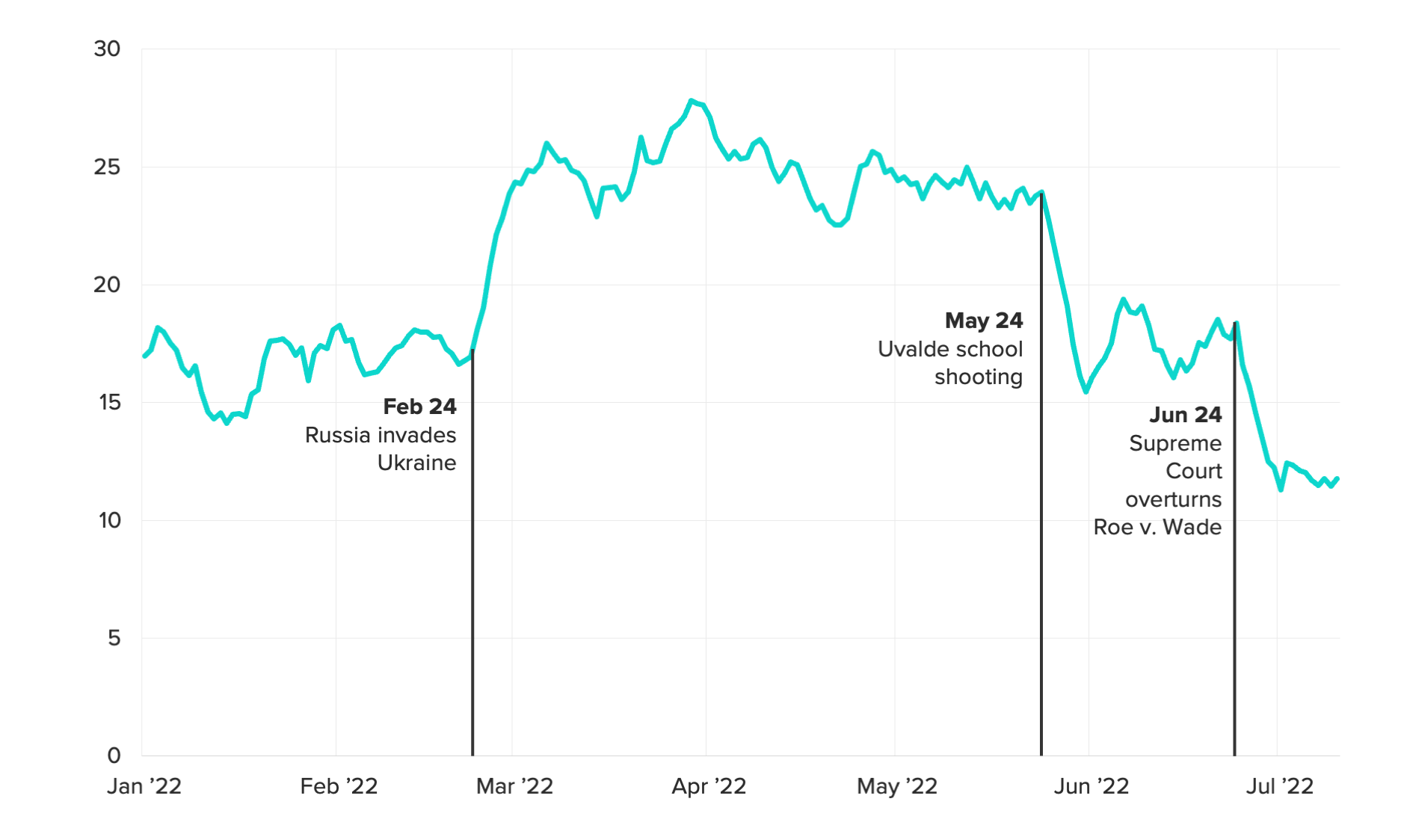 *Net favorability is the share of respondents with a favorable view minus the share with an unfavorable view.
Source: Morning Consult Political Intelligence. Daily reports are based on pooled 7-day moving averages of all adults in Germany, France, Italy, Spain and the United Kingdom, with a margin of error of less than +/-1 percentage point.
America's reputation in the United Kingdom, France, Germany, Italy and Spain jumped substantially in the aftermath of Russia's invasion of Ukraine, which was met with strong U.S. support for Ukrainian independence in partnership with the European Union and NATO. In the two weeks following the invasion, average net favorability toward the United States among the aforementioned European countries — defined as the share of respondents with a favorable view of the United States minus the share with an unfavorable view — jumped 9 percentage points, eclipsing all other increases observed over the last 10 months by a wide margin. U.S. net favorability then stayed well above its pre-invasion trend, hovering around 25% through late May.
U.S. favorability tanked in Western Europe after the Uvalde shooting and the Supreme Court's ruling on abortion
The honeymoon was short-lived. Following the mass shooting at an elementary school in Uvalde, Texas on May 24, European views of the United States dimmed immediately. The resulting decline in net favorability completely erased the goodwill that materialized among Europeans after the Ukraine invasion, in line with their long-standing criticism of America's gun control policies.
The U.S. Supreme Court's June 24 decision to overturn Roe v. Wade triggered another noteworthy drop similar to that observed following the Uvalde shooting. America's reputation among the five largest European economies is now at its lowest ebb in the last nine months.
The collapse in European sentiment shows the power of real-time, cross-country data for global decision-making
While it is hard to draw a causal link between these events and Europeans' views of the United States, the timing leaves little room for ambiguity. Statements by European leaders in the aftermath of both the Uvalde shooting and the Supreme Court decision similarly point to a hit to America's reputation across the Atlantic, just as they spoke favorably of the United States following the Ukraine invasion. At a minimum, the data highlights the potential for severely blurred lines between domestic and international affairs, and makes clear the impact that various events taking place at home can have on America's image abroad.
In other markets, events such as these might not shift perceptions at all, or might do so in unexpected ways. For example, in Japan and Mexico — both of which are generally friendly toward the United States, much like European countries — we see no major movements in U.S. net favorability around the three dates cited above.
While the reason for the divergence is unclear, for both tourism and export-oriented industries, it  speaks directly to the importance of tracking the impact of key domestic developments across markets so that companies can better understand how consumers globally view the United States, and assess the risks and opportunities accordingly.
Want more insights? Explore more through Morning Consult's Geopolitical News and Analysis. Every day, we gauge public opinion on world leaders, elections, politicians and policy issues to provide clients with data at the scale and speed needed to navigate the changing geopolitical landscape and assess political risk. See what our data can bring to your organization. Get in touch today.
Sonnet Frisbie leads Morning Consult's geopolitical risk offering for Europe, the Middle East and Africa. Prior to joining Morning Consult, Sonnet spent over a decade at the U.S. State Department specializing in issues at the intersection of economics, commerce and political risk in Iraq, Central Europe and sub-Saharan Africa. She holds an MPP from the University of Chicago.
Follow her on Twitter @sonnetfrisbie. Interested in connecting with Sonnet to discuss her analysis or for a media engagement or speaking opportunity? Email [email protected].
We want to hear from you. Reach out to this author or your Morning Consult team with any questions or comments.
Contact Us