Apple TV+'s Prestige Push Isn't Getting Its Due Respect
Media and entertainment analyst Kevin Tran unpacks what consumers' imperfect memory of Oscar and Emmy wins means for Apple and the broader video streaming landscape
Programming for critical acclaim will always remain an area of focus in the streaming wars, but those vying to be a leader in the market in the long run can't afford to let this come at the expense of big-budget originals. 
This is part of Morning Consult's "Streaming or Struggling?" report, which takes a look at current consumer streaming behavior and analyzes the best way for services to grow in the saturated streaming market. 
Download the "Streaming or Struggling" report here.
Apple TV+ has always strived for critical acclaim and tried to leverage its quality-over-quantity content library as a core differentiator. The service launched with fewer than 10 original titles and still lacks the library of hit sitcoms like "Friends" or "Seinfeld" that most of its competitors have, but its focus on quality over quantity content hasn't been for nothing, as most recently evidenced by the streamer's nine Emmy and three Oscar wins this year thanks to titles like "Ted Lasso," "Severance" and "CODA."
Unfortunately for Apple, new Morning Consult data shows that these wins haven't necessarily translated into the type of cultural cachet that the Cupertino-based company likely hoped they would: Through an analysis of open-ended responses, we found that Apple TV+ was cited least often by consumers who were asked to name the video streaming service with the most critically acclaimed content, despite having a greater number of recent Emmy or Oscar wins than some major competitors.
Respondents were asked in separate open-ended questions to name which video streaming service had the content they found most enjoyable and which service had the most prestigious or critically acclaimed content
Morning Consult visualization by Jes Standefer
Responses collected Aug. 29-Aug. 30, 2022, among roughly 1,900 U.S. adults for each question.
For example, the number of respondents that mentioned Netflix as having the most critically acclaimed content was more than 40 times the number that mentioned Apple TV+, while Amazon was cited roughly nine times as often as Apple. This is particularly stinging for Apple, which became the first streamer ever to win Best Picture earlier this year with "CODA" — and its three Oscar wins for the film beat Netflix's lone statuette and Amazon's zero. 
On the TV side, Apple's nine Emmys in 2022 equaled the number that Disney+ received and exceeded Amazon's seven, though Apple TV+ came in dead last when consumers were asked to name the most prestigious content offering. 
Part of the lack of consumer recognition of Apple's critical acclaim is attributable to Apple TV+'s limited reach and small content catalog. As of September, just 14% of U.S. adults said that they subscribe to Apple TV+. Meanwhile, Apple's U.S. catalog included just 140 movies and seasons of TV series as of April, greatly lagging the size of Netflix's (7,762) and Amazon's (6,889) libraries, per Ampere Analysis.
Share of U.S. adults who said they subscribe to each of the following services: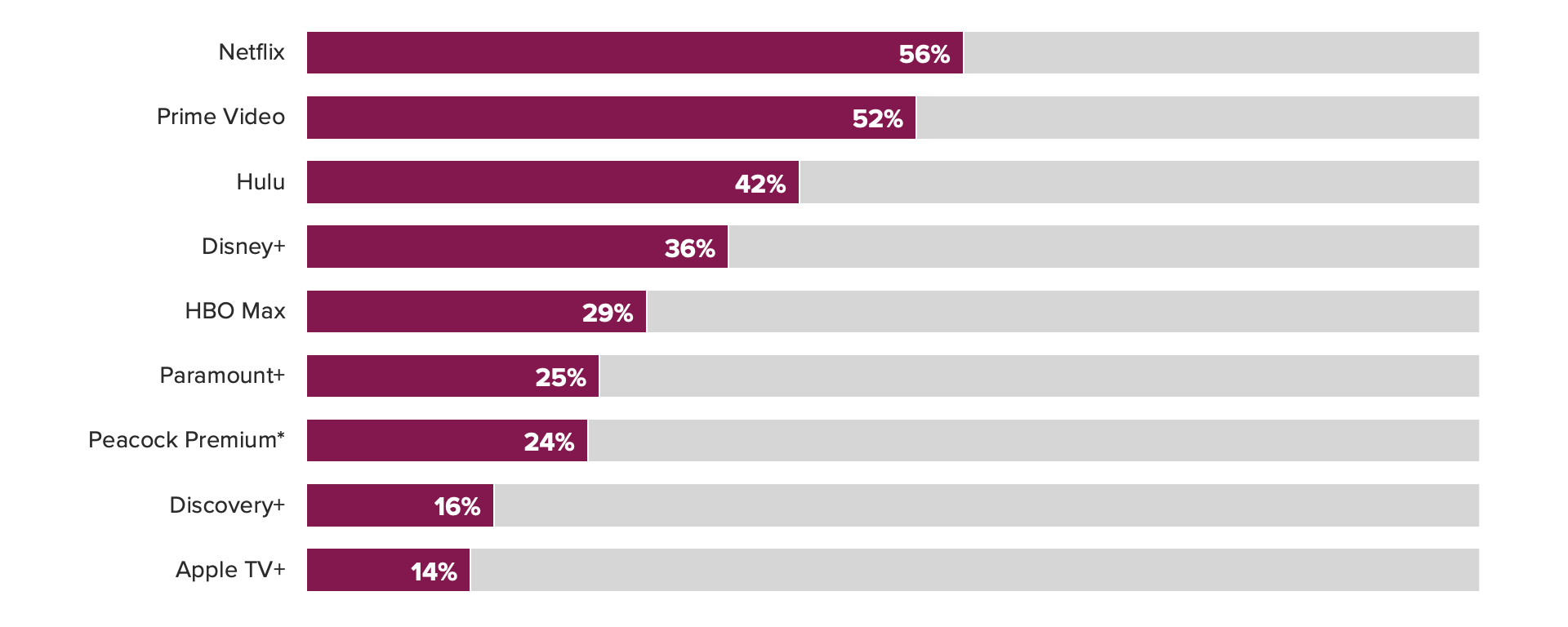 *Includes subscriptions to both Peacock Premium and Peacock Premium Plus.
Survey conducted Sept. 28-29, 2022, among a representative sample of 2,210 U.S. adults, with an unweighted margin of error of +/-2 percentage points.
But Apple TV+'s major competitive advantage is that it comes pre-installed on iOS devices like iPhones, of which the hardware giant said earlier this year there are more than a billion units in use. In other words, Apple has had a significant leg up over other streamers who are not in the hardware game — and yet, it's still not resonating with nearly as many consumers as it should be. 
This data really emphasizes how prestige does not necessarily equate to engagement, and suggests that while prestige is nice to have, it's not "need to have." Instead, in the post-Netflix correction era, there is nothing more "need to have" than big-budget titles that travel well globally.
Our data suggests that big-budget wins have much better staying power in the minds of consumers than prestige wins. HBO Max and Disney+ were cited for having the most enjoyable content much more frequently than other services that launched in or after late 2019. And it's not a coincidence that HBO Max distinguished itself in 2021 with its day-and-date Warner Bros. movies offering, including big titles like "Godzilla vs. Kong" and "Dune." Meanwhile, Disney+ since launch has had a string of pricey, franchise IP-based TV originals that Peacock, Discovery+, Paramount+ and Apple TV+ haven't been able to match.  
Also consider that Netflix — by far mentioned the most often as having content that consumers enjoy — has a laundry list of big-budget zeitgeisty TV series ("Stranger Things" season 4 and "The Sandman" are two big ones from 2022) that far outstrips what other video streamers offer. It's telling that after all these years, Netflix remains the dominant video streamer in the United States, while Disney+ and HBO Max have risen to the top of the video streaming class that entered the market late.
Of course, Oscars and Emmys serve a purpose: They let studios and networks quantify their artistic cachet, which, as Netflix film chief Scott Stuber told The Wall Street Journal last year, helps signal to A-list directors and actors that they're worth working with. It also helps explain why networks remain willing to pay for pricey Emmy For Your Consideration campaigns. 
But Morning Consult data illustrates just how many consumers remain blissfully unaware of awards altogether. While streamers shouldn't necessarily ease up on the amount of money they're spending in awards pushes, they also should not be prioritizing prestige content over crowd-pleasing populist fare in the long run — which explains why Amazon made a move toward less indie-focused programming years ago.
And Apple has already started to act on this, increasing content output in addition to emphasizing bigger-budgeted TV, with releases like "Foundation" and "Invasion" in 2021. Still, the "enjoyable" results above signal that Apple has yet to truly find its own "Squid Game"-like success, and cannot bank too heavily on critical acclaim alone to give it significant ground in the streaming wars.
For other media companies, the importance of zeitgeisty TV is a warning against pulling back streaming resources too heavily, even as they aim to be more prudent with content spending at a time when the growth ceiling has come into question.
Kevin Tran is the senior media & entertainment analyst on the Industry Intelligence team, where he conducts research, authors analyst notes and advises leaders in the media & entertainment industry on how to apply insights to make better business decisions. Prior to Morning Consult, Kevin was a media analyst at Variety Intelligence Platform, Variety's premium subscription service. Kevin graduated from the Haas School of Business undergraduate program at the University of California, Berkeley. @ktran223
For speaking opportunities and booking requests, please email [email protected].
We want to hear from you. Reach out to this author or your Morning Consult team with any questions or comments.
Contact Us