The Public Is Divided on Overdraft Fees' Fairness. Here's What Banks Should Be Watching.
Leaders must weigh potential increased brand favorability with the certainty of lost fee income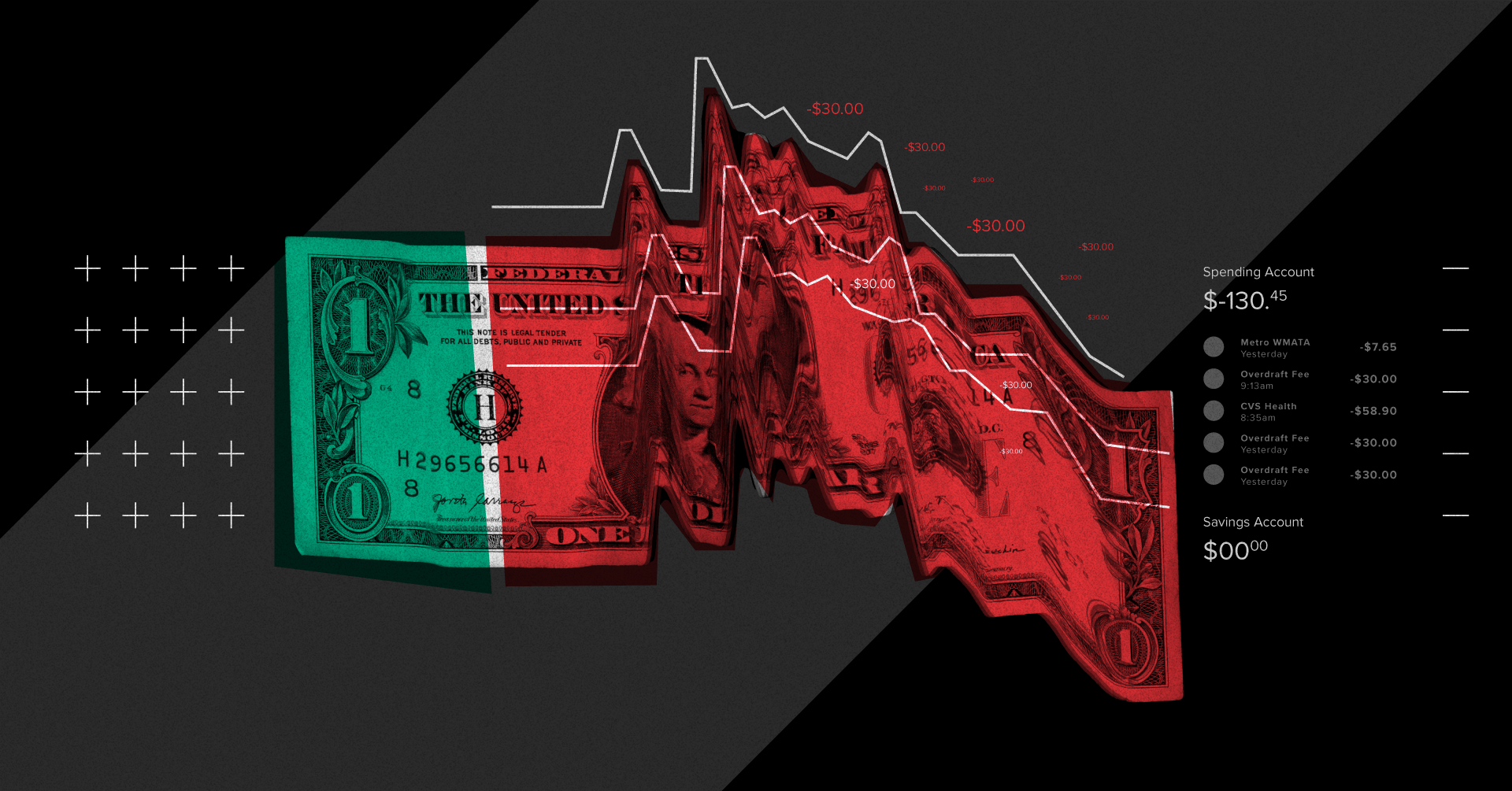 Key Takeaways
Half of U.S. adults say they've overdrafted, with 19% saying they've done so in the last 12 months.

Consumers are divided on whether overdraft fees are fair: 48% say they're a fair charge while 52% view them as unfair.

While some banks might see a favorability bump following the elimination of overdraft fees, PNC and Ally haven't yet, and consumers' short attention spans on topics like this could simply mean lost revenue.
Overdraft fees are such a divisive issue that financial services brands looking to eliminate them may not see a favorability bump, according to new Morning Consult data. But that's not stopping several institutions from relaxing or removing overdraft fees, setting a potentially costly precedent for smaller banks.
Overdraft penalties gained new attention in the aftermath of a May Senate Banking Committee hearing in which Sen. Elizabeth Warren (D-Mass.) said the country's top banks pulled in $4 billion in overdraft fees last year. Ally Bank announced in June it would eliminate all overdraft fees after waiving them temporarily amid the COVID-19 pandemic, while PNC in April rolled out a new feature for its digital customers that helps prevent overdrafting.
Half of U.S. adults say they have overdrafted their account in the past, with nearly 40 percent of those respondents saying they have done so in the past year. Millennials are the most likely to have overdrafted in their lifetime -- and within the past year. 
Members of Gen X, Black adults and those living in urban areas are slightly more likely to say they have ever overdrafted than the general population.
Waiving overdraft fees is a popular move, although it may not foster long-term favorability. At least 7 in 10 consumers say they would feel more favorably towards their primary financial provider if that provider waived all overdraft fees in general, during the pandemic or for those for underprivileged customers. 
Additionally, three-quarters of the public thinks banks should have waived these fees over the last year, as the country grappled with record-breaking unemployment and an economic recession.
But the public is nearly equally divided over the fairness of overdraft fees in general. Women, Gen Z adults, those with lower incomes and Black adults are most likely to say that overdraft fees are unfair. 
Although the difference isn't alarmingly large, it's also important to note that customers of regional banks are also slightly more likely to say overdraft fees are unfair than customers of national or community banks or credit unions. That creates a tricky situation for regional banks, which rely more heavily on overdraft fees than their national competitors.  
While large national banks could afford to eliminate overdraft fees without major impacts to their balance sheet, they could set a precedent that forces the hand of regional banks who will feel the lost revenue more acutely.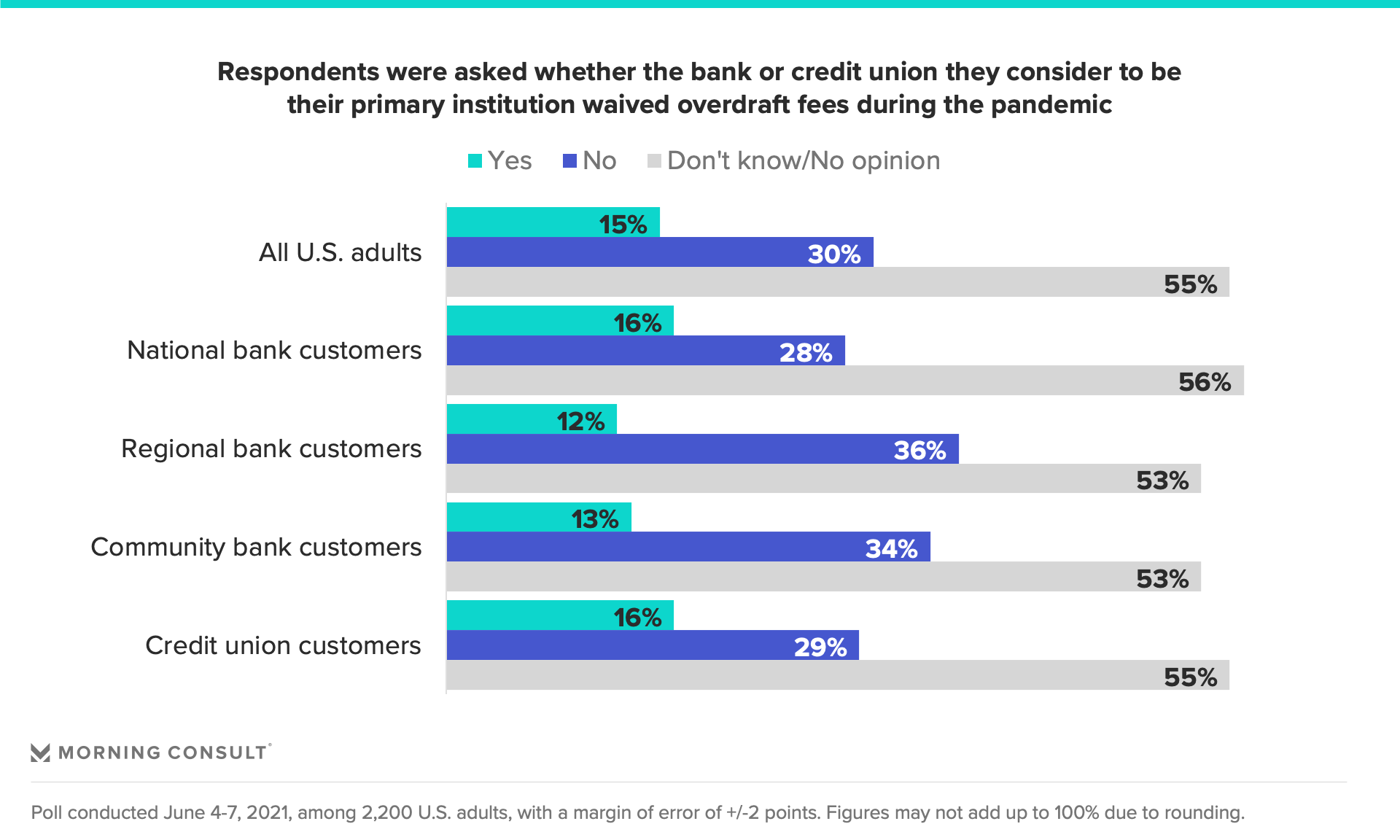 When weighing the decision to eliminate or reduce overdraft fees, banking leaders should also be aware that overdraft fees appear to be an "out of sight, out of mind" topic for many customers, suggesting it may be too reactive for banks to eliminate fees entirely. A majority of adults admit that they have no idea if their bank actually waived these fees over the last year. 
And while PNC, Ally and Huntington's changes to overdraft policies have generated headlines, the brands aren't seeing a favorability boost, according to Morning Consult Brand Intelligence, the company's flagship platform tracking daily consumer attitudes for more than 4,000 brands in 15 countries and counting.
It may take time for these announcements to bear fruit in a brand's health metrics, but banking leaders should make sure they have a read on their customers' understanding of their bank or credit union's overdraft policies, as well as their attitudes on if and how they should change. If more banks, particularly larger ones, meaningfully alter their overdraft policies, others will need to be prepared to follow suit, or defend their position of overdraft fees to half the population that disagrees with the practice.
Charlotte Principato previously worked at Morning Consult as a lead financial services analyst covering trends in the industry.
We want to hear from you. Reach out to this author or your Morning Consult team with any questions or comments.
Contact Us