Bipartisan Support for Big Tech Regulation Adds to the Sector's 2023 Challenges
2023 promises to be the year major technology companies face regulatory reckoning, writes tech analyst Jordan Marlatt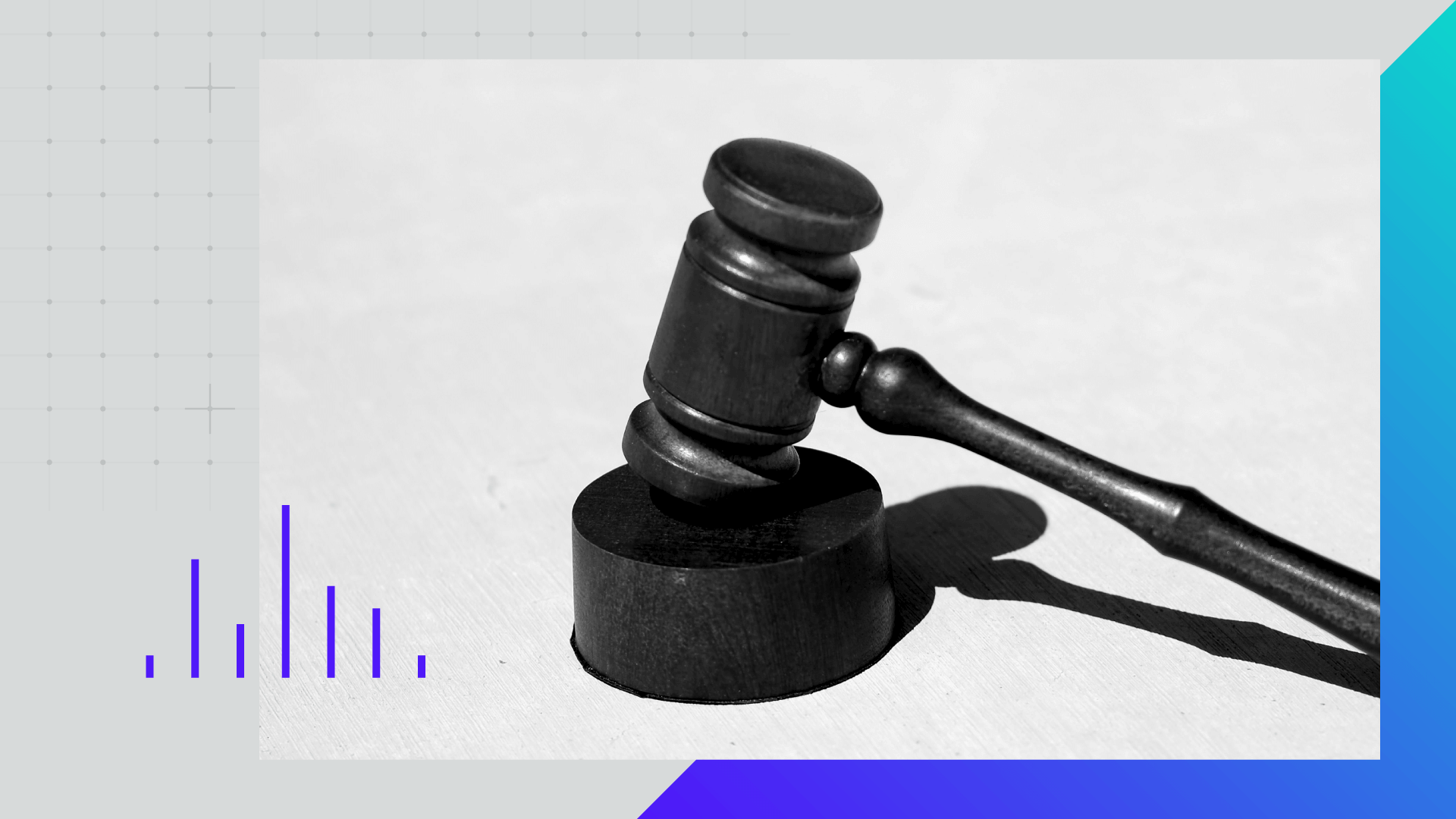 Key Takeaways
Democrats, independents and Republicans alike are more likely to support (45%, 39% and 34%, respectively) than oppose (7%, 13% and 8%, respectively) stronger government regulation of major technology companies.

Democrats were galvanized by political wins in November, which, paired with Twitter's very public shift toward the right, led to increased appetite for regulation during that time.

While consumers have a positive impression of tech and want the industry to succeed, the notion that tech has too much power is what's driving the desire to regulate or even break up Big Tech. Consumers agree that dismantling major tech companies would be good for competition, small businesses and innovation.
This year is shaping up to be one defined by challenges for major technology companies as the sector deals with economic pressures rooted in inflation, high interest rates, layoffs and decreased investor confidence. Tech leaders will also have to grapple with another challenge: a strong consumer appetite for more government regulation. 
Shares of respondents who support or oppose more government regulation of major technology companies
Surveys conducted monthly from August 2022 to January 2023 among at least 627 U.S. adults each, with unweighted margins of error of up to +/-4 percentage points.
Morning Consult tracking of consumer attitudes toward regulating tech shows there is bipartisan support for more regulation of the sector. Since at least August, more people — Democrats and Republicans alike — support greater government regulation of major technology companies than oppose it. This net support notably rose among Democrats in November following major Democratic wins in the Senate, as well as Elon Musk's Oct. 27 takeover of Twitter, which had a significant polarizing effect on the brand.
While regulation of specific industries often happens behind the scenes in silos, popular support for regulation can give legislators and regulatory bodies the added political capital they need to get regulation over the finish line. Especially given the recent boost to the Democrats' Senate majority, an administration keen on reining in the influence of Big Tech, a prepared Federal Trade Commission under Chair Lina Khan and a Supreme Court challenge to tech's immunity in regard to user-generated content, it seems inevitable that the industry's operating environment will change very soon.
Consumers hold positive views of the tech industry, but say companies have too much power
The public's concerns surrounding Big Tech are not a knee-jerk reaction to the politicization of the industry, nor are they related to whether they have a positive or negative impression of it. In fact, most people admire major technology companies. Sixty-two percent of U.S. adults have a favorable impression of major tech companies, including 67% of Democrats and 61% of Republicans. Most adults (54%) also agree the industry's best days remain ahead. 
Respondents were asked if they think major technology companies have too much power
Survey conducted Dec. 27, 2022-Jan. 1, 2023, among a representative sample of 2,202 U.S. adults, with an unweighted margin of error of +/-2 percentage points. Figures may not add up to 100% due to rounding.
Instead, the desire for regulation is rooted in the idea that major technology companies have too much power. About two-thirds of Democrats and Republicans agree with this statement, and agreement is strong even among tech's most stalwart supporters: Gen Zers and millennials.
Consumers say breaking up major tech companies would be good for competition, small businesses and innovation
Consumers see benefits in limiting the scope of major technology companies. They are more likely than not to agree that breaking up major tech companies into smaller ones would make the market more competitive, be better for small businesses and improve innovation. Many of consumers' opinions on the consequences of reining in the size of these companies align with the regulatory objectives of legislators, the FTC and other bodies.
Share of respondents who agreed with each of the following statements: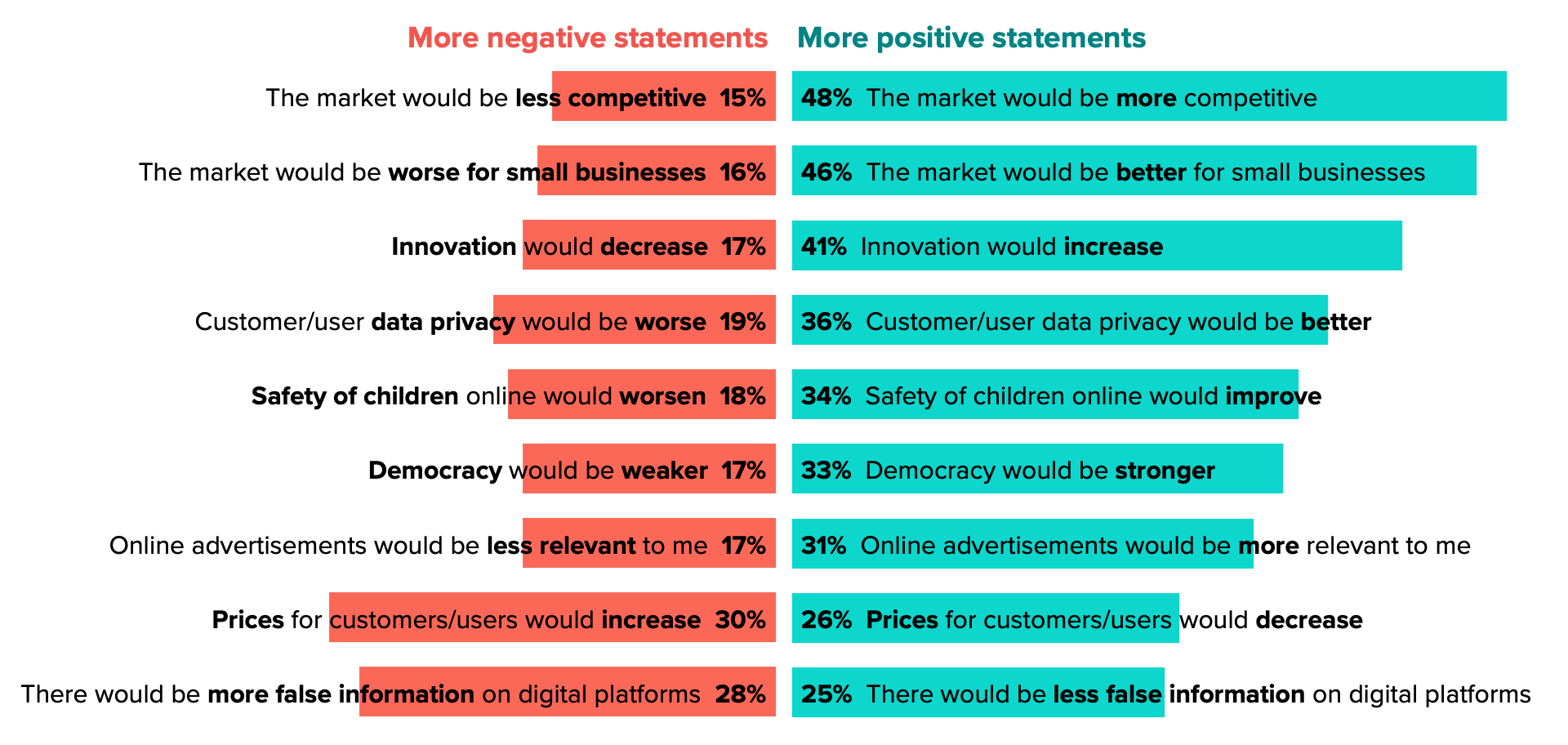 Survey conducted Dec. 27, 2022-Jan. 1, 2023, among a representative sample of 2,202 U.S. adults, with an unweighted margin of error of +/-2 percentage points. "No change" responses are not shown.
Officially and understandably, major technology companies have responded to the various regulatory proposals they face with doubt over their efficacy in solving the problems they claim to address. Practically speaking, they have already set the gears in motion to abide by them.
The European Union's strict laws and regulations governing data collection and competition mean that multinational tech companies have an incentive to set unified rules across their platforms, rather than vary guidelines by market depending on local laws and regulations. Even before California's Consumer Privacy Act went into effect, tech was abiding by Europe's General Data Protection Regulation, commonly known as GDPR.
In fact, there may be no one more eager for a final clarification of the rules than the tech industry itself. 
Jordan Marlatt is a lead tech analyst on the Industry Intelligence team, where he conducts research, authors analyst notes and advises clients on emerging technologies and trends. Jordan previously served as chief of staff to Morning Consult's president and co-founder, and opened and oversaw Morning Consult's San Francisco offices, onboarding and consulting for the company's largest technology clients. He graduated from The George Washington University with a bachelor's degree in international affairs and political science. For speaking opportunities and booking requests, please email [email protected].
We want to hear from you. Reach out to this author or your Morning Consult team with any questions or comments.
Contact Us