Shopping Holiday Boundaries Blur as Consumers Find Deals Online All Season Long
As holiday shoppers hunt for deep discounts from the comfort of their own homes, retailers feel less compelled to open for early birds on Thanksgiving Day, writes retail and e-commerce analyst Claire Tassin
Waiting in line in the wee hours of Black Friday is less appealing to holiday shoppers than it once was. Winter shopping holidays are increasingly shedding their temporal boundaries as more consumers view Black Friday as a primarily online event, preferring to avoid the crowds and cold weather, and giving retailers permission to keep their doors shut on Thanksgiving Day.
All eyes in retail are on Black Friday and Cyber Monday (BFCM), the biggest shopping events of the season. Sixty-two percent of consumers said they wait for these big seasonal sales to do their holiday shopping. However, allegiance to a specific shopping weekend is likely to wane, as more than half of consumers believe the same deals will be available throughout the holiday shopping season. This year's extra-early promotions, designed to spur consumers to get ahead of supply chain challenges, will only contribute to that perception.
Black Friday is now an online-first shopping holiday
More consumers plan to shop on Black Friday this year than in 2020, but the lion's share of these shoppers — 78 percent — will do their deal-hunting online. Gen Z and millennial consumers are most likely to participate overall and substantially more likely to shop online.
Moreover, a plurality of consumers believe that the best Black Friday deals are found online, so the post-Thanksgiving weekend shopping can be done from the comfort of Mom's sofa with leftover pumpkin pie nearby. For online-first Cyber Monday, which has faded by comparison thanks to fewer consumers relying on their workplaces' high-speed internet to browse for deals, shopping plans follow a similar generational trend, but just half of Gen Z and millennial shoppers will participate.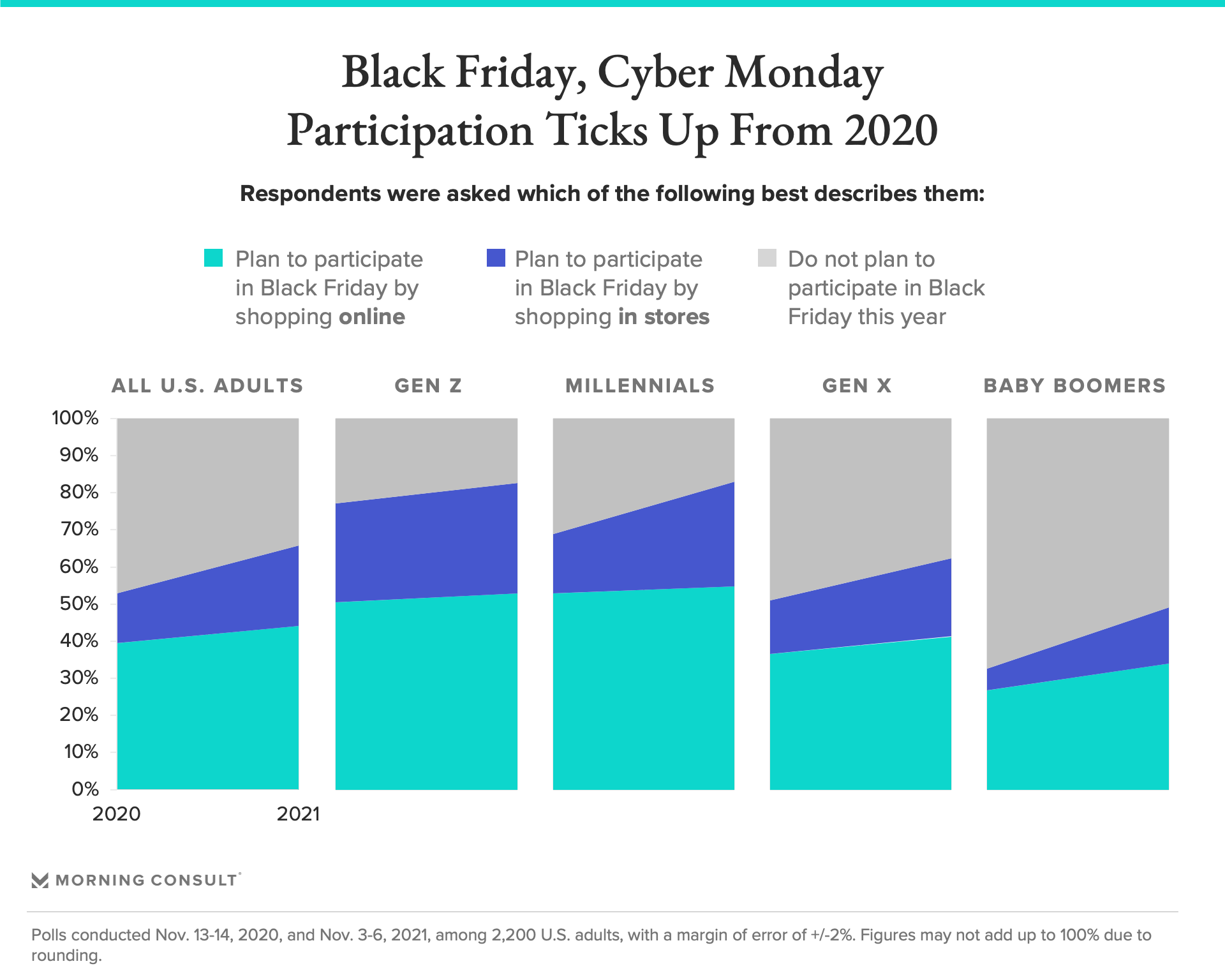 Crowded stores, early hours and drawn-out holiday deals all contribute to the decline of Black Friday as a singular event
Most consumers, and especially baby boomers and Gen Xers, think dealing with crowded stores is not worth it. These older generations are less likely overall to participate in BFCM shopping. Meanwhile, Gen Z and millennials believe that getting to stores or going online early is critical to snagging the best deals. Across the board though, consumers feel like the sprawl of deals from pre-Halloween to New Year's Day means the BFCM weekend isn't all that special.
As Deals Extend Through the Holiday Season, Interest in Black Friday Wanes
Consumers believe Black Friday in-store deals aren't worth the crowds, and that the same low prices can be found all season long
Poll conducted Nov. 3-6, 2021, among 2,200 U.S. adults, with a margin of error of +/-2%.
As more shoppers stay home and visibility of employee treatment rises, brick-and-mortar retailers close their doors on Thanksgiving Day
Major retailers such as Walmart, Best Buy, Costco and Target plan to close on Thanksgiving Day, bucking the yearslong trend of opening early for Black Friday shopping on the national holiday itself. Target attributed this year's decision to the success of staying closed in 2020, which helped consumers avoid crowds and reduced stress, and Walmart framed its closure as a "thank you" to its teams.
In the larger holiday consumption context, these decisions make sense. Fewer consumers are planning to shop in stores on Thanksgiving Day, meaning less of an impact on sales. And since 2018, about half of consumers have consistently indicated that they oppose stores opening on Thanksgiving Day. When asked specifically about nonessential stores, 77 percent of U.S. respondents agreed that they should close to give employees the day off. As workers increasingly take to social media to broadcast poor working conditions, brands are becoming more cognizant of how their policies impact public perception.
Claire Tassin is the lead retail & e-commerce analyst on the Industry Intelligence team, where she conducts research, authors analyst notes and advises leaders in the retail & e-commerce industry on how to apply insights to make better business decisions. Before joining Morning Consult, Claire was an analyst at Gartner, where she conducted research on shifting consumer behaviors and expectations, as well as trends and technology relevant to marketing leaders in the retail sector. She graduated from Washington University in St. Louis with a bachelor's degree in psychology. For speaking opportunities and booking requests, please email [email protected].
We want to hear from you. Reach out to this author or your Morning Consult team with any questions or comments.
Contact Us