CES 2023: Consumers Have Been Slow to Adopt Retail Tech, but Rural Audiences Show Promise
Ahead of the 2023 Consumer Electronics Show, retail & e-commerce analyst Claire Tassin dives into which consumer segments are adopting new retail technologies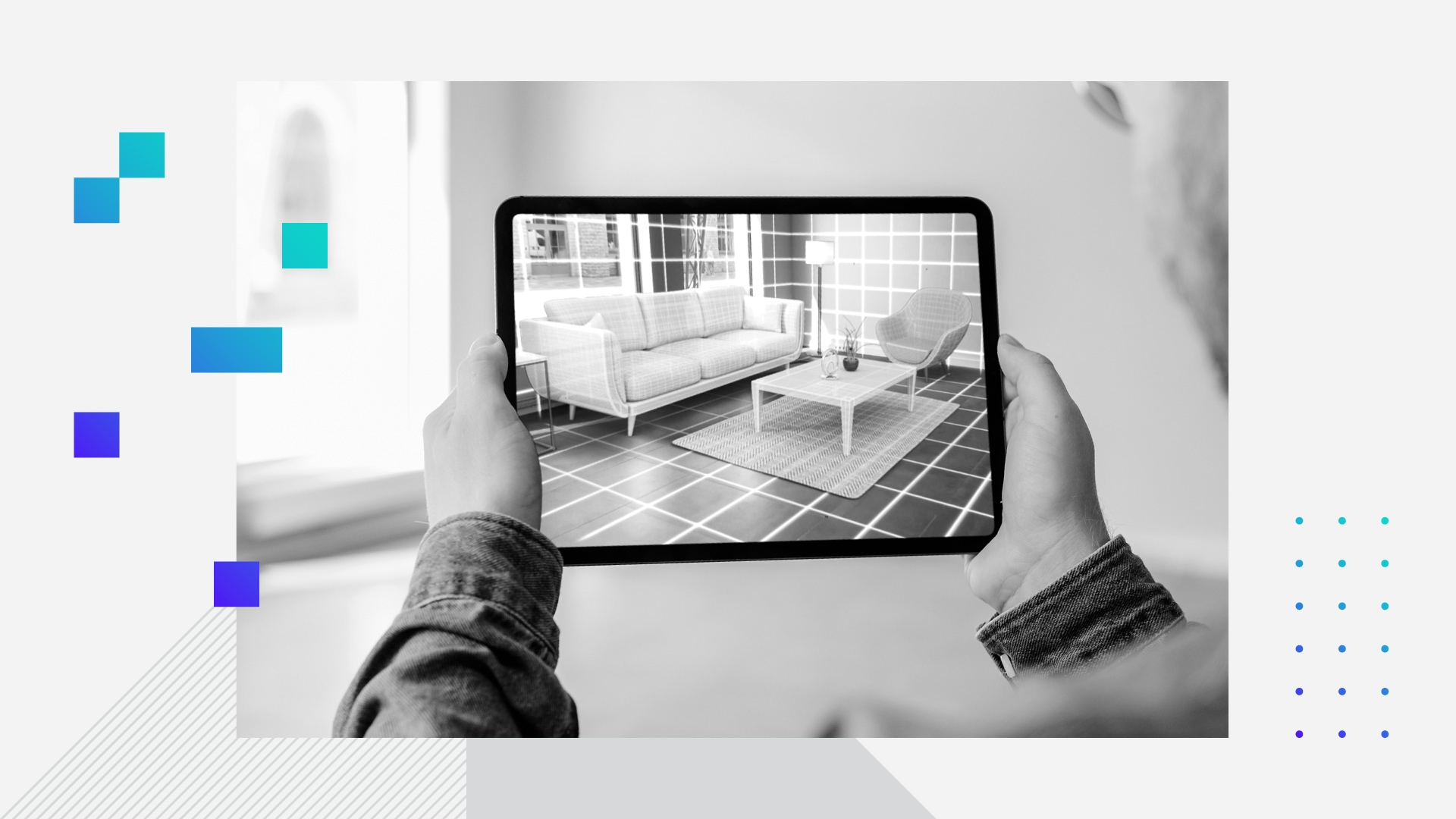 Shoppers' use of retail tech hasn't moved much since the last Consumer Electronics Show, but some segments are more open to offerings. Brands should pay attention to rural shoppers in particular, who showed increased adoption of technology that improves e-commerce experiences.
Technology holds enormous promise to improve the shopping experience — and hopefully improve retail and e-commerce brands' results as well. Yet in the year Morning Consult has spent tracking consumer behaviors around various retail technologies, we've seen no meaningful change in the share of U.S. consumers who have tried — or are even interested in trying — augmented reality for in-home product visualizations, fit measurement tools or even basics like online inventory estimates.
The large gap between those who are interested in trying a specific type of retail tech and those who've actually used it is bad news for retailers, given the significant financial investment and the fanfare that has often accompanied the launch of these technologies. AR product visualization, for example, is widely available and touted as a convenience differentiator that will ease consumer decision-making for online purchases, but there's a spread of more than 20 percentage points between those who have tried it and those who are interested.
The retail technologies consumers are most interested in using
Inventory estimator tools show the most promise, with 47% of the general population reporting going online to check in-store inventory. The benefits are obvious, and the barriers are minimal: Shoppers can save time, frustration and fuel with a quick website visit. Other tech measured here is harder to access, often requiring downloading and learning to use a new app, and asks shoppers to place a great deal of trust in unfamiliar tools.
Share of consumers who have used, or are interested in using, each type of retail technology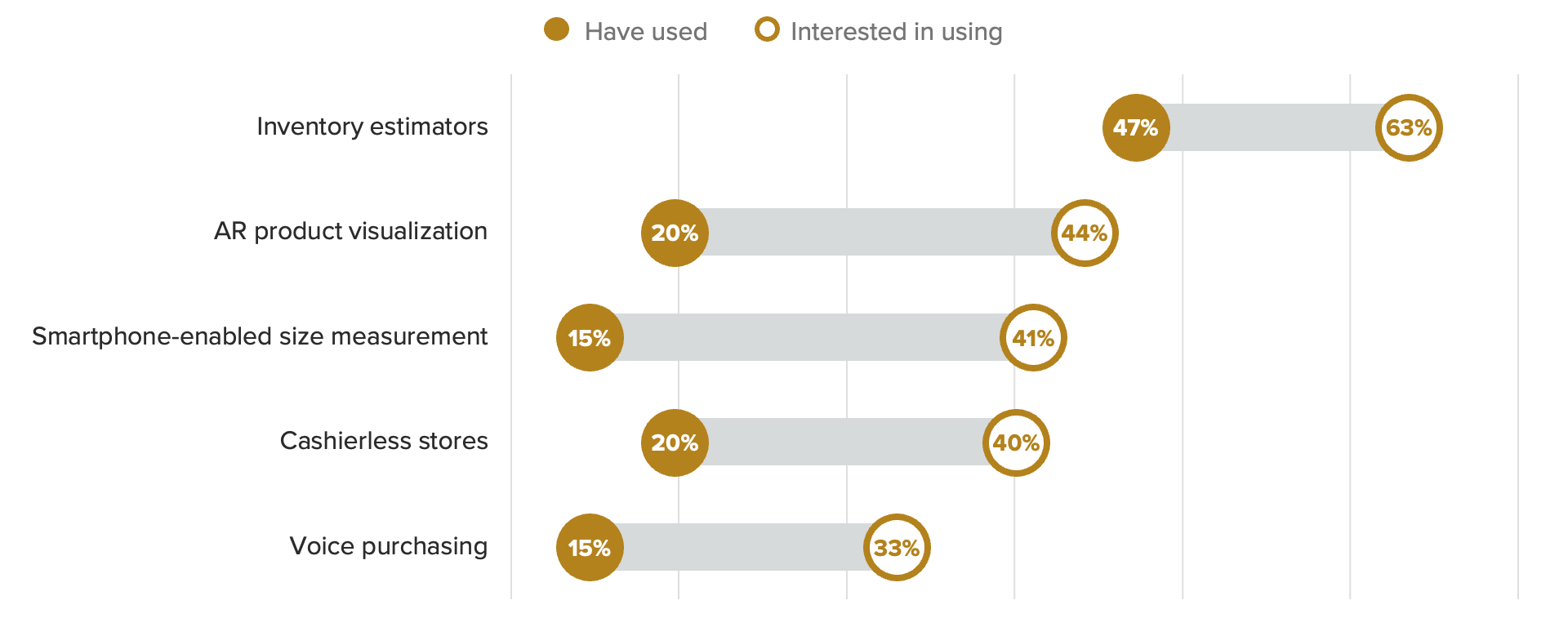 Survey conducted Nov. 24-25, 2022, among a representative sample of 2,210 U.S. adults, with an unweighted margin of error of +/-2 percentage points.
For e-commerce applications, visualizing products in their intended use via AR or 3D scanning like LiDAR can help to overcome a key online shopping barrier. From trying on makeup without sharing icky in-store testers to replicating a living room to see how a new chair might look in it, this tech should be helpful to shoppers. Yet it can be tricky to use correctly and even harder to trust that the item you receive will match its digitized version. Similarly, fit estimators — which recommend the best apparel size and promise to solve the pain point of returns for both retailers and consumers — see interest that far exceeds usage. 
Cashierless stores and voice purchasing both work to remove checkout friction for shoppers, the first by eliminating checkout in stores altogether and the second by enabling hands-free ordering. While most shoppers will have to wait for cashierless stores to come to their area to try them, voice ordering is widely available to anyone with a smartphone or voice-enabled speaker at home. Voice ordering has not caught on in the way many expected it would years ago, and even Amazon has pulled back on investment in Echo speakers that enable voice ordering via Alexa. Challenges with voice recognition accuracy and the inability to browse via voice make shopping applications limited. 
The significant gap between interest in and usage of retail technology is largely due to barriers to entry. Inventory estimators are easy to use and prevalent, but other tech evaluated here often requires app downloads or availability in nearby stores. Early iterations of AR visualizers and size measurement tools disappointed some shoppers, so earning a second chance as capabilities improve will take a concerted effort. Overcoming this gap will require work to make this technology more accessible and user-friendly.
Rural shoppers saw gains in retail tech adoption across 2022
One consumer cohort stands out as an adopter of new retail tech: Rural shoppers saw the most consistent gains in usage of new tech, particularly e-commerce tools. Rural shoppers' preference for online shopping, which historically tracks lower than that of consumers in suburban and urban communities, also grew during the course of 2022 and now matches suburban consumers'.
Shares of consumers who have used each type of retail technology
Surveys conducted in March and November 2022 among at least 589 U.S. adults, with an unweighted margin of error of up to +/-4 percentage points.
Rural shoppers increased their use of inventory estimators (44% to 51%), AR tools (15% to 21%) and voice ordering (9% to 15%). Consumers who expressed a preference for online shopping also increased their usage of inventory estimators (47% to 53%) and AR tools (23% to 28%) across 2022. Rural shoppers' increased tech adoption is good news, but it comes with a downside: Urban shoppers' use of cashierless stores, AR previews and shopping by voice diminished over the same time period. Their interest in trying most retail technology declined as well. The urban/rural divide here likely reflects rural shoppers' limited access to the variety of stores urbanites enjoy. If it's more time-consuming and expensive to get to the nearest store, rural shoppers have stronger incentives to try new tech that can make their e-commerce shopping experiences more accurate and thorough. 
For deeper analysis into retail trends, download Morning Consult's H2 2022 State of Retail & E-commerce Report.
Claire Tassin is the lead retail & e-commerce analyst on the Industry Intelligence team, where she conducts research, authors analyst notes and advises leaders in the retail & e-commerce industry on how to apply insights to make better business decisions. Before joining Morning Consult, Claire was an analyst at Gartner, where she conducted research on shifting consumer behaviors and expectations, as well as trends and technology relevant to marketing leaders in the retail sector. She graduated from Washington University in St. Louis with a bachelor's degree in psychology. For speaking opportunities and booking requests, please email [email protected].
We want to hear from you. Reach out to this author or your Morning Consult team with any questions or comments.
Contact Us