U.S. Consumer Confidence Experiences Largest Single-Day Drop in Over Two Years
Coronavirus begins to drive personal finance & consumer spending concerns
As the coronavirus outbreak upends global markets and roil businesses, Morning Consult will be releasing a sampling of its consumer confidence indices on a daily basis. 
Following President Donald Trump's announcement that the United States is suspending travel from Europe to the U.S., consumer confidence experienced its largest single-day drop in over two years, according to daily Morning Consult tracking data. 
In the only consumer sentiment survey to gauge the impact of President Trump's announcement, as well as the coronavirus-related developments that occurred on March 12, Morning Consult's Index of Consumer Sentiment (ICS) in the United States fell 0.9% from the day prior to 108.99. Since January, the U.S. ICS is down 4.63%.
What is most particularly troubling in the latest data, though, is that consumers no longer view the coronavirus as strictly a problem for the macroeconomy. The coronavirus pandemic has begun to affect consumers' views of their own financial situation and confidence in spending, a key difference from recent periods of depressed consumer confidence. 
Fourteen percent of Americans believe that they will be worse off financially 12 months from now, which is the highest percentage recorded over the past two years. 
The deterioration in consumers' personal financial expectations also corresponds to an increase in the percentage of consumers who believe that now is a bad time to make a major household purchase. The daily number currently stands at fifteen percent after increasing from ten percent as recently as Feb. 29. Today's daily number ties the high over the past two years.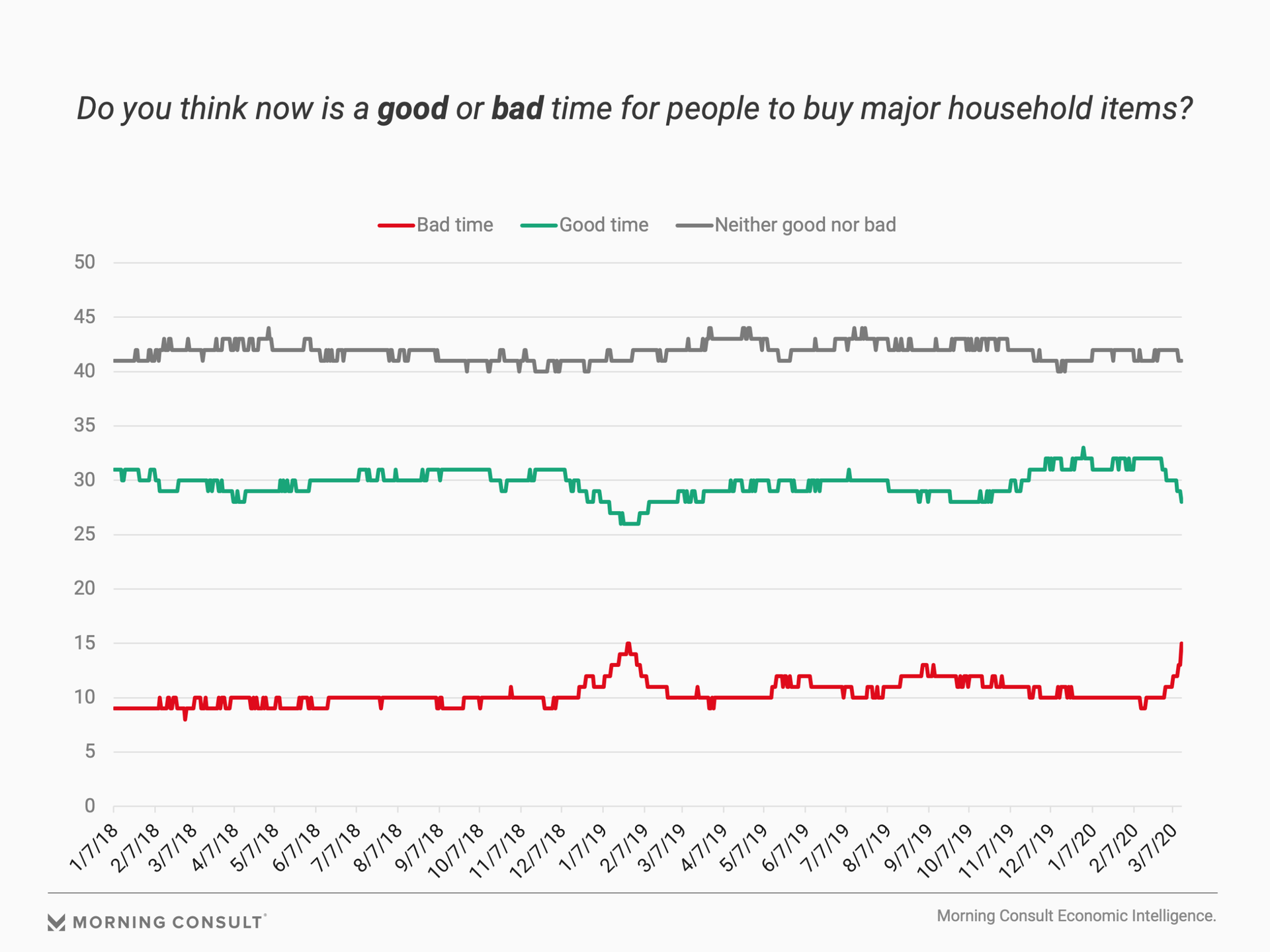 Up until recently, consumers' concerns regarding the coronavirus manifested themselves in terms of an increasing pessimism regarding the country's business and economic outlook, which is still continuing to grow. As of March 13, 26% of U.S. consumers believe that business conditions in the country as a whole will deteriorate over the next twelve months, up from 18% on Feb. 20 and near the two-year record of 28%.
Consumers across income cohorts are growing less optimistic about the economy. Today's data shows that confidence among high income workers fell first and fastest, followed by the middle income cohort and finally the low income cohort.
This demographic breakout is important for businesses and policymakers as they try to understand how the coronavirus is likely to impact consumption habits. High income workers account for a disproportionate percentage of total U.S. consumer spending so their views of the economy drive most of the fluctuations in total spending. It's also important to monitor low income consumers because they are more vulnerable to changing labor market conditions since they tend to be the first to have their hours scaled back or to be laid off. Thus, they provide a leading indicator of the likely effects of the coronavirus on the demand for U.S. workers.
Overall, consumer confidence has declined for the past eight consecutive days. This trend tells us that not only is confidence lower than it was in February, but also that it's trending in a negative direction. From February 28 to March 12, Morning Consult's daily ICS fell by 5.07 points.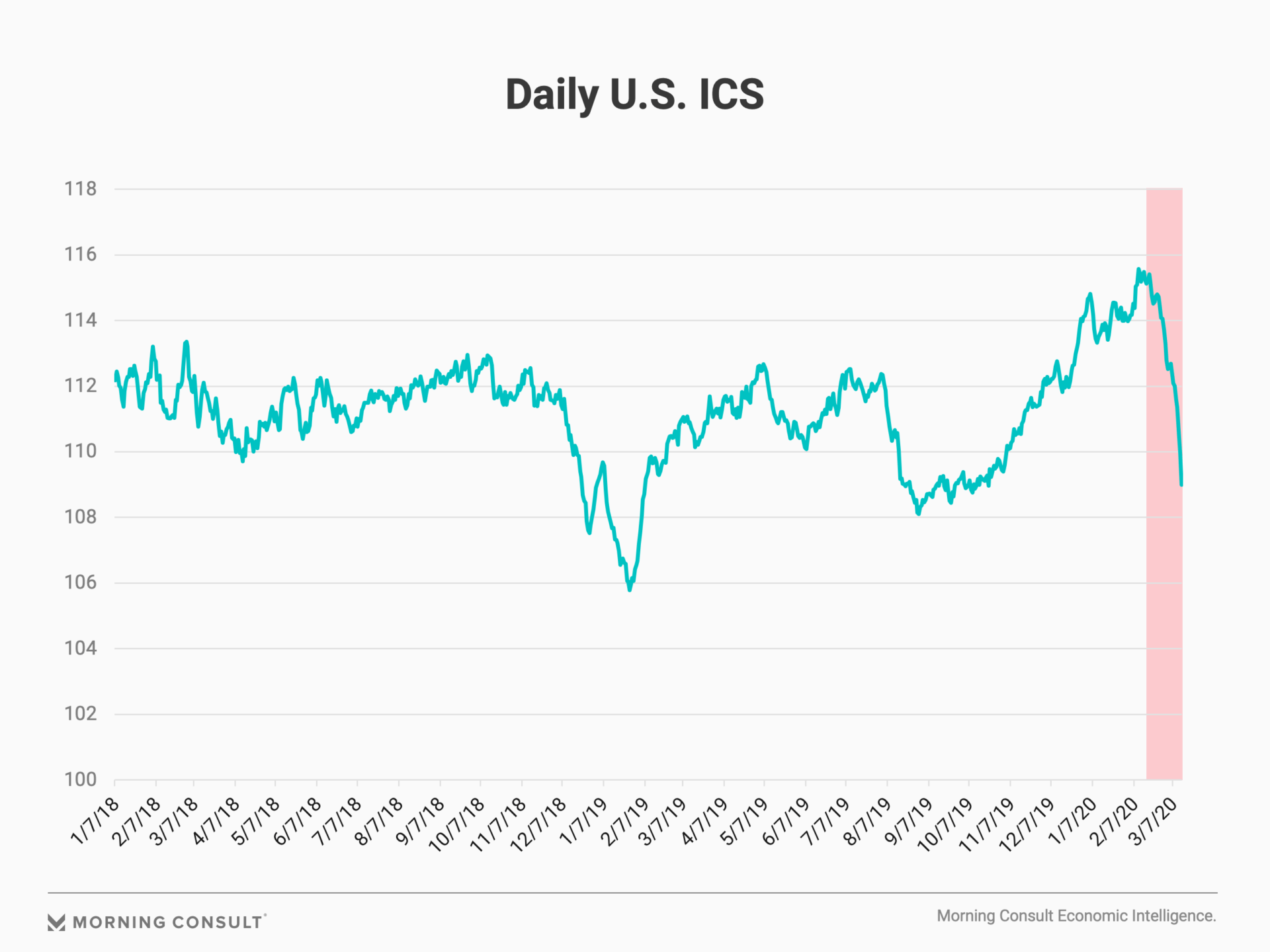 — John Leer, Economist, Morning Consult Economic Intelligence
About Morning Consult Economic Intelligence: Global Consumer Confidence
Morning Consult's Economic Intelligence: Global Consumer Confidence is an ongoing nationally representative survey based on approximately nearly 15,000 daily surveys globally, including almost 7,500 in U.S., giving insight into key daily consumer confidence metrics. Learn more here.
John Leer leads Morning Consult's global economic research, overseeing the company's economic data collection, validation and analysis. He is an authority on the effects of consumer preferences, expectations and experiences on purchasing patterns, prices and employment.
John continues to advance scholarship in the field of economics, recently partnering with researchers at the Federal Reserve Bank of Cleveland to design a new approach to measuring consumers' inflation expectations.
This novel approach, now known as the Indirect Consumer Inflation Expectations measure, leverages Morning Consult's high-frequency survey data to capture unique insights into consumers' expectations for future inflation.
Prior to Morning Consult, John worked for Promontory Financial Group, offering strategic solutions to financial services firms on matters including credit risk modeling and management, corporate governance, and compliance risk management.
He earned a bachelor's degree in economics and philosophy with honors from Georgetown University and a master's degree in economics and management studies (MEMS) from Humboldt University in Berlin. 
His analysis has been cited in The New York Times, The Wall Street Journal, Reuters, The Washington Post, The Economist and more.
Follow him on Twitter @JohnCLeer. For speaking opportunities and booking requests, please email [email protected]
We want to hear from you. Reach out to this author or your Morning Consult team with any questions or comments.
Contact Us