Key Takeaways
Real average monthly spending was flat and rising core inflation coincided with a substantial decline in Morning Consult's Consumer Purchasing Power Barometer in August, with both sticker shock and trading down behavior increasing. 

In contrast with earlier this year, when spending pullbacks were primarily concentrated among discretionary goods, discretionary services were among the categories where spending was reduced in August as consumers grew increasingly cost conscious. 

In addition to inflation, the diminishing influence of the pandemic is also leading consumers to reshape their purchasing priorities: Compared with a year ago, U.S. adults spent more in August on categories like public transportation, health care and education.  
From July to August, Morning Consult's measure of real average monthly household spending flatlined as purchasing power declined and consumers increasingly relied on savings and debt to cover monthly expenses. Based on recent precedent, we are likely to see a similar slowdown in growth in personal consumption expenditures for August when the data is released on Sept. 30.
Gas prices — which had previously been a primary upward driver of inflation — fell for a second straight month in August, offering some relief in particular to lower-income adults, who increased their real spending for the second month in a row. However, broad-based price increases for housing and other services overpowered the positive impact of lower energy costs for middle-income and higher-income earners, who cut back on spending last month.
Consumer Purchasing Power Barometer and Monthly Spending
Source: Morning Consult Economic Intelligence. The CPPB is calculated by multiplying the Price Sensitivity Index values for each month by -1/3 and the Substitutability Index values by -2/3 and adding them together. Morning Consult's spending data is adjusted for inflation using the CPI and seasonality using seasonal factors from the Census Bureau.
U.S. adults reacted strongly to the increase in core inflation in August, with Morning Consult's Consumer Purchasing Power Barometer declining sharply amid notable upticks in both its sticker shock and trading down components. In a reversal from earlier this year, consumers' increased price sensitivity and greater willingness to trade down to cheaper substitutes were especially pronounced for services rather than goods last month. 
As consumers continue to allocate more spending to essential services like workday commutes and health care appointments, rising core inflation — especially for housing services — is forcing trade-offs. Consequently, consumers in August cut back on discretionary services such as travel and dining out. This spending shift mimics a trend observed earlier this year among goods categories when gas and food prices took off. Back then, consumers concentrated more spending on these increasingly expensive essentials and reduced purchases of discretionary goods. 
Discretionary Services Spending Declined in Real Terms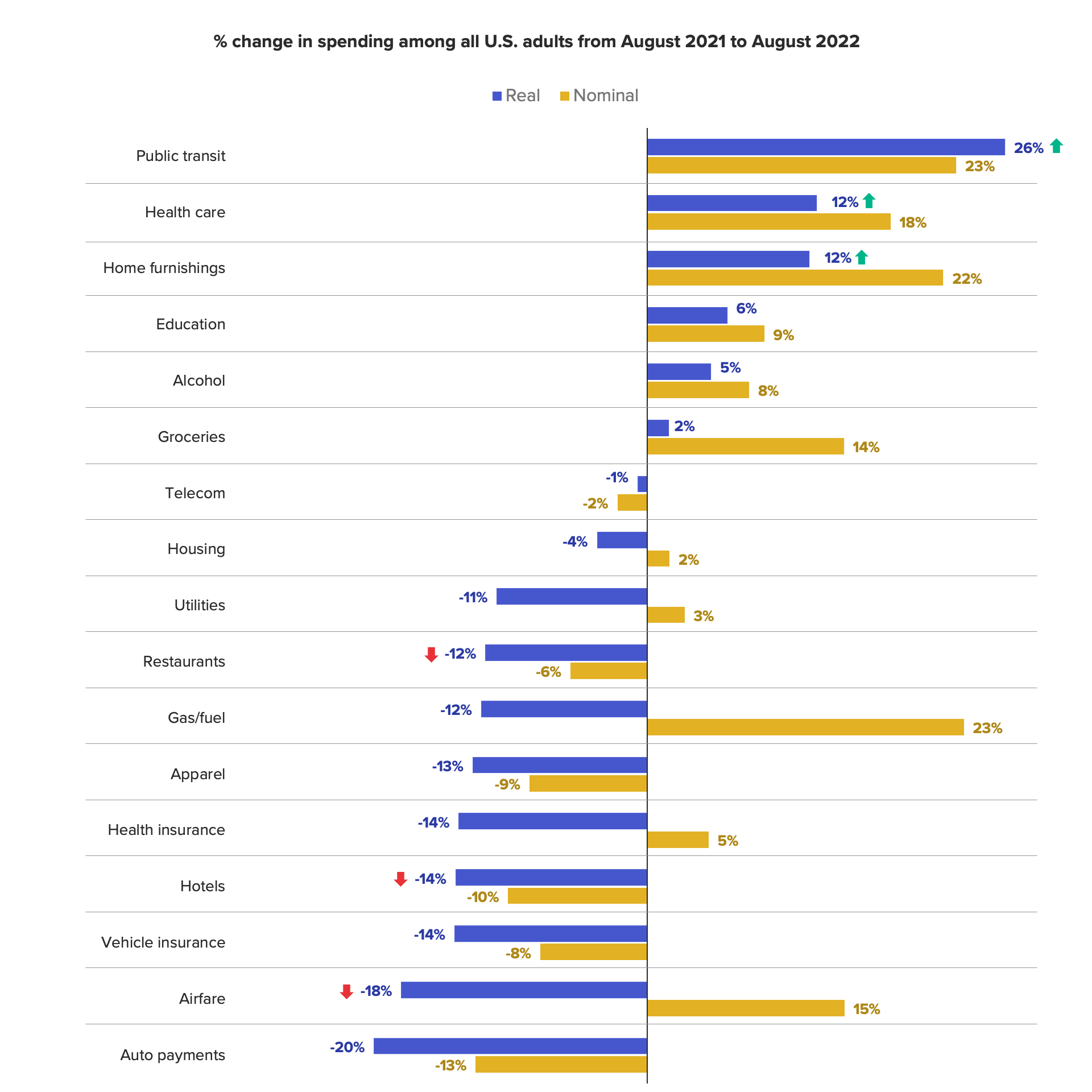 Source: Morning Consult Economic Intelligence
In addition to inflation, the diminishing influence of the pandemic is prompting consumers to reshape their purchasing priorities. Compared to August 2021, last month's spending levels displayed further evidence that the pandemic's lingering impacts on consumer behavior are waning. Most notably, public transportation and education spending categories registered strong growth in real terms as more workers and students went back to offices and schools. Meanwhile, spending on private transportation (indicated in this case by auto-related spending), which benefited from strong demand in both 2020 and 2021, fell on the same metric.
Kayla Bruun is a senior economist at decision intelligence company Morning Consult, where she analyzes consumer spending, inflation and household finance trends, leveraging the company's proprietary high-frequency data.
Prior to joining Morning Consult, Kayla was a key member of the corporate strategy team at telecommunications company SES, where she produced market intelligence and industry analysis of mobility markets. 
Kayla also served as an economist at IHS Markit, where she covered global services industries, provided price forecasts, produced written analyses and served as a subject-matter expert on client-facing consulting projects. 
Kayla earned a bachelor's degree in economics from Emory University and an MBA with a certificate in nonmarket strategy from Georgetown University's McDonough School of Business.
Follow her on Twitter @KaylaBruun. For speaking opportunities and booking requests, please email [email protected]
Scott Brave previously worked at Morning Consult in economic analysis.
We want to hear from you. Reach out to this author or your Morning Consult team with any questions or comments.
Contact Us