What a Correspondence Analysis Reveals About How Banks Are Struggling to Differentiate
Morning Consult financial services analyst Charlotte Principato unpacks how both traditional and digital banks are viewed in the eyes of consumers
Both traditional banks and neobanks have a differentiation problem -- consumers mostly think the same of brands in each space. Leaders at these banks need to lean into attributes not "owned" by any individual brand to drive their individual reputations and separate themselves from competitors.
Consumers' views of traditional banks do not differ much from one another, according to a new correspondence analysis that accentuates banks' long struggle with differentiating themselves from competitors. But audiences are also having trouble distinguishing digital-first neobanks from each other, showing that both traditional banks and financial service newcomers need to work harder to create individual brand identities. 
Correspondence maps show in one chart what would otherwise take many: how similar a set of brands are to one another in consumers' minds across many attributes, how closely they are associated with certain attributes, and where there is white space to differentiate further. It's a unique opportunity for financial services leaders to see how their bank compares to others in the minds of consumers, why, and what else they can do to set their brand apart.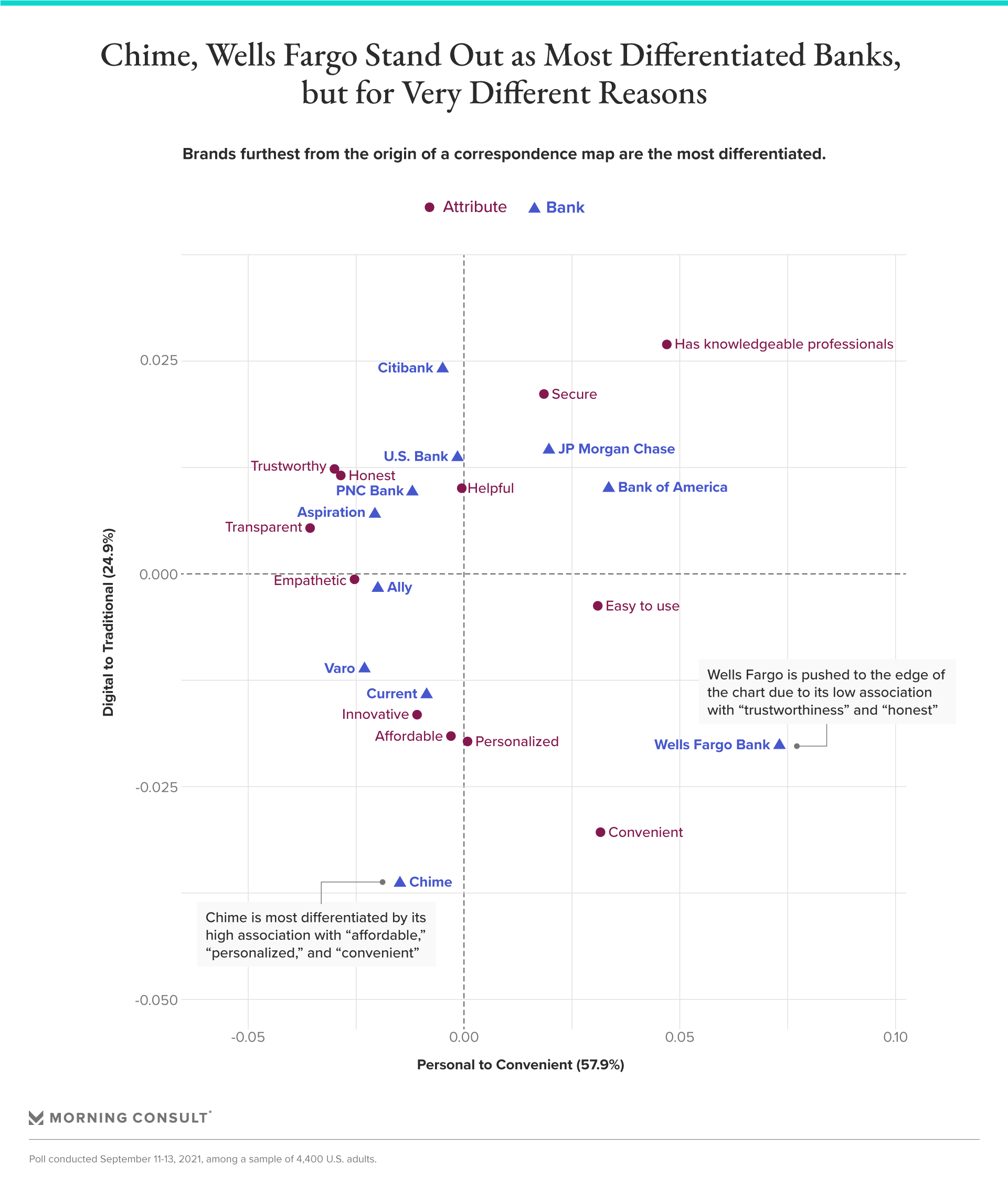 Consumers do differentiate neobanks from traditional banks, but not the brands that comprise these groups. That is to say, neobanks have done a good job of distinguishing themselves from traditional banks -- clustered in the second and third quadrants of the map and closely associated with innovation, affordability, and personalization -- but not from one another.
The same is true for traditional banks, clustered together across the first and second quadrants and near the attributes of security, helpfulness, and knowledgeable professionals. 
The poll behind this correspondence analysis was conducted September 11-13 among a sample of 4,400 U.S. adults. From a list of 11 banks, respondents were asked whether up to four banks they were familiar with met 12 attributes. The weighted proportion of people who agreed each bank met each attribute was then used to power a correspondence analysis to see how the banks related to each other in the 12 attribute space, and to what degree each bank was defined by a set of attributes. There is a push and pull to the relation of attributes and brands, all in relation with one another, that leads to the arrangement of brands and attributes across the map. This analysis was intended to compare traditional, national banks with neobanks, and purposefully did not include regional banks or credit unions.
The farther away a point -- whether a bank or an attribute -- is from the origin of the map, the more differentiated (in the case of banks) or differentiating (in the case of attributes) it is; the closer, the stronger the correspondence. 
Wells Fargo and Chime Bank are two powerful outliers. 
Chime Bank is most strongly associated with, and differentiated by, its association with being "innovative," "affordable," "personalized" and, most notably, "convenient" more so than any other banks. Additionally, Chime is tugging many of the attributes such as honesty and trustworthiness closer to it, despite the firm grasp traditional banks have. 
Wells Fargo, on the other hand, is most differentiated by its distance from the "trustworthy" and "honest" attributes. The bank ranked low on most attributes, pushing it to one corner of the map. 
Most importantly, correspondence maps also show what banking leaders at both neobanks and traditional banks should focus on.
Traits that are surrounded by a lot of white space signal an opportunity for increased differentiation, because no brand "owns" them yet. That means banks could find success by emphasizing their ease of use, convenience, and knowledgeable professionals.
If that sounds like something banks are already doing, it's because they are.
This is where correspondence maps provide powerful insights for leaders -- the map shows that banks' current messages on these attributes are not differentiated enough -- just noise to consumers, who see all banks relatively equally on these attributes. "Owning" an attribute will require marketing messages that separate the brands' definition of that attribute in the minds of consumers, as well as delivering on whatever that definition is successfully and consistently. 
To carve out their own space on the map -- separate from the pack -- banks will need to execute this strategy not just for one attribute, but a combination of attributes that no other bank has been able to strongly associate with in the minds of consumers.
Charlotte Principato previously worked at Morning Consult as a lead financial services analyst covering trends in the industry.
We want to hear from you. Reach out to this author or your Morning Consult team with any questions or comments.
Contact Us