Crypto Services: Where Traditional Financial Institutions Can Find Interested Consumers
Morning Consult financial services analyst Charlotte Principato details the demographic makeup of cryptocurrency owners and those interested in owning and how it has shifted over time
Key Takeaways
1 in 5 U.S. adults say they own some form of cryptocurrency.

Roughly a third of U.S. adults are interested in cryptocurrency services offered by traditional financial institutions.

Although Bitcoin owners as a group have become more white since 2019, Black and Hispanic adults are more likely to own and consider purchasing Bitcoin than white adults or adults of another race or ethnicity.

Leaders need to closely watch not only the composition of the Bitcoin owner population, but Bitcoin ownership among specific demographics, in order to properly plan to serve and educate all interested consumers.
Cryptocurrencies have had quite a year so far. Their buzz, awareness and use -- along with their volatility -- have increased throughout 2021, just as several traditional financial services institutions have announced plans to offer cryptocurrency services to the public.
A new Morning Consult analysis shows, in deep demographic detail, who is in this large pool of interested consumers and how these financial services leaders should respond: Although Bitcoin owners have become more white over the past two years as a group, the group is not simply wealthy, white males. In fact, crypto services could be an opportunity to serve more diverse, underserved communities.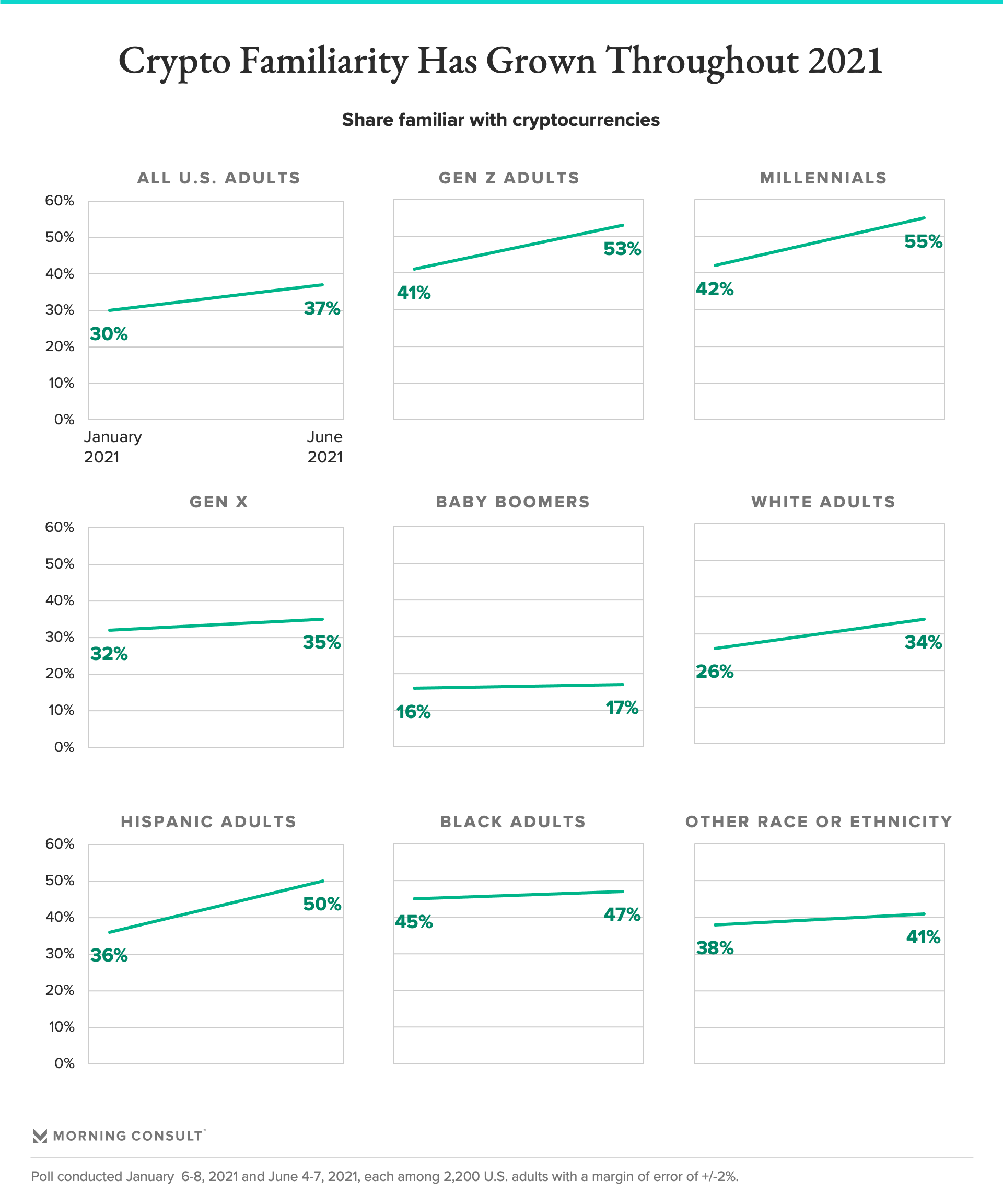 Cryptocurrencies are becoming mainstream with some key audiences. According to a recent Morning Consult poll, 1 in 5 of U.S. adults says they own cryptocurrency. Morning Consult Brand Intelligence shows that 17 percent of U.S. adults own or use Bitcoin specifically. Familiarity with cryptocurrency has grown almost 10 points since the beginning of 2021, with Gen Z adults, millennials and Hispanic adults showing the highest gains in familiarity. 
The familiarity among the general population of such a complex asset class is particularly impressive, but to further remove barriers to investment in cryptocurrency, financial services institutions should capitalize on this existing familiarity and isolate areas where they can better educate consumers across demographics and turn familiarity into investment.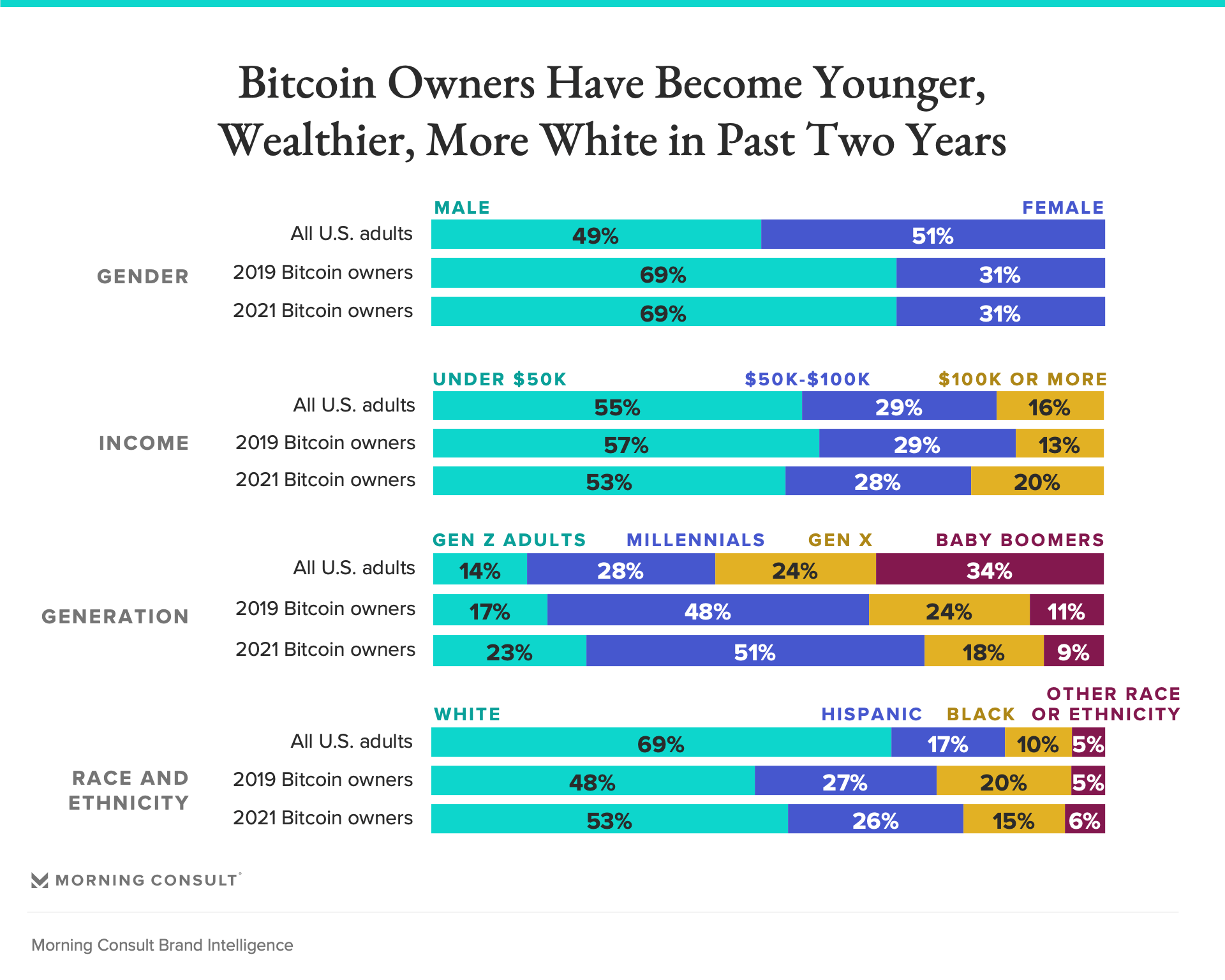 Compared to two years ago, however, the Bitcoin community has become increasingly homogenous in several ways. Bitcoin owners, which include those who own a portion of Bitcoin, have become richer, younger and more white since 2019 when Morning Consult began tracking Bitcoin in the Brand Intelligence platform, the company's flagship platform tracking daily consumer attitudes for more than 4,000 brands in 15 countries and counting.
Some demographics have not changed, however: Bitcoin owners are as likely to be male as they were two years ago, at almost 70 percent. The share of Bitcoin owners that report being Hispanic has also held steady, at about 1 in 4, higher than the general population, which is currently 16 percent. 
The homogenization is likely due to the extreme volatility of Bitcoin and increased negative buzz of the cryptocurrency over the last few months; higher-income and younger adults can have higher risk thresholds and more easily afford to invest in volatile assets, while those who saw Bitcoin as a long-term, stable vehicle for wealth creation may have been turned off.
Although Bitcoin's demographic makeup is majority white, several groups have outsized representation compared to the U.S. population. However, only viewing the demographic makeup of current Bitcoin owners misses the share of Bitcoin ownership and purchasing consideration within specific populations.
Examining Bitcoin ownership among different ethnicities, income levels and generations reveals persistent, enthusiastic interest among minority and younger populations. Namely, Hispanic and Black adults are more likely to be Bitcoin owners and to consider purchasing Bitcoin than white adults or adults of a different race or ethnicity, and are also more likely to consider purchasing it in the future. Bucking some misconceptions that all Bitcoin owners are wealthy, lower-income respondents are about as likely to own Bitcoin as wealthier adults. 
The big takeaway: Overall, about a third of adults say they would use cryptocurrency services such as buying, selling or storing cryptocurrency through a bank, or getting cryptocurrency advice from a financial adviser. (Notably, this is higher than the share who currently owns any cryptocurrency). Hispanic and Black adults express even higher interest in these services than white adults. Baby boomers are the least interested in crypto services, and they are also the least likely to own or be interested in cryptocurrency in general.
The broad public interest in cryptocurrency services means there is an opportunity for banks to not only serve their existing customers better, but attract new, potentially underserved, customers as well. It's the latter who could be looked over by traditional financial institutions if they are not specific in engaging with certain communities with crypto services. 
Lower-income, Hispanic and Black U.S. adults are more likely to be unbanked or underserved by traditional financial institutions, a persistent trend than many banks have made commitments to address in the last year. The high ownership of and interest in cryptocurrencies among these communities could be a starting point for banks, wealth management firms and other providers to create long-term relationships and follow through on their commitments to minimizing inequality. 
Traditional financial institutions will likely have a long road ahead of them to offering cryptocurrency services to the general public, as they determine the regulatory considerations and assess the volatility of the assets as well. But as they shape out their strategy, they should be mindful of the demographic makeup of cryptocurrency owners and those interested in becoming one and educate all interested groups on cryptocurrency -- or risk missing a big opportunity to better serve a wide range of consumers.
Charlotte Principato previously worked at Morning Consult as a lead financial services analyst covering trends in the industry.
We want to hear from you. Reach out to this author or your Morning Consult team with any questions or comments.
Contact Us