Key Takeaways
Real consumer spending declined in September as purchasing power slipped for a second consecutive month.

Services purchases are increasingly vulnerable to affordability challenges as rising prices for these categories discourage buyers. 

Housing price growth, a critical driver of core inflation, is showing signs of slowing as rising mortgage rates discourage homebuying, but it may take time for this development to be reflected in the Consumer Price Index.
This memo relies on data from Morning Consult's October U.S. Consumer Spending and Inflation report. Morning Consult Economic Intelligence subscribers can access the full report here.
Morning Consult's Consumer Purchasing Power Barometer warns weaker spending growth may be coming
Morning Consult's measures of real monthly spending and purchasing power both declined in September, suggesting that more consumers are backing away from and/or trading down on purchases as elevated core inflation continues to strain household budgets. These findings coincided with a decline in real retail sales in September and, based on recent precedent, indicate that official statistics for personal consumption expenditures could also show that growth in real outlays was weaker in September.
Falling Purchasing Power Points to Slower Real Spending Growth in September and October
Real Consumer Spending Growth
Sources: Bureau of Economic Analysis, U.S. Census Bureau, Bureau of Labor Statistics, Morning Consult Economic Intelligence. Retail sales and Morning Consult's spending data are deflated with the CPI, while PCE is deflated using its own price index. August retail sales are based on consensus estimates from Bloomberg.
As inflation continues to outpace incomes, consumer wallets are being pinched from all sides: Real incomes have fallen, the savings rate has tanked, and consumers are having to rely more heavily on credit to afford monthly expenses. As the holiday shopping season approaches, consumers' capacity and willingness to splurge is looking more and more precarious.
Services spending under threat as rising prices alienate more buyers
While declining prices for gas and certain other physical products have cooled goods inflation through September, rising prices for services — which account for a larger share of spending — are largely canceling out any cost relief for households. 
In September, consumers' purchasing behavior showed that higher services inflation has not gone unnoticed. In a reversal from earlier this year, when consumers were most inclined to curb discretionary goods purchases, services categories registered the highest index scores for Price Sensitivity and Substitutability in September. This latest development suggests that recent increases in inflation may be slowing the ongoing reallocation of goods spending to services despite consumers' best attempts to resume pre-pandemic purchasing patterns.
Rising Services Prices Discourage More Buyers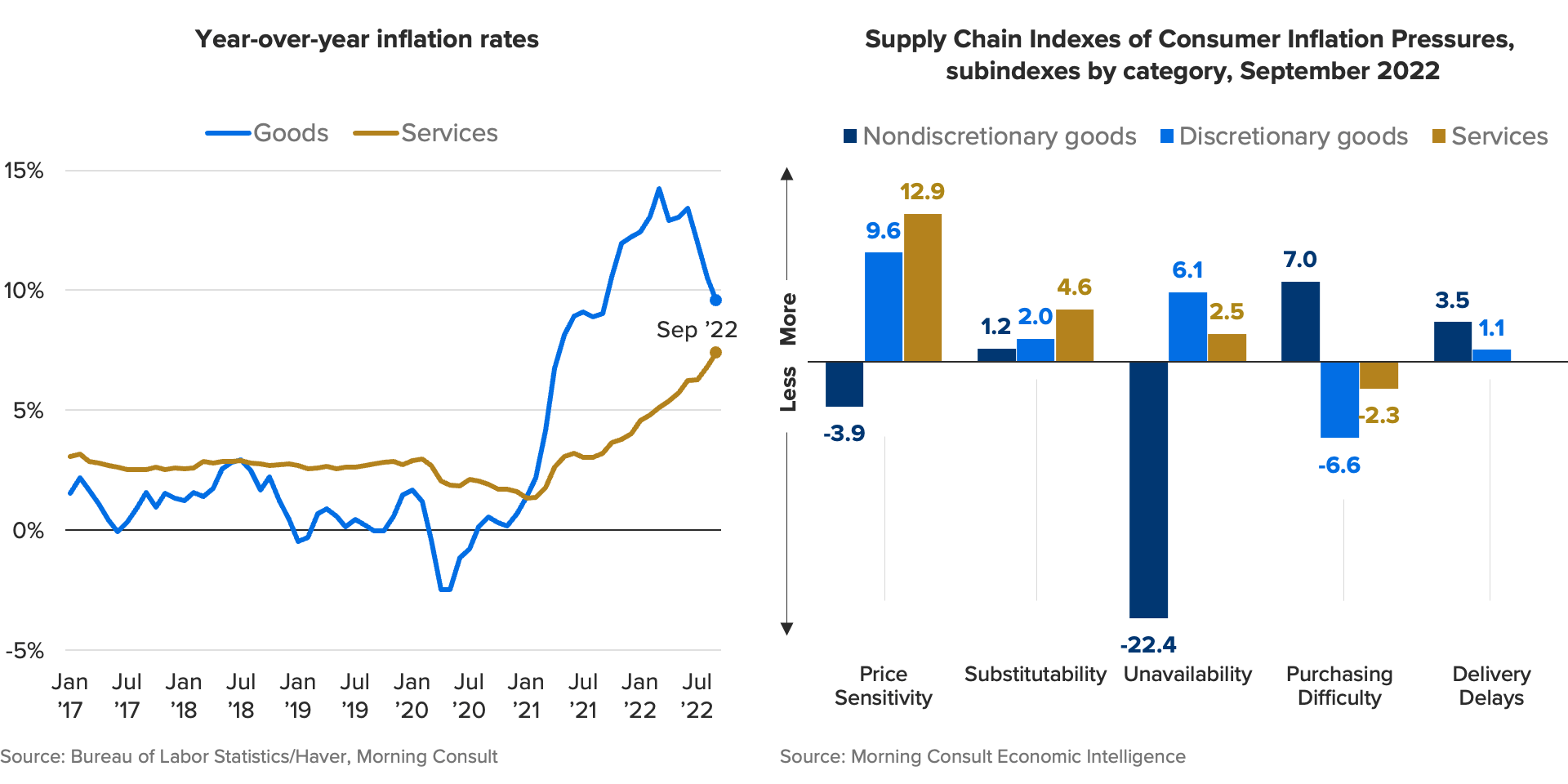 Diminishing housing demand starts to weigh on prices
Rising mortgage rates, on top of already elevated home prices, are increasingly becoming obstacles for buyers, with Morning Consult's measures of Price Sensitivity and Substitutability for housing both trending higher since earlier this year. The growing discouragement around home purchases among prospective buyers is being driven by both unaffordability and limited supply, with the latter reinforcing the former. Prospective homebuyers are not only facing rising mortgage rates, but also low inventory, which in turn contributes to elevated price
Spending on Home Purchases Straining Amid Higher Costs, Declining Purchasing Power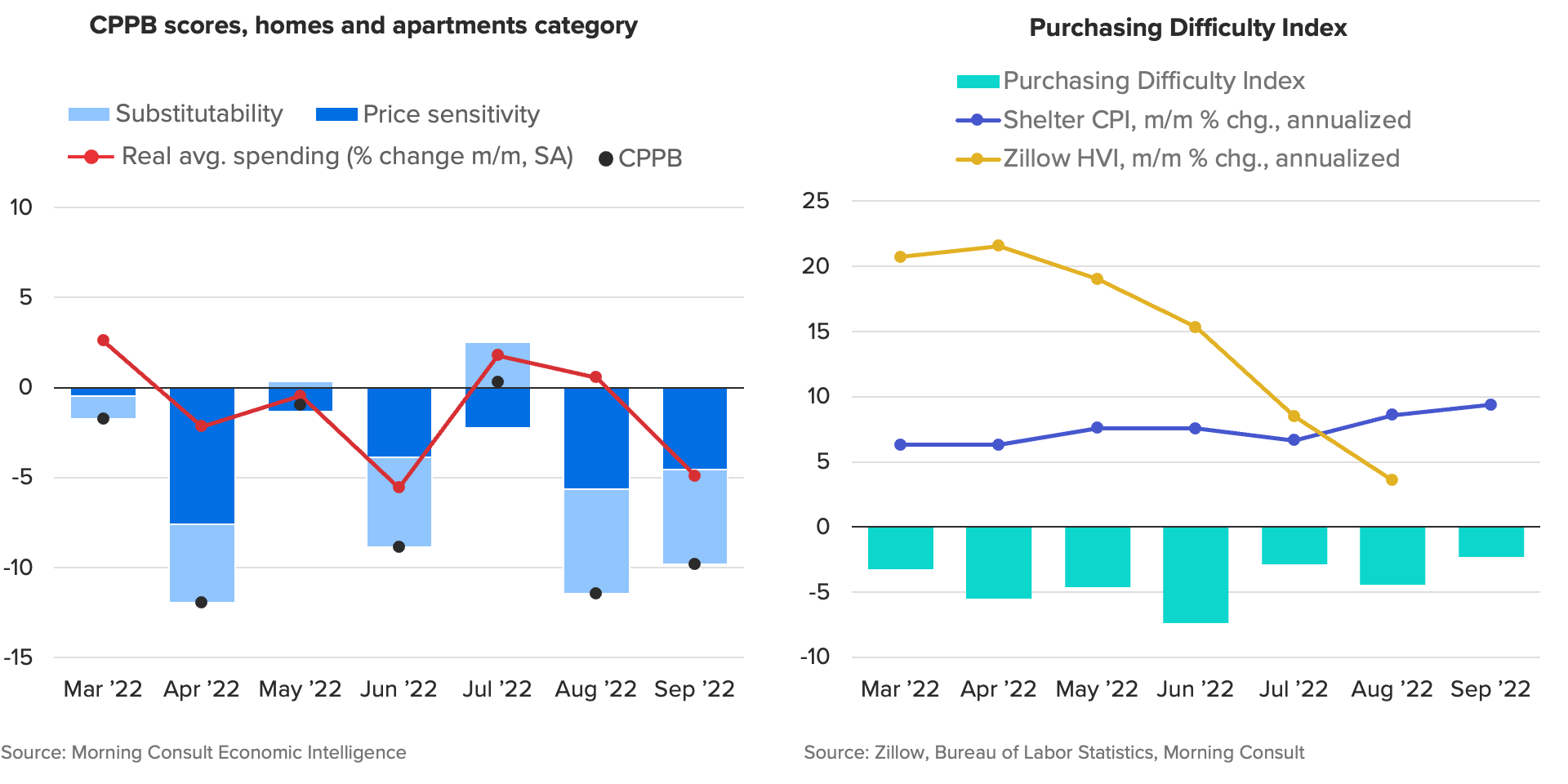 The increasingly burdensome search effort associated with finding affordable homes appears to be driving would-be buyers out of the market, and this diminished homebuying demand is also starting to affect prices. However, declining home values' contribution to relief in core inflation is likely to be both delayed and limited. In September, the shelter CPI — which tends to lag other home price metrics — was up 6.6% year over year, its fastest pace in 40 years. In contrast, the annual pace of price growth measured by Zillow's Home Value Index has slowed each month since April, falling to 3.6% in August. While slower home price growth by non-CPI metrics suggests CPI inflation will eventually absorb these changes, persistently limited supply may still restrict the degree to which home prices can fall. 
Inflation remains a threat to spending
Consumer spending growth has not collapsed, but the strain placed on budgets by persistently elevated inflation is taking a growing toll. Morning Consult's measures of real spending and purchasing power declined in September, and inflation-adjusted retail sales showed a similar contraction. Survey data in September suggests that rising prices for services categories, including housing, are causing increasing consternation among would-be buyers, with a growing share backing away from these purchases. All of these developments point to slower growth in personal consumption expenditures in September. 
This memo relies on data from Morning Consult's October U.S. Consumer Spending and Inflation report. Morning Consult Economic Intelligence subscribers can access the full report here, including category-level detail on consumer spending and purchasing responses.
Kayla Bruun is a senior economist at decision intelligence company Morning Consult, where she analyzes consumer spending, inflation and household finance trends, leveraging the company's proprietary high-frequency data.
Prior to joining Morning Consult, Kayla was a key member of the corporate strategy team at telecommunications company SES, where she produced market intelligence and industry analysis of mobility markets. 
Kayla also served as an economist at IHS Markit, where she covered global services industries, provided price forecasts, produced written analyses and served as a subject-matter expert on client-facing consulting projects. 
Kayla earned a bachelor's degree in economics from Emory University and an MBA with a certificate in nonmarket strategy from Georgetown University's McDonough School of Business.
Follow her on Twitter @KaylaBruun. For speaking opportunities and booking requests, please email [email protected]
We want to hear from you. Reach out to this author or your Morning Consult team with any questions or comments.
Contact Us