Consumers' 2021 Financial Progress Was Hard Fought. 2022 Will Require More Support From Banks
Morning Consult financial services analyst Charlotte Principato examines what impeded consumers' progress toward financial goals over the second half of the year
Consumers struggled to make progress toward financial goals last year, and they don't expect it to get any easier in the year ahead. Understanding and assistance from their banks might help, but consumers suggest there's room for improvement on that front.
While New Year's resolutions are notoriously short-lived, financial goals are a constant, according to consumers. Below, we look at how consumers progressed toward their financial goals during the second half of 2021 and how helpful they found their banks as they worked toward those goals.
Most consumers just stayed afloat financially through 2021
Amid the headwinds of the pandemic and inflation, 27 percent of consumers say they ended 2021 in a worse financial position than when they began it, and more than a third (37 percent) said it was harder to manage their finances than in previous years.
Respondents were asked whether their financial situation at the end of 2021 was worse, better or about the same as the beginning of the year, and whether it was easier, harder or about the same to manage their finances in 2021 than in previous years
Poll conducted Jan. 6-8, 2022, among a representative sample of 2,200 U.S. adults, with an unweighted margin of error of +/- 2 percentage points.
Important demographic distinctions exist: Women and adults reporting annual household income under $50,000 were most likely to say they ended 2021 in a worse financial position than they started it. Meanwhile, 42 percent of adults with household income over $100,000 said they're entering 2022 in a better position than this time last year, which does not bode well for income inequality.
The delta variant and expiring federal benefits challenged financial progress for many, dampening their outlook going into 2022
Rising inflation and the impact of the delta variant hampered progress toward near-term financial goals by the fall. Consumers' top three financial goals (creating an emergency fund, developing and maintaining a budget, and evening out spending) each showed a dip in the share of adults making progress toward that goal between July and October.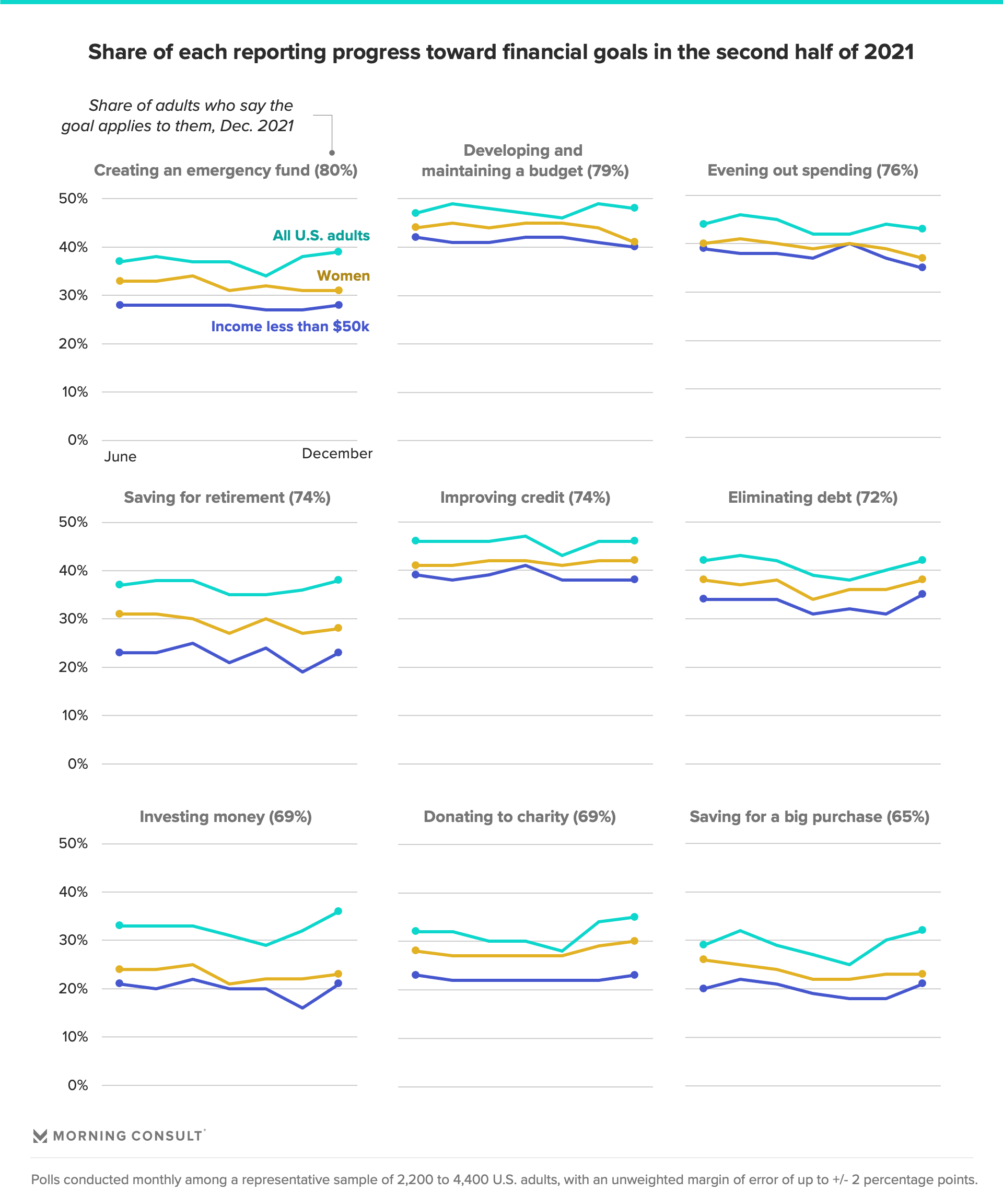 November and December brought an uptick in progress toward financial goals among the general population as many consumers got a cash-flow boost. The sizable 43 percent of Americans who are paid on a biweekly schedule experienced their second three-paycheck month of the year in either October (if their first paycheck of 2021 fell on Jan. 8) or December (if they received their first 2021 paycheck the week prior).
But this uptick didn't apply to everyone. Again, there were significant differences among women and lower-income households: 
Women often didn't experience the same lift at the end of the year, likely due to feeling more pressure to spend during the holidays. 
Lower-income households generally showed less sensitivity to inflation and the delta variant, instead showing more consistent progress month to month for most goals. This is surprising, given this group tends to have less financial cushion and is therefore more easily thrown off track. It's likely that the surge in employment among this group in the fall offset the negative impacts of delta and inflation: As many people adversely affected by these forces stopped working toward their financial goals, they were replaced by those who had new jobs and could begin working toward goals again.
These two groups are also less optimistic about their 2022 financial goals. When asked whether they are in a better or worse position to make progress toward their goals this year, women and adults in lower-income households were usually more likely than the general population to say they are in a worse position, regardless of the goal. 
What this means for banks: an imperative to step up their efforts to help consumers
The tempered outlook of women and those in lower-income households on achieving their goals can be attributed in part to a lack of support from their providers, Morning Consult's data indicates. These groups are less likely to report feeling their bank understands or helps them work toward goals, but the responses across all major demographics show that banks have room for improvement on these metrics.
Bank users were asked how well their bank understands and helps them make progress toward their financial goals
Poll conducted Jan. 6-8, 2022, among a representative sample of 2,200 U.S. adults with an unweighted margin of error of +/- 2 percentage points. Figures may not add up to 100 due to rounding.
Only about a quarter of adults with annual household income under $50,000 (27 percent) said their bank understands their financial goals very well, compared to 37 percent of adults with annual income over $100,000. And while 43 percent of adults said their banks understand their financial goals "somewhat well," that still leaves more than a quarter of adults who said their bank doesn't understand their goals. 
Consumers don't think too kindly about whether banks actually help them achieve their goals, either: More than a quarter of adults said their provider doesn't help them with their financial goals (that share increases for women and those in lower-income households), and another 14 percent even rated their banks as unhelpful. 
As financial services providers kick off 2022, a good New Year's resolution would be to redouble their efforts to understand consumers' financial goals (through surveys, conversations or analysis of consumers' account habits) and communicate how they can be helpful in achieving them. 
Charlotte Principato previously worked at Morning Consult as a lead financial services analyst covering trends in the industry.
We want to hear from you. Reach out to this author or your Morning Consult team with any questions or comments.
Contact Us