How Hospitality Brands Should Rethink Loyalty Programs to Win Over Gen Z
The youngest demographic of travelers differs from other generations by their greater need for choice, flexibility and exclusive experiences from hotel rewards programs, writes travel and hospitality analyst Lindsey Roeschke
Gen Z represents a huge opportunity for hotels, but as relatively new decision-makers in the category, their awareness of loyalty programs is low, and those who are members are less brand-loyal than older consumers. To win over the next big faction of travelers, hotels need to embrace what makes Gen Z unique: their desire for exclusive experiences from rewards programs.
Loyalty is up for grabs in hospitality. As more consumers return to regular travel, hotel brands need to re-engage their loyalty program members — with a particular eye toward Gen Z, a new but quickly growing target demographic for hospitality.
Awareness of hotel loyalty programs low among Gen Z
With its oldest members just 24 years old, Gen Z is relatively new to the travel category, at least in terms of making purchasing decisions. As a result, their awareness of major hotel loyalty programs — Hilton Honors, IHG Rewards, Marriott Bonvoy and World of Hyatt — is much lower compared with other generations. But while fewer members of Gen Z consider themselves the primary planner when it comes to their leisure travel, 80 percent say they have some responsibility in the process. This share will only grow as Gen Z continues to gain spending power, so the time is ripe for hospitality brands to engage them.
Gen Z Less Aware of Hotel Loyalty Programs
Respondents were asked if they were aware of four major hotel loyalty programs. Below is total average awareness by generation
Weekly surveys were conducted September 24, 2020 - September 24, 2021, among roughly 2,200 U.S. adults and have a margin of error of +/-2%.
Hospitality brands must overcome a lack of trust and purchase intent
Lack of awareness among young travelers isn't the only barrier hotel brands face. Among those who are members of loyalty programs — 31 percent of Gen Zers, 41 percent of Gen Xers and 46 percent of both millennials and baby boomers, there's also a lower level of trust of, and intent to purchase from, the associated brands.
While Gen Z exhibits comparatively low levels of trust across all major institutions, brands can view this lack of trust as an opportunity rather than simply accepting it as a given. Reimagining loyalty programs to align with Gen Zers' unique needs and expectations can help build trust and translate program participation to purchase intent.
Gen Z Members of Loyalty Programs Exhibit Lower Trust, Intent to Purchase
Loyalty program members from four major hotels were asked about trust and intent to purchase from said hotels
Weekly surveys were conducted September 24, 2020 - September 24, 2021, among roughly 2,200 U.S. adults and have a margin of error of +/-2%.
Gen Z prioritizes choice, flexibility and exclusive experiences in loyalty programs
For all travelers, the wish list of loyalty program perks is long. Roughly three-quarters of travelers say eight features are important to them when considering a hotel loyalty rewards program.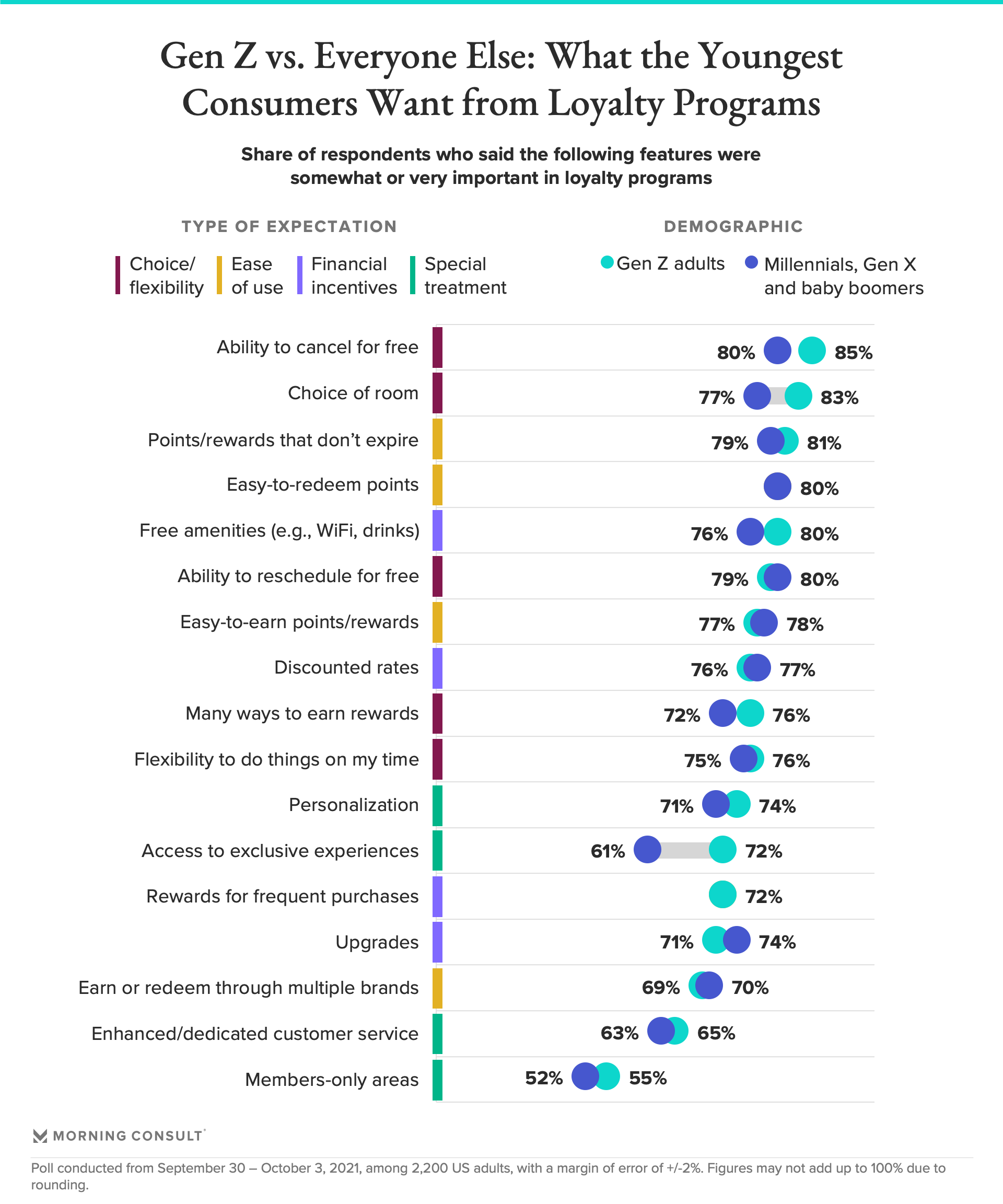 The order of Gen Z's must-have features doesn't vary widely compared with other generations, but there are some unique differences that hospitality brands should act on. As relatively less frequent travelers, Gen Zers care less about some of the purely financial elements of loyalty programs — such as free amenities, upgrades and discounted rates — and instead prioritize choice and flexibility.
The biggest difference between Gen Z and all others has to do with access to exclusive experiences. This generation-specific expectation represents an opportunity for brands to get creative — by inviting members to unique events at their destination such as dinners and performances, for example, or connecting them with chefs and creators to enhance their experience. For brands already offering such incentives, understanding Gen Z priorities can help them inform messaging hierarchy when targeting the youngest generation of travelers.
Lindsey Roeschke is the lead travel & hospitality analyst on the Industry Intelligence team, where she conducts research, authors analyst notes and advises leaders in the travel & hospitality industry on how to apply insights to make better business decisions. Before joining Morning Consult, she served as a director of consumer and culture analysis at Gartner and spent more than a decade working at advertising agencies across three continents. Lindsey graduated from the University of Delaware with a bachelor's degree in communications and holds a master's degree in strategic communications from Villanova University. For speaking opportunities and booking requests, please email [email protected].
We want to hear from you. Reach out to this author or your Morning Consult team with any questions or comments.
Contact Us