Key Takeaways
U.S. consumer spending faced increasing headwinds in February as rising energy prices forced households to reallocate monthly budgets.

The impacts of gas prices on household spending were not uniform across demographics in February: Lower-income and rural households cut back on discretionary spending, while groups that were less vulnerable to price changes expanded their travel and dining purchases last month.

Consumer demand looks increasingly fragile heading into March as higher prices weigh on consumer sentiment. 
The following analysis is based on Morning Consult's proprietary consumer spending, purchasing intentions and price expectations data series. Read more in our March 2022 U.S. Consumer Spending Report.
On its surface, Morning Consult's February spending data paints a relatively encouraging picture: Spending levels increased for virtually every category, including strong rebounds for purchases of discretionary services like travel, dining and personal care. A deeper look, however, shows cracks in the foundation. Rather than a sign of momentum, the upward spending trend for discretionary services more likely represented a temporary boost — concentrated among higher-income households — from pent-up demand for categories impacted by the omicron surge. 
Morning Consult's spending data is not adjusted for seasonality or inflation, and spending growth in several categories was largely driven by price increases, not an expansion in real purchasing demand. As prices — especially gas prices — continue to climb, elevated inflation is becoming more influential in shaping spending allocations.
Gas and utilities prices crowd out spending on other categories
Rising energy prices are exerting a growing influence on spending patterns. Pump prices had already climbed significantly in the year leading up to February, and climbed an additional 7.1 percent by the end of the month as the Russia-Ukraine conflict roiled energy markets. Amid rising energy costs, the share of total monthly spending allocated to gas and utilities prices increased from 9.9 percent to 10.6 percent since June 2021.
While consumers are directing a growing share of expenditures toward gas, they have less left over to spend on other categories. The share of spending for services like airfare, hotels, dining out, education and health care trended lower over this same period, as did spending on new clothes and furniture. Many of the goods and services that registered declines could be considered discretionary purchases, which tend to be the first expenses cut from household budgets when finances become strained.
Lower-income, rural adults are most vulnerable to gas price increases
Gas price inflation is disproportionately impacting lower-income and rural adults. Adults from households earning less than $50,000 allocated 11.3 percent of total spending in February to gas and utilities, compared with 9.4 percent for adults from households earning $100,000 or more. The difference in energy category spending allotments was even more pronounced for rural (13.2 percent) and urban (9.4 percent) consumers. 
Lower-income consumers tend to have less in savings than adults overall since they are more likely to spend a higher share of total income on daily expenses. The group least able to comfortably absorb higher living costs is also the most exposed to rising gas prices. The unequal impact of inflation led to a divergence in spending behavior in February: For higher-income consumers, the fading omicron surge gave way to rebounds in spending on activities like travel or recreational experiences, while lower-income adults felt the pinch of rising gas prices more acutely and couldn't afford to join in. 
Headwinds intensifying in March
The widespread increase in spending observed in February is likely to be short-lived as consumers feel growing pressure to cut back on nonessential purchases. Through early March, pressure on U.S. budgets from inflation has intensified: Gas prices soared an additional 19.3 percent through mid-March, and another round of factory shutdowns in China is adding to concerns over supply chain disruptions. For U.S. consumers, living expenses are accounting for a higher proportion of income than a year ago, diminishing financial buffers against further price increases. These factors are weighing on consumer sentiment, which tends to be a leading indicator of consumer spending.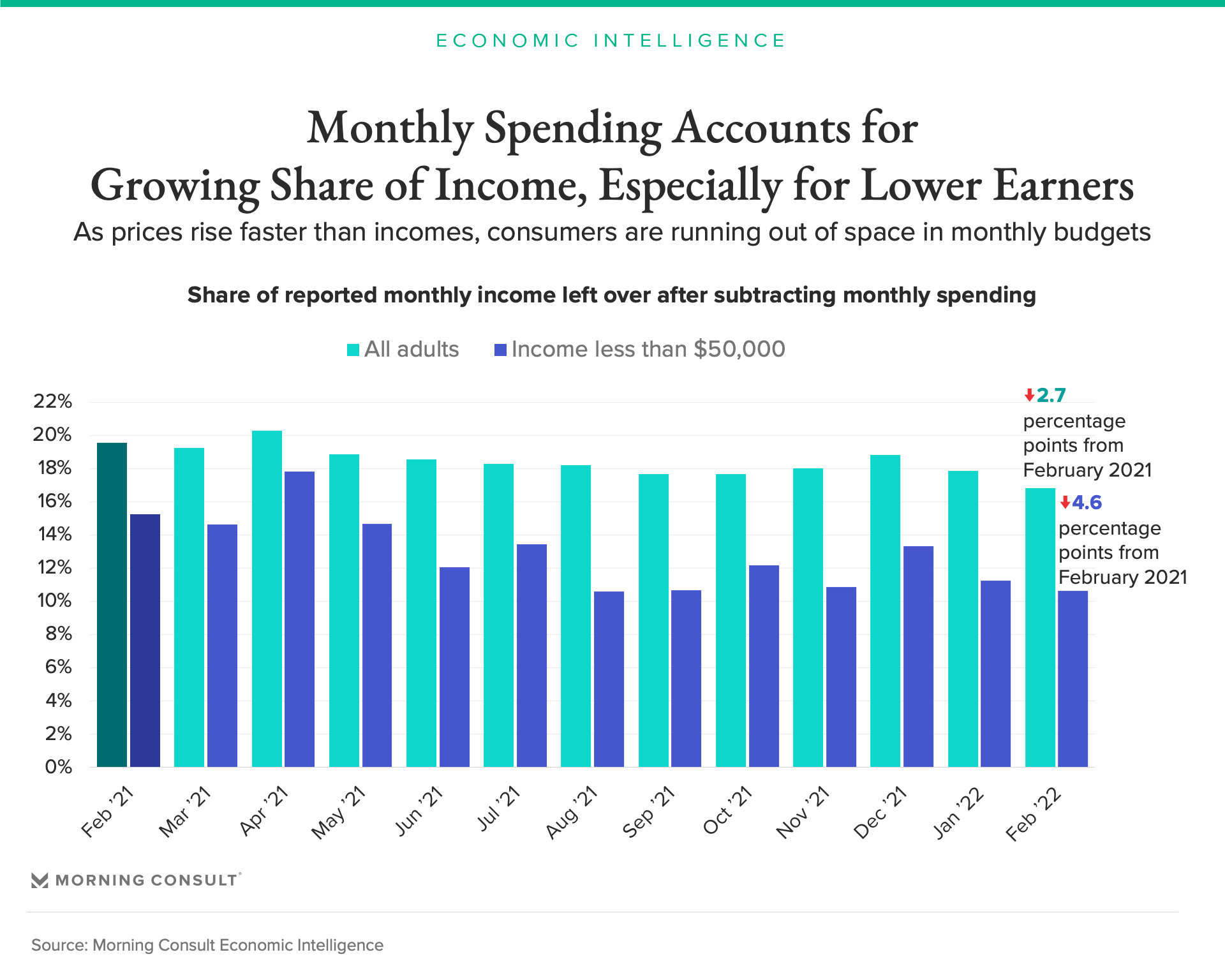 As elevated prices continue, more consumers will have to choose between cutting spending or dipping into savings. The same affordability challenges that lower-income households faced in February could become more prevalent among those earning $50,000 or more. Sustained pricing pressures mean that the post-omicron spending boost should quickly evaporate as more consumers feel compelled to limit nonessential purchases, weighing down real spending growth and slowing the pace of overall U.S. economic growth in 2022. 
For more information on the methodology behind Morning Consult's U.S. Consumer Spending and Personal Finances Survey, please see the March U.S. Consumer Spending Report.
Kayla Bruun is a senior economist at decision intelligence company Morning Consult, where she analyzes consumer spending, inflation and household finance trends, leveraging the company's proprietary high-frequency data.
Prior to joining Morning Consult, Kayla was a key member of the corporate strategy team at telecommunications company SES, where she produced market intelligence and industry analysis of mobility markets. 
Kayla also served as an economist at IHS Markit, where she covered global services industries, provided price forecasts, produced written analyses and served as a subject-matter expert on client-facing consulting projects. 
Kayla earned a bachelor's degree in economics from Emory University and an MBA with a certificate in nonmarket strategy from Georgetown University's McDonough School of Business.
Follow her on Twitter @KaylaBruun. For speaking opportunities and booking requests, please email [email protected]
We want to hear from you. Reach out to this author or your Morning Consult team with any questions or comments.
Contact Us