The Mask Mandate Has Been a Headache for Travel Brands, and Here's How Consumers Feel About It
Matthew Howe, senior manager of travel intelligence, unpacks consumer sentiment toward mandatory face coverings while traveling
High-frequency survey research shows that allowing the federal mask mandate on planes to expire on April 18 may be a tad premature: Most consumers, including those who plan to travel soon, want the mandate to remain in place, although support appears to be weakening.
Travel brands are keen to bring back consumers this spring and summer, but they say they face a major obstacle: the federal mask mandate.
Enforcing the mandate amid the ongoing pandemic has proven to be a challenge for air crews, resulting in flight disruptions, increased air rage and even the assault of flight attendants.
Industry leaders want the rule lifted. In a letter to the Biden administration, CEOs of industry trade association Airlines for America and a number of air carriers — including Delta Air Lines Inc., American Airlines Inc., United Airlines Inc. and Southwest Airlines Co. —  called for ending mask mandates on planes, saying the "science clearly supports" eliminating the rule. Pilots and flight attendants are also pressing for the end of the mandate, which is set to expire April 18, through lawsuits aimed at the federal government.
Morning Consult's monthly survey research shows consumer support for air travel mask mandates is waning, but a majority still back them — including anticipated travelers. 
At least 3 in 5 U.S. adults back rules requiring customers and employees to wear masks when on an airplane. Those who plan to travel in the next three months are more likely to support such mandates.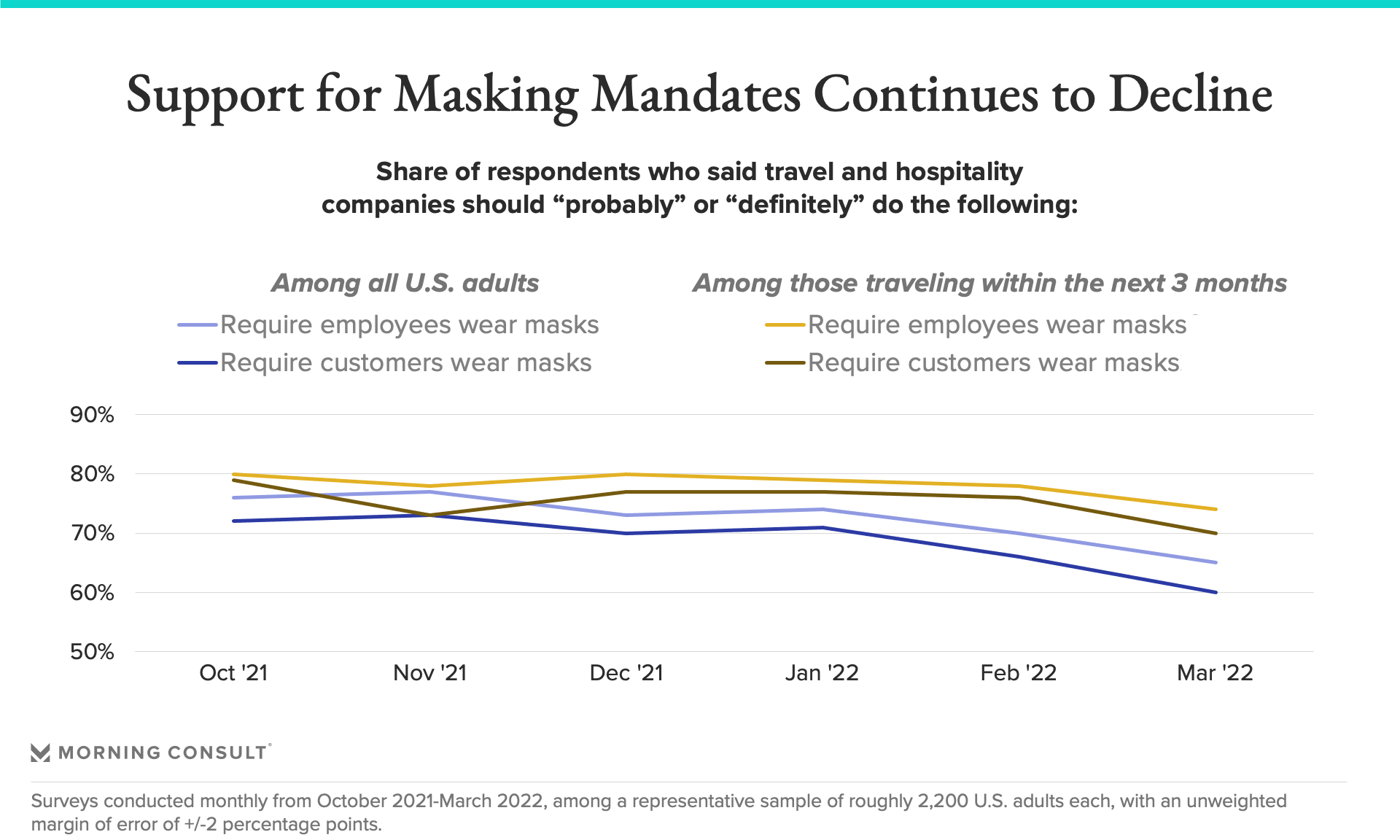 But these figures have slipped: General support for requiring customers to wear face coverings has dropped 11 percentage points since January 2022, while backing for an employee mask mandate has dropped 9 points during that time. If these trends continue, support will remain above 50% in April.
The travel industry has reached an interesting inflection point. Vaccines are widely available for those who want them and consumers know what to expect from brands in terms of health and safety. Americans are more interested in personal choice than mandates and prescribed personal responsibility.
The one curveball is, of course, a new variant, given that omicron has already stagnated consumer comfort levels.
Share of U.S. adults who said they feel comfortable doing the following activities right now:
Weekly surveys conducted among a representative sample of roughly 2,200 U.S. adults each, with an unweighted margin of error of +/-2 percentage points.
But the COVID-19 pandemic has shown that predicting the future is often impossible, and that the revived city mask mandates brought on by delta and omicron are often difficult to enforce.
While support for masking requirements for both consumers and workers has declined precipitously in recent months, we believe travel brands should wait and see what the impact of Covid BA.2 is before eliminating mandates. Another option is adopting virus spread or hospitalization metrics that, if surpassed, would trigger the reinstatement of masking requirements. Both of these potential approaches are sensitive to traveler comfort and responsive to the changing safety environment.
Matthew Howe is the senior manager of travel intelligence at global intelligence company Morning Consult, where he conducts research, writes analyst notes and advises leaders in the travel & hospitality industry on how to apply the latest industry trends and findings.
For speaking opportunities and booking requests, please email [email protected].

We want to hear from you. Reach out to this author or your Morning Consult team with any questions or comments.
Contact Us