Partisan Divide: Why Pizza Chains Are More Popular Among Republicans
Most pizza chains get higher favorability ratings from Republicans than from Democrats
Key Takeaways
Papa John's is more popular with Republicans than with Democrats, by 24 percentage points in net favorability.

Republicans are also more likely than Democrats to favor Domino's, Little Caesars and Pizza Hut.

Large pizza chains accounted for 36.5% of sales in states that President Donald Trump won in 2016, compared to 23% of sales in states that voted for Hillary Clinton.
When Papa John's Pizza in November blamed sinking pizza sales on National Football League national anthem protests, the pizza chain found itself in an awkward political position: The so-called alt-right community voiced its support for the company, prompting Papa John's to tweet its disapproval of neo-Nazis.
Fringe groups aside, Papa John's is more popular among Republicans than Democrats, according to Morning Consult's Most Polarizing Brands in America data, which shows that GOP preference was well established before this year's NFL season began.
Pizza industry experts suggest the popularity of major chains in traditionally conservative states -- and to some extent, price and the level of more premium toppings -- could be reasons for the political divide.
While pizza was plentiful in Italian immigrants' urban communities along the East Coast around the turn of the 20th century, it was sparse elsewhere in the United States. It wasn't until the late 1950s and early 1960s, when companies like Pizza Hut, Domino's and Little Caesars cropped up in the Midwest, that pizza was brought to the wider American public.
During the industry's early years, when chains were starting, companies focused their marketing on lower-income neighborhoods and presented pizza as an inexpensive dinner option in those Midwestern hubs, said Carol Helstosky, an associate professor of history at the University of Denver and author of "Pizza: A Global History," in a Jan. 10 interview.
"If we think about this in culinary terms, the emphasis is on cost, reliability, standardization and efficiency," she suggested of families opting for pizza for dinner. "Food historians might label these culinary values conservative, in the sense that the consumer wants the same product, and qualities like fast delivery matter more than particular ingredients or the overall taste."
Four of the five pizza chains Morning Consult tracks on its Brand Intelligence platform have higher favorability ratings from Republicans than from Democrats. Papa John's, the trademark of Papa John's International Inc., is more popular among Republicans by 24 percentage points compared to Democrats -- 58 net favorability versus 34 for Democrats.
For Little Caesar Enterprises Inc., the gap is 6 points in favor of Republicans followed by a 5-point difference for Domino's Inc. and 3 points for Yum Brands Inc.'s Pizza Hut.
The data is drawn from 336,370 surveys conducted with U.S. adults from Oct. 3 to Jan. 2. The data has a 2.8 percentage point margin of error.
California Pizza Kitchen is the only tracked pizza chain that's more popular among Democrats, though the 2 percentage-point margin falls within the margin of error. The chain also has less than 10 percent of the number of U.S. stores than the other tracked brands.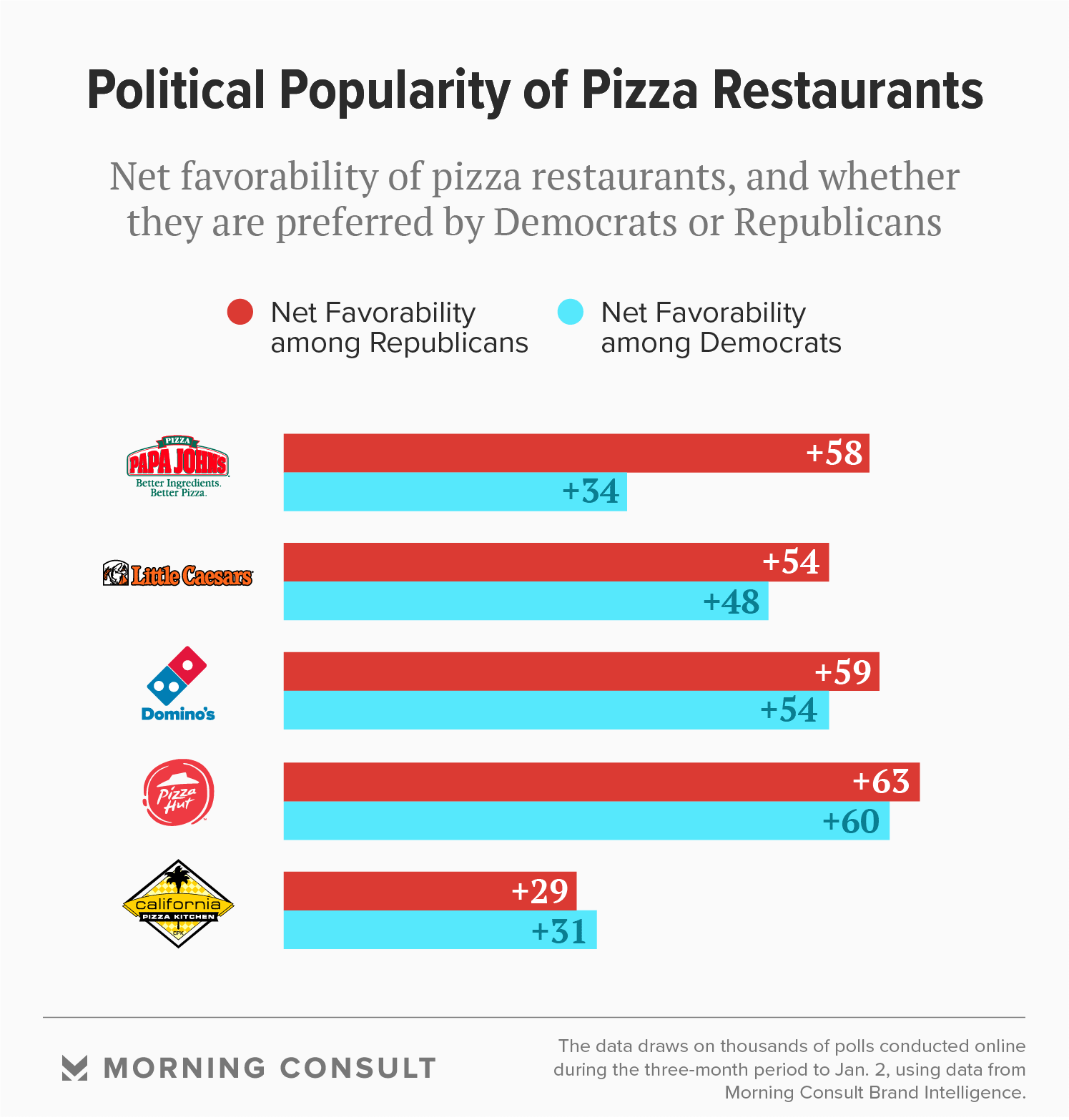 Geographic location is also important, Steve Green, co-founder and publisher of industry publication PMQ Pizza Magazine, said in a Jan. 11 interview, noting that pizza chains tend to have a bigger presence in red states.
Of the $34 billion grossed by pizza restaurants last year in states that voted for President Donald Trump in 2016, $12.4 billion, or 36.5 percent, came from stores with more than 500 locations nationwide, according to figures from CHD Expert, a foodservice and hospitality data analysis firm. In states won by Democratic nominee Hillary Clinton, $6.3 billion, or 23 percent, of $27.3 billion came from chains.
Independent stores, or restaurants with nine or fewer locations, accounted for 55 percent of sales in blue states. Maine's pizza sales were divided between red and blue states in this analysis, since the state split its electoral votes in the 2016 presidential election.
California Pizza Kitchen Inc., which opened its first restaurant in Beverly Hills in 1985, does not count as a large national pizza chain since it has fewer than 500 locations, according to CHD's definition. The company says it has more than 250 locations worldwide, without breaking out U.S. stores in particular.
Pizza Hut has 7,576 U.S. stores, Domino's has 5,491 and Papa John's reported 3,441 stores in North America, without breaking out them out by country. Little Caesars is privately held and does not disclose the number of store locations, but a company spokeswoman said it's the third-largest pizza chain in the United States.
Helstosky said California Pizza Kitchen's culinary values of taste, exotic ingredients and its dining experience could also be contributing factors to why it differs from its competitors and why it's attractive to Democrats.
The chain was inspired by the invention of "California-style pizza" in the early 1980s: individual (as opposed to group), wood-fired (as opposed to oven) pizzas with local, unusual or exotic ingredients, she said. The California-based chain also emphasizes the sit-down experience over pizza delivery.
"We might think about these culinary values as being more liberal or at least not conservative, in that consumers want to try something new -- cost may or may not matter to them -- and they are looking for a dining experience that stretches a bit beyond the food they consume," Helstosky said.
The partisan divide dissolves when considering ordering habits: Similar percentages of Democrats (41 percent) and Republicans (42 percent) said they order pizza every couple of weeks, according to separate Morning Consult polling of 2,201 U.S. adults from Jan. 11-16. The survey has a margin of error of 2 percentage points.
Behind the scenes, most pizza companies' political contributions fall along the lines of their net favorability. The majority of the money Domino's and Little Caesars donated to federal candidates during the 2016 election cycle, and all of Pizza Hut's contributions, went to Republicans, according to the nonpartisan Center for Responsive Politics. Papa John's gave a majority of its 2016 federal contributions to Democratic candidates, though all of its 2012 donations at the federal level went to Republican candidates. All of California Pizza Kitchen's federal donations were for Democratic candidates.
Both Little Caesars and Domino's provided statements to Morning Consult saying they do not discuss politics and that their focus is on making pizza. Papa John's, Pizza Hut and California Pizza Kitchen did not respond to requests for comment about the polling results and possible polarization among pizza consumers.
Joanna Piacenza leads Industry Analysis at Morning Consult. Prior to joining Morning Consult, she was an editor at the Public Religion Research Institute, conducting research at the intersection of religion, culture and public policy. Joanna graduated from the University of Wisconsin-Madison with a bachelor's degree in journalism and mass communications and holds a master's degree in religious studies from the University of Colorado Boulder. For speaking opportunities and booking requests, please email [email protected].
We want to hear from you. Reach out to this author or your Morning Consult team with any questions or comments.
Contact Us