Retailers Feel Pressure to Speed Up Deliveries, but It Isn't Coming From Consumers
Emerging businesses promising 15-minute delivery have retailers wondering if instant fulfillment will become the new standard, but a recent survey suggests consumers are far more patient, writes retail and e-commerce analyst Claire Tassin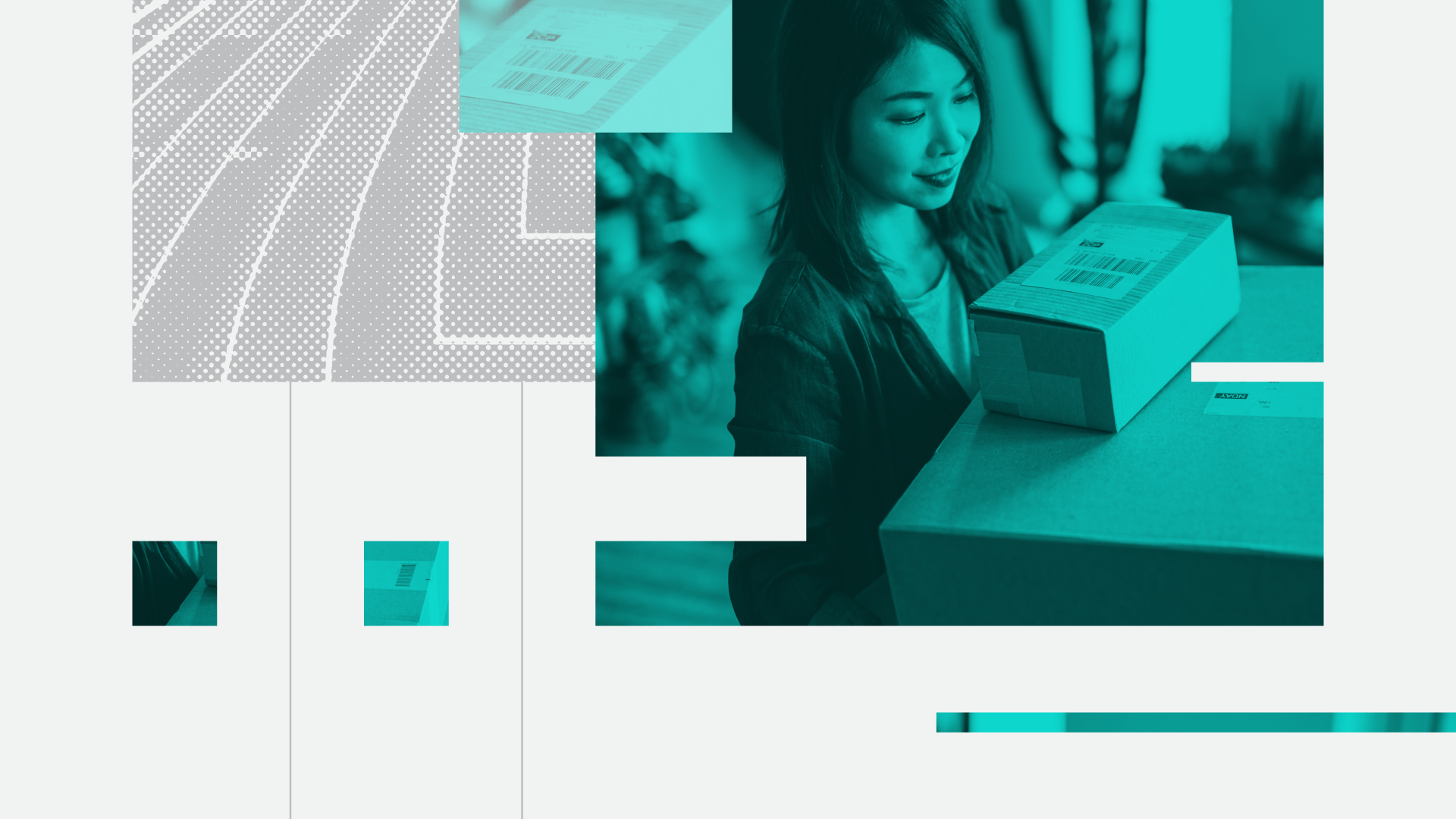 Consumers have high expectations for speedy grocery delivery, but that doesn't mean they hold other purchases to the same standard. Fifteen-minute delivery services are grabbing headlines, but nongrocery retailers shouldn't worry that ultra-fast shipping is shifting consumers' expectations — yet.
Not long ago, retailers were worried about competing with Amazon for guaranteed two-day shipping. Now, a flurry of startups — including Jokr, which recently achieved a $1.2 billion valuation — are promising delivery in as little as 15 minutes.
When pandemic lockdowns and concerns about in-store shopping led consumers to try online grocery delivery, nongrocery retailers and brands began to wonder if same-day service also made sense for them. The good news for traditional nongrocery retailers is that most consumers don't expect same-day delivery, or even two-day delivery.
Respondents were asked how quickly they expect to receive online orders in each category
Poll conducted Dec. 29-30, 2021, among a representative sample of 2,200 U.S. adults, with an unweighted margin of error of +/-2 percentage points.
Outside of groceries, most consumers are happy to receive their online orders from other retailers within five days. It's clear that despite the pressure Amazon's two-day delivery puts on retailers, consumers don't actually need their purchases that quickly.
Same-day grocery delivery is a reasonable expectation thanks to services like Amazon Prime and Instacart. Consumers have speedier expectations for beauty and personal care purchases, partially due to their overlap with the grocery category, as well as to the urgency of needing, say, new shampoo when you realize you've run out. For these reasons, some beauty retailers like Sephora offer delivery via Instacart. For apparel and electronics, five-day delivery is just fine, and for home furnishings and appliances, which are often larger and require scheduled delivery windows, consumers give brands the most leeway on timing.
Millennials, men and urban consumers have higher expectations for shipping speed
However, retailers targeting certain demographics do need to be cognizant of varying expectations of shipping speeds among different groups.
Comparing the relative patience of different demographics, millennials, men and people who live in urban communities expect faster deliveries (two days or fewer), while baby boomers and women are often willing to wait longer (five days or more). Amazon Prime members are also disproportionately represented among those with faster shipping expectations, demonstrating that Amazon has moved the needle on consumers' shipping speed expectations. Perhaps surprisingly, income was found to have no effect on shipping speed expectations.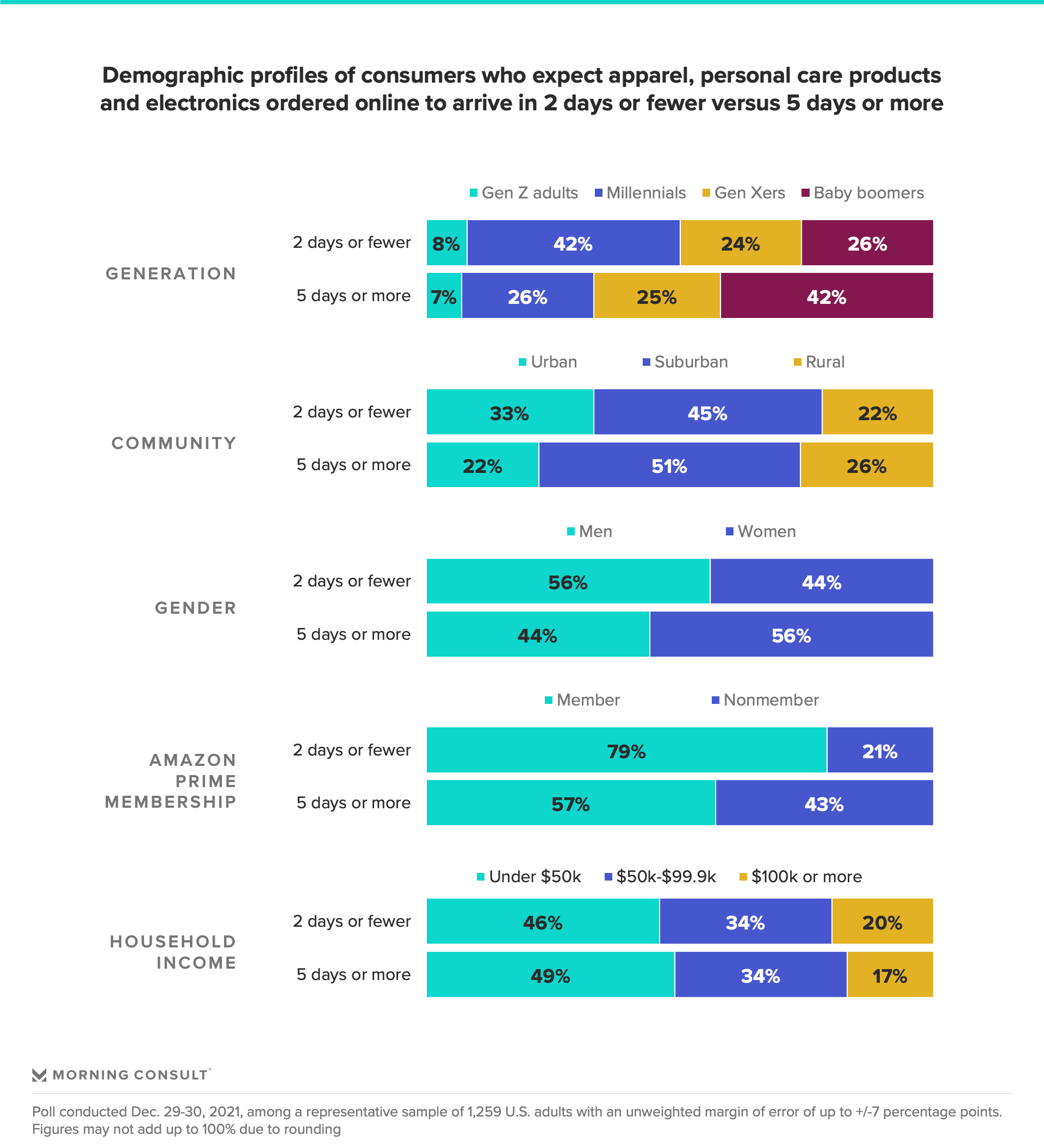 The takeaway for retailers is that, when it comes to shipping speeds, one size does not fit all. Retailers offer an abundance of options, as well as incentives to choose faster or slower shipping options. Some retailers tout values to nudge consumers toward acceptance of more manageable timelines, such as Timberland, which promises to plant trees in exchange for slower shipping times. Increased awareness of the pressure on warehouse and delivery workers in the last few years can also be leveraged to shift consumer preferences: OId Navy's language for its slowest shipping option says the company's "fulfillment teams would appreciate the extra few days."
In an idealized future, retail logistics would support just-in-time delivery, whatever that means to consumers. But for now, retailers can work within consumers' manageable expectations and experiment with financial and values-driven incentives for lower-cost, lower-pressure shipping timelines.
Claire Tassin is the lead retail & e-commerce analyst on the Industry Intelligence team, where she conducts research, authors analyst notes and advises leaders in the retail & e-commerce industry on how to apply insights to make better business decisions. Before joining Morning Consult, Claire was an analyst at Gartner, where she conducted research on shifting consumer behaviors and expectations, as well as trends and technology relevant to marketing leaders in the retail sector. She graduated from Washington University in St. Louis with a bachelor's degree in psychology. For speaking opportunities and booking requests, please email [email protected].
We want to hear from you. Reach out to this author or your Morning Consult team with any questions or comments.
Contact Us