Recovering but Not Recovered: A Look at Robinhood's U.S. Brand Health Ahead of Its IPO
Robinhood Financial has regained much of the trust and purchase consideration it lost in January, thanks to a loyal user base of retail investors, writes Morning Consult financial services analyst Charlotte Principato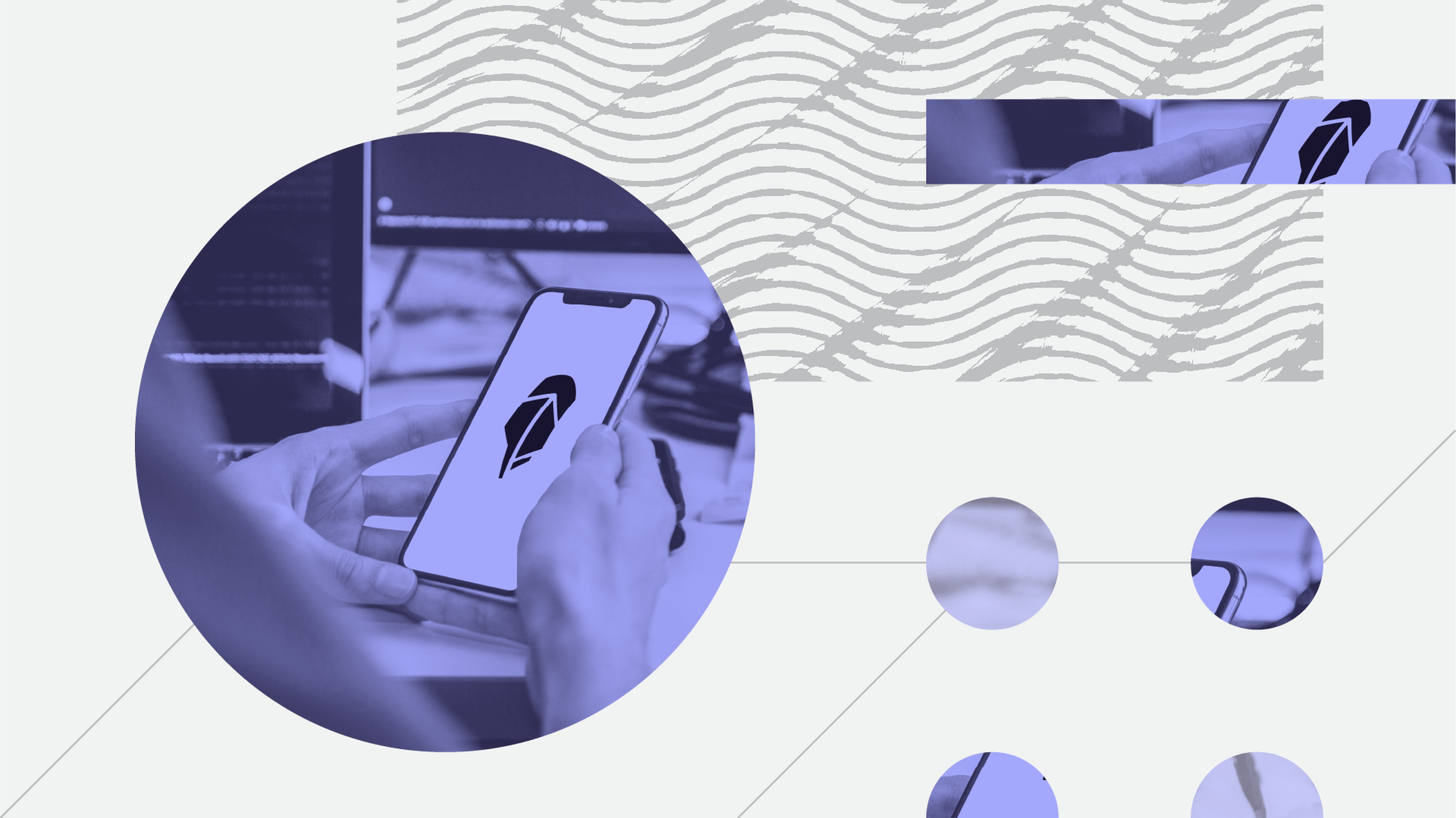 Key Takeaways
Robinhood Financial experienced sharp growth in brand awareness and buzz as a result of the Gamestop trading halt on Jan. 28.

But it also negatively impacted net trust in, value of and purchase consideration of the app, although the declines were more muted among its loyal user base.
Robinhood Financial has gotten a lot of heat this year. 
But ahead of its IPO, Morning Consult analysis shows the fintech company has gained back much of the consumer trust it lost when it briefly halted users' ability to buy GameStop and other meme-stocks, a signal of its brand resilience and driven in part by a steady undercurrent of loyal consumers.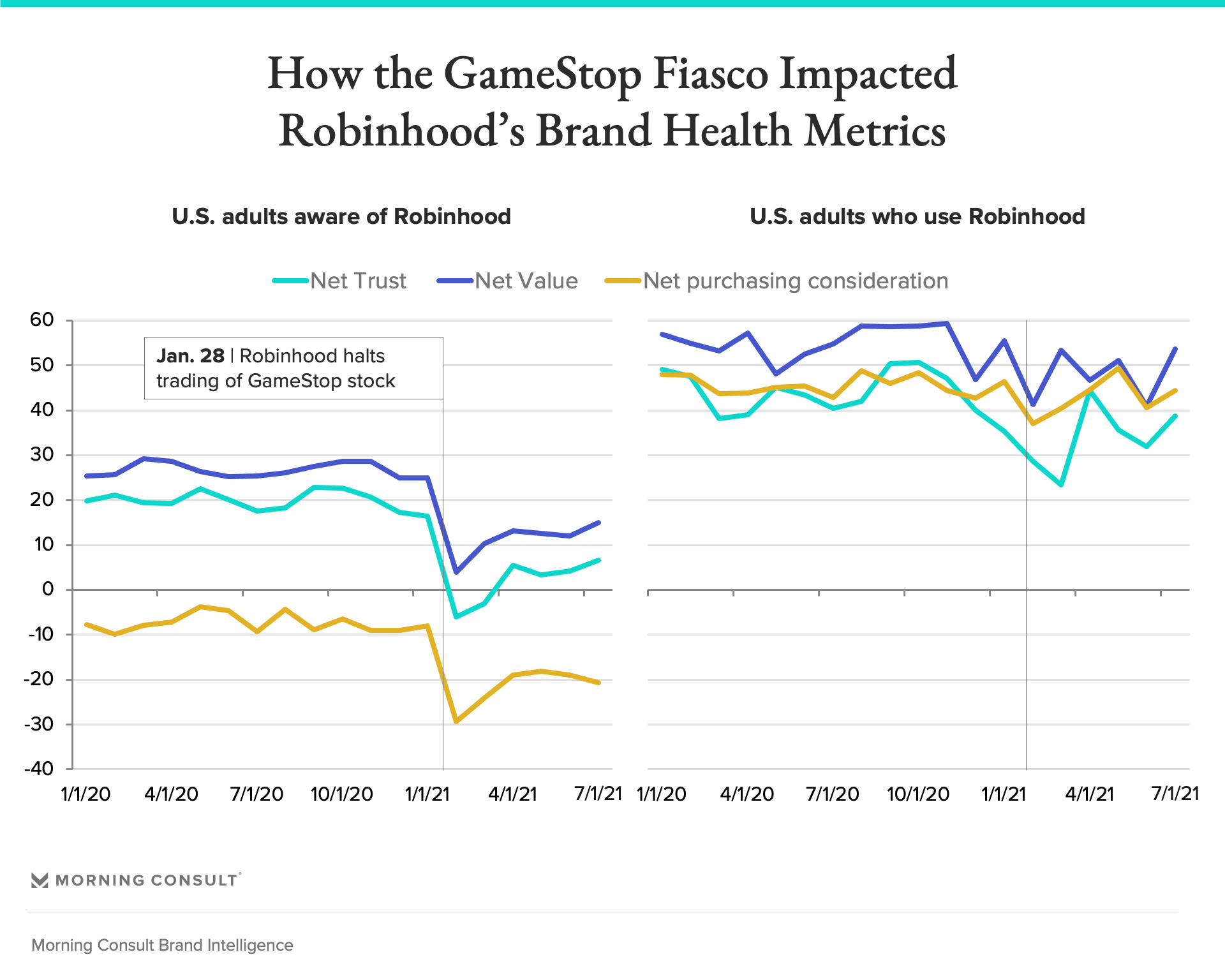 Morning Consult Brand Intelligence, the company's flagship platform which collects and organizes nearly 12,000 survey responses every day for thousands of brands in 15 countries, shows bumps in Americans' awareness and buzz ("have you seen, read or heard anything about Robinhood") as the meme stock scandal unfolded in January. It also shows a slow but steady climb in users.
To be sure, important brand metrics such as trust took a hit amid the scandal, but Robinhood has already made up ground among those aware of the app: In just six months, it's gained back half of the roughly 25 percentage points of net trust it lost in early 2021.
That's because underneath the turbulence are strong metrics in trust, value and purchasing consideration among those who actually use the app. Those metrics saw similar dips when Robinhood briefly halted the trading of GameStop on the app, but never reached a net negative and have almost fully recovered to pre-GameStop levels.  
That the consumers most hurt by Robinhood's trading halt -- its own users -- had only a momentary lapse in trust in the brand is a sign of the growing enthusiasm for retail investing, and points to the sheer resilience of the fintech. Even the news of historic FINRA fines on June 30 -- the day before the app announced plans to go public -- did not impact trust for Robinhood consumers. 
But it's also important to note who these loyal users are: They're wealthier and whiter than the app's users were in 2019 and 2020, meaning the app is not making headway in its mission to democratize finance. Indeed the volatility of meme-stock trading and the app's actions may have turned off newer retail investors, or those with less money to spare.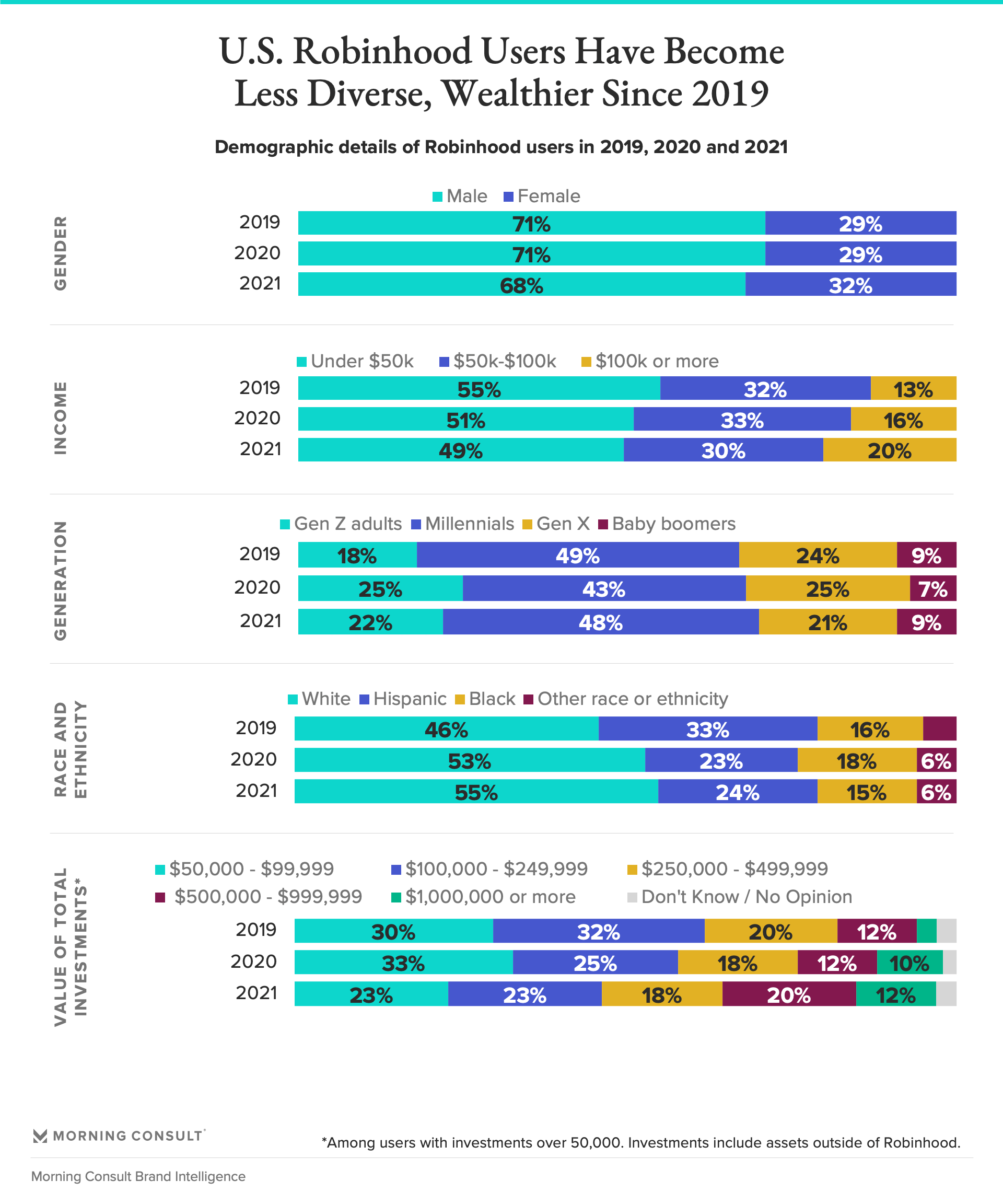 Robinhood has proven that it can withstand a trust-shaking scandal, but to continue to grow and compete against other retail investing apps with less tarnished reputations, it will have to build a user base among the communities it initially said it was committed to serving. And should other retail investing apps be able to build and maintain trusted relationships with their users -- it may threaten Robinhood's ability to do so. 
Charlotte Principato previously worked at Morning Consult as a lead financial services analyst covering trends in the industry.
We want to hear from you. Reach out to this author or your Morning Consult team with any questions or comments.
Contact Us