The Road to Recovery for Restaurants Has Gotten Rougher
Comfort levels for on-premises dining were at all-time highs, writes food and beverage analyst Emily Moquin. Then inflation and elevated gas prices hit.
Inflation woes and high gas prices are forcing millions of consumers to shift the money they would spend at restaurants to groceries, even as consumer comfort with dining out at restaurants reaches new highs. 
The first quarter of 2022 was supposed to be a promising one for restaurants — an opportunity for them to bring in some revenue from lost business over the last two years.
But economic pressures appear to be overriding any gains from increased consumer comfort with restaurants and changes in daily lives, as many return to a physical workplace for the first time in years and resume some of the leisure activities they left behind. 
Consumers spent more at restaurants in February than they did in January, as the omicron surge subsided and adults reported higher comfort levels with dining out. But compared to a year ago, restaurant spending increased just 0.6% on a nominal basis. The Bureau of Labor Statistics' restaurant price index rose 6.8% over this same period, meaning inflation-adjusted restaurant spending declined.
Fewer U.S. consumers are dining out and ordering in, and more are making meals at home to save money. That's even more true for those demographics that tend to spend more at restaurants: In October, 45% of those with an annual income of $100,000 or more said they dined at a restaurant at least once a week. In February, 35% said the same. Generationally, restaurant dining declines were steepest among Gen Z and millennial consumers. 
At this point, self-reported frequency is down across all restaurant types. The share of consumers who said they purchased food and beverage once a week or more dropped at least 3 percentage points between October and February across every restaurant format, including quick-service, fast casual and casual dining options. Although it's hard to say which restaurant type will bounce back the quickest, fast casual and quick-service restaurants, with their lower check averages, will likely fare best.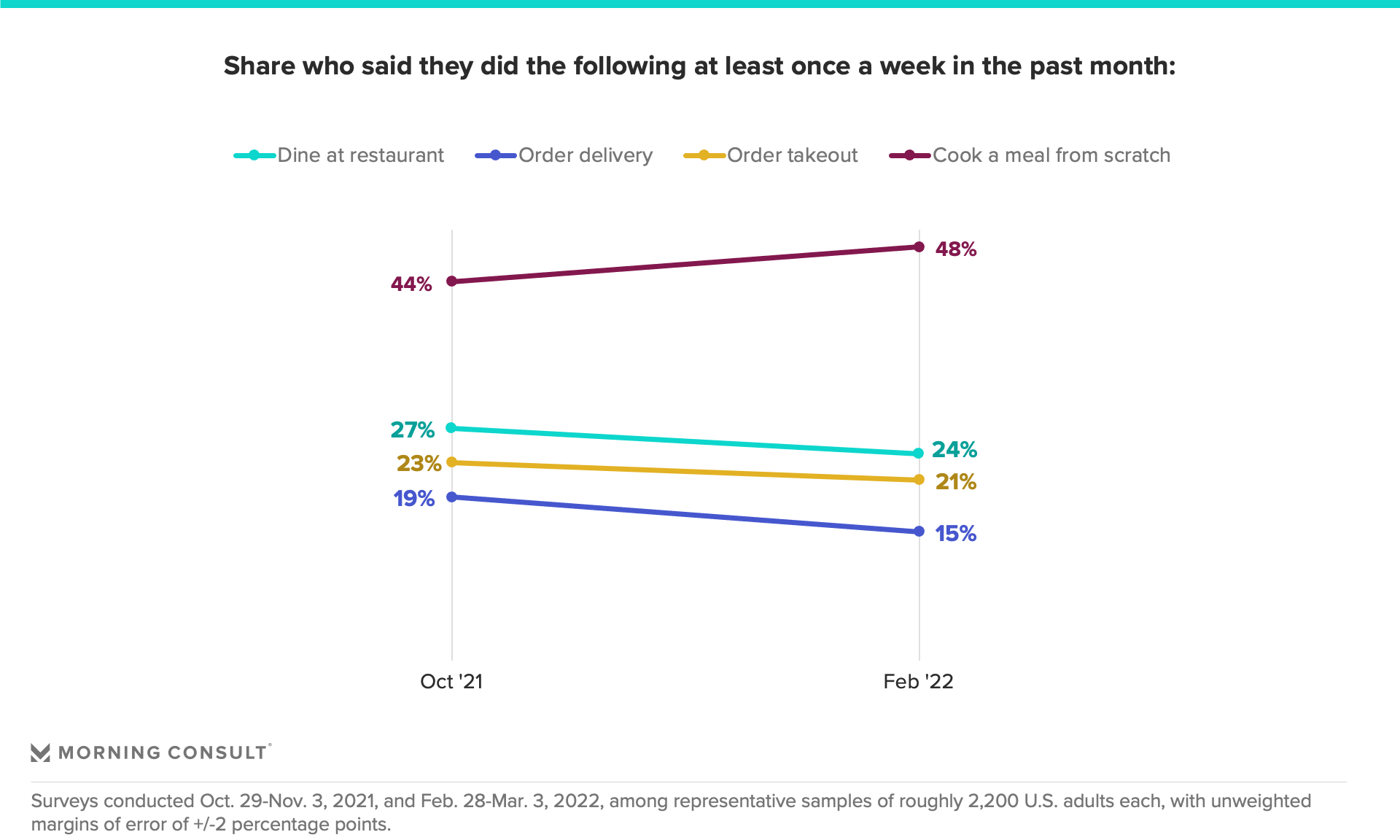 That's as comfort levels with dining out reached new highs, according to Morning Consult's Return to Normal high-frequency research. Roughly 3 in 4 U.S. adults say they feel comfortable dining at a restaurant or cafe. 
It is unlikely these trends will improve in the restaurant industry's favor in March. Consumers face budgetary pressures that require direct shifts in spending allocation: Through mid-March, daily gas prices grew an additional 70 cents per gallon, for example, and that impact will be more pronounced in March than it was in February.
Beyond those direct budgetary pressures, shifting consumer confidence will also impact and cause consumers to reevaluate their spending habits. Morning Consult's Daily U.S. Index of Consumer Sentiment — which tends to be a leading indicator of spending — dropped in early March, falling below the previous low set in April 2020. 
That means that, at least for now, dining out is a luxury — one that millions of Americans can't afford.
Emily Moquin previously worked at Morning Consult as a lead food & beverage analyst.
We want to hear from you. Reach out to this author or your Morning Consult team with any questions or comments.
Contact Us