Russian Consumers Are Feeling the Impact of Sanctions
Russian consumer sentiment has fallen sharply in recent days in the wake of increasingly punitive economic sanctions and a more protracted war in Ukraine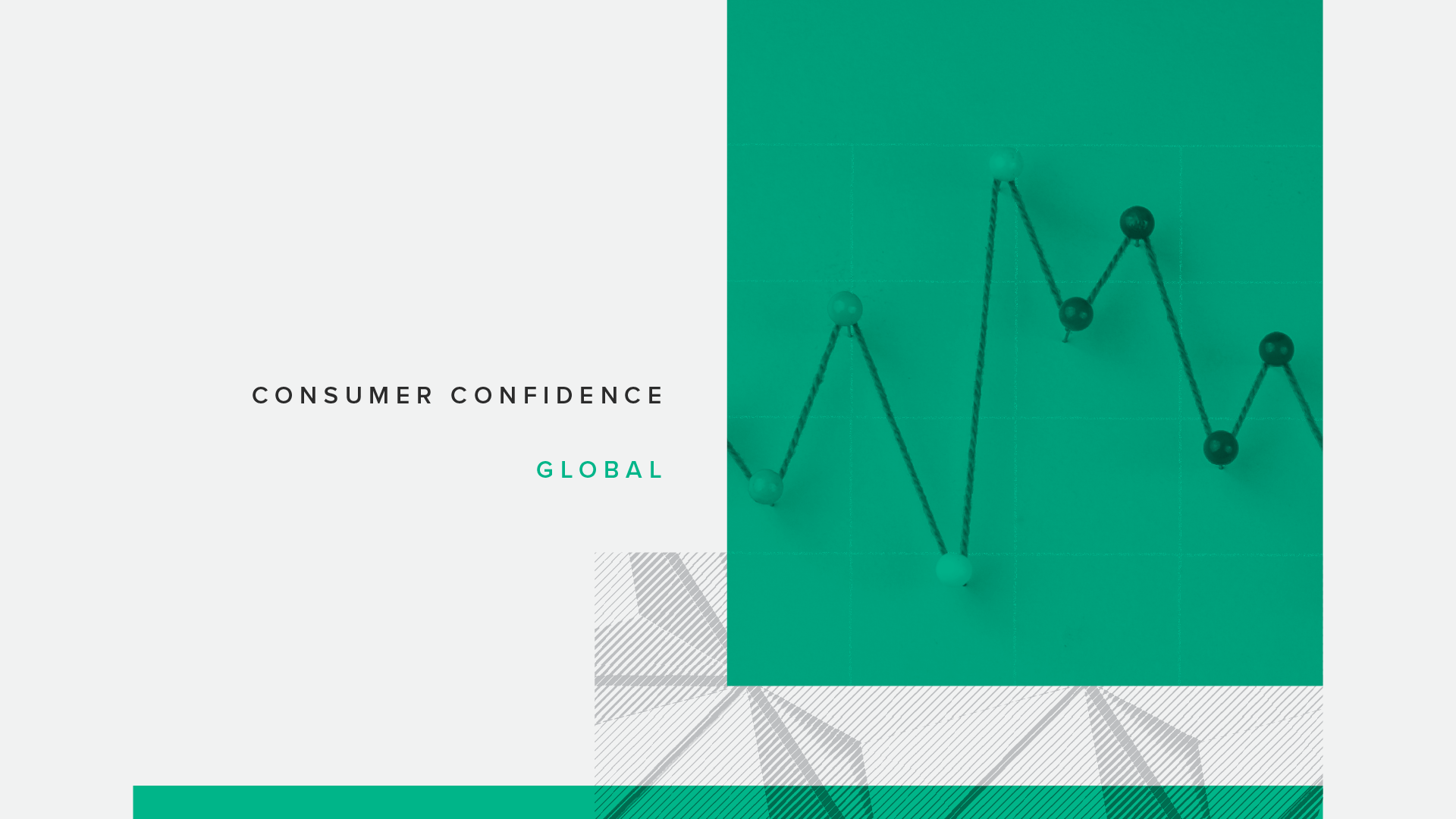 Key Takeaways
Consumer confidence has tumbled in Russia as the United States and European governments have ratcheted up sanctions on Moscow in response to the invasion of Ukraine, hamstringing the Russian economy.

Severe sanctions have resulted in a balance of payments crisis and a sell-off of the ruble, leading Moscow to impose capital controls and many Russians to line up at ATMs to withdraw cash.

While the ultimate impact of the Ukraine invasion on the Russian economy remains highly uncertain, average Russian consumers are already feeling considerable pain.
Increasingly severe sanctions imposed by the United States, Europe and other governments and entities around the world have begun to take a heavy toll on the Russian economy. The resultant hardships are now weighing on consumer confidence, with Morning Consult's Russia Index of Consumer Sentiment falling 5.6 percent, from 104 on Feb. 26 to 98.4 on March 2, marking the lowest point so far this year.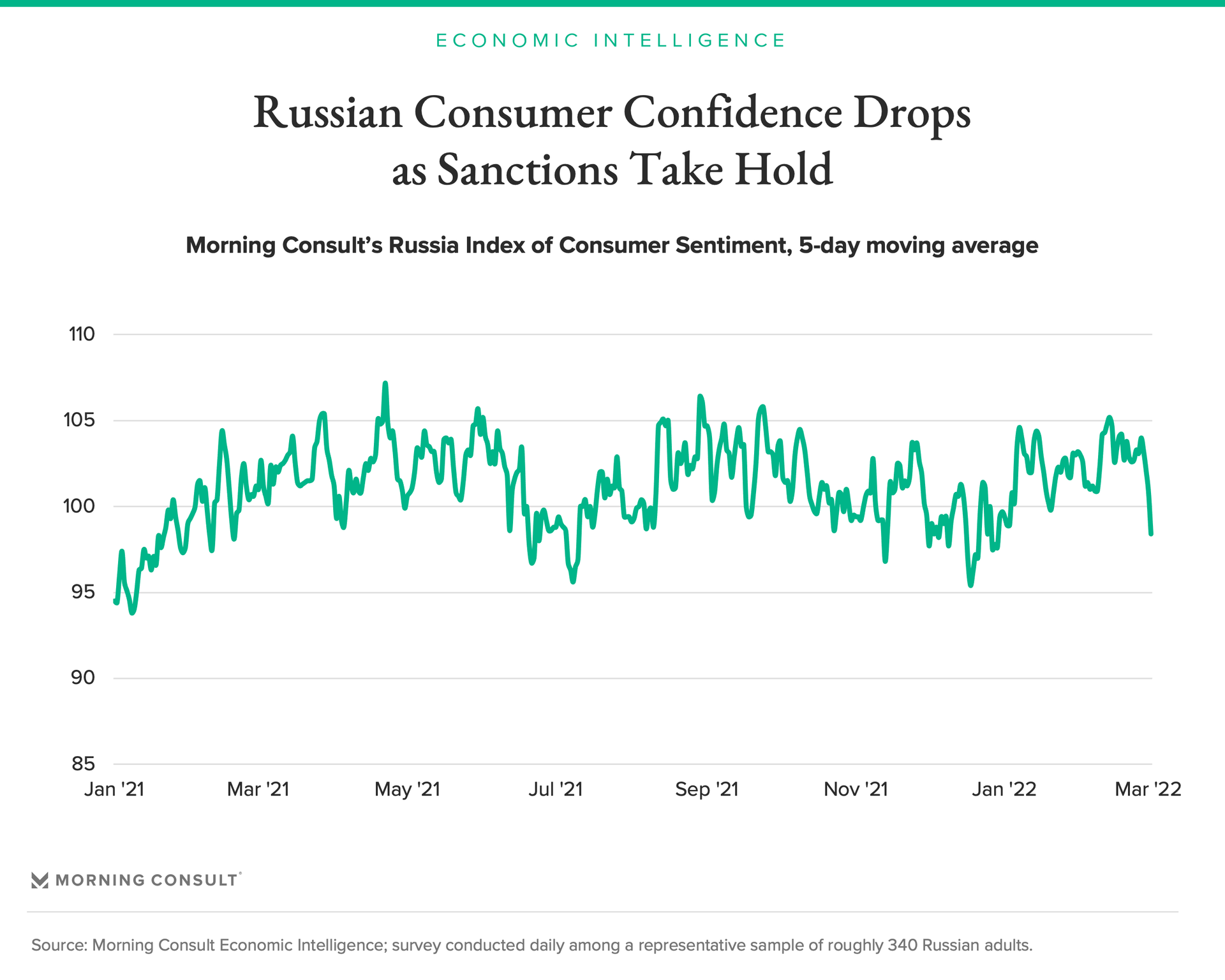 In the wake of the invasion, confidence was initially more stable in Russia than in Western European economies where consumers fretted over higher prices and watched the war play out in real time. In Russia, media outlets reportedly downplayed the seriousness of the conflict and potential economic impact, which has likely helped dampen any negative impact on confidence.
However, following the almost daily ratcheting-up of sanctions on Russia, including export controls, the partial exclusion of numerous banks from the global payments system known as SWIFT and sanctions on the Russian central bank, the impact on the economy and average Russians has been immediate, severe and highly visible. Facing a balance of payments crisis and a sharp sell-off of the ruble, Moscow responded with capital controls as many Russians lined up at ATMs around the country to withdraw cash.
In the near term, the sell-off of the ruble and severe trade disruptions will lead to a spike in inflation and considerable headwinds to broader economic activity. Export controls and a lack of foreign currency will also limit Russian consumers' access to foreign-produced goods. Over the longer term, the Russian economy could be relatively isolated for years, removing much of the positive impacts of trade and investment with the global economy. Higher prices, scarcity, and weakened investment and economic activity could all take a devastating toll on the Russian economy.
The health of the Russian economy remains highly uncertain and will depend on the severity and length of both the war in Ukraine and economic sanctions. For now, Russian consumers are already facing considerable pain.
Jesse Wheeler is a senior economist at decision intelligence company Morning Consult, where he delivers insights on economic and geopolitical trends impacting the United States and major global markets.
Prior to joining Morning Consult, Jesse worked as an economic and political risk analyst at MUFG Bank, where he focused on U.S. fiscal, monetary and foreign policy, and at Fitch Solutions, where he conducted macroeconomic research and forecasting for Latin American markets.
Jesse received a bachelor's degree in history and environmental science from the University of South Carolina and a master's degree in international economics from George Washington University.
Follow him on Twitter @JesseSprWheeler. For speaking opportunities and booking requests, please email [email protected]
We want to hear from you. Reach out to this author or your Morning Consult team with any questions or comments.
Contact Us