SMBs Squeezed by Rising Prices and Financing Costs (Report Preview)
Small- and medium-sized businesses continued to experience the negative consequences of elevated inflation in Q1 2023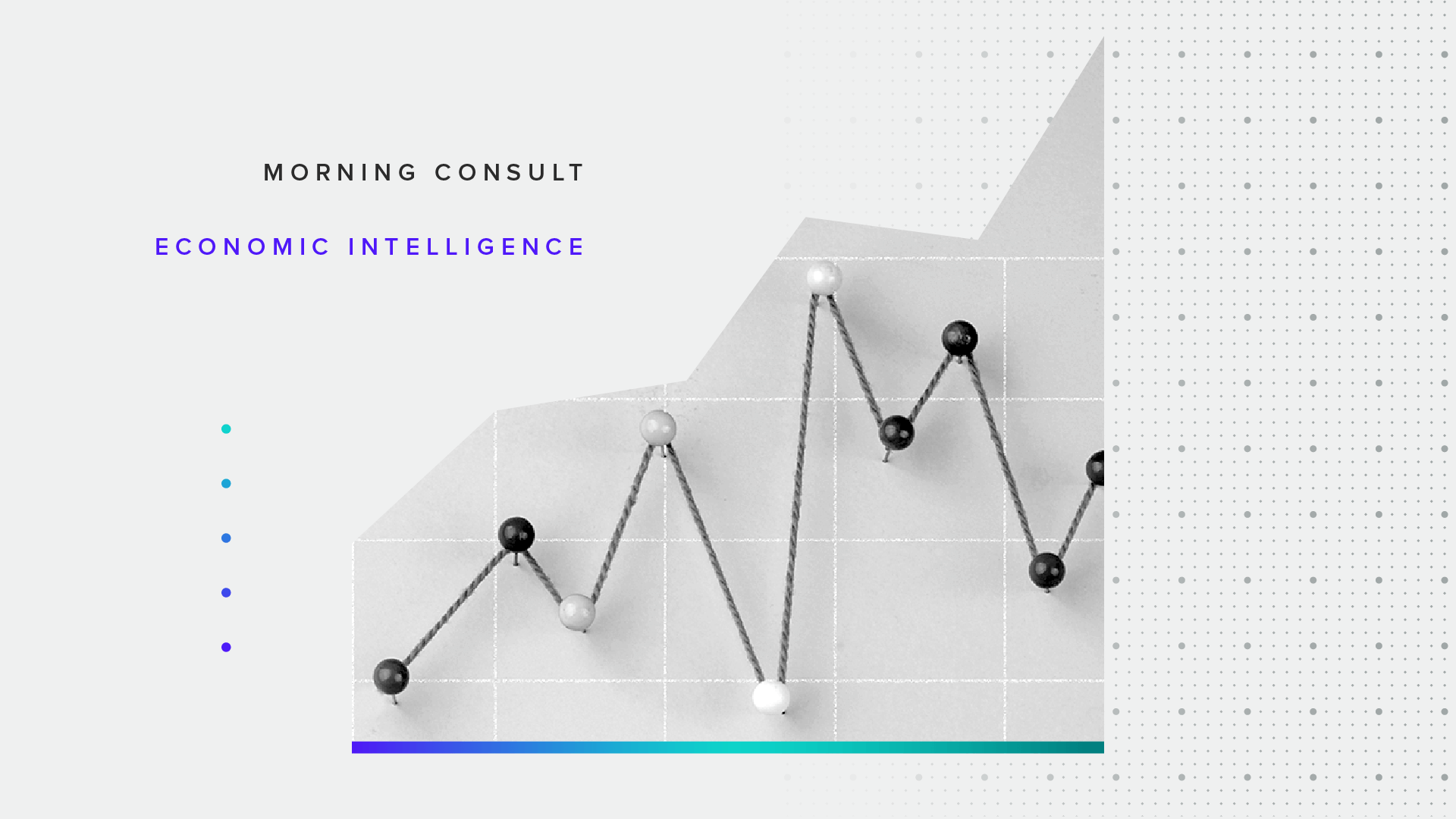 Key Takeaways
Small- and medium-sized businesses continued to face heightened challenges in the first quarter, experiencing lower sales amid a high inflationary environment.

Looking forward to the rest of 2023, decreasing pricing power, paired with persistently elevated input costs, will likely erode SMB profitability.

Although SMBs experienced moderate financing relief in Q1, recent banking failures have brought about tighter credit conditions that are likely to lift borrowing costs for companies in the coming months.
This memo offers a preview of Morning Consult's Quarterly Small and Medium Business Report. Contact us here if you're interested in the full report.
Morning Consult conducted its third quarterly survey of small and medium businesses, aimed at gleaning insights into the experiences and expectations of SMBs on a range of economic, financial and business conditions. In the fourth year of the pandemic, SMBs continue to face a number of challenges. A decreasing share of SMBs reported growing annual sales volumes in the first quarter of 2023. Nearly 3 in 10 (28%) SMBs reported higher dollar sales volumes in the first quarter, compared to 33% of SMBs in Q4 2022.  
Share of SMBs who said that their dollar sales volume during the previous calendar quarter was higher, lower or about the same as the quarter before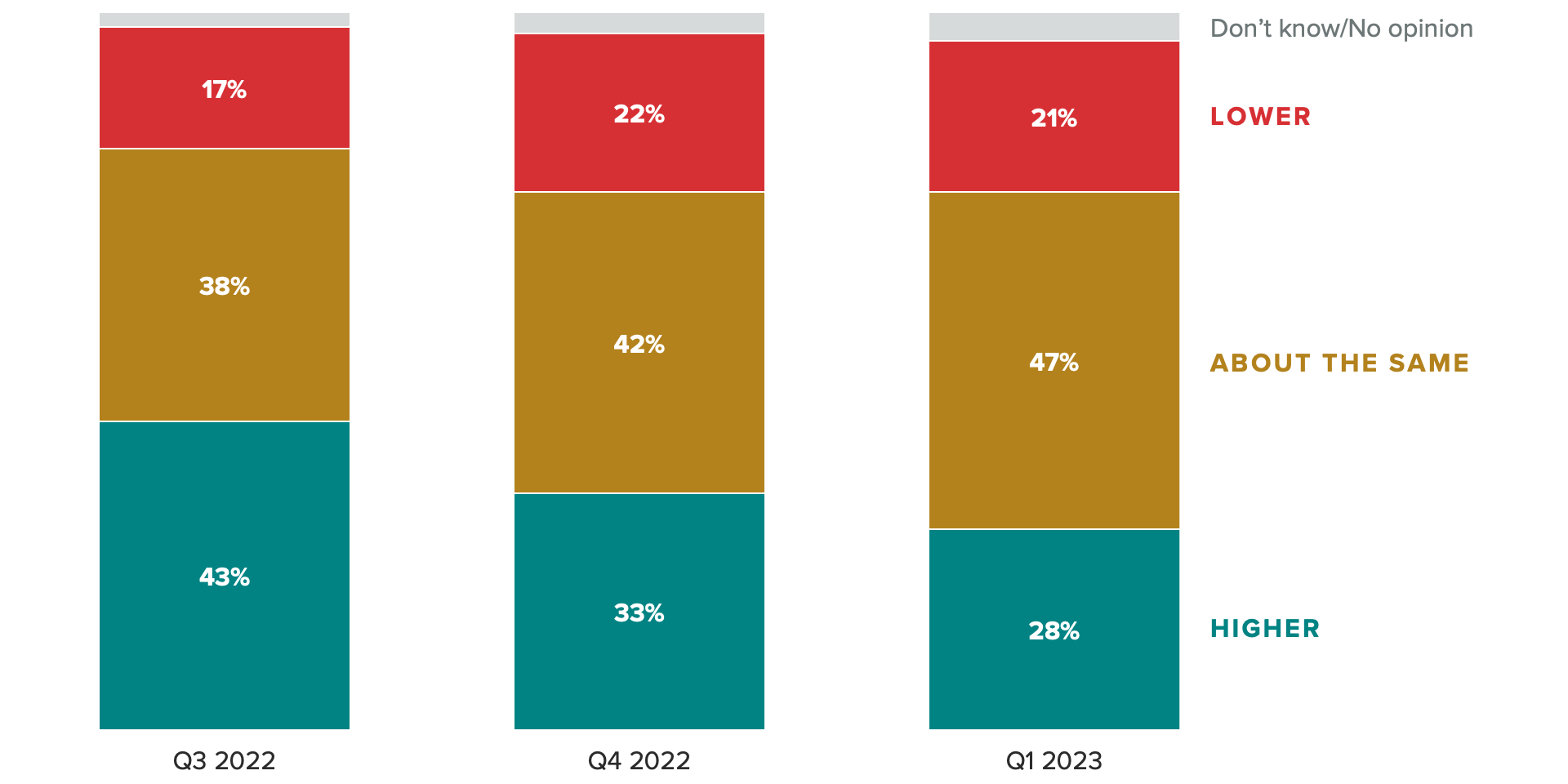 Morning Consult Economic Intelligence
While fewer SMBs experienced quarterly sales growth in Q1 than in the prior two waves, SMBs were largely expecting sales to bounce back over the next quarter. This optimism was likely in part a function of the survey timing: This survey was conducted prior to the failure of Silicon Valley Bank and associated concerns about the stability of the financial sector, when growth appeared to be accelerating and recession concerns faded. 
A growing share of SMBs expected some reprieve from higher borrowing costs and limited access to credit over the next 12 months. Given the extent to which recent bank failures have challenged capital markets, SMBs are likely to face higher borrowing costs and tighter credit conditions at least over the next quarter.
Respondents who said they experienced the following "major challenges" to their businesses:
Top 10 among small businesses
Morning Consult Economic Intelligence
Entering 2023, most SMBs were reporting sufficient inventory levels as the whiplash in supply chains and shifting demand caused by the pandemic faded. However, 46% of SMBs listed "inflation" as a major challenge to their business. While fewer businesses experienced higher input costs relative to the third quarter of 2022, they saw no notable reduction in costs. Additionally, most SMBs expect to raise their prices over the next 12 months. However, it is becoming more difficult to change those prices, increasing the likelihood of squeezed profit margins throughout the rest of 2023.
To summarize, in light of SMBs' elevated input costs, diminishing pricing power and tighter financial conditions, SMB investment, hiring and profitability are all likely to suffer over the next three months. Larger SMBs are most exposed to tighter financial conditions, while smaller SMBs are more likely to struggle to raise prices to maintain their profit margins.
John Leer leads Morning Consult's global economic research, overseeing the company's economic data collection, validation and analysis. He is an authority on the effects of consumer preferences, expectations and experiences on purchasing patterns, prices and employment.
John continues to advance scholarship in the field of economics, recently partnering with researchers at the Federal Reserve Bank of Cleveland to design a new approach to measuring consumers' inflation expectations.
This novel approach, now known as the Indirect Consumer Inflation Expectations measure, leverages Morning Consult's high-frequency survey data to capture unique insights into consumers' expectations for future inflation.
Prior to Morning Consult, John worked for Promontory Financial Group, offering strategic solutions to financial services firms on matters including credit risk modeling and management, corporate governance, and compliance risk management.
He earned a bachelor's degree in economics and philosophy with honors from Georgetown University and a master's degree in economics and management studies (MEMS) from Humboldt University in Berlin. 
His analysis has been cited in The New York Times, The Wall Street Journal, Reuters, The Washington Post, The Economist and more.
Follow him on Twitter @JohnCLeer. For speaking opportunities and booking requests, please email [email protected]
Jesse Wheeler is a senior economist at decision intelligence company Morning Consult, where he delivers insights on economic and geopolitical trends impacting the United States and major global markets.
Prior to joining Morning Consult, Jesse worked as an economic and political risk analyst at MUFG Bank, where he focused on U.S. fiscal, monetary and foreign policy, and at Fitch Solutions, where he conducted macroeconomic research and forecasting for Latin American markets.
Jesse received a bachelor's degree in history and environmental science from the University of South Carolina and a master's degree in international economics from George Washington University.
Follow him on Twitter @JesseSprWheeler. For speaking opportunities and booking requests, please email [email protected]
We want to hear from you. Reach out to this author or your Morning Consult team with any questions or comments.
Contact Us