Entertainment
Gen Z Is Stubborn When It Comes to Password Sharing
Media & entertainment analyst Kevin Tran breaks down how age and income are strong indicators of a penchant for sharing streaming passwords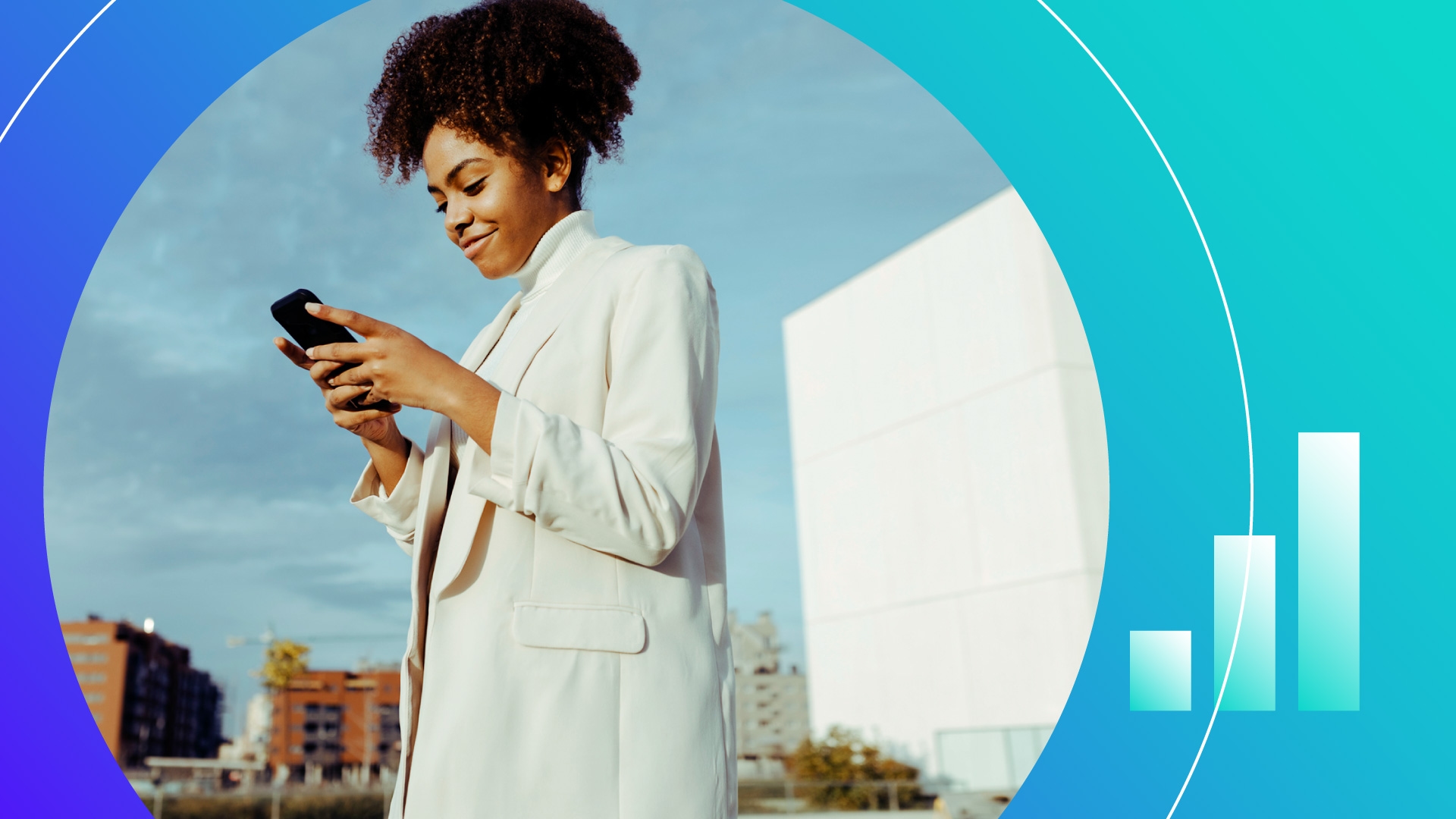 Key Takeaways
Younger consumers engage in password sharing more than their older counterparts, but it will be particularly tricky for streamers to get Gen Zers to start paying their own way.

Unlike other groups that often exchange login information, Gen Z adults exhibited a relatively low willingness to start paying a premium to continue sharing passwords.

Content that appeals to Gen Zers, like comedy and horror titles, will help companies justify password-sharing restrictions, but increasing monthly prices may naturally help curb password sharing as well.
The days of unencumbered streaming subscription freeloading are numbered: Netflix announced in its April earnings report that it would start monetizing password sharers in the United States in the second quarter. Competitors have been publicly mum on similar plans, but it's only a matter of time before they become equally concerned about password sharing.
Streamers should know, however, that some of their most sought-after customers — Gen Zers — will be both disproportionately affected by and particularly reluctant to adapt to password-sharing enforcement measures. Morning Consult data from April shows that the shares of Gen Zers who use others' passwords and give out their own are higher than the shares of all U.S. adults who do the same. Additionally, the share of Gen Z adults who said they'd pay for the privilege of sharing their account with others is lower than the share among all adults. 
Still, there's a path forward for monetizing younger moochers: Gen Zers are willing to limit the number of people they give their password to if it means avoiding a price hike. Moreover, consumers across generations indicated they are less willing to share subscriptions as those fees climb in price, which is a direction that ad-free tiers on all streaming services are naturally headed toward.
Gen Z adults are nearly twice as likely as the general public to give passwords to those they don't live with   
There may not be an obvious image of a typical streaming password sharer like there is for linear TV viewers or news subscribers, but it's clear that those who exchange login information the most tend to be younger. 
Higher shares of Gen Z adults and millennials said they gave a video streaming service password to someone they don't live with, compared with Gen Xers and baby boomers. Younger consumers also reported using the password of someone they don't live with at particularly high rates. 
Shares of U.S. adults who said they give out their own video streaming password and/or use someone else's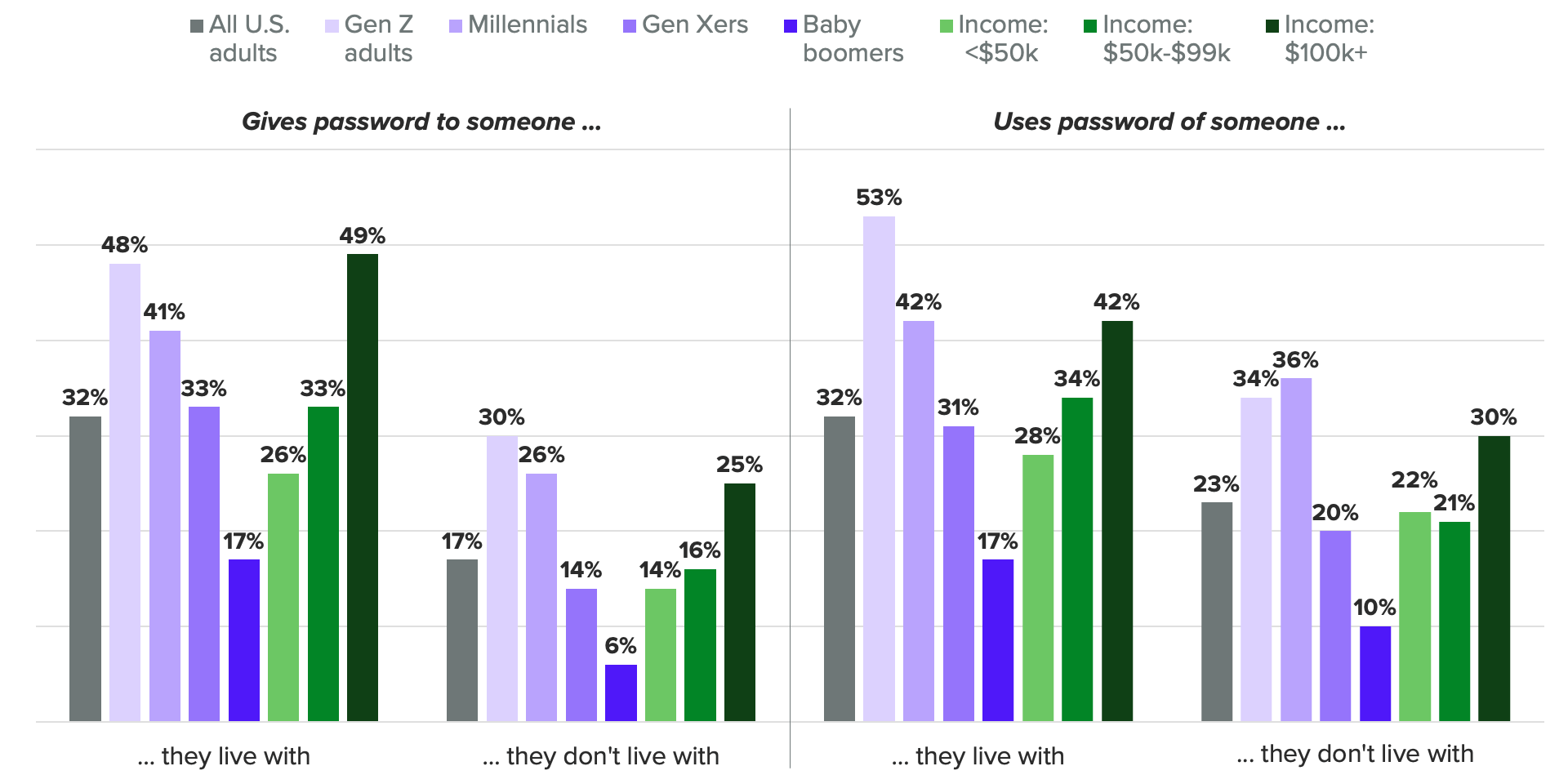 Consumers were asked about giving out passwords to services they currently pay for and using passwords to services others pay for.
Survey conducted April 8-9, 2023, among a representative sample of 2,204 U.S. adults, with an unweighted margin of error of +/-2 percentage points.
However, Gen Zers are unique in that they engage heavily in password sharing but are more reluctant to pay for the privilege of doing so. For example, millennials are more likely to share passwords than all adults, but millennial password sharers are also more likely than the general public to say they would pay for the ability to share their login information. (Those earning at least $100,000 annually also over-index on the same measures relative to all adults.) Meanwhile, among password sharers, the share of Gen Z adults who said they would "definitely" pay for the ability to give out their passwords is just 6%, while the share of all adults who said the same is 15%.
Shares of video streaming password sharers who said whether they would pay to share their password with others if it was the only way they could do so
Survey conducted April 8-9, 2023, among a representative sample of 1,340 U.S. adults who said they share a video streaming password, with an unweighted margin of error of +/-3 percentage points. "Don't know/No opinion" responses not shown.
It will be tricky to get Gen Zers who are no longer able to mooch passwords to pay for their own subscriptions. Roughly one-quarter (24%) of Gen Z video streaming password sharers said they would "definitely" pay for a subscription if they can't use somebody else's password, which is lower than the shares among all adults (30%), millennials (37%) and high earners (40%) who exchange login information.
Taken together, Morning Consult's data shows how important age and income can be in predicting password-sharing behavior. People shrink their social circles as they age, so it stands to reason that Gen Zers would have more connections to share passwords with than older consumers. Meanwhile, income is proportional to the ability to pay for streaming, so it's not surprising that Gen Z adults — who are less established in their careers right now — would be generally less willing to pay to share passwords.
How streaming services can effectively enforce password sharing 
It's true that not all streamers are at the scale yet to even be concerned about password sharing. But companies should take note of the various ways Netflix initially looked to clamp down on password sharing (or "paid sharing," as it refers to it) in countries like Canada and New Zealand, where users can pay to let those outside their household use their accounts.
Netflix (and any other streamer considering restricting password sharing) is likely to see some success domestically with this plan, as evidenced by the data above. But streamers should keep in mind that people really want to be able to keep paying their current subscription price, even if it means cutting back on the amount of password sharing they do. In April, 77% of adult video streaming subscribers and a majority of subs from various demographics said they'd rather limit the amount of people they share their password with than pay a higher fee for unrestricted password sharing.
Shares of U.S. video streaming subscribers who said they would rather limit sharing of their password to keep the same monthly price or pay a higher price to share with whomever they want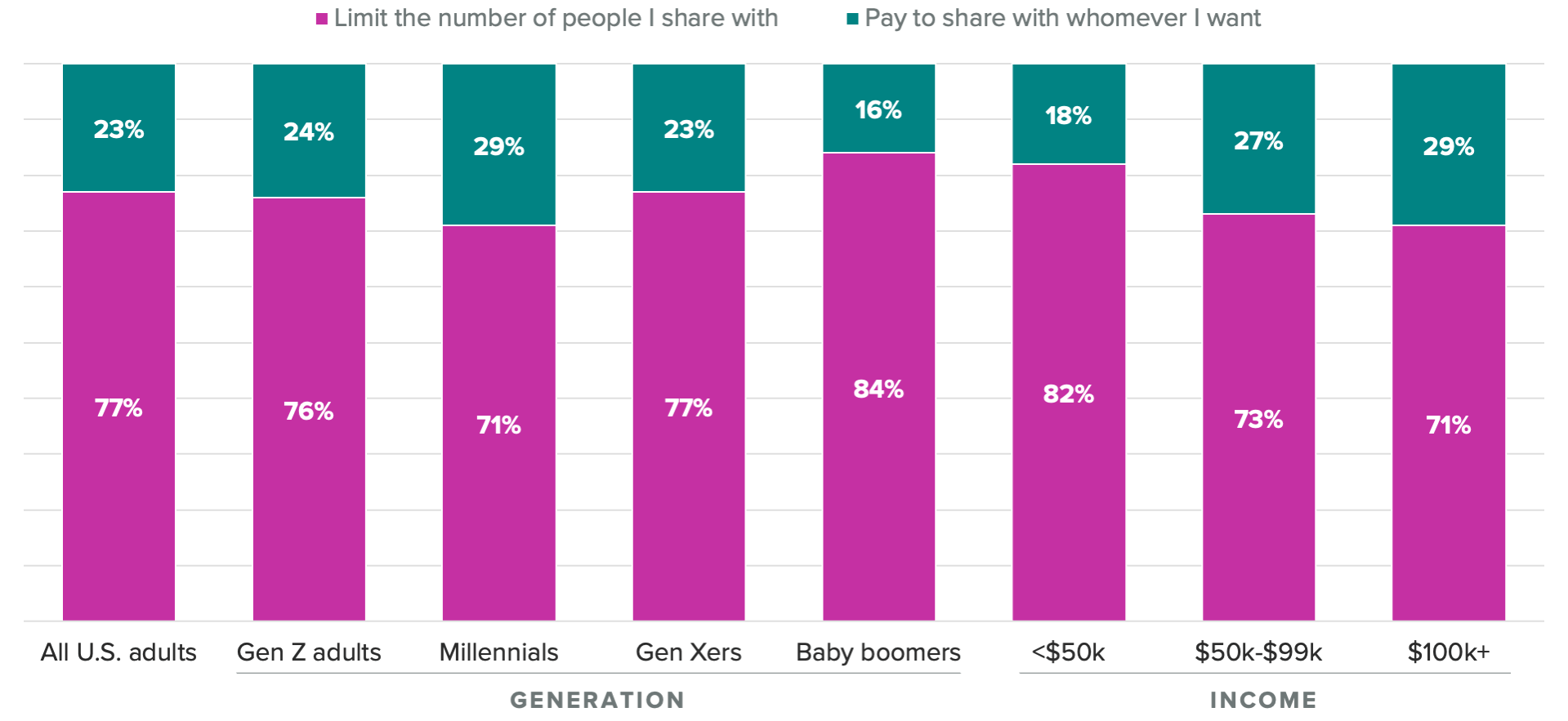 Survey conducted April 8-9, 2023, among a representative sample of 1,732 U.S. video streaming service subscribers, with an unweighted margin of error of +/-2 percentage points. Figures may not add up to 100% due to rounding.
Naturally, people are going to pick the option that is less financially damaging to them. But our data shows that if push comes to shove, consumers are at least willing to limit their current password-sharing habits in order to save some money. This indicates that services won't completely drive consumers away by becoming stricter about policing password sharing by tracking IP addresses, as Netflix has started to do internationally.
For the tricky Gen Z cohort, developing more content catered to them will make them more willing to abide by password-sharing rules. In November, our data showed that 38% of Gen Zers said comedy was their favorite TV and film genre, with horror (32%) and action (29%) taking second and third place. Meanwhile, genres like drama (15%), true crime (14%) and musicals (5%) were much less popular among Gen Zers.  
The bright side for streamers is that some consumers may naturally start to pull back on password sharing. Major streamers' U.S. prices will only further increase, and consumers are less comfortable sharing passwords for higher-priced subscriptions: Only 23% of U.S. adult video streaming subscribers said they would be "very" or "somewhat" comfortable sharing a password for a video streaming subscription that cost more than $20 a month, compared with 29% who said the same about a subscription costing $16 to $20 a month and 38% about a service priced between $11 and $15 per month.
Consumers will probably start to feel more comfortable telling free riders to get their own subscriptions, as services' most expensive ad-free tiers will likely start to see more dramatic price hikes than their cheapest ad-supported tiers, making the affordability of the latter more evident as time passes.
Kevin Tran is the media & entertainment analyst on the Industry Intelligence team, where he conducts research, authors analyst notes and advises leaders in the media & entertainment industry on how to apply insights to make better business decisions. Prior to Morning Consult, Kevin was a media analyst at Variety Intelligence Platform, Variety's premium subscription service. Kevin graduated from the Haas School of Business undergraduate program at the University of California, Berkeley. @ktran223
For speaking opportunities and booking requests, please email [email protected].
We want to hear from you. Reach out to this author or your Morning Consult team with any questions or comments.
Contact Us