What Retailers Need to Know as Consumers Face Inevitable Supply Chain Issues
The primary challenge for retailers will be keeping consumers on-site as inventories for sought-after items dwindle, writes retail and e-commerce analyst Claire Tassin
For retailers and consumer brands, this season's imperative is to keep the e-commerce experience sticky. When consumers see that a coveted item is out of stock, they're just as likely to find a substitute at the same store as they are to flip to a competitor's website. Proactively suggesting alternative fulfillment options via algorithmic recommendations — such as heading to a nearby brick-and-mortar store or buying a similar, available product online — will help retain customers.
With only seven weeks until Christmas Eve, consumers are preparing to dial up their holiday shopping in November. While the media has been sounding the alarm about the potential impact of the ongoing supply chain crisis on holiday shopping, consumer concern and experience with product availability vary. Morning Consult's 2021 Holiday Season Tracker shows that consumers' self-reported stock hiccups haven't gotten worse, but they also aren't getting better. And a dip in consumer sentiment leading into the holiday shopping season may curtail retailers' high expectations for seasonal spending.

Retailers can retain consumers through stock shortages with proactive recommendations
Consumers facing an out-of-stock holiday gift are just as likely to buy a substitute from the same retailer as they are to jump to a competitor in search of the original item. Or, if a store is nearby, consumers will head there to check out the available inventory in person. To avoid losing sales, retailers need to leverage location services to direct customers to the closest store where inventory is available, and proactively suggest similar items that can be delivered in time for the winter holidays.
If consumers can't find an adequate substitute online, retailers risk them clicking to the next tab in their browser.
A Product Is Out of Stock. What Do Consumers Do Next?
Share of consumers who said they have tried the following after experiencing delivery delays or items being out of stock while doing their holiday shopping:
Poll conducted Oct. 29-Nov. 1, 2021, among 559 U.S. adults, with a margin of error of +/-4%.
Despite widespread awareness of the supply chain crisis, most consumers won't shop earlier
Retailers' efforts to incentivize early holiday shopping with deals face a formidable adversary in consumer apathy. While a full 80 percent of consumers are aware of the issues, just 57 percent are concerned about getting their holiday shopping done. Unfortunately for retailers, just half of consumers who indicate they are concerned about the stalled supply chain impacting the holidays are planning to shop earlier this year as a result.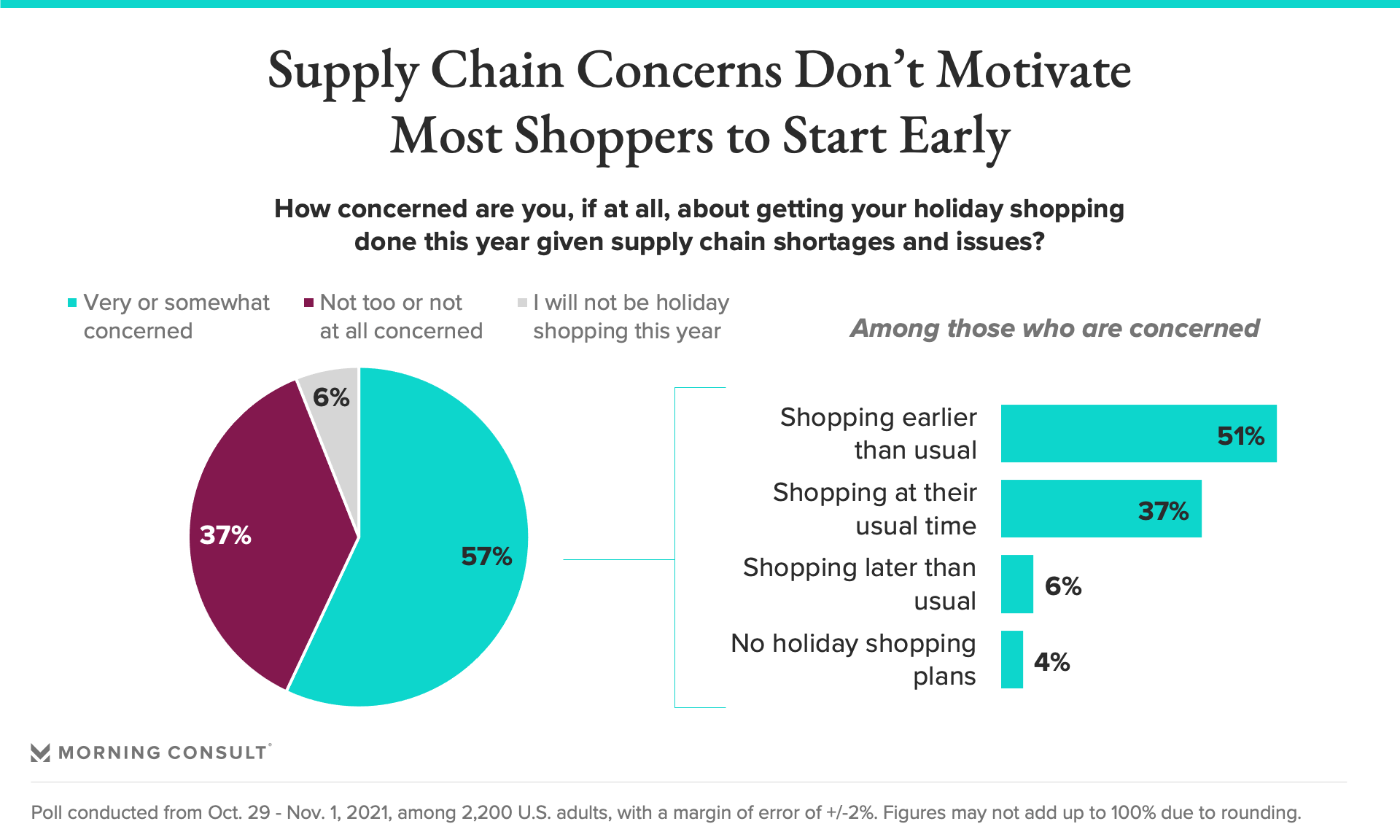 Big spending plans mean big supply chain concerns
Consumers with the biggest holiday budgets — those planning to spend at least $200 on gifts — are disproportionately more concerned about the supply chain crisis and are doing their holiday shopping earlier as a result. Consumers' holiday budgets are a stronger predictor of supply chain concern than their incomes. Retailers should amplify limited inventory notices on big-ticket items like appliances and furnishings to drive urgency with consumers who are most likely to respond to such messaging.

Consumers blame the federal government and logistics companies for supply chain issues more than brands and stores
Amid a tough holiday season, one gift in brands' and retailers' stockings is that consumers are assigning blame elsewhere. It's still imperative to communicate delivery expectations and back order updates to customers, but the federal government will face the brunt of consumers' frustrations over unavailable or delayed merchandise.
Consumers Don't Blame Brands, Retailers for Supply Chain Woes
Respondents were asked how much each of the following is to blame for shortages of various items such as cars, clothes, food and electronics
Poll conducted Oct. 19-22, 2021, among 2,220 U.S. adults, with a margin of error of +/-2%.
Claire Tassin is the lead retail & e-commerce analyst on the Industry Intelligence team, where she conducts research, authors analyst notes and advises leaders in the retail & e-commerce industry on how to apply insights to make better business decisions. Before joining Morning Consult, Claire was an analyst at Gartner, where she conducted research on shifting consumer behaviors and expectations, as well as trends and technology relevant to marketing leaders in the retail sector. She graduated from Washington University in St. Louis with a bachelor's degree in psychology. For speaking opportunities and booking requests, please email [email protected].
We want to hear from you. Reach out to this author or your Morning Consult team with any questions or comments.
Contact Us