Here's Where the Youngest Generation of Investors is Getting Their Financial Advice
One-third of Gen Z adults and millennials say Facebook and Instagram have impacted their financial decisions
Key Takeaways
The newest wave of financial advice on social media platforms such as TikTok shows young investors are consuming financial advice in nontraditional platforms.

Morning Consult polling shows more U.S. adults are using social media for investing advice, and more consider themselves investors.

Friends and family have the most influence on young people's financial decisions, but one-third of Gen Z adults and millennials cite Facebook and Instagram as being impactful.

Twitter and Reddit house the largest shares of investors on their platforms, while Reddit has the biggest share of customers of the top three U.S. banks by asset size on its site.
Financial professionals don't have to brush up on their TikTok dances just yet, but industry leaders shouldn't discount the newest wave of financial advice on social media, as the country's youngest generation of investors look to the platforms they are the most familiar with for important financial — especially investment — decisions. 
New Morning Consult polling, aimed at understanding where Americans are consuming financial advice — including budgeting, retirement and investment advice — found that while notable shares of younger adults, including those eager and ready to invest, are turning to social media sites for guidance, these young investors are more actively seeking out traditional and professional sources for financial management.
Industry leaders should be eyeing this group: One-third of Gen Z adults and millennials describe themselves as "curious" investors, who enjoy learning about investing and are open to unique approaches or investments. That malleability translates to a slew of opportunities for financial services professionals: If you can pique their curiosity and teach them something new, you may just open their wallets.
What's more, the share of consumers that consider themselves investors has risen 6 percentage points compared to figures in our August 2020 retail investing report. 
If investment advisors needed more reason to figure out where to deliver advice for the most impact: More than 2 in 5 adults say they are interested in investing more than they currently do, including over half of Gen Z adults and millennials, and 50 percent of Gen X. 
Consuming advice feeds the flywheel of investing, too. Adults who frequently consume financial advice are more likely than those that don't to say they want to invest more, 62 percent versus 47 percent. 
With an increased portion of the population considering themselves investors, and a healthy share interested in investing more, brands with financial advice to give need to meet consumers where they are to avoid missing out on the action. 
Financial services brands that are relying just on their talent to deliver financial advice through traditional channels are missing opportunities. More consumers are going to more sources for investment advice than they were last year, but the share that are going to more traditional providers of advice has not increased. 
Consumers continue to turn to friends and family the most for investing advice: The category has seen an almost 50 percent increase, from 23 percent to 34 percent, since summer 2020. Eighteen percent of adults said they use social media to learn more about investing, a 4 point increase since August 2020. Meanwhile, financial planners have only seen a 1-point increase during the same time period.
Financial services leaders, and especially those in the investment space, need to reevaluate the way they deliver advice and education to consumers, and embrace this shift towards social media and digital channels to capture their target audiences.
We see a similar pattern for broader financial advice, with consumers most likely to leverage personal relationships over professionals — but a notable share of young adults report social media sites impacting their choices. That's a finding industry leaders should take note of.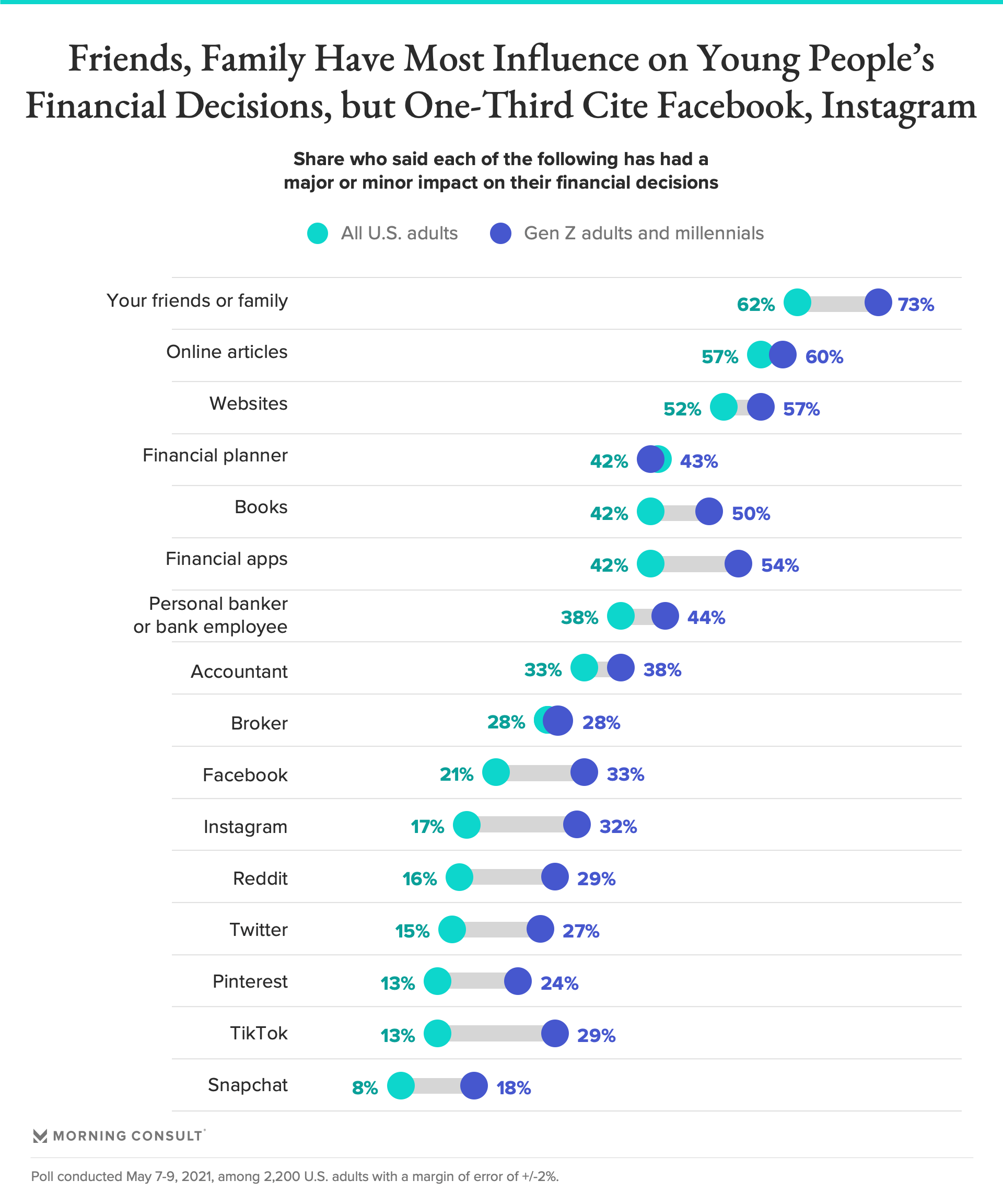 At least a quarter of Gen Z adults and millennials say Twitter (27 percent), Reddit (29 percent), Instagram (32 percent) and Facebook (33 percent) have had a major or minor impact on their financial decisions. That's roughly in line with the share who say a broker has swayed their choices.
While that's still small compared to the share of young people who cited books and websites as impactful, it's still a large enough share that industry leaders should be actively exploring what these sources of advice offer that an interaction with a professional doesn't.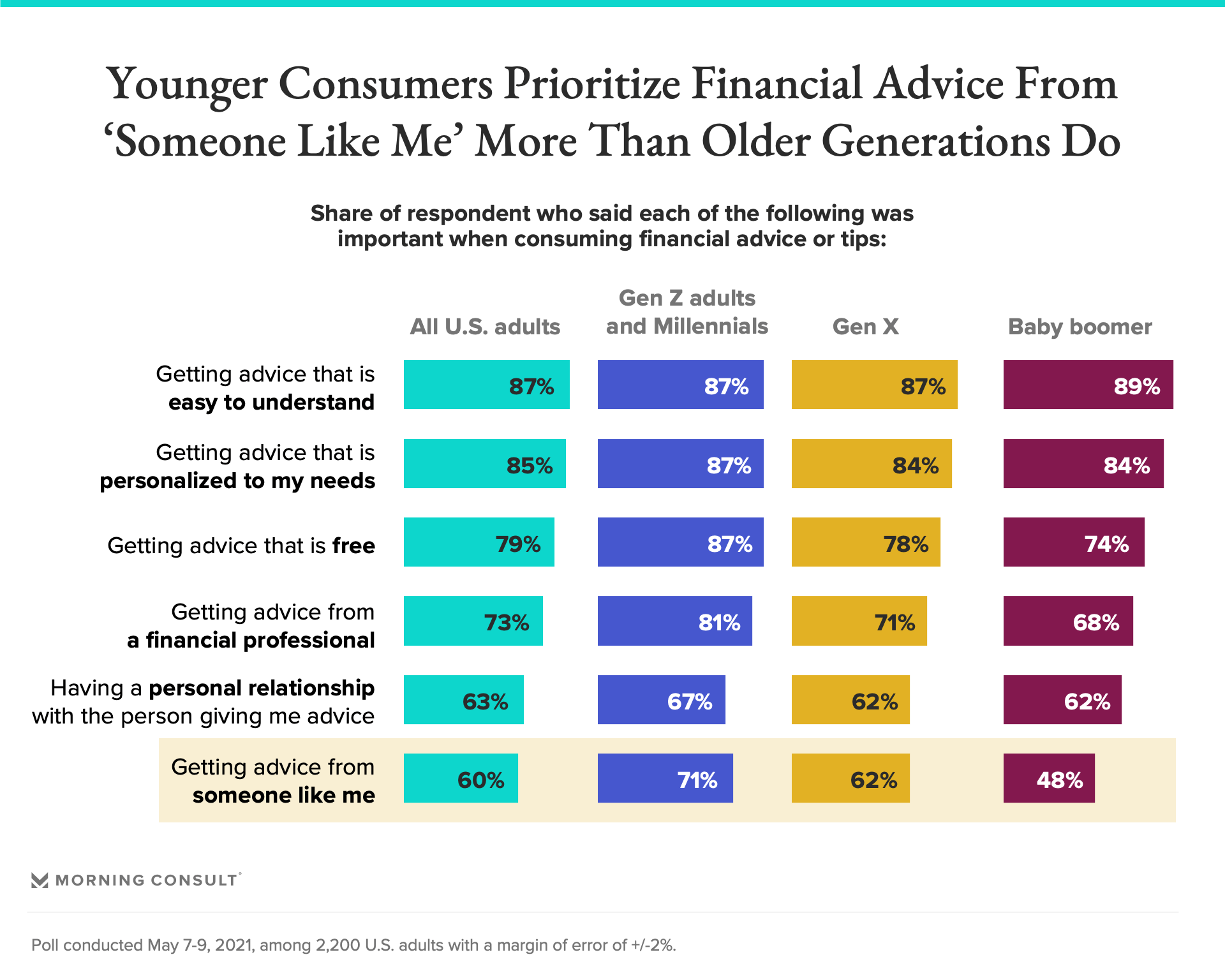 Consumers' hierarchy of needs for financial advice — easy to understand, professional or free, for example — is consistent across generations, with few differences. It's more important to Gen Z adults and millennials that they receive financial advice from "someone like me" than it is to Gen X or Baby boomers. 
Recalling the finding that a large share of younger investors self-identify as "curious" investors, marketers and financial services leaders should prioritize creating engaging, understandable, and responsible content and placing it on the platforms consumers are visiting. 
Data drawn from Morning Consult Brand Intelligence, the company's flagship platform which collects and organizes nearly 12,000 survey responses every day for more than 4,000 brands in 15 countries, gives an even deeper understanding of where young investors are spending their time online. Analysis of data drawn between May 2020 and May 2021 reveals that Twitter and Reddit may be the most efficient use of marketing spend for stakeholders hoping to capture a larger than average share of investors.
Users on those platforms are more likely than the general population to be investors or customers of one of the top three U.S. banks by asset size (Chase, Bank of America and Wells Fargo). 
But we can flip the view, too. Profiling specific demographics to reveal their social media use allows marketers and other financial services leaders or professionals to know how to meet their target customers where they are.
To reach specific investor or banking audiences by generation, for example, our analysis reveals that over 90 percent of Gen Z adult investors report using YouTube, more than 80 percent report using Instagram, and roughly three-quarters use Facebook.
But the differences here are what's interesting. The share of Gen Z investors that use social media is much higher than non-investors. The same is true for customers of the three largest U.S. banks.
Fifty-seven percent of Gen Z adult investors are on platforms such as YouTube or TikTok, compared to 49 percent of Gen Z adults who don't have any money invested. Leaders at the top banks in the country could consider platforms such as Instagram: Half of their customers are on the photo-sharing app, although shares vary by individual bank. 
Relationships in the financial services industry have been changing for some time, and customers readily consuming 30-second videos about ETFs on TikTok are the latest signal of that shift. In addition to grappling with post-pandemic consumer trust, financial services leaders are still tasked with looking for new ways to offer financial advice in a more digital world. Step one is understanding the social media usage of their customers and investors, and maybe downloading a few apps. 
Charlotte Principato previously worked at Morning Consult as a lead financial services analyst covering trends in the industry.
We want to hear from you. Reach out to this author or your Morning Consult team with any questions or comments.
Contact Us