Vehicle Brands Should Double Down on Brand Loyalty
2022 could be a reset year for brand loyalty as vehicle manufacturers begin to recover from last year's "chip-pocalypse," writes automotive and mobility analyst Lisa Whalen.
Last year, many new vehicle intenders were forced to reconsider their brand loyalty after supply chain issues restricted stock, inflated prices and jammed up service centers, leading to poor consumer experiences.
With brand loyalty up in the air, vehicle manufacturers need to pursue initiatives that encourage future loyalty, especially with younger consumers. Better selection and pricing as the chip shortage becomes more manageable should help them improve customer experience, capitalizing on the highs and smoothing out the lows while maintaining and conquesting this capricious market segment. 
While consumers overall are loyal to manufacturers, millennials trail behind
Vehicle brand is a major factor for consumers when they're considering purchasing their next vehicle. Morning Consult research shows that 41 percent of consumers rank it as "a top priority" and 83 percent say it is at least somewhat important. 
Brand loyalty is strong overall for consumers: 52 percent of those who plan to purchase a vehicle in the next year said they would prefer to purchase from a manufacturer they have purchased from before, compared to only a quarter (25 percent) who said they would prefer to purchase from a manufacturer that's new to them.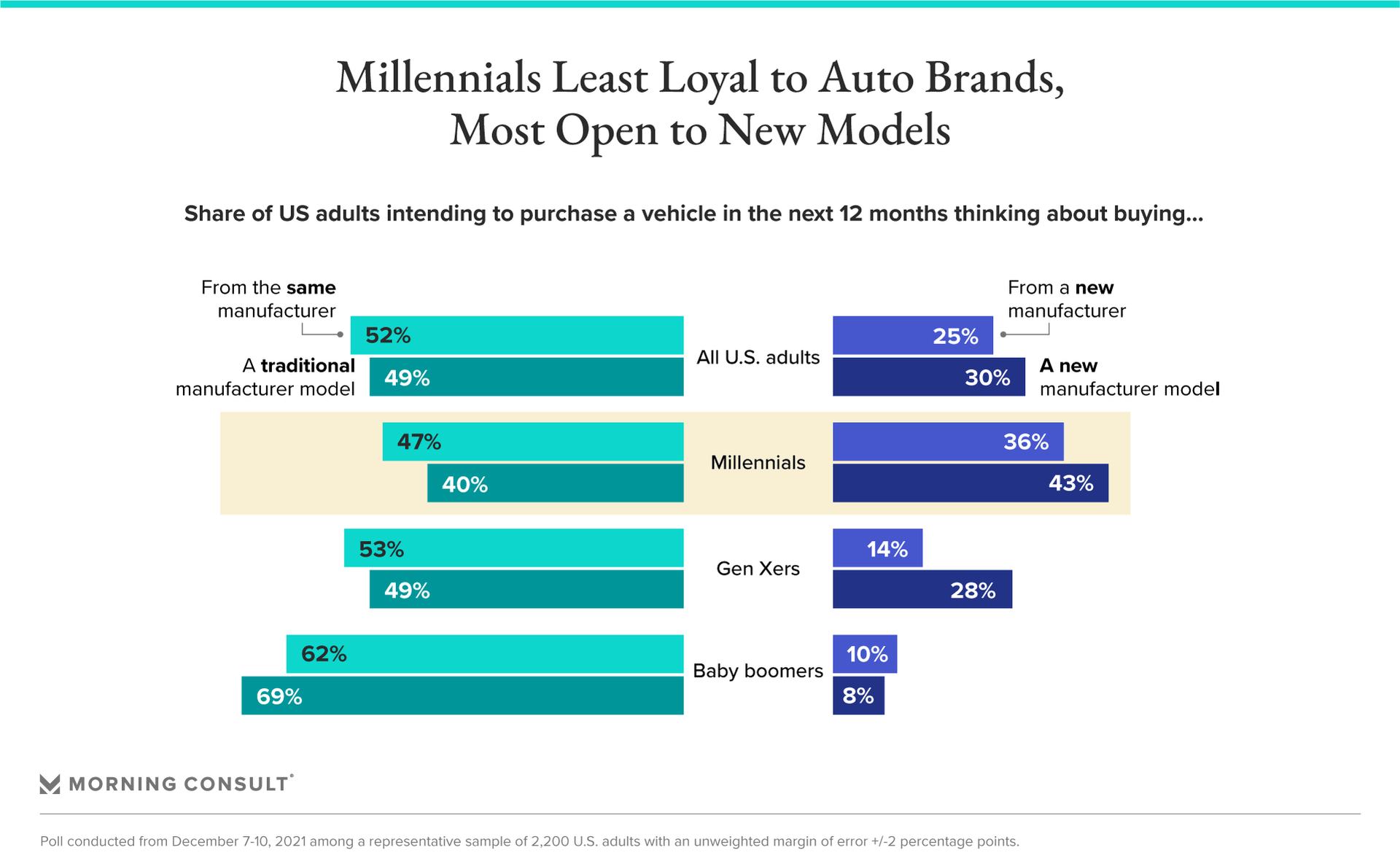 However, millennials appear to be less loyal than their older counterparts, and may prove harder to entice: 36 percent said they would be open to buying from a new brand. And while 30 percent of all U.S. adults said they're open to new model choices, 43 percent of millennials said the same. Providing a wider selection could be an effective way to lure the largest car-buying generation back into the fold. 
Purchase consideration dipped last year before recovering 
For many brands, purchase consideration dipped last year before recovering towards the end of 2021, with younger buyers proving to be more volatile, according to Morning Consult's Brand Intelligence data.
Total considering by brand
Morning Consult Brand Intelligence
When it comes to overall purchase consideration, Toyota proved to be the most resilient last year, rising from 30 percent to 31 percent year over year and reaching a high of 34 percent in July. Not coincidentally, the brand weathered the chip storm better than its competitors did due to previous stockpiling and more effective supply chain management, according to Reuters. 
Looking at consideration across brands, millennials and Gen Z proved to be more fickle than older generations and increasingly fickle compared to 2020. Hyundai, one of the other chip stockpilers, scored a noticeable increase last year with younger buyers, but still lagged the group. 
There's more volatility with net promoter scores among younger buyers
Net promoter score data — which lends valuable insight into customers' experiences through their reported likelihood to recommend a brand — shows that younger buyers tend to be more volatile than older generations. Being timely about capitalizing on the high scores and mitigating drivers of lower scores can help brands to retain and maintain them.
Net promoter score by brand
Morning Consult Brand Intelligence
Morning Consult's NPS data shows that Honda enjoyed the highest year-over-year jump among Gen Zers and millennials, rising from 27 to 39 between January 2021 and January 2022. Tesla and Toyota nipped at Honda's heels, growing 10 points with younger consumers. This indicates these generations' enthusiasm for new options, compared to generally more muted increases among all respondents. All brands demonstrated more volatility in NPS scores with younger buyers compared to their standing with overall adults throughout the year, and should listen carefully to the nature of their chatter to find improvement opportunities.
Lisa Whalen previously worked at Morning Consult as an automotive and mobility analyst.
We want to hear from you. Reach out to this author or your Morning Consult team with any questions or comments.
Contact Us