Why Gamers Are More Valuable Than Companies Think
Media & entertainment analyst Kevin Tran highlights how video game fans can be surprisingly lucrative to nongaming pushes such as box office and subscription sales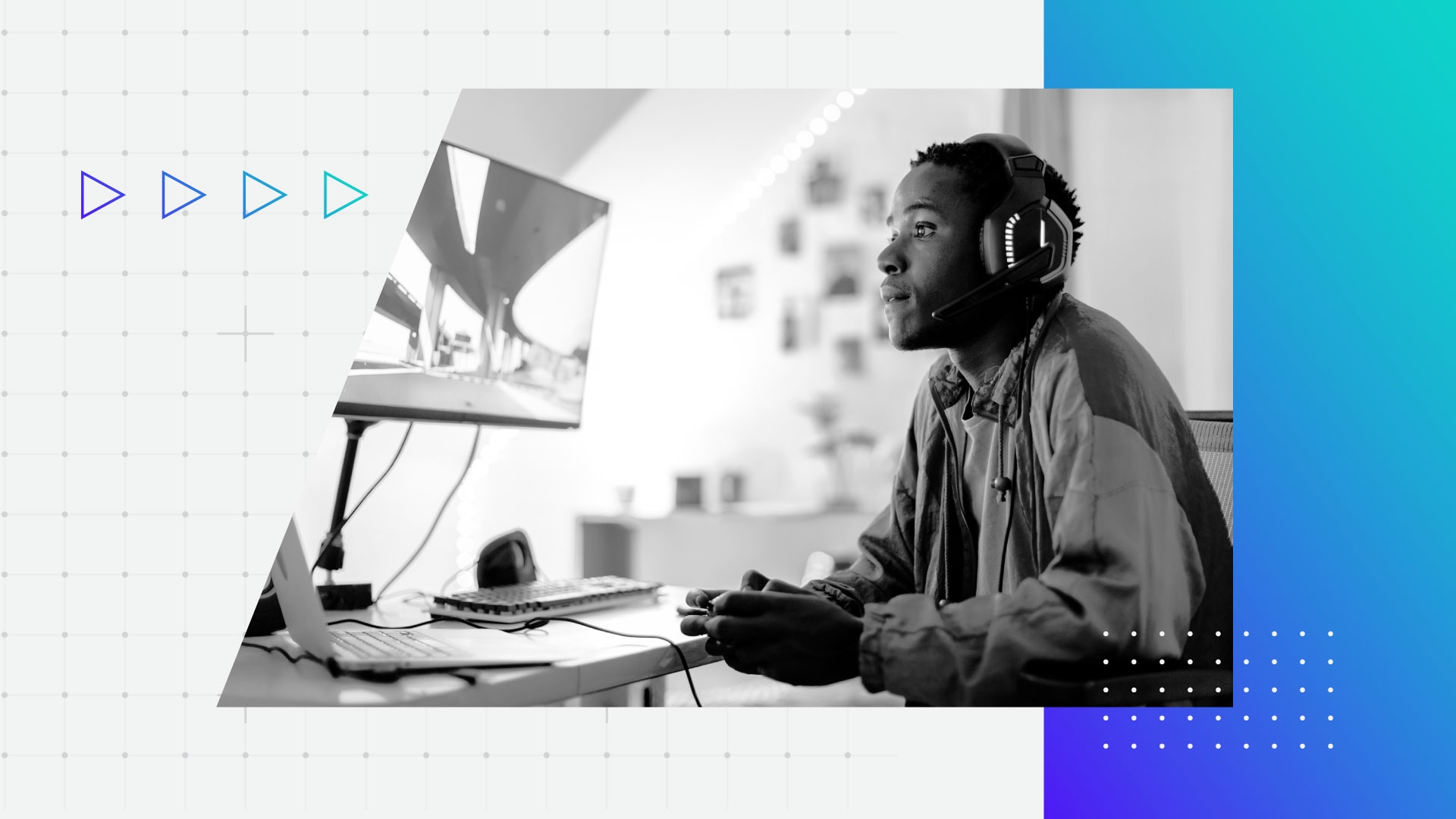 Key Takeaways
Almost two-thirds of U.S. adults (63%) say they play video games in an average week, much higher than the share who consider themselves gamers.

Morning Consult data also shows that consumers with five or more video streaming subscriptions are more than twice as likely to spend time gaming than those with no subscriptions.

Media companies should prioritize adapting console-based titles with international fan bases into TV, film and mobile games given the greater streaming growth opportunities abroad.
For more insights on the State of Media & Entertainment, download our latest report.
Hollywood's track record with adapting video game intellectual property into TV and film has been mixed, but there's no denying that their efforts have picked up serious steam in the last year. HBO's "The Last of Us" claimed the network's second-biggest debut of the last decade, while Netflix's co-CEO Ted Sarandos in January highlighted how "Cyberpunk: Edgerunners" is considered by some to be an all-time great video game adaptation, for example.
This bodes well for the future of video game adaptations in general, but media companies have an opportunity to capitalize on gamers more than they already do. Morning Consult data from January shows that not only are gamers more likely to spend on entertainment experiences and subscriptions than the average consumer, but they're also representative of a group that's much bigger and more inclusive than previously thought.
Most effectively capitalizing on the gamer demo doesn't mean only making video game adaptations — companies must also target gamers on the media formats they're more likely to engage with than the average adult.
Gamers are young, spend more on streaming subscriptions and are avid moviegoers
When brands are asked to identify the "gamer" demographic, many think of a very specific group of people who play video games obsessively and are almost only interested in entertainment activities adjacent to gaming. So it makes sense that just 30% of U.S. adults say they consider themselves gamers. Men and younger consumers (Gen Z adults and millennials) are also more likely to self-identify as gamers.
Respondents who said they consider themselves gamers
Survey conducted Jan. 25-30, 2023, among a representative sample of 2,210 U.S. adults, with an unweighted margin of error of +/-2 percentage points.
But our understanding of who makes up the gamer cohort should be recalibrated beyond those who would label themselves as such: While less than one-third of adults consider themselves gamers, close to two-thirds (63%) said they spent at least some time playing video games in an average week in January, with a plurality of adults (14%) saying they played between three and six hours a week.
Shares indicating how much time they spent playing video games in an average week in January
Survey conducted Jan. 25-30, 2023, among a representative sample of 2,210 U.S. adults, with an unweighted margin of error of +/-2 percentage points. Figures may not add up to 100% due to rounding.
Morning Consult data shows that those who are younger, male or liberal are more likely to self-identify as gamers. But this data helps paint a more nuanced picture of how the true audience of video games contains those who call themselves gamers — and consider the hobby part of their identity — as well as those who play games casually or infrequently.
Our research further shows that people who spend time gaming also tend to spend more money on other media: 84% of those who are subscribed to five or more streamers also spend time gaming, as do 94% of those who go to the movies three or more times a month.
This matters because, taken altogether, it tells media companies that they can pitch the ideal outcome of their adaptations to game studios in two ways: While adaptations might primarily draw in gamers, they can also appeal to those who play games but don't consider themselves gamers, potentially stoking casual players' interest in gaming. Media companies should stress the latter potential outcome because it would make game studios more willing to license out their IP.
How Hollywood can capitalize on gaming through mobile, podcasts and international fan bases
While adaptations like Netflix's upcoming "One Piece" series are geared toward self-identified gamers, companies like Disney and Warner Bros. Discovery should forge connections with the updated gamer demo: those who game but don't consider themselves gamers.
One opportunity is through mobile games based on signature originals. Mobile is the video game platform that reaches the most gamers and adults overall, and new games on these devices would help media companies retain interest in marquee titles between seasons.
Netflix is in the process of aggressively pushing mobile games, and more streamers should mirror the company's efforts because of the opportunity to build out original franchises via mobile games. For example, it seems natural for Apple to have mobile games based on its pricier original series like "See" and "Foundation," with the main characters playable as simple side-scrollers. But if fans of these shows start playing as secondary characters instead of the protagonists, it could indicate interest in spinoffs built around those characters.
Shares who said they played video games on the following devices in the past month:
Survey conducted Jan. 25-30, 2023, among a representative sample of 2,210 U.S. adults, with an unweighted margin of error of +/-2 percentage points.
While companies should definitely broaden their views of the potential audience of video games and game adaptations, they also shouldn't lose sight of connecting more deeply with self-identified gamers, as this group tends to consume digital audio content — like music, podcasts and audiobooks — at a higher rate than nongamers.
There's a natural opportunity to create companion podcasts for video game adaptations or spin off popular video game IP to create entirely scripted podcasts — or even partner with sports betting platforms for sponsored content. (In January, 46% of gamers said that they bet on sports at least once in the past month, compared with 23% of all adults.)
As media companies become more comfortable with adapting video games into shows and films, opportunities to use IP with big international fan bases should be increasingly prioritized as U.S. streaming growth stagnates. Last year, we reported that 15% of adults in the United States didn't have any video streaming subscriptions, far lower than equivalent shares in countries like Japan (54%) and France (37%). Streamers have long been looking to monetize non-U.S. audiences more by way of local-language originals, but game adaptations would also serve them well in this international push.
Appealing to video game fan bases outside the United States is a broad initiative, but streamers could look to top-grossing anime franchises to create live-action adaptations, given the built-in fan bases these versions would be able to lean on in Japan. Tech giants Apple and Amazon are well positioned to explore this growth avenue, given their deep pockets and the fact that they haven't dabbled much in big-name anime spinoffs nearly as much as Netflix has.
Streamers could also take cues from esports leagues that have big followings outside the States. For example, Mobile Legends: Professional League Indonesia accounted for two of the most-watched esports tournaments of 2022 according to Esports Charts, and Netflix recently cited Indonesia as an international market where it sees "real opportunity."
With U.S. investors now cooling on esports, it wouldn't be surprising if pro gaming leagues became more eager to partner with major video streamers in the year ahead.
Kevin Tran is the senior media & entertainment analyst on the Industry Intelligence team, where he conducts research, authors analyst notes and advises leaders in the media & entertainment industry on how to apply insights to make better business decisions. Prior to Morning Consult, Kevin was a media analyst at Variety Intelligence Platform, Variety's premium subscription service. Kevin graduated from the Haas School of Business undergraduate program at the University of California, Berkeley. @ktran223
For speaking opportunities and booking requests, please email [email protected].
We want to hear from you. Reach out to this author or your Morning Consult team with any questions or comments.
Contact Us