Global Politics
Deglobalization: H1 2023 Global Trade & Investment Policy Outlook
Report summary
Morning Consult's Global Trade & Investment Policy Outlook is a thematic annual report offering a comprehensive assessment of public attitudes toward trade and investment policymaking across 17 markets. The H1 2023 edition of the report focuses on deglobalization and provides policy forecasts for major global markets alongside assessments of public policy preferences across the left-right spectrum. In addition to global and regional outlooks, the report also includes country-specific forecasts for China, Germany, Japan, Turkey, the United Kingdom and the United States.
The report is anchored by Morning Consult's Index of Economic Openness, a unified metric of public favorability toward global trade and capital flows. The index prices in public views of foreign business operations, tariffs, foreign direct and portfolio investment, and global engagement.
The report aims to enable corporate risk management and financial services professionals, as well as policymakers, to better forecast where trade- and investment-related policies are headed.
Key Takeaways
Deglobalization is more myth than reality. Morning Consult's Index of Economic Openness provides limited evidence of deglobalization. Since 2022, global average index readings have been weakly positive on both a raw and GDP-weighted basis, indicative of pro-openness sentiment.

Global dynamics: Over the near term, companies and market actors that rely on cross-border investment to serve customers and generate returns will be better positioned than those that engage in physical trade. But capital flows are not risk-free: Public support for openness tends to be lower among countries with deeper and more investable markets.

Developed and emerging markets: Weaker public support for foreign business operations and capital flows in the United States and northern Europe drives a less optimistic outlook for developed markets relative to emerging ones.

Regional dynamics: North America is most at risk of spurring deglobalization owing largely to bearish right-wing sentiment in the United States.

Ideological dynamics: On average, adults on the left and right are similarly supportive of openness to foreign business operations and capital flows at present, and similarly unenthusiastic about free trade.
Highlights from this report
When it comes to political ideology, rightwing governments have historically been more supportive of open trade relative to those on the left, while the pattern is flipped for openness to foreign capital.
Globally, Left-Right Alignment Points Toward Policy Continuity Despite Political Instability
Morning Consult's Index of Economic Openness, January 2022-May 2023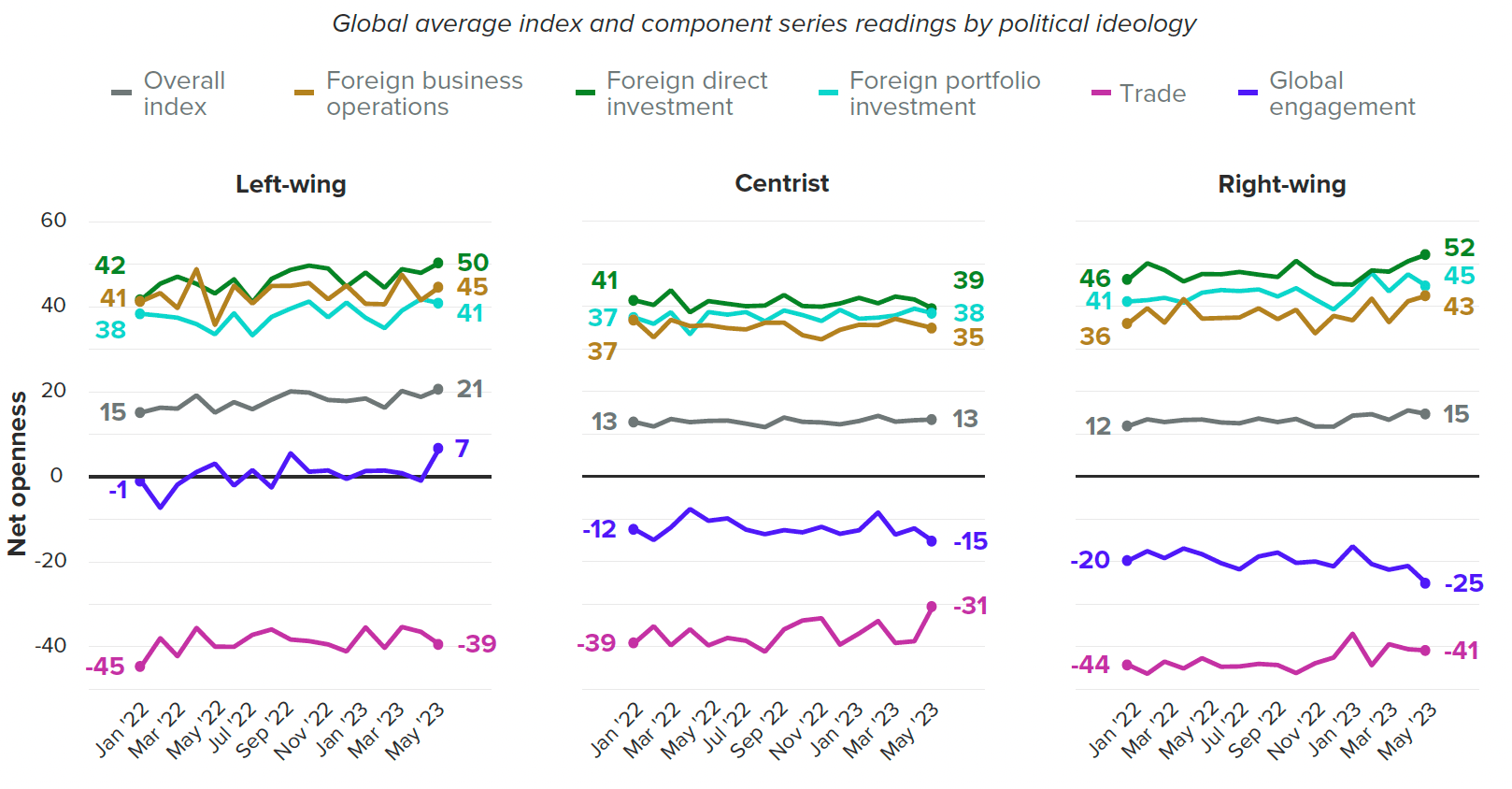 Component series derive from surveys conducted January 2022-May 2023, among representative samples of roughly 1,000 adults per country, with unweighted margins of error of +/-3 percentage points. Cross-country averages derive from unweighted index readings and omit China, where data on political ideology is not collected.
Methodology
Sampling and data collection
This report relies on data collected through Morning Consult's proprietary survey research capabilities. Data comes from monthly surveys conducted among representative samples of roughly 1,000 adults per country, with unweighted margins of error of +/-3 percentage points. Our January 2022 survey in Turkey was conducted among 3,111 respondents, with a margin of error of +/-2 percentage points. All interviews are conducted online. Surveys field during the second half of the indicated month.
Weighting and representativeness
Data are weighted to approximate representative samples of adults in each country surveyed. Weighting parameters vary by country. The target population for all countries is the adult (18+) population. Sample sizes for certain demographic subgroups are small. Inferences about such groups should thus be made cautiously.
Download the report to view the full methodology.
About the author
Jason I. McMann leads geopolitical risk analysis at Morning Consult. He leverages the company's high-frequency survey data to advise clients on how to integrate geopolitical risk into their decision-making. Jason previously served as head of analytics at GeoQuant (now part of Fitch Solutions). He holds a Ph.D. from Princeton University's Politics Department. Follow him on Twitter @jimcmann. Interested in connecting with Jason to discuss his analysis or for a media engagement or speaking opportunity? Email [email protected].