Biden Leads Trump by 8 Points, a 2020 High, as Floyd Protests Continue
47% of voters back Biden vs. 39% for Trump, the widest lead this year in weekly tracking of presidential race
Key Takeaways
41% approve of Trump's job performance, while 55% disapprove.

Black voters, who overwhelmingly back Biden, were unmoved in week-to-week tracking.
Former Vice President Joe Biden posted his biggest lead of 2020 over President Donald Trump as voter sentiment about the president worsened amid his response to the nationwide demonstrations over race relations and policing tactics sparked by the killing of George Floyd. 
A new Morning Consult poll found that the presumptive Democratic nominee leads Trump by 8 percentage points, 47 percent to 39 percent -- the widest lead recorded this year in weekly tracking of the presidential race. The June 1-7 poll surveyed 32,380 registered voters, with a 1-point margin of error.
Trump's deficit against the Delaware Democrat grew by 3 points from the previous week, representing the first significant movement measured by Morning Consult following weeks of stasis in head-to-head polling conducted during the coronavirus pandemic, with Biden largely owing his expanded lead to independents. The survey found the former vice president leads Trump by 9 points (39 percent to 30 percent) among those voters, up 4 points from a May 25-31 survey. 
The latest polling was conducted as Trump took a hard line against Black Lives Matter protesters, who are backed by growing shares of Americans. In the face of calls to reduce police violence, Trump pressed governors to take an aggressive approach against demonstrators in their streets and dispatched the military to Washington, D.C. The moves earned him a public rebuke from former Defense Secretary James Mattis and placed him in conflict with his own Pentagon chief, Mark Esper, who said publicly that he opposed using the military to enforce the law in U.S. cities. 
Trump's response to the demonstrations came as he lost support with white voters in the suburbs, while Biden has maintained his lead among women (48 percent to 37 percent). For the first time this year, Biden leads the president among suburban whites, 44 percent to 43 percent, after that group swung 4 points in the former vice president's favor.
Looking to alter the conversation, the White House is reportedly considering having the president address the nation on police and race relations, while the president's campaign has sought to put the focus on the opposition by tying Biden to the protesters' emerging push to "defund" police departments, which Biden's campaign has said he opposes. 
Amid talk that some Republican voters may be ready to bail on Trump -- invigorated over the weekend by a report in The New York Times that the Bush family will not back his re-election bid -- there was no significant change in Trump's lead over Biden among the party's rank-and-file (85 percent to 8 percent). His approval with the group fell 2 points, to 84 percent, while the share who disapproved rose slightly from 13 percent to 14 percent.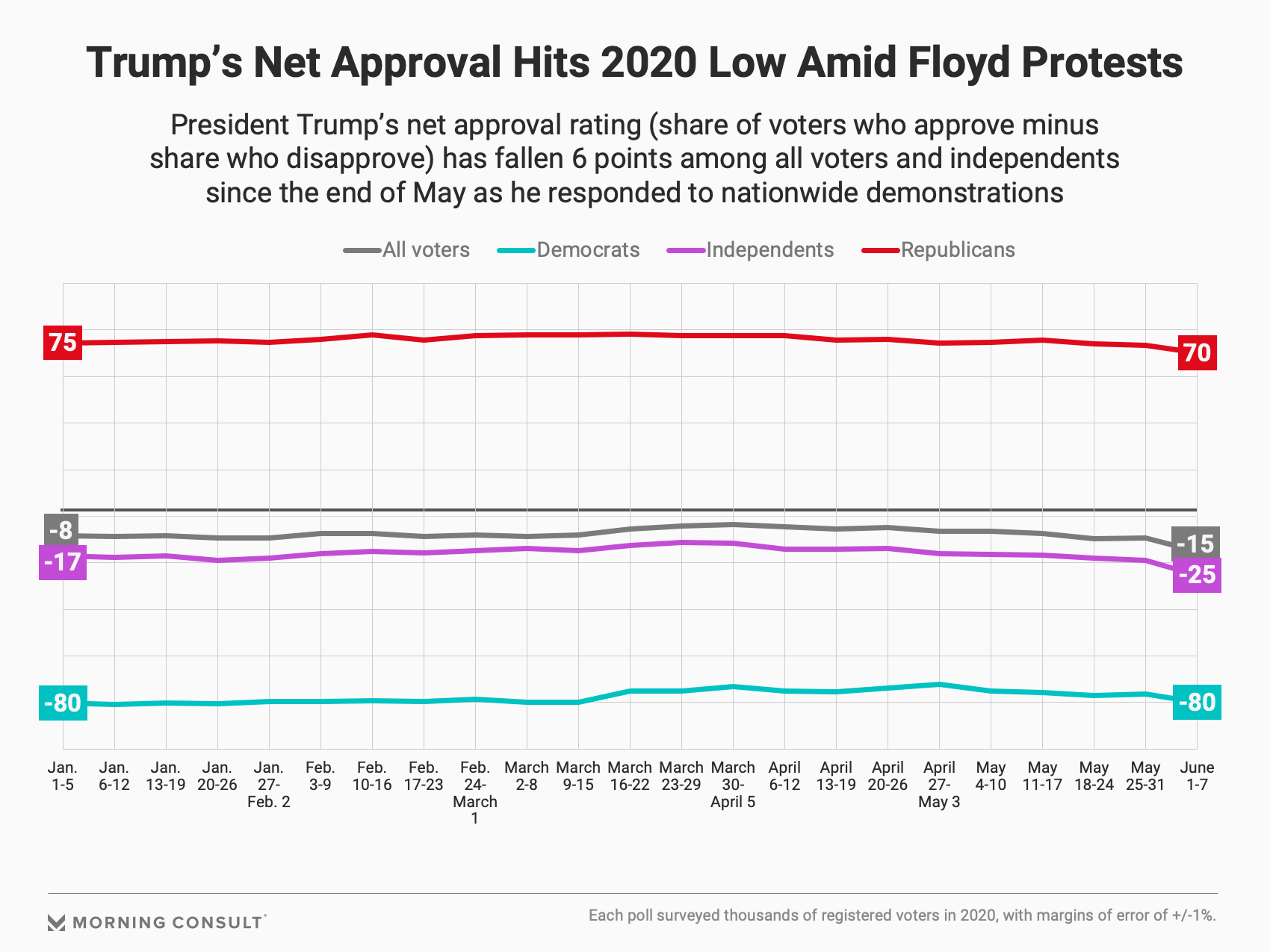 Perceptions of Trump's job performance have been largely static throughout much of his presidency, but the dip among GOP voters in the daily tracking came as the president slipped even further underwater with the overall electorate. Forty-one percent of voters approve of his job performance and 55 percent disapprove -- his worst net approval rating in weekly Morning Consult tracking since January 2019.
Along with a slump in Trump's overall approval, a separate Morning Consult poll, conducted June 5-7, found 54 percent of voters disapprove of his handling of the spread of coronavirus in the United States, while 41 percent approve, his worst marks since tracking on the subject began in February. 
On both questions, Trump is deeply underwater among black voters, though they're more likely to express positive views of his handling of coronavirus (21 percent approve and 68 percent disapprove) than they are to approve of his overall job as president (12 percent approve and 83 percent disapprove).
Black voters also vastly prefer Biden to Trump: Seventy-six percent said they'd vote for Biden if the election were held today, while 7 percent said they'd vote for Trump. Those figures, however, were statistically similar to responses collected in late May and at the beginning of the year. Biden's current lead roughly matches his average 67-point advantage over the president with the key Democratic demographic.
Eli Yokley is Morning Consult's U.S. politics analyst. Eli joined Morning Consult in 2016 from Roll Call, where he reported on House and Senate campaigns after five years of covering state-level politics in the Show Me State while studying at the University of Missouri in Columbia, including contributions to The New York Times, Politico and The Daily Beast. Follow him on Twitter @eyokley. Interested in connecting with Eli to discuss his analysis or for a media engagement or speaking opportunity? Email [email protected].
We want to hear from you. Reach out to this author or your Morning Consult team with any questions or comments.
Contact Us