2020 Hopefuls Didn't Say 'Nay' or 'Yea' on Green New Deal; Strategists Say That's OK
Democratic analysts say 'present' votes rarely hold a negative connotation on any issue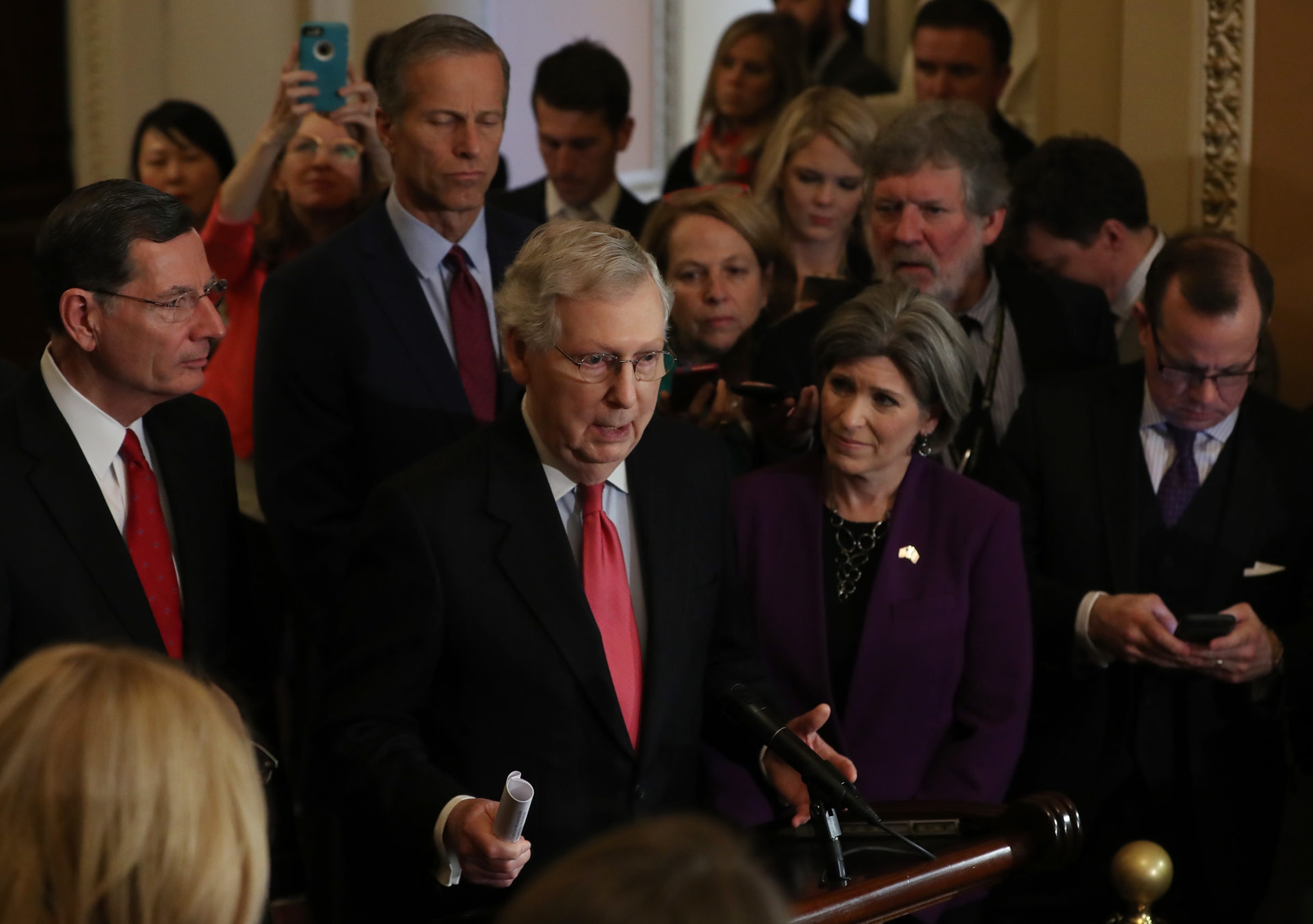 The five Senate Democrats contending for the presidential nomination voted "present" with almost all of their colleagues on Tuesday on a Green New Deal joint resolution brought forward by Republicans, who saw the vote as a way to put Democrats on the record as backing -- or at least not rejecting outright -- what Republicans have called a socialist environmental platform.
Senate Majority Leader Mitch McConnell (R-Ky.), on the floor Tuesday morning, said that Americans would "see which senators are so fully committed to radical leftwing ideology that they can't even vote 'no' on self-inflicted economic ruin."
But Democratic strategists say the presidential candidates' decision to pass on a firm "yea" or "nay" is not likely to impact the lawmakers' individual 2020 chances because voters will understand that the vote held was a political ploy by the other party.
Senators on Tuesday voted 0-57 on a procedural vote specifically on a Green New Deal joint resolution from McConnell that would compel the government to create such a policy, rather than state a sense of the Senate, as in the non-binding resolution from Sen. Ed Markey (D-Mass.), that the government has a duty to create a Green New Deal. The language of McConnell's legislation would have been more binding.
All five Democratic senators currently seeking their party's 2020 nomination -- Kirsten Gillibrand (D-N.Y.), Kamala Harris (D-Calif.), Elizabeth Warren (D-Mass.), Cory Booker (D-N.J.) and Amy Klobuchar (D-Minn.), along with independent Bernie Sanders of Vermont -- have co-sponsored Markey's resolution; McConnell's joint resolution had no co-sponsors.
Three Democrats -- Doug Jones of Alabama, Joe Manchin of West Virginia and Kyrsten Sinema of Arizona -- and independent Angus King of Maine voted "no" on the resolution Tuesday.
But in general, voting "present" on any issue, not just the Green New Deal resolution, does not usually have a negative impact on lawmakers, Democratic strategists said.
A "present" vote by senators on McConnell's Green New Deal resolution is just "ignoring the trolls" and won't impact those who voted that way, said Eddie Vale, a partner at New Paradigm Strategy Group, ahead of Tuesday's vote.
Most people aren't closely following the legislative process, said Vale. For that reason, either now or closer to the election, Vale said he doubted that voters would make a decision based on "if somebody voted 'present' or not 'present' on a random show bill."
Meanwhile, the Sunrise Movement, an environmental group established in 2017 that backs the Democrats' Green New Deal platform, had already said that it did not intend to hold Green New Deal-sponsoring senators to a "yes" vote on McConnell's resolution.
"It's clear that the Democratic candidates running for president are not backing down" and are out campaigning on the Green New Deal, said Stephen O'Hanlon, who handles communications for the group. O'Hanlon said that had any of the Democratic presidential candidates voted "yes" on today's procedural vote, it would not have distinguished those senators in Sunrise's view among the others.
Had any of the Senate candidates for president voted yes, there could theoretically have been some fundraising benefits from progressive donors, while electoral benefits would be less likely,  said Jeff Hewitt, a Democratic political strategist and owner of Hewitt Campaigns Inc., a Democratic campaign consulting firm.
Recent Morning Consult/Politico polling conducted from March 15-17 among 739 registered Democrats showed that about two in three Democrats (65 percent) consider it very important that the Democratic nominee for the 2020 presidential election share their position on environmental policy. That percentage is even higher than the number of Democrats who said the same about the economy and national security, but lower than health care, Medicare and Social Security.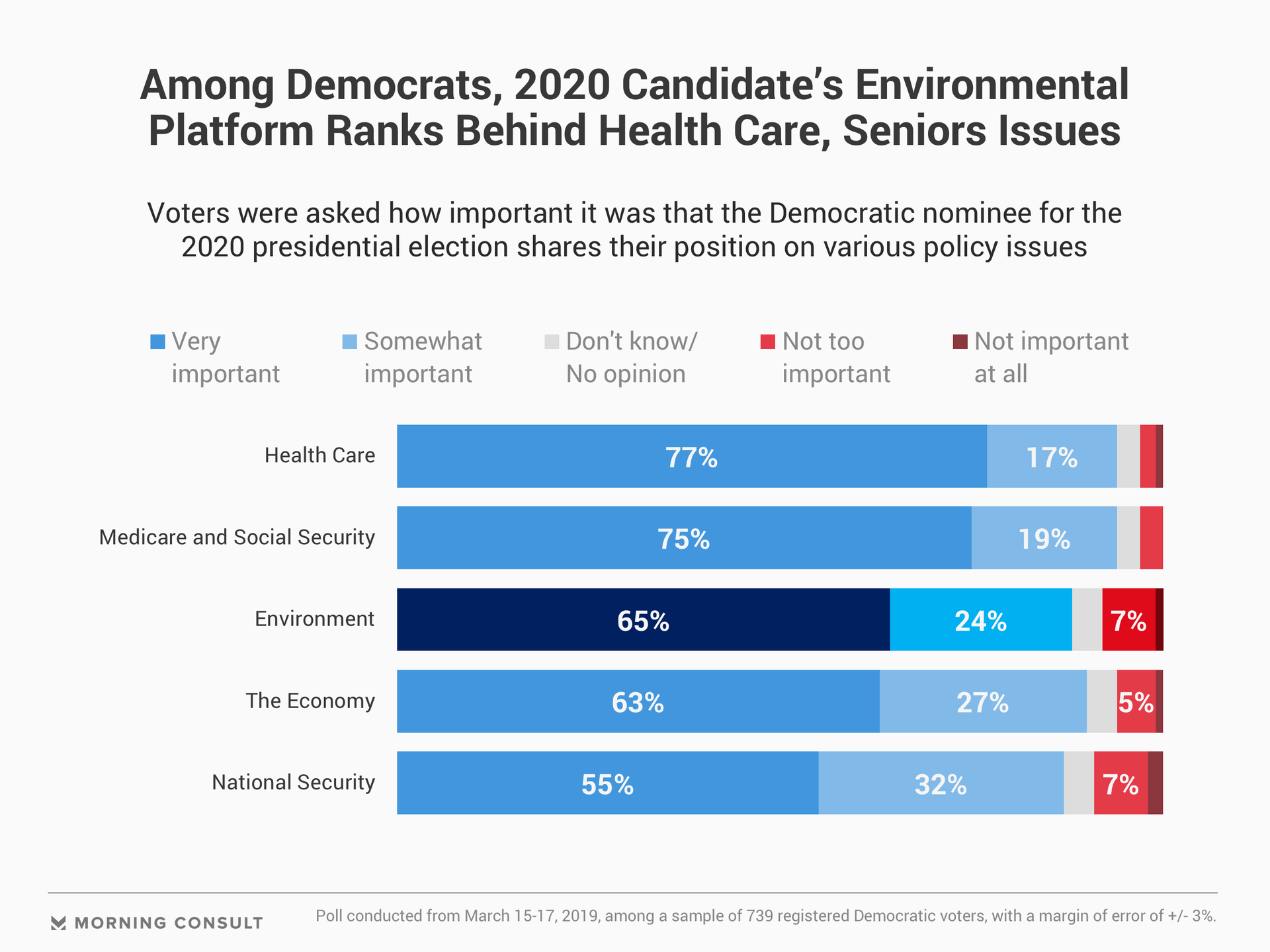 Another 24 percent of Democrats said that that policy alignment on environmental issues was somewhat important to them. Among Democratic voters, the survey's margin of error was 3 percentage points.
"There is no doubt voters are very concerned about climate change," James Demers, president and chief executive of New Hampshire-based government affairs group Demers, Blaisdell & Prasol Inc., said in an email ahead of Tuesday's vote. Demers, who is a Democrat, said climate change is discussed at almost every presidential candidate's town halls and house parties in New Hampshire.
Ultimately, Senate Democratic candidates' votes on Tuesday might not matter in part because the Green New Deal platform itself may not gain steam with key demographics in the wider electorate.
"The Green New Deal's a nonstarter in so many battleground states that I just don't think it matters," Hewitt said of the floor vote.  
Jacqueline Toth previously worked at Morning Consult as a reporter covering energy and climate change.
We want to hear from you. Reach out to this author or your Morning Consult team with any questions or comments.
Contact Us