41% of Voters Say Mueller Didn't Exonerate Trump; 35% Say He Did
58% of GOP voters said the president was cleared by former special counsel; 62% of Democrats disagreed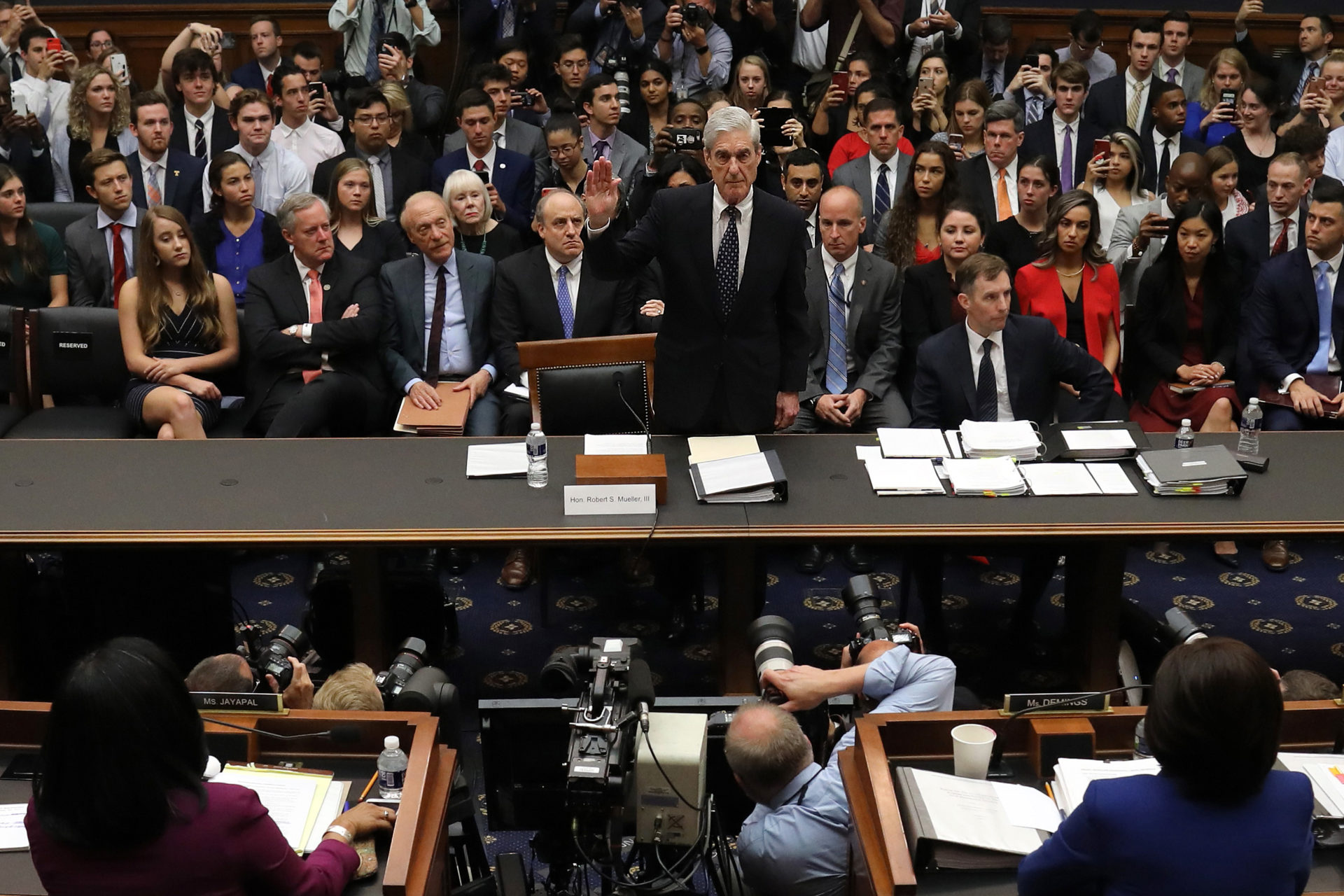 Key Takeaways
37% of registered voters said Congress should start impeachment proceedings to remove Trump from office, down 1 point from the previous week.

54% of voters believe Russia has compromising information on Trump.
Early during his highly anticipated testimony before the House Judiciary Committee on Wednesday, former special counsel Robert Mueller made clear that his report on Russian interference in the 2016 election did not "exonerate" President Donald Trump of obstruction of justice. 
But according to a new Morning Consult/Politico poll, the voting public is nearly split over what Mueller's report concluded. 
In the July 25 survey of 1,992 registered voters, 35 percent of registered voters said the president was exonerated by Mueller, compared with 41 percent who disagreed. Evaluations broke sharply along partisan lines, with 62 percent of Democrats correctly saying that Mueller had not cleared Trump and 58 percent of Republicans saying that he had.
The misinterpretation of a core conclusion of Mueller's testimony about his investigation into Russian meddling in the 2016 election is likely to disappoint some Democrats, who had hoped Mueller's televised remarks would bring his 448-page report page to life for the public and spur momentum for impeachment proceedings to remove the president from office. 
While 3 in 5 voters said they have followed news coverage of the report, just a third said they'd seen, read or heard "a lot" about Mueller's testimony this week. That is less than the 49 percent who said they'd heard a lot about Mueller's submission of his report to Attorney General William Barr on March 22 -- which Trump said demonstrated a "Complete and Total EXONERATION" on Twitter two days later --  and closer to the 35 percent who heard a lot about Mueller's public comments on the report in May, when he first said on camera that his findings did not clear Trump of wrongdoing. 
The delivery of the report's findings has done little to change voters' perceptions over the past few months concerning the biggest questions about what happened in 2016, the president's conduct during the course of the Mueller probe and whether he is vulnerable to Russian influence.  
Forty-three percent of registered voters in the latest survey said they believe Trump's campaign worked with Russia to influence the results of the election, up just 4 percentage points from a February survey. Forty-nine percent said they believe Trump tried to impede or obstruct Mueller's investigation, up just 5 points since that poll. And a majority (54 percent) still believes that Russia has compromising information on the president, from 51 percent who said the same in February.
And as support for launching an impeachment inquiry against the president has gained steam on Capitol Hill over the past few months -- with roughly 2 in 5 House Democrats backing that action as of Friday, according to a Politico tally -- the general electorate has not grown any likelier to agree.
In the latest survey, 37 percent of voters said they support beginning impeachment proceedings to remove Trump from office, down 1 point from last week's survey and down 2 points from a January poll.
While the latest Mueller testimony has caused some House Democrats to ante up for impeachment, others sound ready to move on.
"We do need to be realistic, and that is, the only way he's leaving office, at least at this point, is by being voted out," House Intelligence Committee Chairman Adam Schiff (D-Calif.) told CNN on Thursday. 
And while impeachment, at this point, appears to be a political loser for Democrats, the survey also suggests that the Mueller investigation and its conclusions may have inflicted some damage to the president's prospects for re-election.
Twenty-nine percent of registered voters said they were less likely to vote for Trump next year based on what they know now about the Mueller investigation, compared with 17 percent who said it made them more likely to vote for him. But a 40 percent plurality said it made no difference.
Each of the surveys cited in this story have a 2-point margin of error.
Eli Yokley is Morning Consult's U.S. politics analyst. Eli joined Morning Consult in 2016 from Roll Call, where he reported on House and Senate campaigns after five years of covering state-level politics in the Show Me State while studying at the University of Missouri in Columbia, including contributions to The New York Times, Politico and The Daily Beast. Follow him on Twitter @eyokley. Interested in connecting with Eli to discuss his analysis or for a media engagement or speaking opportunity? Email [email protected].
We want to hear from you. Reach out to this author or your Morning Consult team with any questions or comments.
Contact Us