Bulk of U.S. Consumers Prefer to Sit Through Ads on Streamers — if It Saves Them Money
Despite addition of commercials, a lower price could entice consumers to keep, sign up for ad-supported subscriptions, survey finds
Key Takeaways
49% of adults said they would choose an ad-supported version of full streaming platforms over a more expensive ad-free option, more than twice the share who said the opposite.

Adults were slightly more likely to subscribe to Hulu's ad-supported offering than its ad-free plan, but were evenly split between ad-supported and ad-free tiers from Paramount+, Discovery+ and Peacock.

Ad-free services Netflix and Amazon Prime Video were the most popular streaming options among consumers.
When HBO Max's newest streaming tier launches later this month, it will come with not only a lower price, but also the introduction of advertisements. And while those binge-watching their favorite titles might not welcome the interruption of commercials, new polling shows consumers generally prefer less expensive ad-supported options to ad-free tiers at a higher cost. 
Asked to choose between the two options in a new Morning Consult/Adweek poll, 49 percent of U.S. adults said they'd pick a streaming service offering an ad-supported option for the full platform at a lower price, compared to 22 percent who said they'd be more interested in paying for a higher-priced, ad-free option.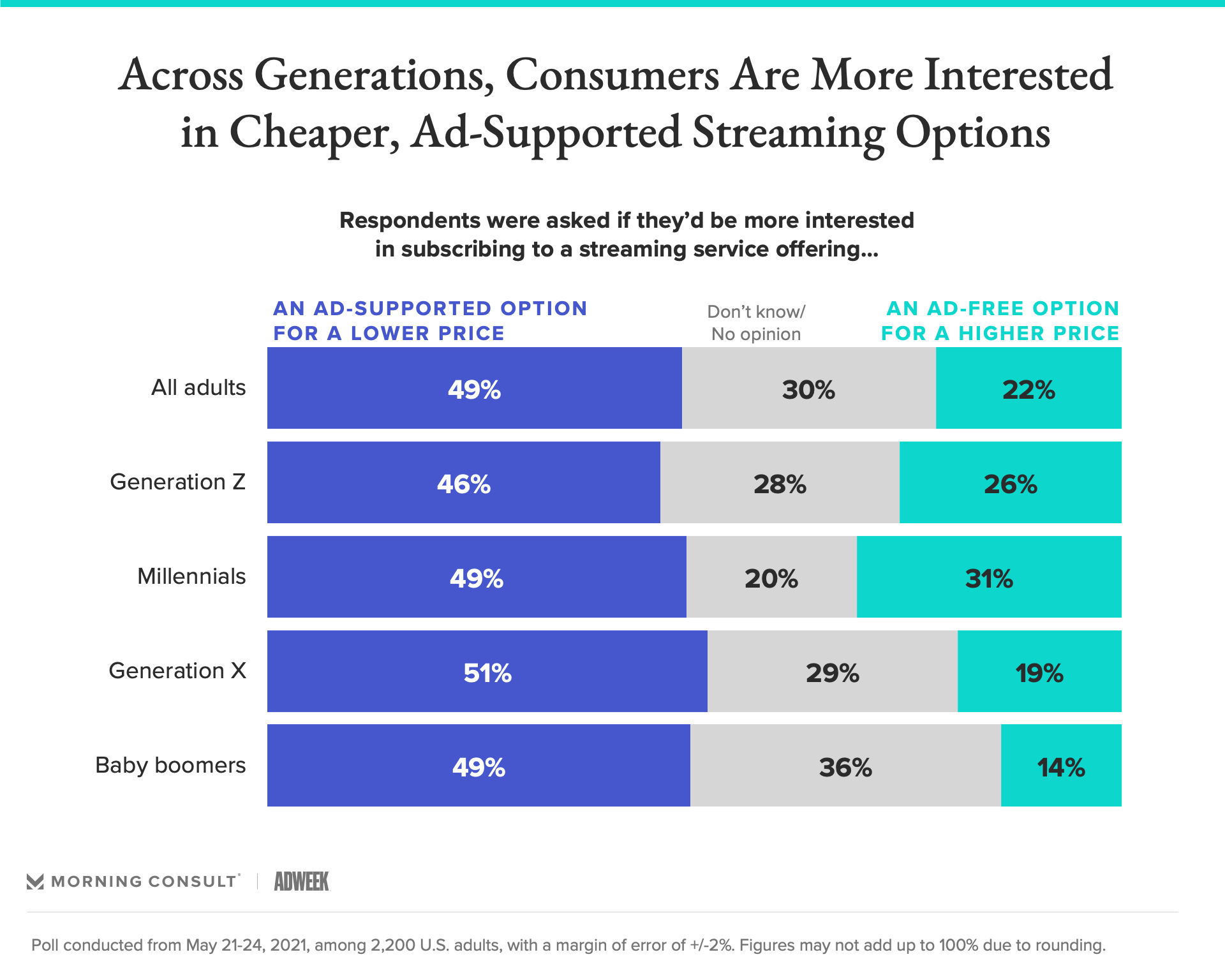 Announced on May 19, WarnerMedia's HBO Max With Ads will cost $5 less than its $14.99 ad-free option when it debuts this week. Subscribers will have access to HBO Max's full library content, except for the day-and-date Warner Bros. films released on the platform throughout the year. 
When looking at specific services that sell subscription tiers with and without ads, consumers showed slightly more interest in the cheaper options over the pricier, commercial-free offerings. 
Thirty-one percent of adults in the May 21-24 poll said they, or someone in their household, subscribe to ad-supported Hulu ($5.99 a month), while one-quarter said they subscribe to the ad-free version, which costs $11.99 a month. Adults were slightly more evenly split between Paramount+, Discovery+ and Peacock's subscription tiers. 
Netflix and Amazon Prime Video, two services with only ad-free content, were the most popular streaming options overall among consumers, with a respective 62 percent and 54 percent of consumers saying they are current subscribers. 
Over the course of the pandemic, many consumers made streaming services an integral part of their at-home entertainment options. Fifty-four percent said they subscribe to the same amount of streaming services as they did prior to the coronavirus pandemic, while 39 percent said they subscribed to more, according to the poll, which surveyed 2,200 U.S. adults and carries a margin of error of 2 percentage points. 
Even as pre-pandemic entertainment options resume, 64 percent of respondents said they plan to subscribe to the same amount of streaming services over the next year. And 19 percent plan to subscribe to more platforms. Thirty-four percent of that group said signing up for lower-priced, ad-supported options was their "major" reason for eventually adding more subscriptions. 
Sixteen percent said they plan to subscribe to fewer services in that time, with 54 percent of that cohort blaming services for being too expensive as a "major" reason why.
Sarah Shevenock previously worked at Morning Consult as a reporter covering the business of entertainment.
We want to hear from you. Reach out to this author or your Morning Consult team with any questions or comments.
Contact Us