Airlines Have Mostly Retained Traveler Trust Through Holiday Headaches. That May Not Last
Flight cancellations dominated the news cycle through the busy winter holiday period, but passenger trust in airlines was largely undiminished, writes travel and hospitality analyst Lindsey Roeschke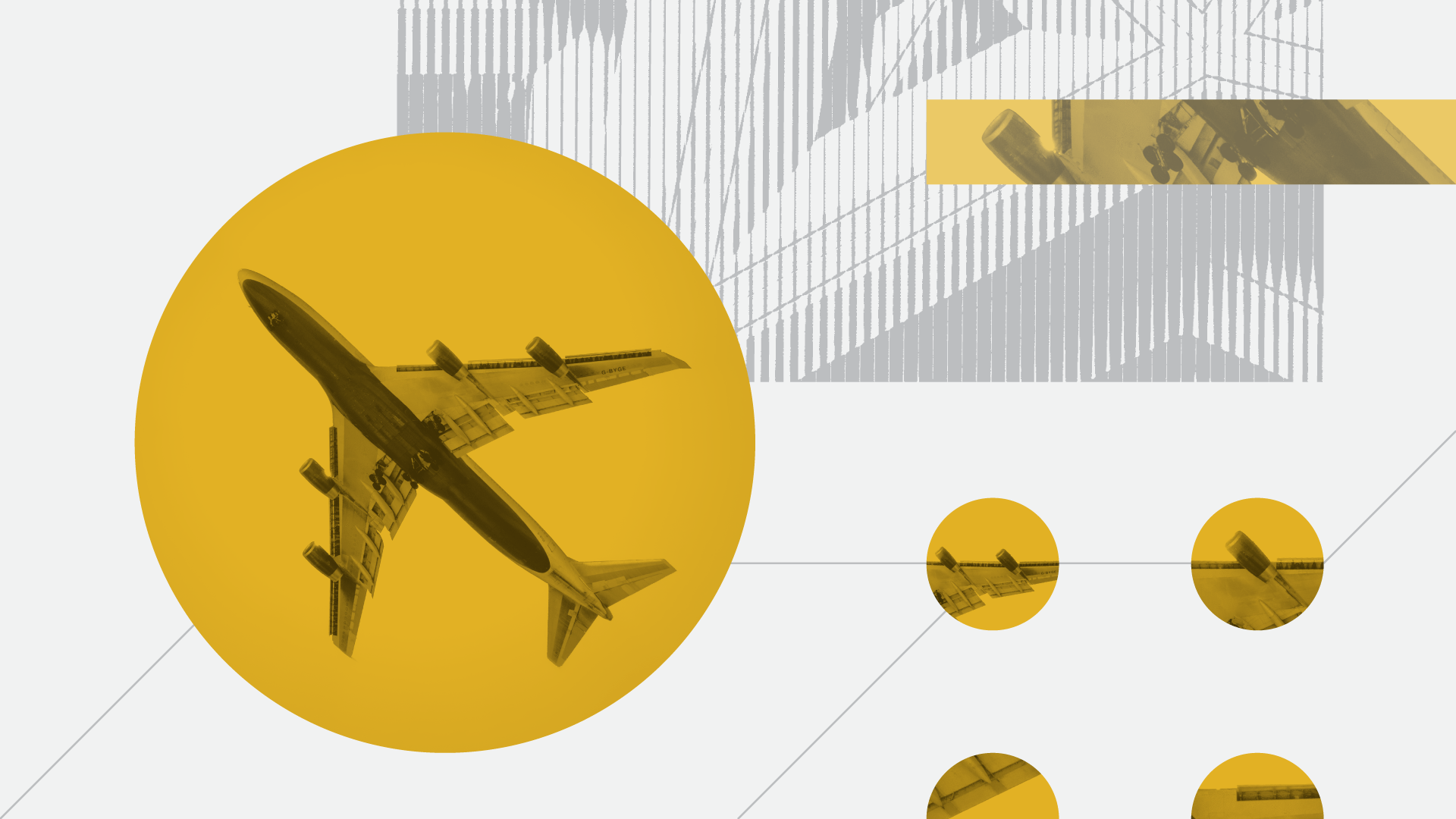 A surge in omicron infections, high demand during the peak winter travel season and inclement weather events together created a perfect storm for the airline industry, resulting in more than 18,000 flight cancellations around the holidays. Despite this, travelers have not completely soured on airlines — though their goodwill may not last long.
After a difficult two years, a busy holiday travel season was widely projected to aid the airline industry's recovery. But this expectation was thrown into chaos just as passenger levels peaked, in large part due to the omicron variant.
Unlike the delta variant, omicron has not deeply impacted consumer comfort with air travel. Approximately the same share of adults — 4 in 10 — said they were comfortable flying at the end of December compared with mid-November, before omicron was discovered. Over this period, travel demand remained high.
Share of respondents who said they feel comfortable flying on an airplane:
Weekly surveys are conducted among roughly 2,200 U.S. adults each and have a margin of error of +/-2%.
At the same time, omicron's high transmissibility led to skyrocketing cases and mandatory quarantines, resulting in airline staff shortages during an especially busy period. This, combined with extreme weather events typical of the winter holiday season, led to more than 18,000 canceled flights between Christmas Eve and right after the New Year's holiday.
While flight cancellations typically drive negative consumer sentiment, travelers appear to be extending some grace to the airlines for the time being. Trust levels, though somewhat dampened for certain airlines, have not plummeted at the same pace as they did in response to past mass cancellations, such as Southwest's cancellations in October 2021 due to bad weather and staffing shortages. Delta is the only airline experiencing its lowest level of consumer trust in months, possibly due to recent news that CEO Ed Bastian encouraged the Centers for Disease Control and Prevention to shorten the isolation period for breakthrough infections from 10 days to five, prompting concerns about corporate interests competing with public health best practices.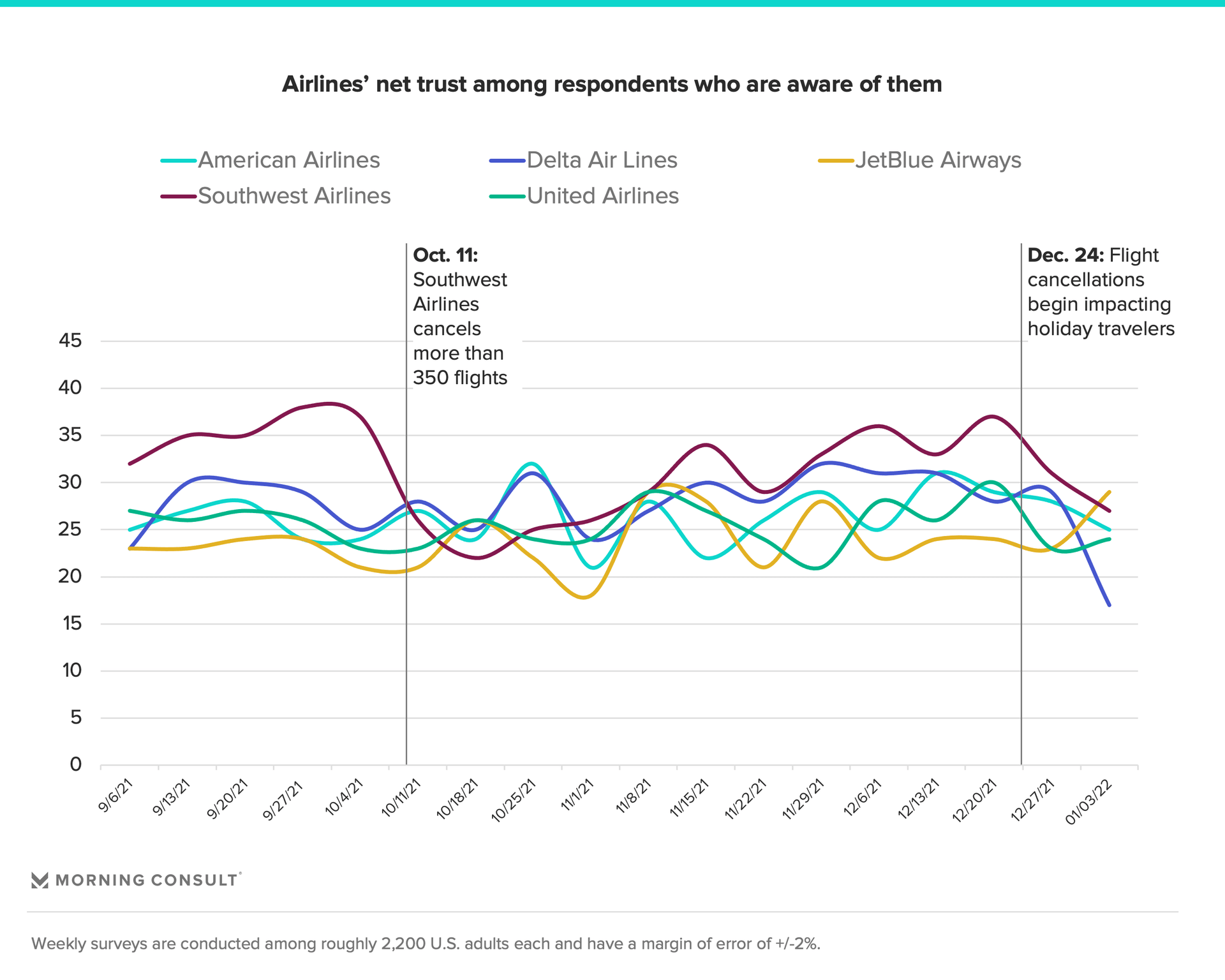 Perhaps travelers' generosity stems from lingering holiday spirit. But more likely it's because people realize that — at least at the moment — much of the impact of the omicron variant has been unexpected and out of airlines' control. As the new year progresses, however, consumers will expect airlines to right the ship. The CDC-announced reduced isolation period will undoubtedly help mitigate staffing challenges, although concerns about the policy voiced by the Association of Flight Attendants, an industry union, may prompt consumer backlash over airlines' treatment of their employees. On the other hand, some airlines have offered extra pay to employees willing to fill in gaps from those on sick leave.
No matter what the solution, airlines must not take travelers' goodwill for granted. It will likely fade in the coming weeks, if not days.
Lindsey Roeschke is the lead travel & hospitality analyst on the Industry Intelligence team, where she conducts research, authors analyst notes and advises leaders in the travel & hospitality industry on how to apply insights to make better business decisions. Before joining Morning Consult, she served as a director of consumer and culture analysis at Gartner and spent more than a decade working at advertising agencies across three continents. Lindsey graduated from the University of Delaware with a bachelor's degree in communications and holds a master's degree in strategic communications from Villanova University. For speaking opportunities and booking requests, please email [email protected].
We want to hear from you. Reach out to this author or your Morning Consult team with any questions or comments.
Contact Us