A Pandemic Drinking Habit That Might Be Hard to Kick: To-Go, Delivery Cocktails and Alcohol
17% of U.S. adults said they will get booze to go as restrictions lift, similar to the share who tried it during the pandemic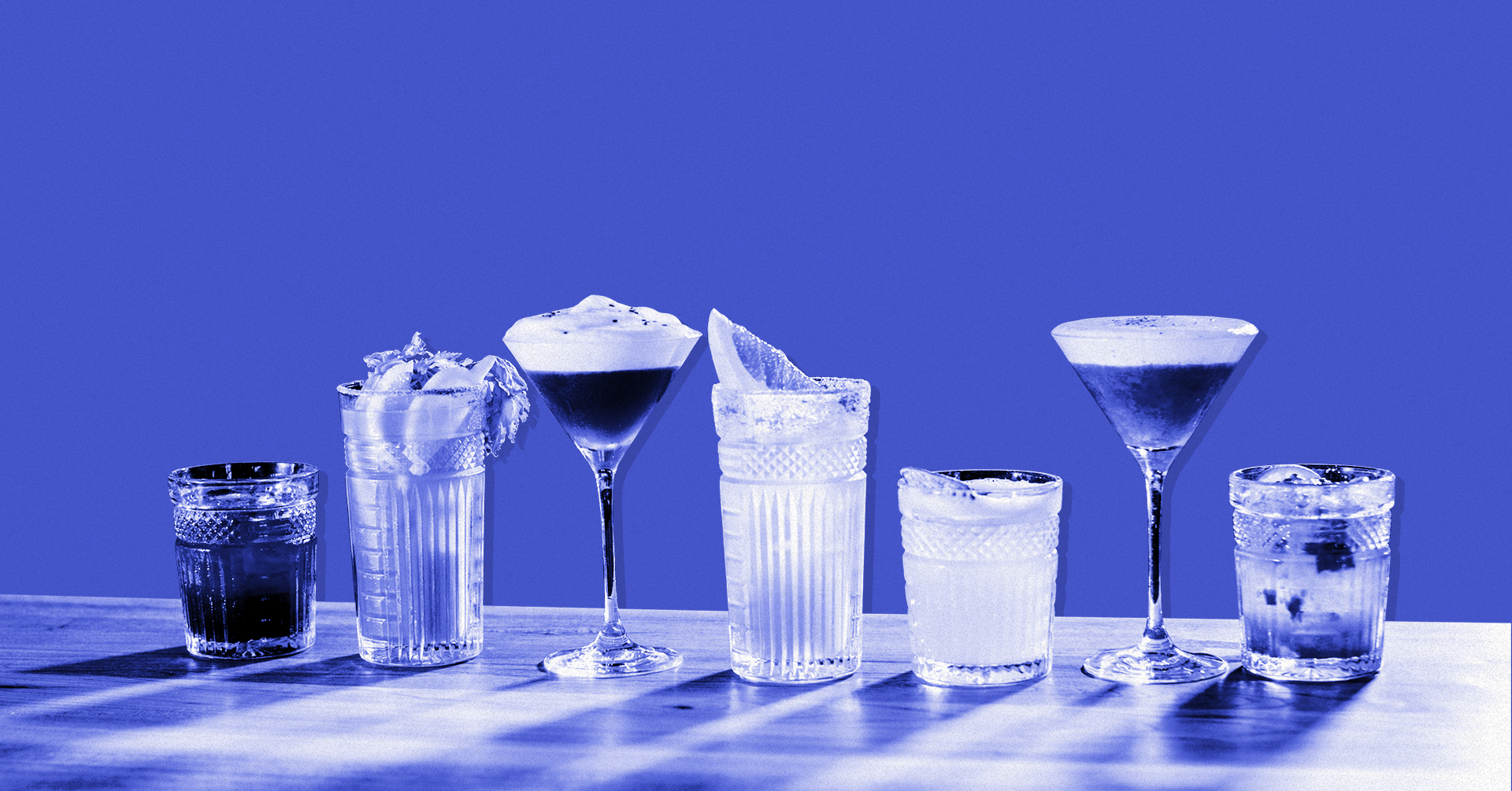 Key Takeaways
27% of millennials and 23% of urban dwellers said they ordered to-go cocktails during the pandemic, compared to 14% of the public.

15% of Americans said they intend to use an alcohol delivery app in the future.

47% of Americans said they bought alcohol primarily in person since the start of the pandemic.
When the pandemic shut down indoor service at bars and restaurants across the country last year, many of them turned to takeout and delivery -- not only for food, but for alcohol, too -- as they tried to stay afloat. 
While most consumers continued to buy their food and drinks in person, one pandemic trend -- the to-go or delivery alcohol order method, which was most likely to be used by millennials and high earners, among others  -- could outlast this era if it's allowed to stick around as restrictions continue to be lifted, according to a new Morning Consult/Adweek survey.
Fourteen percent of respondents in the June 21-23 poll of 2,082 adults said they had ordered cocktails or alcohol to go since the start of the pandemic, the same share who said they had ordered alcohol deliveries specifically from restaurants. A smaller share (10 percent) said they had ordered through an alcohol delivery app such as Drizly or Minibar Delivery. 
Millennials and adult members of Generation Z were more likely than the general population to say they've tried all three options, as were high earners (those who make more than $100,000 annually) and those who live in urban areas. 
For instance, 27 percent of millennials said they bought boozy to-go beverages since the pandemic first hit the United States, as did 23 percent of people living in urban communities.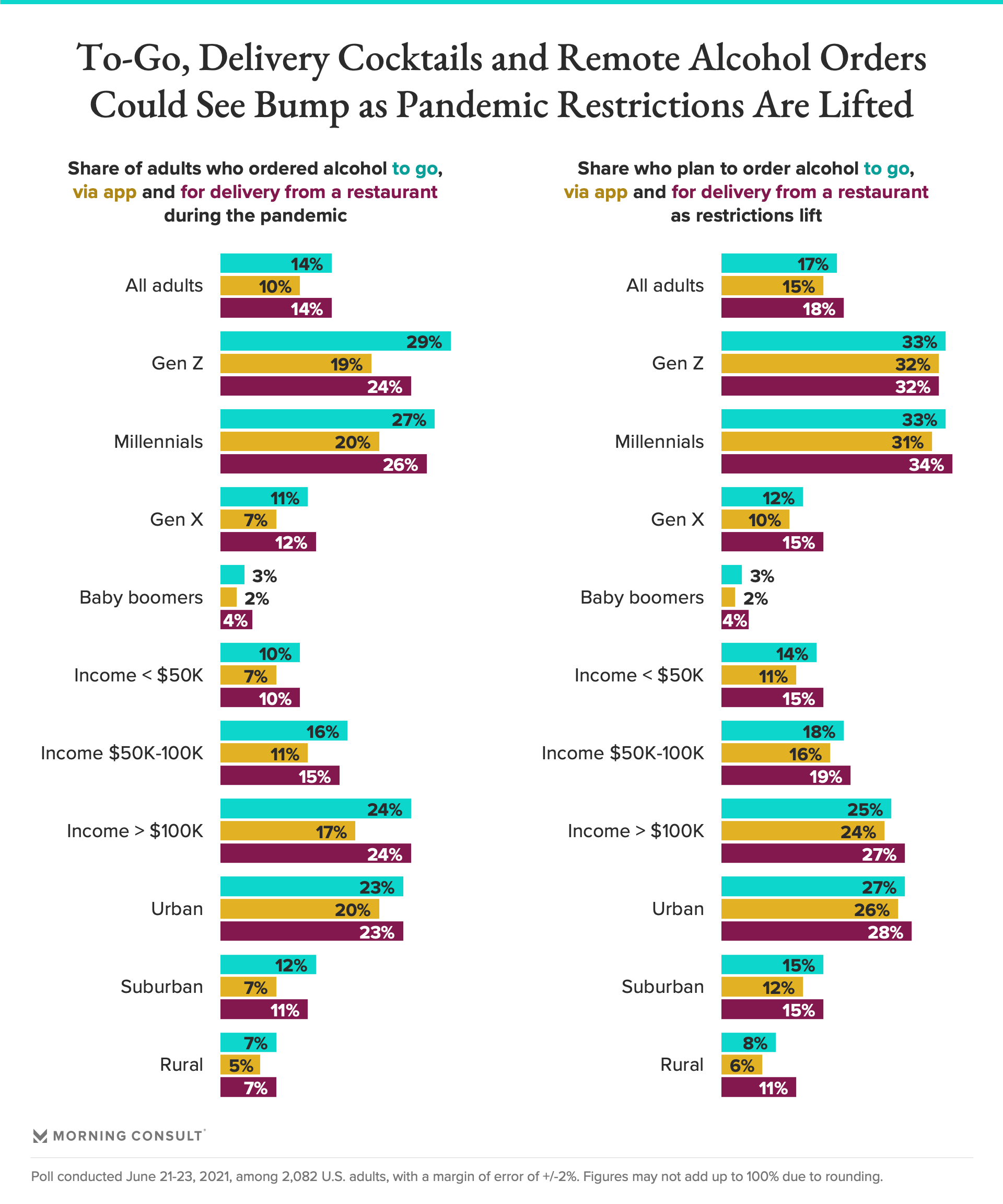 Good news for bars and restaurants that will continue offering to-go drinks: Similar shares of adults plan to opt for to-go cocktails (17 percent) and alcohol delivery from restaurants (18 percent), even as getting in-person drinks becomes a more viable option. Those figures are even higher among Gen Z adults and millennials, high earners and people who live in urban areas. 
In a bright spot for alcohol delivery apps, 15 percent said they intend to use one in the future. That's 5 percentage points higher than the share who said they did so during the pandemic, just outside the survey's 2-point margin of error, indicating the modest-but-growing popularity of such services.
Millennials, members of high-income households and urban dwellers were all slightly more likely than the general population to say they've purchased alcohol mostly online, or equally online and in person. These groups were also more likely to say they purchased alcohol in general amid the pandemic. 
Still, in-person purchases was by far the most popular way for consumers to procure their alcohol since the start of the pandemic, at 47 percent, with significantly smaller shares of people saying they've done so primarily online (5 percent), or equally in person and digitally (7 percent). 
That's not likely to change, as roughly half (52 percent) of consumers said they will continue to buy their alcohol mostly in person -- and that's probably for the best. Already, cities such as Manhattan -- where carry-out cocktails were especially popular during lockdown -- are putting an end to the privileges that allowed bars and restaurants to deliver alcoholic beverages and sell them to go.
Alyssa Meyers previously worked at Morning Consult as a reporter covering brands and marketing.
We want to hear from you. Reach out to this author or your Morning Consult team with any questions or comments.
Contact Us