Americans More Divided About Kavanaugh After Allegations of Sexual Assault
34% of voters back judge's confirmation to Supreme Court; 33% oppose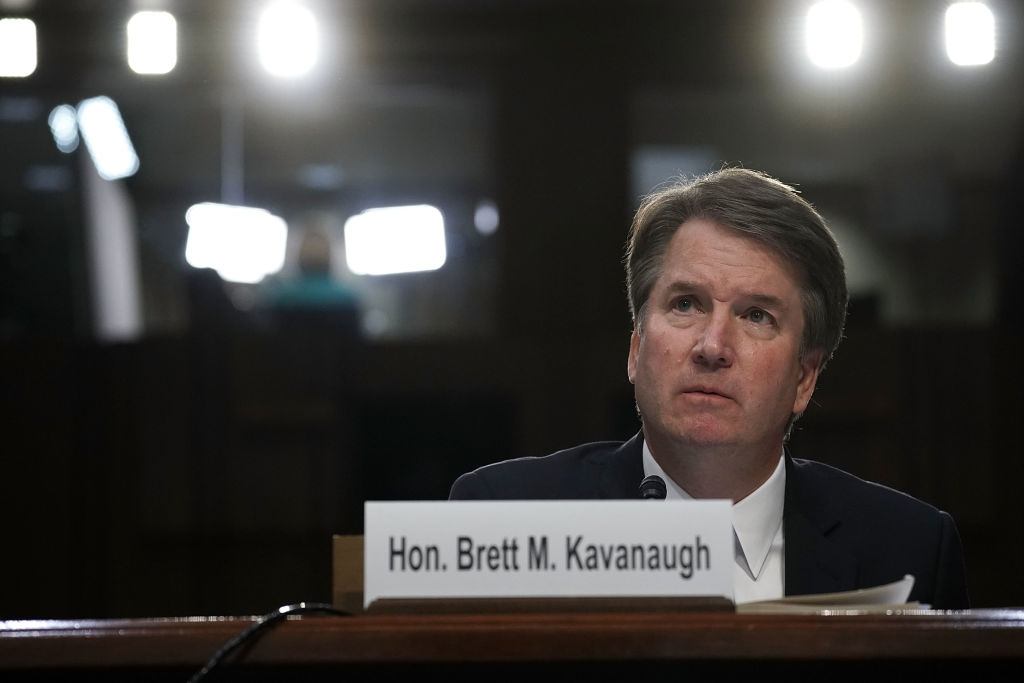 Key Takeaways
Share of voters opposing confirmation is at the highest point since Kavanaugh's nomination in July.

42% of voters don't find Christine Blasey Ford credible, while 38% do.

51% of voters think Senate should hold a public hearing on the allegations before voting on Kavanaugh.
Americans are more polarized about whether the Senate should confirm President Donald Trump's Supreme Court nominee, Brett Kavanaugh, following the allegation from Christine Blasey Ford that he sexually assaulted her while the two were in high school -- a charge Kavanaugh denies.
Thirty-four percent of registered voters in a new Morning Consult/Politico poll, conducted after Ford detailed her allegations to The Washington Post on Sunday, said the Senate should vote to confirm Kavanaugh. One-third said it shouldn't, marking the most opposition since Morning Consult started tracking views of the judge's confirmation after Trump nominated him in July.
Opposition ticked up 3 points since a Sept. 13-16 poll, while support remained steady.
The most recent poll, which surveyed 1,948 registered voters Sept. 17-19, has a margin of error of 2 percentage points.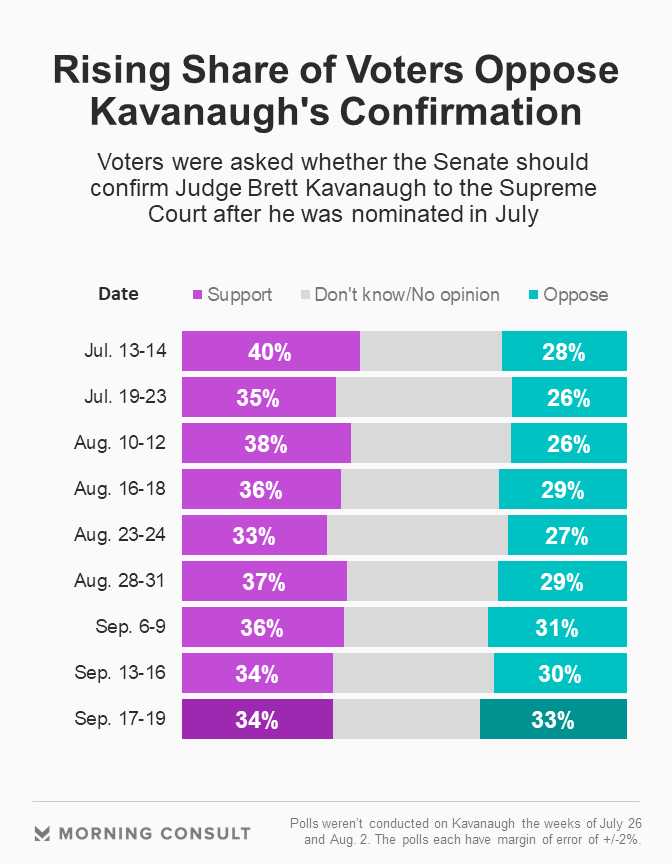 Kavanaugh would give the Supreme Court a five-judge conservative majority - something Republicans have dreamed about since Trump was elected. Trump himself called the Supreme Court "one of the main reasons I got elected President."
As more voters have formed opinions on Kavanaugh, opposition among Democrats has grown 8 points since his nomination, to 58 percent, while support among Republicans dropped 7 points to 64 percent.
Over the same period, there was a 16-point net negative shift among independents, with 25 percent now supporting Kavanaugh and 31 percent opposing him.
Facing an unpredictable electoral map this year, Republican leaders are pushing to get Trump's nominee on the court before the midterm elections.
News of the allegation against Kavanaugh began to emerge last week, culminating in Ford's interview in the Washington Post. She accused Kavanaugh of drunkenly trying to attack her and remove her clothing during a high school party in the early 1980s. Kavanaugh has denied the allegation, saying in a statement Monday, "This never happened."
A narrow plurality of voters, 42 percent, said they do not find Ford's allegations credible, while 38 percent of voters said they do.
Ford's account became public after the Senate Judiciary Committee wrapped up its confirmation hearings and ahead of a planned committee vote to advance Kavanaugh's nomination to the Senate floor, which has since been postponed. Sen. Chuck Grassley, the Iowa Republican who chairs the committee, has scheduled a Monday hearing for both Kavanaugh and Ford to testify - though it's still unclear if Ford will do so.
Nearly 3 in 4 Democrats (73 percent) support a public hearing before a vote on Kavanaugh's nomination, while half of Republicans oppose it. Overall, 51 percent of voters said the Senate should hold a public hearing before holding a vote, while 28 percent said it should not.
Eli Yokley is Morning Consult's U.S. politics analyst. Prior to his current role, Eli was Morning Consult's senior reporter covering U.S. politics. Eli joined Morning Consult in 2016 from Roll Call, where he reported on House and Senate campaigns after five years of covering state-level politics in the Show Me State while studying at the University of Missouri in Columbia, including contributions to The New York Times, Politico and The Daily Beast. Follow him on Twitter @eyokley. Interested in connecting with Eli to discuss his analysis or for a media engagement or speaking opportunity? Email [email protected].
We want to hear from you. Reach out to this author or your Morning Consult team with any questions or comments.
Contact Us