As Public Hearings Begin, Most Voters' Minds Made Up on Impeachment Inquiry
62% of voters said there is 'no chance' they'll change their mind about the impeachment inquiry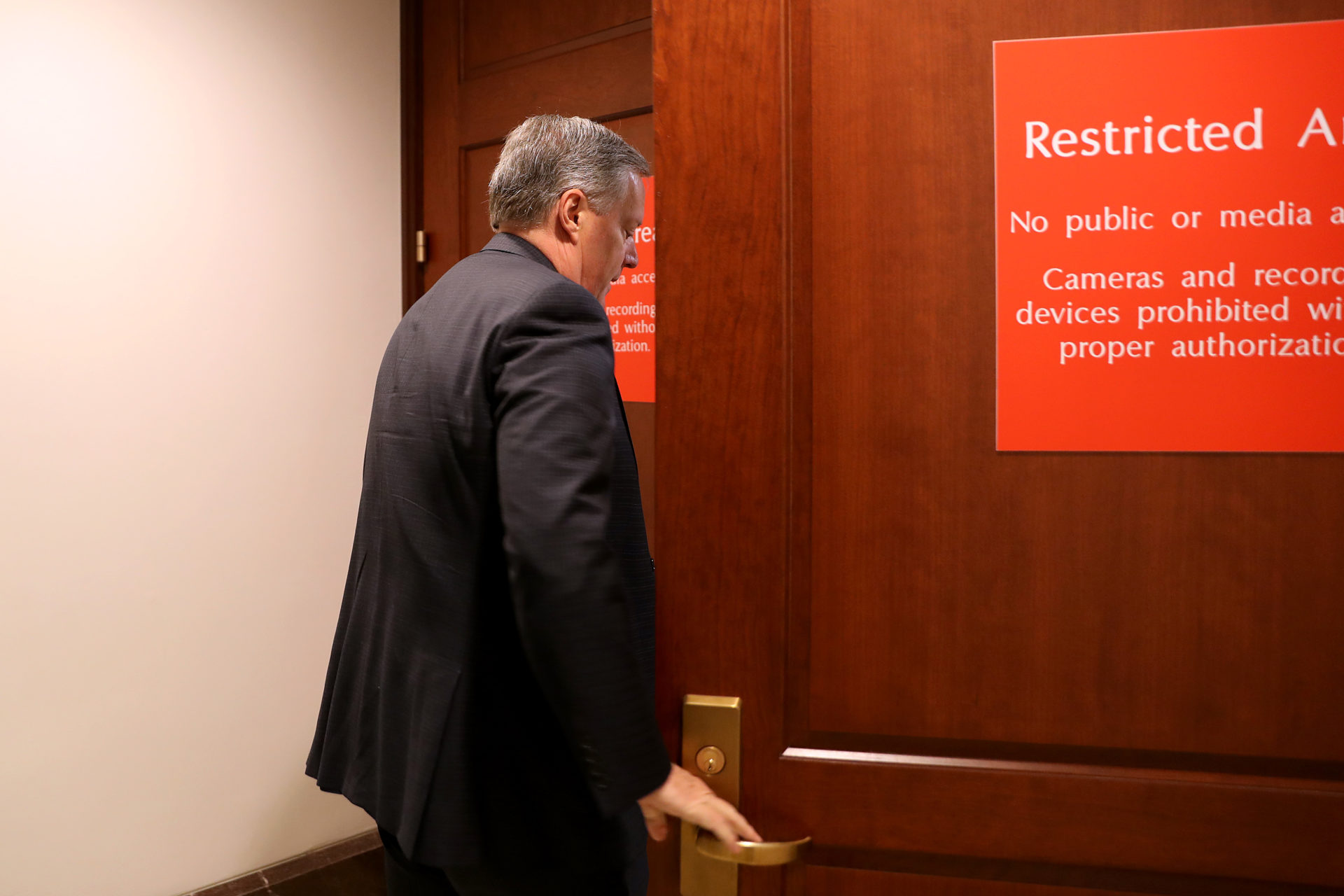 Key Takeaways
By an 8-point margin, voters support the impeachment inquiry: 50% to 42%.

49% said that on the Ukraine matter, Trump abused his power to influence the 2020 election -- statistically unchanged since the probe began.

58% said they were likely to watch the upcoming public hearings.
As the House's impeachment probe into President Donald Trump's conduct toward Ukraine moves public this week with testimony from three current and former administration officials, most voters say their minds are already made up about the investigation.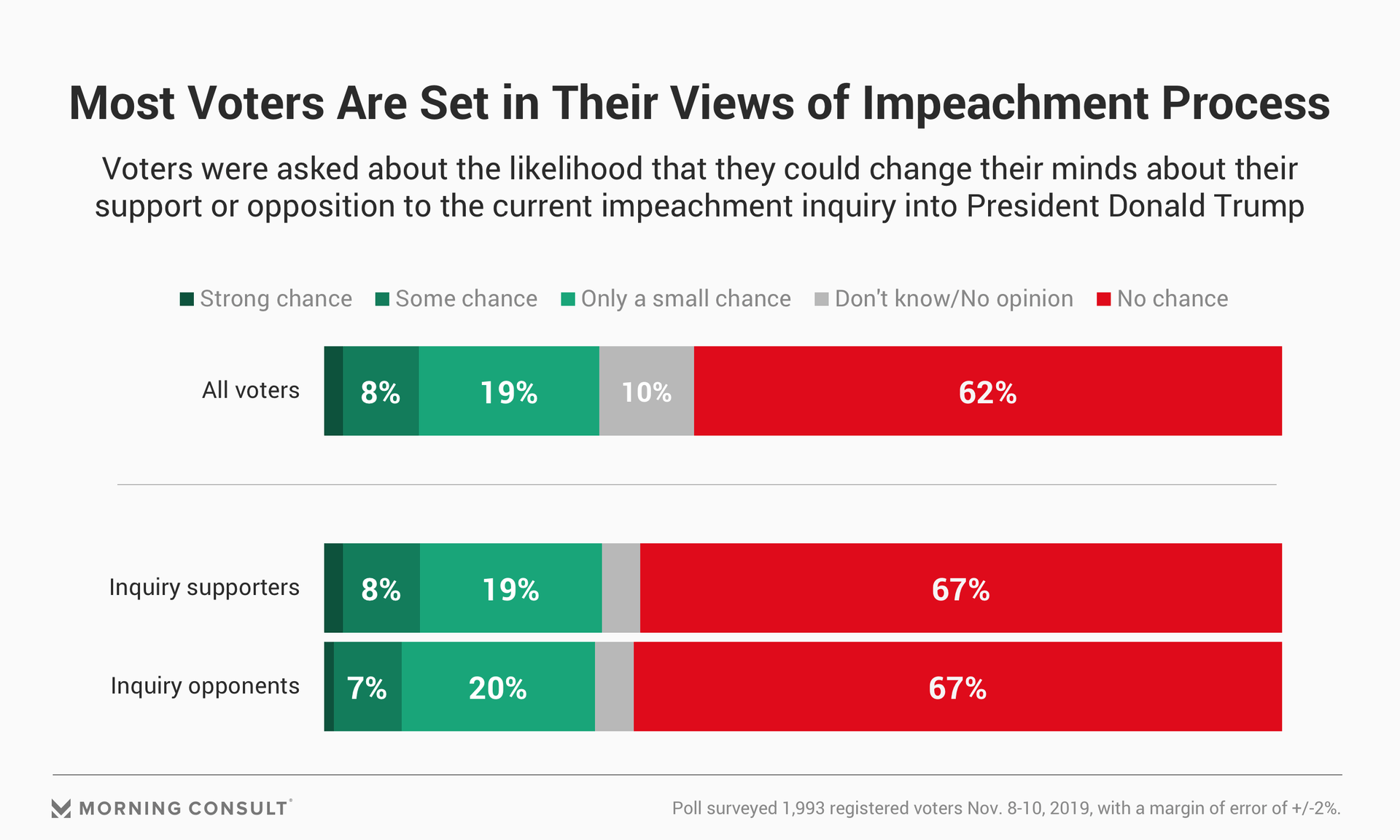 According to a new Morning Consult/Politico poll, 62 percent of voters said there is no chance they will change their position on the current impeachment inquiry, and similar shares of both supporters and opponents of the House Democrats' probe said the same. Roughly 3 in 10 voters (29 percent) said there was at least a small chance that they could change their minds.
Half of all voters in the Nov. 8-10 survey supported the inquiry while 42 percent opposed it, mirroring results from polling conducted since the beginning of October and a figure similar to the share of voters who support the House voting to impeach Trump.
The findings come as the House moves into its eighth week of probing whether Trump abused his power by withholding military aid sought by Ukraine in exchange for the country opening investigations into his political rivals. So far, the probe has taken place behind closed doors -- with pieces of various officials' testimony emerging in press reports -- before lawmakers began last week to release reams of deposition transcripts.
The public testimony this week is scheduled to feature William Taylor, the Trump administration's top official in Ukraine; Deputy Assistant Secretary of State George Kent, who oversees European and Eurasian affairs; and former U.S. Ambassador to Ukraine Marie Yovanovitch. Yovanovitch testified in private that she felt threatened and feared retaliation from Trump, while Taylor told investigators there was a "clear understanding" that Trump would withhold military assistance from Kiev until it committed to pursue investigations into Trump's domestic political rivals. 
Their testimony emboldened Democratic lawmakers who are making the case that there was a quid pro quo and Trump abused his power for political purposes. But the details that have emerged since an intelligence community whistleblower report was made public Sept. 26 have done little to change the minds of voters, the bulk of whom said said they had not seen, read or heard "a lot" about reports of Taylor's and Yovanovitch's testimony at the time, according to polling conducted last month.
Roughly half of voters (49 percent) in the latest poll said Trump abused his power to influence the 2020 election, compared with 48 percent who said the same in a Sept. 27-30 survey. Both polls had a margin of error of 2 percentage points. 
Similarly, 49 percent of voters in the new survey said they believe the Trump administration withheld military aid from Ukraine in order to pressure the country's government to investigate his political rivals, while 30 percent do not believe it. Democrats and supporters of impeachment were more certain in their belief of the quid pro quo allegation than Republicans and opponents of impeachment were in their disbelief. 
A slim plurality of voters (46 percent) disapprove of Democrats' handling of the impeachment inquiry, and the hearing should provide a chance to shift public opinion. Fifty-eight percent of voters said they were very or somewhat likely to watch the upcoming public hearings, including 48 percent of voters who oppose the inquiry.
Eli Yokley is Morning Consult's U.S. politics analyst. Prior to his current role, Eli was Morning Consult's senior reporter covering U.S. politics. Eli joined Morning Consult in 2016 from Roll Call, where he reported on House and Senate campaigns after five years of covering state-level politics in the Show Me State while studying at the University of Missouri in Columbia, including contributions to The New York Times, Politico and The Daily Beast. Follow him on Twitter @eyokley. Interested in connecting with Eli to discuss his analysis or for a media engagement or speaking opportunity? Email [email protected].
We want to hear from you. Reach out to this author or your Morning Consult team with any questions or comments.
Contact Us