As Trump Amplifies 'Squad' Attacks, Fewer Voters Are Thinking About Socialism
2 in 5 say Ocasio-Cortez, Omar, Pressley and Tlaib represent the views of Democrats in Washington
Key Takeaways
28% of voters say they're thinking "a lot" about socialism when it comes to their 2020 vote, down 6 points from a March poll, and 37% of Republican voters are thinking a lot about the ideology, down 12 points since then.

40% of registered voters said four freshman House Democrats of color represent the views of Democrats in Washington, compared with 58% who said the same was true of House Speaker Nancy Pelosi (D-Calif.)

60% of voters say Trump represents the views of Republicans in Washington, up 27 points since August 2017.
When National Republican Congressional Committee Chairman Tom Emmer (R-Minn.) recently sat down with reporters in Washington to discuss the lay of the land for taking back the House, he framed the 2020 election as a "choice between socialism and freedom," and dubbed House Democrats as the "new Red Army of socialists."
Like President Donald Trump has done in his repeated attacks on four Democratic congresswomen — Reps. Alexandria Ocasio-Cortez (D-N.Y.), Ilhan Omar (D-Minn.), Ayanna Pressley (D-Mass.) and Rashida Tlaib (D-Mich.) — Emmer sought to elevate the freshman lawmakers who call themselves "The Squad" as the face of the Democratic Party after six months in which they have attempted to push the debate on Capitol Hill to the left.
"It's my strong belief that voters want nothing to do with this agenda — this socialist agenda," Emmer said at a July 18 breakfast, criticizing policies such as "Medicare for All" and the Green New Deal that are being pushed by House progressives and some of the Democratic presidential contenders.
The focus on socialism is a strategy playing out across the country as Trump campaigns for four more years in the White House and Republicans fight to take the gavel back from House Speaker Nancy Pelosi (D-Calif.). But new polling suggests the term's potency has waned on the minds of voters and the Republican base in recent months, and that the GOP has more work to do in tying Democrats to the young progressive legislators they are attempting to make infamous. 
Twenty-eight percent of voters nationwide said their feelings about "socialism" will impact how they vote "a lot" next year, according to the latest Morning Consult/Politico survey, down 6 percentage points since March. What's more, the share of Republican voters who said they were thinking a lot about socialism when it comes to their 2020 vote dropped 12 points, from 49 percent to 37 percent.
The latest survey was conducted July 19-21 among 1,992 registered voters and has a 2-point margin of error, the same as the March survey.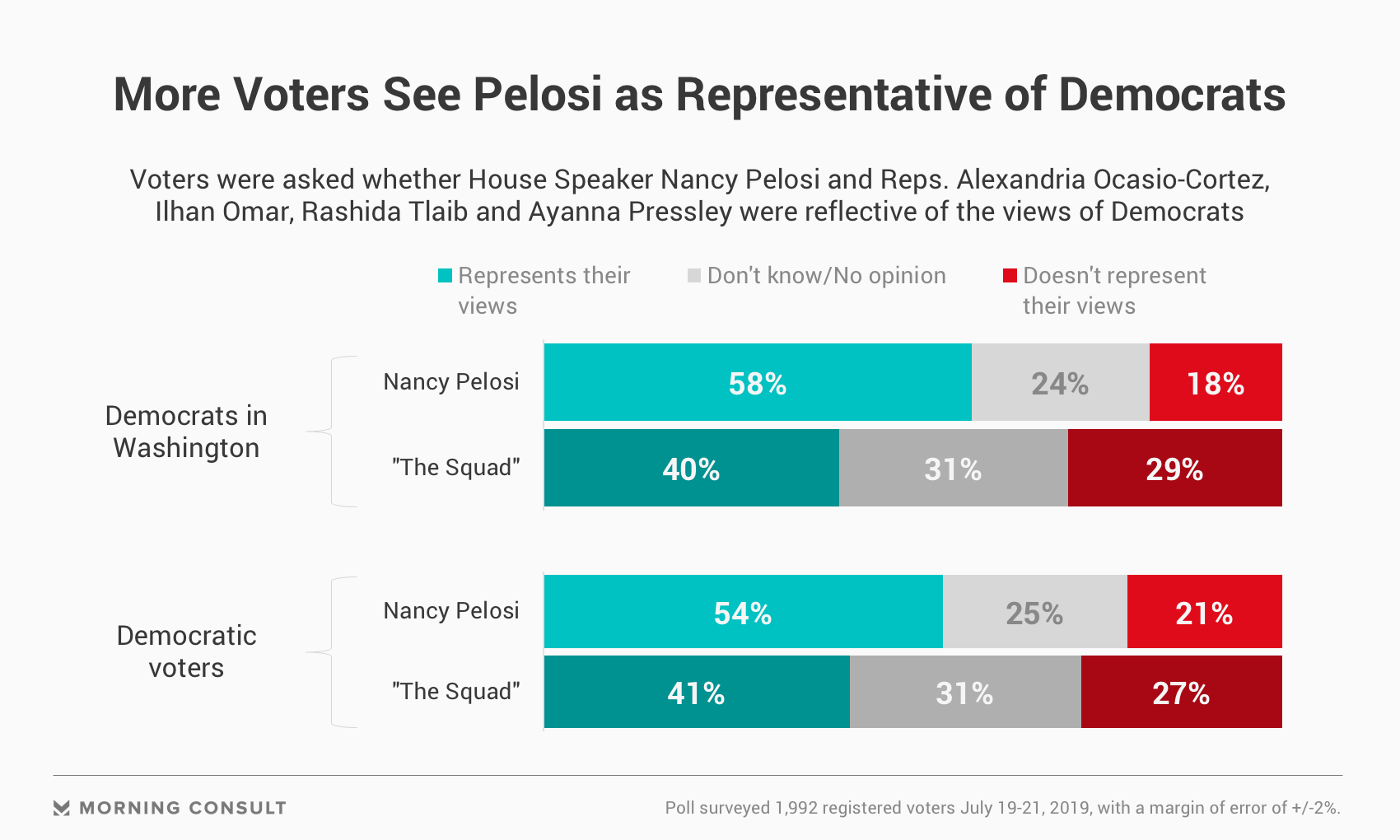 At the same time, the latest poll suggests it might be prudent for Democrats to distance  themselves from "The Squad." The cohort of progressives has been on Capitol Hill for over six months, but a 40 percent plurality of registered voters already say their views are representative of their Democratic colleagues in Washington.
Ocasio-Cortez and Omar have drawn most of the limelight over the past several months, driven in part by conservative media efforts, and the survey shows they're more well-known by the general electorate than Tlaib or Pressley. The New York Democrat is roughly as well-known as Sen. Kamala Harris of California, who is vying for the Democratic presidential nomination, and Senate Minority Leader Chuck Schumer of New York, who has led the Senate Democratic Caucus since Trump took office.
Both freshman lawmakers are underwater with registered voters — Ocasio-Cortez by 8 points and Omar by 11 points.
The offices of Ocasio-Cortez and Omar declined to comment, while the offices of Pressley and Tlaib did not respond to a request for comment.
Even before Trump began elevating the four lawmakers, Republicans were wielding the cudgel of socialism in competitive races, such as Texas' 23rd District, a wide swath of the southern part of the state represented by Rep. Will Hurd.
As the third-term Republican defends a seat he won with just 926 votes to spare in 2018's blue wave, his smallest margin of victory yet, Hurd is accusing Democrats of a "leftward lurch."
The former CIA officer said last month's Democratic debates in Miami illuminated the trend, noting litmus tests over "Medicare for All" and short shrift for candidates who have strongly defended their support for capitalism.
"Independents and moderate Democrats are concerned with the direction the Democratic Party is going," he said in a recent interview.
He illustrated his point with an attack on his chief Democratic rival, former Air Force intelligence officer Gina Ortiz Jones, over Medicare for All. She has said she supports a single-payer health care system, but in a recent interview with Morning Consult, she distanced herself from the most ambitious plans on the left, saying, "at this point, I support a public option."
"I am talking about what I would be fighting for," she said in response to a question about the health-care conversation playing out among the party's presidential candidates.
Democratic Congressional Campaign Committee Chairwoman Cheri Bustos (D-Ill.), who's eyeing Hurd's seat as one of the 33 initial targets to flip from red to blue in 2020, said in an interview that there's not much she can do about her party's presidential contest potentially turning off the voters House Democrats need to help protect their majority.
But Bustos was quick to nationalize the debate surrounding Republicans defending their seats in the party led by Trump. The latest survey found 60 percent of registered voters thought Trump represented the views of Republicans in Washington, up 27 points from an August 2017 poll.
"I think they're connected at the hip to Donald Trump. Look at their voting records," Bustos said. "I can tell you, people in these swing districts want independent leadership."
Hurd has worked to present that image of independent leadership for the voters in his district, both crediting Trump for the country's economic performance but also criticizing his hard-line positions on immigration during national TV interviews. Just last week, he felt compelled to call Trump's tweets about the four Democratic congresswomen of color "racist and xenophobic," and voted with House Democrats to condemn the statements. 
In the interview, which took place before Trump's tweets, Hurd hedged when asked if he would campaign with the president, whose net approval — the share of voters who approve of his job performance minus the share who disapprove — has dropped 16 percentage points since he took office, according to Morning Consult tracking, with 50 percent of Texas voters approving of him and 46 percent disapproving in June.
And while he'd been quick to tie Democrats to socialism — saying voters see the two as one and the same — he said he thinks voters will be more forgiving when it comes to efforts to tie him to the president. 
"I have a record, not just rhetoric, and I'm proud of that record," Hurd said. "My goal is to articulate my positions. Sometimes those are in line with the president, sometimes they're not." 
Eli Yokley is Morning Consult's U.S. politics analyst. Prior to his current role, Eli was Morning Consult's senior reporter covering U.S. politics. Eli joined Morning Consult in 2016 from Roll Call, where he reported on House and Senate campaigns after five years of covering state-level politics in the Show Me State while studying at the University of Missouri in Columbia, including contributions to The New York Times, Politico and The Daily Beast. Follow him on Twitter @eyokley. Interested in connecting with Eli to discuss his analysis or for a media engagement or speaking opportunity? Email [email protected].
We want to hear from you. Reach out to this author or your Morning Consult team with any questions or comments.
Contact Us