As Free, Ad-Supported Streamers Rise, Tubi and Pluto TV Take Different Strategies in Pursuit of Growth
Tubi will use new original programming to attract new customers, while Pluto TV will lean further into children's offerings and Spanish content, executives say
Key Takeaways
On average, 35% of adults were familiar with the eight AVOD services included in a poll.

Of the AVOD streamers included in the survey, consumers were most familiar with the Roku Channel (52%) and the free version of Peacock (48%).

Among consumers who use free, ad-supported streaming services, 61% said liking the included content was a major reason they used the service.
If fans of "The Masked Singer" miss an episode when it airs on Wednesdays and don't subscribe to a streaming service showing the singing competition's latest installment, Fox Corp. offers another option: watching it on Tubi, the company's free, ad-supported service which gets episodes two weeks after they premiere on linear outlets.
Tubi, the Roku Channel and other free platforms with commercials — also known as ad-supported video on demand, or free AVOD services — have become increasingly popular options for younger, price-conscious viewers looking for an expansive content library. And these services, which are becoming an important complement to companies' subscription offerings, still have room to grow, according to experts and executives.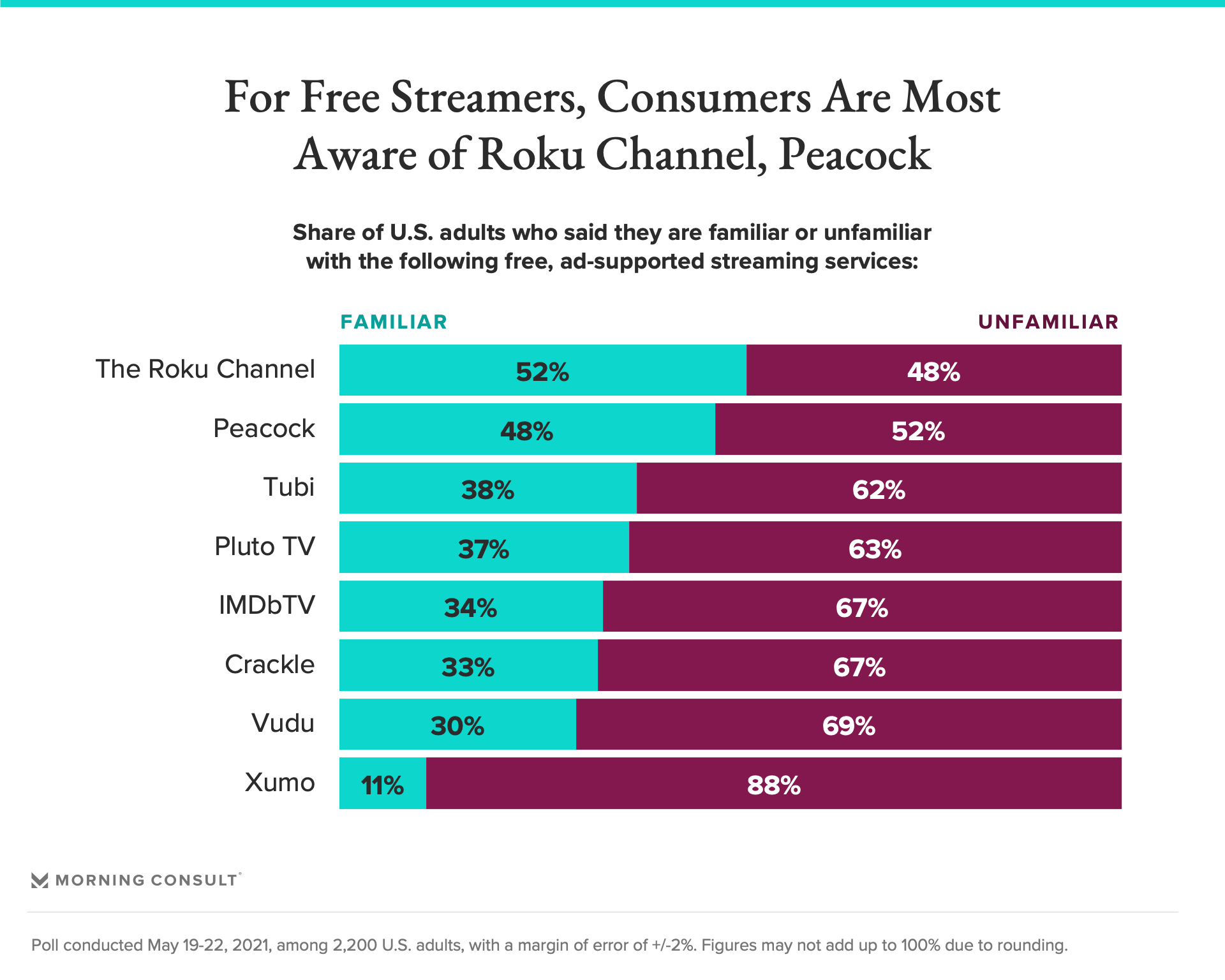 On average, 35 percent of the 2,200 U.S. adults surveyed were familiar with the eight AVOD services included in the new Morning Consult poll, with consumers most familiar with the Roku Channel and the free, ad-supported tier of NBCUniversal's Peacock. Fifty-nine percent of the 592 Roku Channel users surveyed, whose responses carry a margin of error of 4 percentage points, said they use the service about once a week or more.   
Streaming, in general, remains a regular entertainment option for many consumers, even as they return to out-of-home activities amid the pandemic: 63 percent of adults said they stream TV shows at least once a week, according to the latest figures from Morning Consult's Return to Normal tracker.
Roku Inc., IMDbTV, Crackle, Vudu and Xumo did not respond to requests for comment. Peacock did not comment.
While subscription services like Netflix and Prime Video still lead the streaming pack, there has been an increase in consumption on the AVOD front. 
According to data from global insights firm Interpret's VideoWatch service, by the end of 2020, 18 percent of consumers watched free, ad-supported services on their TVs, compared to 14 percent in 2019, said Brett Sappington, vice president at Interpret. He added that while there will be continued use of AVOD services throughout 2021, the level of growth will not reach the heights seen during the early months of the pandemic. 
Natalie Bastian, Tubi's vice president of marketing, said last year was a banner year for the free platform, with consumers streaming 2.5 billion hours worth of content on the service, and 2021 first-quarter viewing time was up 54 percent year over year. Bastian attributed the streaming hours in part to viewers being stuck at home due to the pandemic, but also said Fox Corp.'s $440 million acquisition of Tubi in March 2020 helped to elevate awareness of the service. 
"From a promotional perspective, we get access to huge, mass reach, with the World Series and the NFL," Bastian said, "and those are types of exposure that we just wouldn't get without the power of Fox behind us." 
Demographically, adults who use free AVOD services were most likely to be millennials, though the age divides between users and non-users was not particularly stark: The median age of AVOD users was 44, just six years younger than the median age of adults who don't use AVOD services, according to the Morning Consult survey. 
Bastian, along with Scott Reich, senior vice president of programming with ViacomCBS Inc.'s Pluto TV, said their respective streamers aim to cast a wide net for prospective customers. For Pluto TV, that includes more Spanish-language programming, Reich said, while Tubi will feature offerings from Black cinema, according to Bastian, who added that Tubi's median age of users is 37. 
A spokesperson for Pluto TV said it has nearly 50 million monthly active users globally, while Tubi declined to share user numbers. 
Content trickling down from the free streamers' parent companies is a key driver for these services, according to Sappington. 
"As good content began flowing increasingly into these ad-based services, the eyeballs followed," Sappington said. "That's a lot of what has led to this increase in viewing and on these ad-based services."
Per the Morning Consult survey, 61 percent of the 1,146 adults who use free, ad-supported services said liking the available content was a major reason for signing up, while 41 percent said preferring to watch ads instead of paying for a premium service was a major reason that they used the services. Responses from AVOD users have a 3-point margin of error. 
Tubi, which has more than 30,000 titles, and Pluto TV, whose catalog includes more than 250 channels and thousands of movies and TV shows, feature more recent programs such as "Divergent" and "Shameless," respectively, but also rely on older programs to bulk up their libraries.  
Older content on Tubi, ranging from classic programs such as "The Dick Van Dyke Show" and "I Dream of Jeannie" to 90s and early 2000s hits like "Dawson's Creek" and "Friday Night Lights," have driven interest among consumers of all ages, Bastian said, with some rewatching old favorites and others discovering them for the first time. 
"Nostalgia content is continuing to rise," she said. 
Tubi, will expand into original programming later this year, with new films premiering throughout the summer, before debuting more than 140 hours of original programming in the fall.   
Pluto TV, however, is utilizing a different strategy. 
While the majority of its content comes from 300 content partners like Fremantle, and Lionsgate, 20 to 30 percent of its programming comes from parent company ViacomCBS' many brands, according to the company's spokesperson. Reich said the free streamer has broadcast originals, such as "Yellowstone," from other ViacomCBS properties, including Paramount+, ahead of a season premiere to give users a "sample of what's behind the paywall" and hopefully entice them to purchase a subscription to their premium service.  
Pluto TV has also expanded its Spanish-language offerings and plans to include more children's content, Reich said. But the platform has no original content and doesn't plan to add any to its library "because we don't really have to at this point," he said. 
"The beauty is being part of ViacomCBS," Reich said. "There's no shortage of places for us to sample and to pull from." 
Sappington said operating both a subscription and an ad-supported service gives companies multiple streams of revenue from consumers and ad buyers, and that more companies are likely to follow in the steps of ViacomCBS and NBCUniversal. 
"Increasingly we're going to see other media companies come out with their own ad-based services because they don't want to be left out," Sappington said. "If they don't have a service, they can't realize that revenue." 
Sarah Shevenock previously worked at Morning Consult as a reporter covering the business of entertainment.
We want to hear from you. Reach out to this author or your Morning Consult team with any questions or comments.
Contact Us