Bevin, Most Unpopular Governor in the Country, Stakes His Re-Election on Trump
Kentucky's governor is betting he can ride the president's popularity across the finish line in November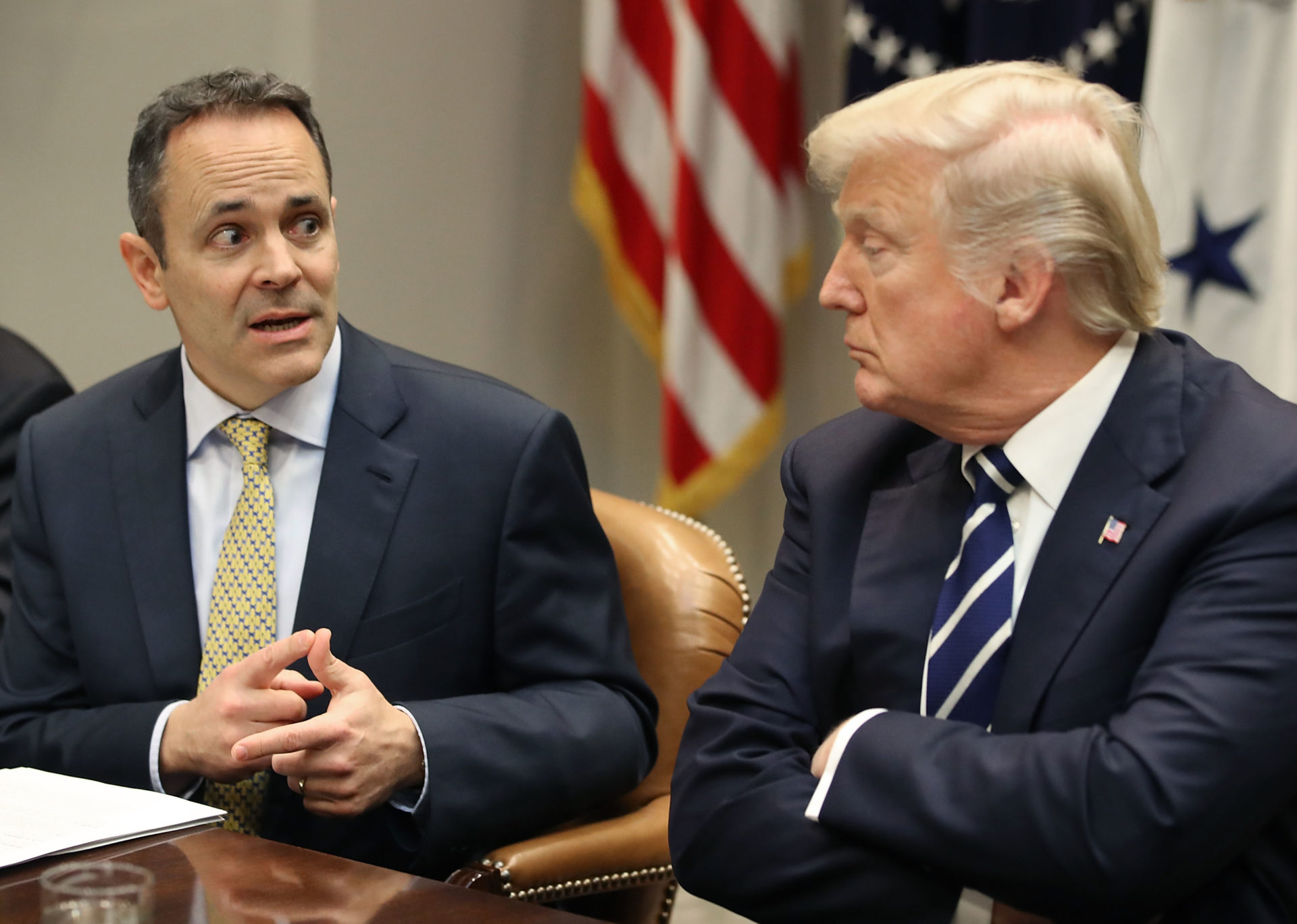 Key Takeaways
Trump's approval is 35 points higher than Bevin's among Republican voters in the Bluegrass State.

Bevin's the country's least popular governor, with 33 percent of voters approving and 52 percent disapproving.
Kentucky Gov. Matt Bevin is brandishing a not-so-secret weapon as he seeks re-election this fall as the nation's least popular governor: His allegiance to President Donald Trump.
Strategists say efforts to nationalize the race are an attempt to take advantage of nationwide Republican enthusiasm for Trump, morphing the race into a referendum on the president's agenda and a supposed growing embrace of socialism in the Democratic Party -- a favorite talking point of Republicans working to re-elect Trump next year -- rather than issues at home, such as the commonwealth's pension crisis.
"Democrats need to localize it and focus on what they would argue are Bevin's shortcomings, and Republicans need to nationalize it and make it a choice between Trump and Bevin or whatever socialist the Democrats nominate," said Scott Jennings, a Republican strategist with ties to Senate Majority Leader Mitch McConnell (R-Ky.). "The political environment is very nationalized in Kentucky, so I'd give Republicans the edge on winning this debate."
Rep. John Yarmuth, the only Democrat representing Kentucky in Washington, put it another way.
"It's the only strategy he has, frankly," he said in an interview.  
Bevin has been a frequent White House visitor during Trump's time in office, and recently appeared in front of news cameras at a jobs event in Kentucky with the president, himself, on speakerphone. Just this week, ahead of the May 21 primary, Bevin released a new ad showing images of himself with Trump. It comes on the heels of a nearly $100,000 radio advertising campaign from a group affiliated with the Republican Governors Association tying him close to the commander in chief.
Kentucky is among the most fertile ground for Trump, who carried it by 30 points in 2016 and is only more popular in four other states. Morning Consult data from the first quarter of 2019 found 53 percent of Kentucky voters approve of Trump, while almost the same share of them disapprove of Bevin. And more Republicans strongly approve of Trump's job performance than they approve of Bevin's at all.
"His disapproval is because of a lot of personal affronts he's committed," Yarmuth said, noting Bevin's sparring with Republicans in the state legislature and teachers. "I don't think those people are going to forget about that just because Trump comes to the state and campaigns."
Trump has not yet campaigned for Bevin, but Kentucky Republicans and a source close to Trump's campaign expect the president or someone in his orbit to hit the trail with him before November's election.
Yarmuth questioned the usefulness of Trump's support, when the president won't be atop the ballot this fall, and wondered if Bevin will be able to energize those voters. Bevin's campaign did not comment.
A more immediate concern is Bevin's Republican primary. He is almost certain to win it, but there is anxiety that the governor could end up garnering a relatively low share of the vote – an outcome that several Democrats and Republicans agreed could weaken him heading into November.
Ahead of the primary, the governor's allies plan to keep hammering voters with messaging on the economy and the president with a new ad campaign.
Brad Shattuck, a Kentucky Republican strategist not involved in Bevin's campaign, said Trump has weighed positively on candidates in local special elections where Democrats tried to make him a liability. When it comes to Bevin, he said, the message is bigger.
"He's definitely playing up his support and friendship, but he's also out there talking about jobs and low unemployment," Shattuck said.
There's also Bevin's negative messaging. Bevin has opted for a familiar GOP playbook, attempting to tie his potential challengers to national political figures who fire up Republican voters, such as House Speaker Nancy Pelosi (D-Calif.), Rep. Alexandria Ocasio-Cortez (D-N.Y.) and former Democratic presidential nominee Hillary Clinton.
Questions about ties to high-profile liberal figures outside the state have bedeviled Kentucky Democrats in statewide races before.
Kentucky Secretary of State Alison Lundergan Grimes famously refused to answer whether she voted for Barack Obama during her unsuccessful 2014 campaign against McConnell. All three top Democrats running in this month's primary affirmed their support of Clinton in 2016 during a primary debate, a cudgel Bevin is expected to wield in his general-election campaign.
State Attorney General Andy Beshear (D) -- a Bevin antagonist in his current job and the heir to the powerful political legacy of his father, former two-term Gov. Steve Beshear -- is the candidate most Republicans expect to face. But former state Auditor Adam Edelen, a progressive favorite with access to a deep warchest, is also vying for the nomination, and a super PAC supporting his campaign has gone on attack against the state's top law enforcement officer. State Rep. Rocky Adkins, a Democrat who's opposed abortion rights, is another major candidate in the mix.
Eli Yokley is Morning Consult's U.S. politics analyst. Prior to his current role, Eli was Morning Consult's senior reporter covering U.S. politics. Eli joined Morning Consult in 2016 from Roll Call, where he reported on House and Senate campaigns after five years of covering state-level politics in the Show Me State while studying at the University of Missouri in Columbia, including contributions to The New York Times, Politico and The Daily Beast. Follow him on Twitter @eyokley. Interested in connecting with Eli to discuss his analysis or for a media engagement or speaking opportunity? Email [email protected].
We want to hear from you. Reach out to this author or your Morning Consult team with any questions or comments.
Contact Us