Biden Is Less Popular With Black Voters After Vaccine Mandate Rollout
President's net approval rating among key Democratic constituency is down 12 points since Sept. 9 announcement
Key Takeaways
71% of Black voters approve of Biden's job performance, down 5 points since the federal vaccine mandate, while the share who disapprove rose 7 points to 24%.

Biden's net approval rating among unvaccinated Black voters has plummeted 17 points since before the rollout of the mandates.

61% of Black voters approve of Biden's handling of coronavirus, down 9 points since the end of August.
The September erosion accounted for more than two-fifths of the decline in perceptions of Biden's job performance to date among Black voters, providing a stark warning sign for Democrats ahead of next year's midterms. While Black voters, who helped push Biden over the top against President Donald Trump in key states last year, are unlikely to abandon the Democratic Party en masse to back Republicans on the ballot next year, low turnout from the group could have dire consequences for Democrats in Congress, who already face an early enthusiasm gap.
Biden is still popular with most Black voters, with 71 percent of them approving of his job performance, including 37 percent who do so strongly. But since Sept. 8, the share who disapprove of Biden's job performance has increased 7 points, to 24 percent, and 14 percent said they "strongly disapprove."
The rise in negative views came almost entirely from unvaccinated Black voters: 38 percent of Black voters who say they have not received their vaccine disapprove of Biden's job performance, up 11 points since before he announced the mandate, while 56 percent approve, down 6 points over that time frame.
The polls were conducted Sept. 6-8 and Sept. 18-20 among more than 1,000 Black voters, with 3-point margins of error. Responses among unvaccinated Black voters have 4-point margins of error, while responses among vaccinated Black voters carry 3- to 4-point margins of error.
Among racial and ethnic demographics, Black Americans are the least likely to have received COVID-19 shots, something that's been linked to social determinants in health care and institutional mistrust. The latest figures in Morning Consult's tracking of vaccine sentiment found that 53 percent of Black adults have gotten the vaccine, the lowest share reported of any race or ethnicity.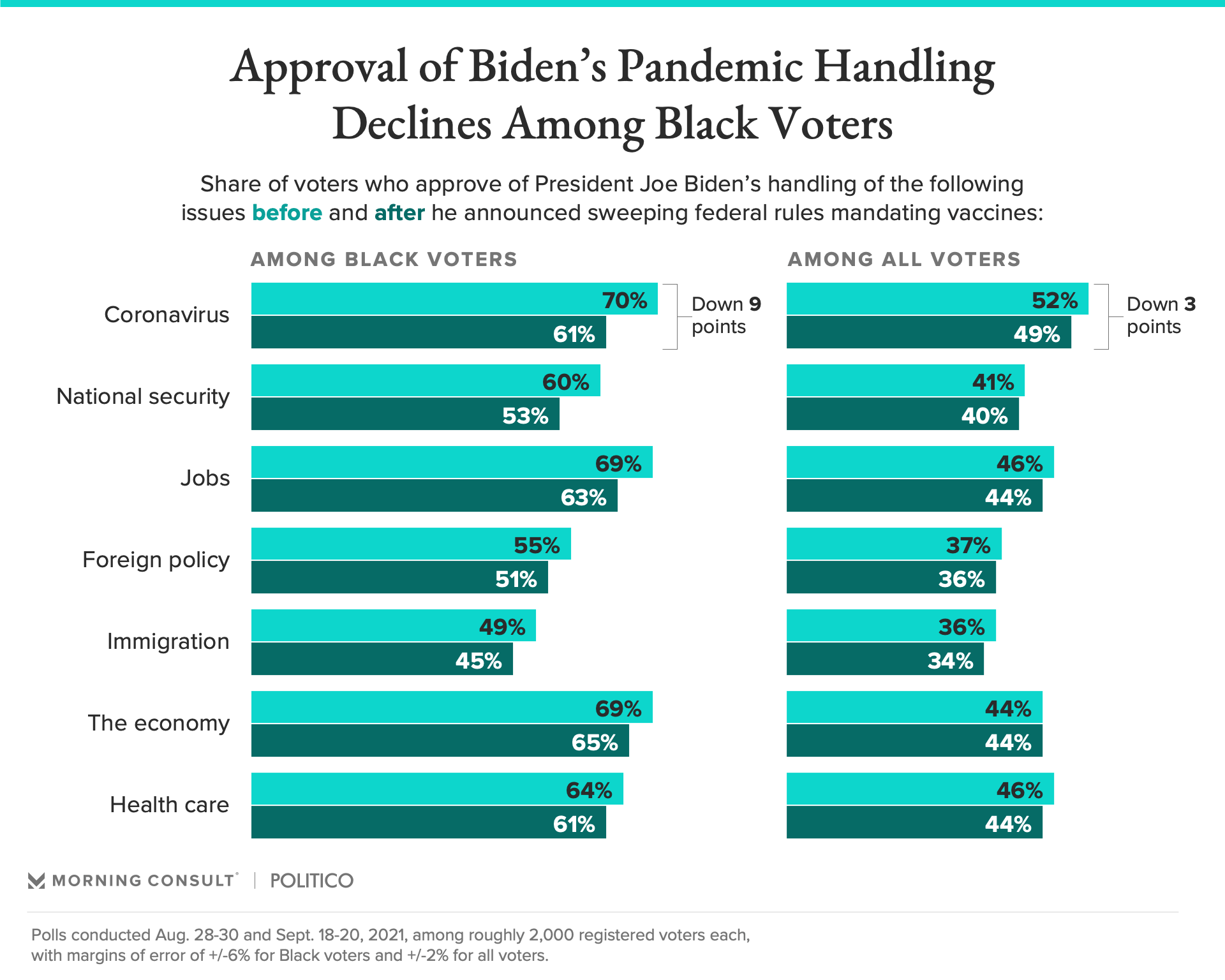 Discontent among Black voters over Biden's latest pandemic posture has also cropped up in Morning Consult/Politico polling that tracks his handling of a number of critical policy issues.
In the latest Sept. 18-20 survey, 61 percent of Black voters said they approve of how Biden has handled the coronavirus, down from 70 percent in an Aug. 28-30 poll. Among the overall electorate, approval of Biden's handling of the coronavirus pandemic dropped 3 points between the two surveys.
Eli Yokley is Morning Consult's U.S. politics analyst. Prior to his current role, Eli was Morning Consult's senior reporter covering U.S. politics. Eli joined Morning Consult in 2016 from Roll Call, where he reported on House and Senate campaigns after five years of covering state-level politics in the Show Me State while studying at the University of Missouri in Columbia, including contributions to The New York Times, Politico and The Daily Beast. Follow him on Twitter @eyokley. Interested in connecting with Eli to discuss his analysis or for a media engagement or speaking opportunity? Email [email protected].
We want to hear from you. Reach out to this author or your Morning Consult team with any questions or comments.
Contact Us