Trump's Efforts to Frame the Democratic Ticket as Far Left Keep Falling on Deaf Ears
Polling in August, September and October finds voters see Joe Biden, Kamala Harris as the more moderate pair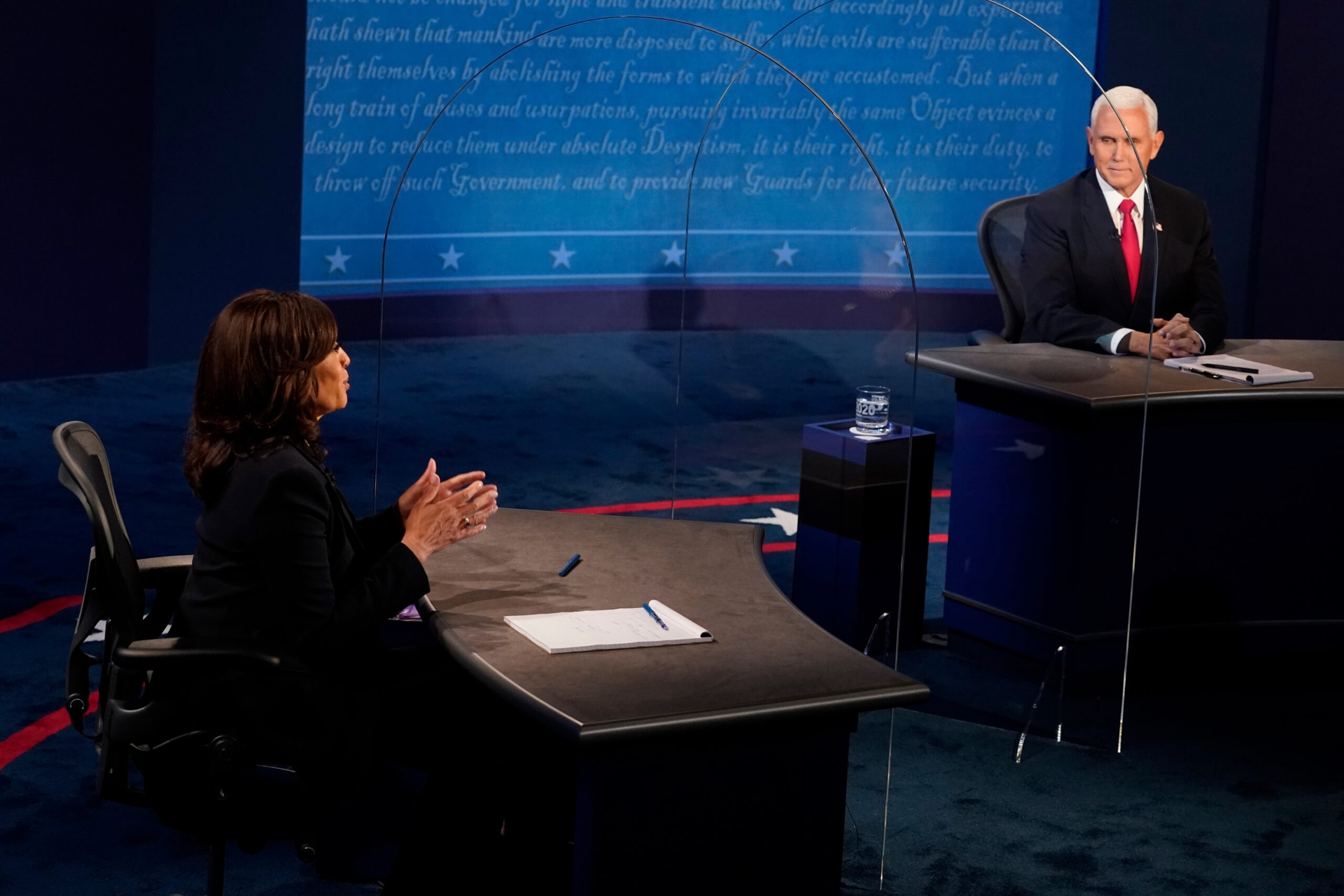 After conservative efforts to brand former Vice President Joe Biden as a radical leftist brought limited returns, President Donald Trump and his allies have tried to leverage Sen. Kamala Harris' vice presidential candidacy as proof that the Democratic standard-bearer is being manipulated by the party's left wing. 
But new Morning Consult/Politico polling shows that attack, too, continues to fall flat, with the California Democrat emerging from her high-profile debate stage with incumbent Mike Pence as the more popular and more moderate running mate in the eyes of voters. 
The Oct. 9-11 poll of 1,986 registered voters asked respondents to place the candidates' political viewpoints on a 7-point ideological scale, with 1 meaning "very liberal," 4 meaning "moderate" and 7 meaning "very conservative." It's a test that has been conducted twice since Harris was announced as Biden's running mate on Aug. 11. 
The latest measurements were mostly unchanged since the August and September surveys: Voters placed Biden at 2.8 and Harris slightly to his left, at 2.6. On the same scale, voters pegged Trump at 5.5 and Pence at 5.7, a slight movement toward the middle from the previous polling but still more extreme than the Democratic ticket.
As Trump has failed to make up lost ground in polling against Biden – who was already one of the Democratic Party's less-polarizing figures and who experienced a popularity renaissance following the Democratic National Convention in August – he has sharpened his attacks on Harris. Last week, he called the California Democrat a "monster," a "communist" and pushed an unfounded theory that Harris would take over as president early into Biden's term if he wins next month's election, in an escalation of his argument that she would call the shots if Republicans lose the White House.
Biden's campaign has kept Harris out front through the attacks. The day after the vice presidential debate, the ticket held its first joint campaign stop, in Arizona, and this week, Harris is being dispatched to North Carolina, home to a sizable population of Black voters and where Biden narrowly leads Trump, 50 percent to 46 percent. 
In the days since the debate, Harris' stock as a campaign asset has grown.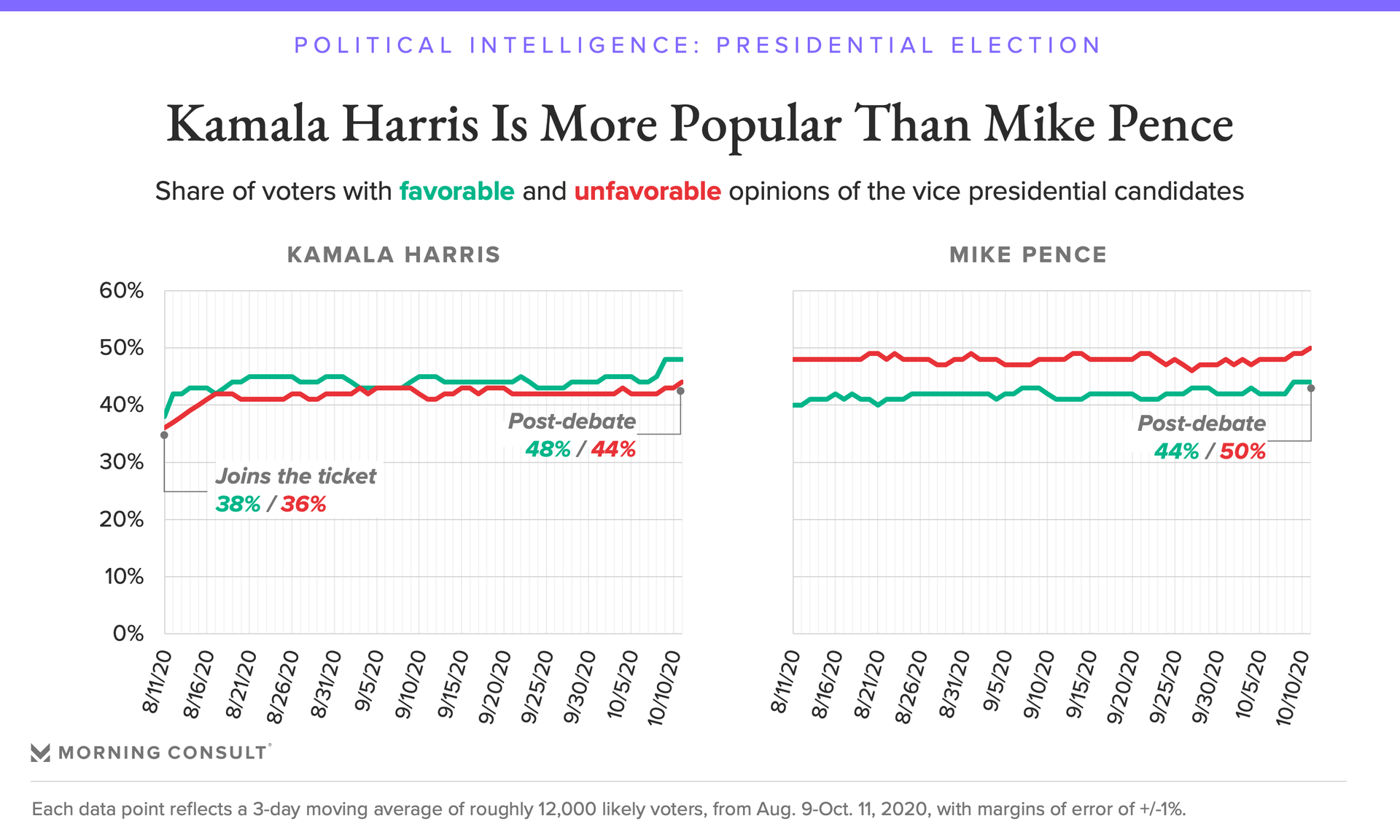 The latest Morning Consult Political Intelligence tracking found 48 percent of voters have favorable views of the California Democrat, up 4 percentage points from polling conducted before the debate, with improvements among moderates, women, suburbanites and Black Americans, 78 percent of whom now view her favorably. 
Another 44 percent of voters have unfavorable views of her, including 82 percent of Republicans and half of white voters. The overall negative figure is up 2 points from the pre-debate polling. The pre- and post-debate tracking was conducted among more than 10,000 likely voters nationwide, with 1-point margins of error.
Harris and Biden, who is viewed favorably by 52 percent of likely voters, are both more popular than their Republican counterparts. 
When it comes to the president, 56 percent have unfavorable views and 43 percent have favorable views. The GOP standard-bearer is less liked than his No. 2, who's viewed unfavorably by 50 percent of voters and favorably by 44 percent, a slight improvement from the pre-debate polling.
Eli Yokley is Morning Consult's U.S. politics analyst. Prior to his current role, Eli was Morning Consult's senior reporter covering U.S. politics. Eli joined Morning Consult in 2016 from Roll Call, where he reported on House and Senate campaigns after five years of covering state-level politics in the Show Me State while studying at the University of Missouri in Columbia, including contributions to The New York Times, Politico and The Daily Beast. Follow him on Twitter @eyokley. Interested in connecting with Eli to discuss his analysis or for a media engagement or speaking opportunity? Email [email protected].
We want to hear from you. Reach out to this author or your Morning Consult team with any questions or comments.
Contact Us