Biden Still Leads Among Black Voters, but His Support Is Softening
Biden dropped 8 points among the key Democratic demographic since pre-debate poll; Harris saw 7-point bump
Key Takeaways
38 percent of black Democratic primary voters say Biden is their first choice.

Harris rose 7 points among black voters to 16 percent — 5 points shy of second-place candidate Bernie Sanders.

Debate controversy has not moved Biden's favorability among the black electorate, which remains at 76 percent.
Joe Biden is still the leader in the 2020 Democratic race among black primary voters, but the former vice president has lost the ground he had gained since launching his presidential campaign in April after last month's Democratic primary debates.
The latest Morning Consult weekly tracking poll, conducted July 1-7, found Biden's first-choice support among black Democratic primary voters has dropped 8 percentage points, to 38 percent, since a poll conducted in the week before the first primary debates. Over the same period, California Sen. Kamala Harris increased her first-choice support with the key Democratic demographic by 7 points, to 16 percent, while Vermont Sen. Bernie Sanders (I) gained 4 points, to 21 percent.
The movement came as Biden's campaign reeled from the punch Harris packed against him during the June 27 Democratic debate. On stage, Harris criticized Biden's decades-old opposition to federal involvement in busing as well as comments he made at a June fundraiser about working civilly with segregationists while he was in the Senate.
Biden, who was first elected to the Senate from Delaware in 1972 and was re-elected five more times, accused Harris of a "mischaracterization of my position across the board" during the debate, but it wasn't until this past weekend — nine days later — that he expressed regret for his comments about the Senate segregationists.
"I regret it. I'm sorry for any of the pain or misconception they may have caused anybody," he said in remarks Saturday in South Carolina to applause, a day before the latest survey concluded.
In the same speech, he sought to downplay his record from his early years in the Senate and instead highlight his record serving as vice president to former President Barack Obama, the nation's first black president who remains popular with Democratic voters.
The controversy has not changed Biden's favorability among black voters, with 76 percent expressing a favorable opinion of him and 12 percent expressing an unfavorable view in the latest poll.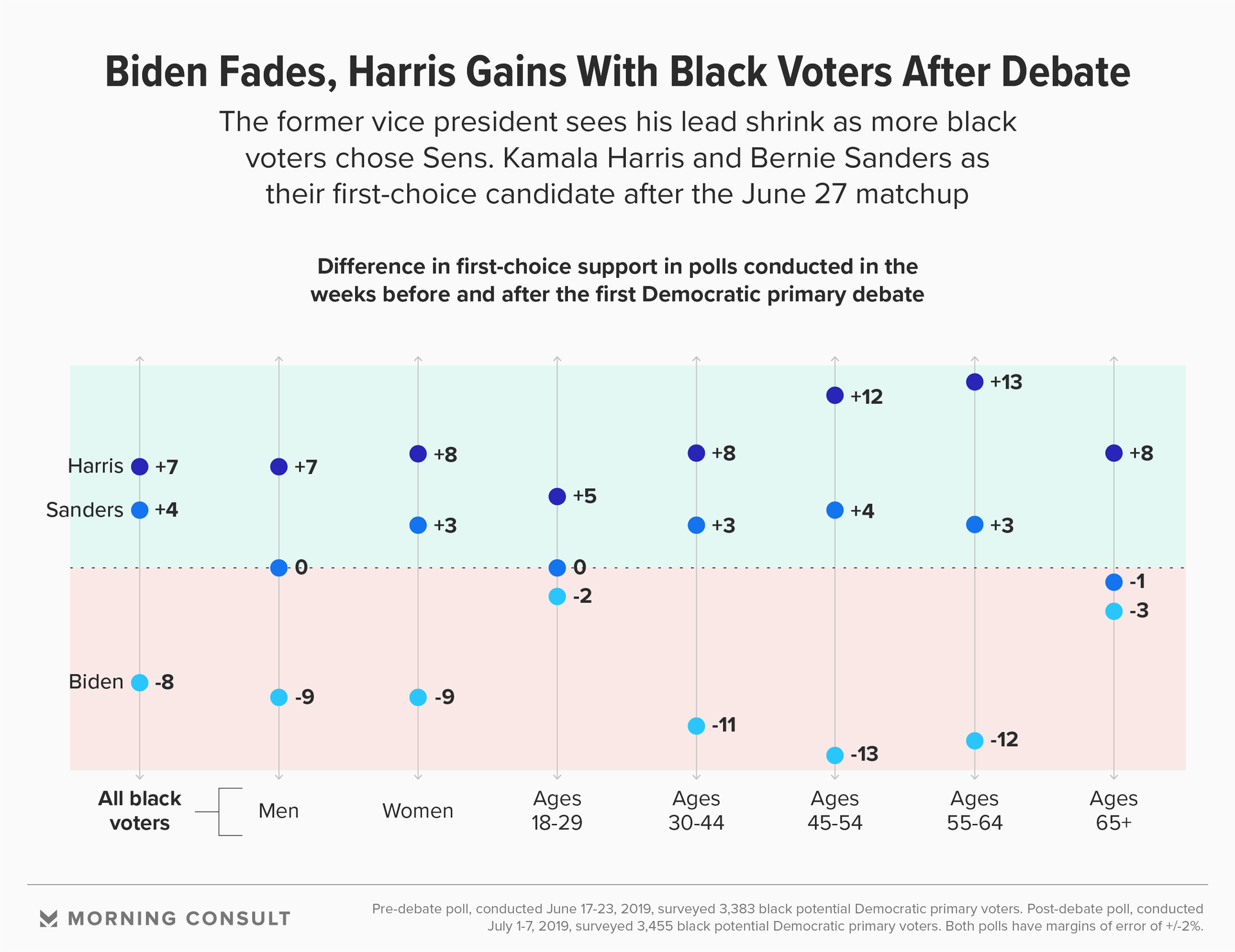 The survey found Harris' first-choice support among black voters has risen to its highest point since her post-campaign announcement surge: Sixteen percent of black Democrats call her their first-choice candidate, along with 15 percent of black men and 17 percent of black women.
Harris is in second place among black voters ages 45-54, 55-64 and 65 and older, but Biden's advantage widens as voters get older.
Among the youngest black voters, ages 18-29, Harris — with 7 percent of the first-choice vote share — is roughly tied with Massachusetts Sen. Elizabeth Warren for third place. Biden is in second place, with 26 percent of first-choice vote share, trailing Sanders by 10 points. The findings mirror the overall population of the youngest Democratic voters, among whom Sanders leads Biden by 14 points. 
Overall, Biden's first-choice vote share has fallen 7 points since before the debate, to 31 percent, while Harris has risen 8 points and Sanders has maintained his 19 percent support. 
Joanna Piacenza contributed. 
Eli Yokley is Morning Consult's U.S. politics analyst. Prior to his current role, Eli was Morning Consult's senior reporter covering U.S. politics. Eli joined Morning Consult in 2016 from Roll Call, where he reported on House and Senate campaigns after five years of covering state-level politics in the Show Me State while studying at the University of Missouri in Columbia, including contributions to The New York Times, Politico and The Daily Beast. Follow him on Twitter @eyokley. Interested in connecting with Eli to discuss his analysis or for a media engagement or speaking opportunity? Email [email protected].
We want to hear from you. Reach out to this author or your Morning Consult team with any questions or comments.
Contact Us