Black Audiences Want Hollywood to Expand Beyond Slavery, Civil Rights Film Narratives
Experts attributed dearth of modern black storytelling to lack of diversity among Hollywood executives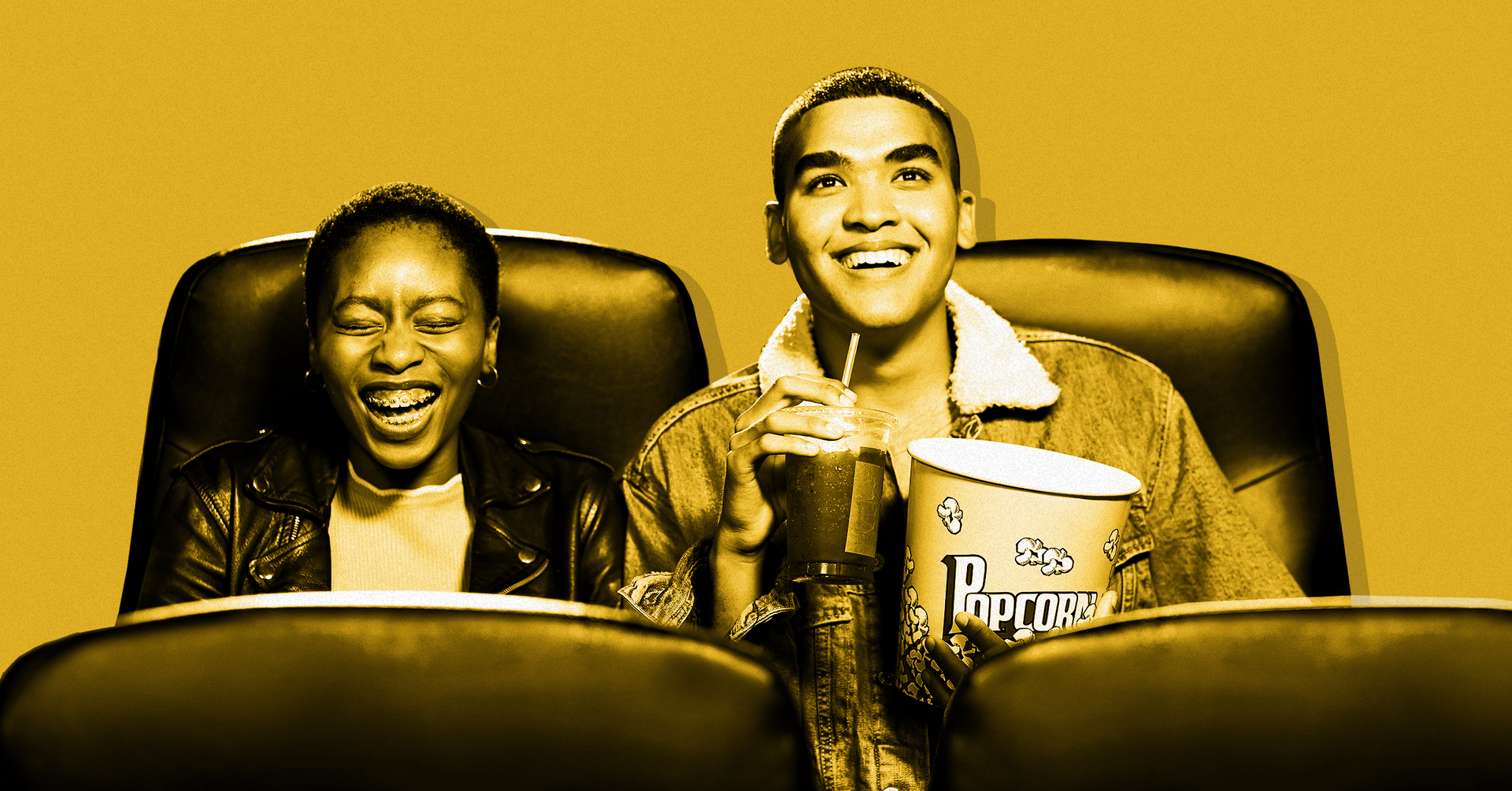 Key Takeaways
79% of Black adults said they were likely to see a film about the experience of present-day Black Americans, while 61% said they would be likely to see a film about slavery or segregation in the United States.

81% of Black adults said it was important for them personally to have more films and television shows starring Black actors, compared to 43% of white adults.

Action was the most popular film genre among Black adults, with 81% -- along with 80% of all adults -- saying they would be likely to see that type of film in theaters.
The data in this article is drawn from a poll of 2,000 Black adults, gauging attitudes on a variety of social, political and economic issues.
Black audiences want Hollywood to spotlight the everyday experiences of Black communities in movies, and they're more likely to say they'll see those films than historical narratives about slavery and segregation, according to new polling of 2,000 Black U.S. adults, as national conversations about racial inequality within different industries continue.
The June 18-26 Morning Consult poll was conducted less than a month after the May 25 police killing of George Floyd reinvigorated the Black Lives Matter movement, spurring global protests that have toppled Civil War monuments, renamed U.S. universities and consumer packaged goods and pushed federal, state and local authorities to remove Confederate flags from their government grounds. 
"The current historic moment has put everyone on notice that business as usual is no longer acceptable," said Darnell Hunt, director of UCLA's Ralph J. Bunche Center for African American Studies. "Black people, people of color, from every corner of the country are putting demands on the system that haven't been placed quite as vocally since probably the 1960s." 
In Hollywood, the discussion has turned to representation — including the production of films that Black adults want to see. Many studios assume, experts said, that Black audiences prioritize movies about slavery or the civil rights movement. But the new survey shows that studios should advance projects about present-day Black life to draw more viewers.
That's not to say Black adults don't want to see historical films: While 79 percent said they would be likely to see a film about present-day experiences, 61 percent said the same of period pieces.
These attitudes are reflected in box office receipts. When looking at films released within the past five years with a Black lead actor that grossed more than $5 million domestically, four of the five highest-grossing films have represented modern American (or Wakandan) Black communities: 2018's "Black Panther" ($700 million), 2017's "Get Out" ($176 million), 2019's "Us" ($175 million) and 2015's "Straight Outta Compton" ($161 million), according to data from Comscore Inc. Films such as 2016's "Hidden Figures," 2018's "BlacKkKlansman" and 2019's "Harriet" brought in $170 million, $49 million and $43 million stateside, respectively.
Jaia Thomas, an entertainment attorney and the founder of Diverse Representation, an organization that provides a database of Black agents, attorneys, managers and publicists working in the sports and entertainment industry, said that many slavery and civil rights films are marketed for the Black community, a move that Hunt attributed to a largely white slate of executives who fail to consider the desires of the supposed target audience.
Slavery and civil rights stories are also the stories that white audiences think of when thinking of Black individuals, Hunt said.
But data shows it pays to listen to what Black audiences want. 
According to the Hollywood Diversity Report, which Hunt co-authors, minority audiences accounted for the majority of ticket sales for eight of the 10 highest-grossing films last year. Black audiences made up 17 percent of ticket sales for "Avengers: Endgame," last year's highest-grossing film, and also accounted for 21 percent of "Lion King" ticket sales, per the Motion Picture Association's 2019 THEME report.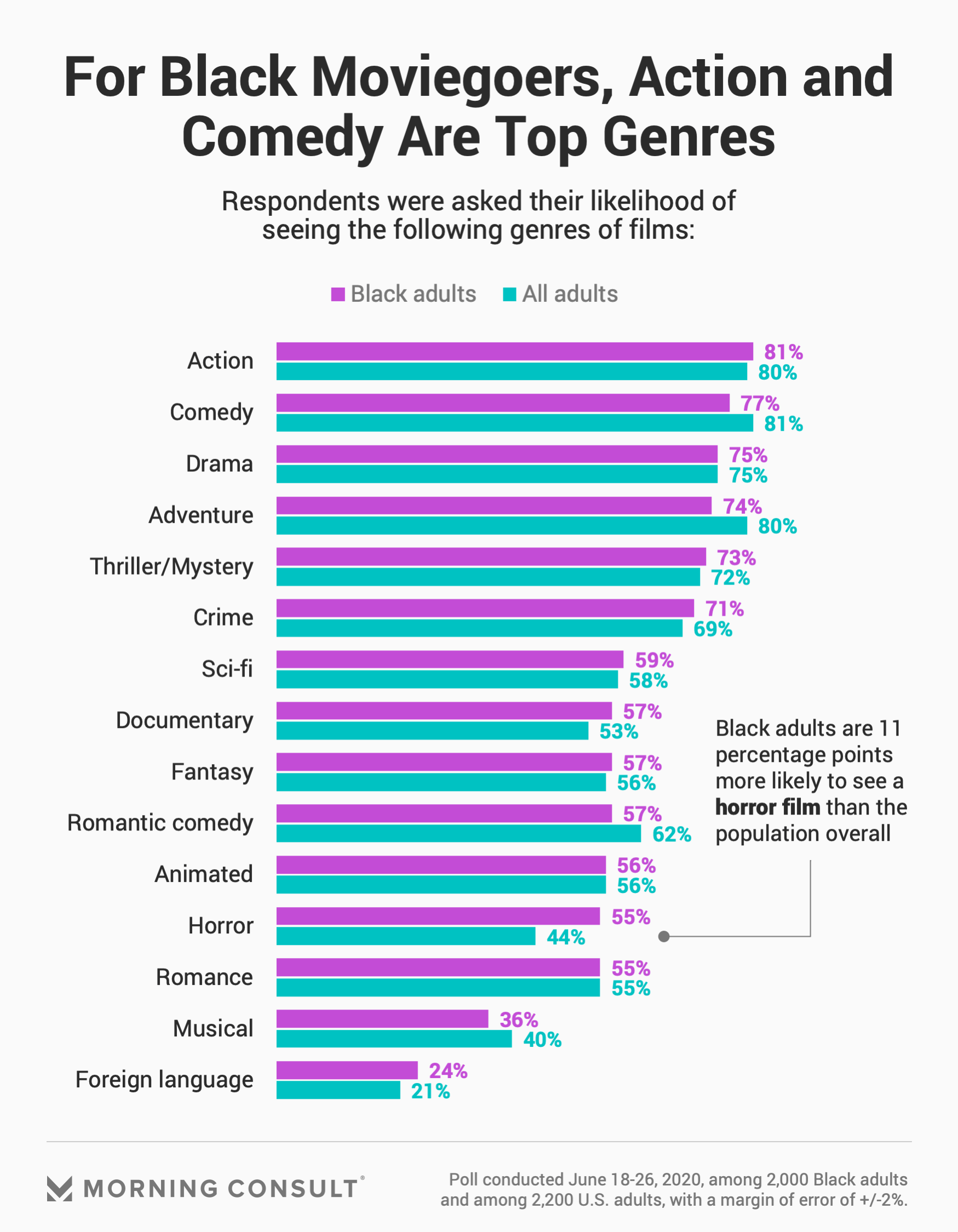 Black audiences made up 12 percent of the moviegoing population and accounted for 11 percent of movie tickets sold in 2019, the THEME report shows, roughly matching their share of the U.S. population overall. And according to the recent poll, which has a margin of error of 2 percentage points, 45 percent of those surveyed go to the movies because they want to see a specific film.
But Black moviegoers are not seeing themselves on screen as frequently as white audiences. The most recent edition of the Hollywood Diversity Report found that Black characters accounted for 15.7 percent of all film roles in 2019, while white characters made up roughly two-thirds. 
Thomas points out that over the past few years, independent titles, including 2017 Best Picture winner "Moonlight" and "The Last Black Man in San Francisco," have given Black audiences more contemporary stories about the Black experience. Roughly half of Black adults said they would be likely to see an independent film.
Experts said the dearth of Black stories on the big screen isn't for want of material, but comes from a lack of diversity in the highest echelons of Hollywood. Per the Hollywood Diversity Report, in 2019, 91 percent of film company chief executives were white, as well as 93 percent of senior executives and 86 percent of unit heads. 
"There's a disconnect happening," said J. Christopher Hamilton, an entertainment attorney and professor at the Newhouse School at Syracuse University. "From the C-suite on down, because of this lack of diversity, the lack of relationships with diverse content creators, diverse casting directors and diverse agents — you end up self-replicating everything that you're buying." 
Thomas suggested a possible solution would be to expand studios' talent pools, giving a voice to writers and content creators who currently lack representation in the industry. 
"Having some type of pipeline program to help usher in more Black executives, usher in more Black development folks who can help develop these projects and help greenlight a wide array of Black projects is really key as well," she said. 
Financial incentives could also provide motivation for executives to increase the diversity of their content, according to Hamilton. 
"What these companies need to do is task their executives, not in empty words, but say 'Hey, bring me a romance, bring me a thriller, bring me an action-adventure created by a Black person, and by the way, your bonus is going to be tied to your delivery of this material.' Expectations and consequences are what gets you the results." 
Hunt and Hamilton are optimistic that current circumstances may spur further change in the industry, if only for optics. 
"The industry needs to decide what side of history it wants to be on," said Hunt. "And to be on the right side of history means that you have to change how you're doing business."
But Thomas is skeptical that this conversation will endure, pointing out that entertainment companies have issued statements about their commitment to diversity but done little in the way of concrete change. She predicts discussions around diversity and Black representation may last "until the end of the summer and then we'll be on to something new."
In Hamilton's mind, the key to sustaining these conversations is sustained pressure from consumers. 
"When there's no longer consistent demand and accountability put in place we're going to find ourselves back in the same situation you are today or 10 years ago," he said. 
"It's a matter of keeping the pressure on and not expecting organizations to do this just because it's the right thing to do, but making it necessary for them to do business with us," Hamilton added. "They have to reflect the values and the color spectrum of the consumers that support these organizations."
Sarah Shevenock previously worked at Morning Consult as a reporter covering the business of entertainment.
We want to hear from you. Reach out to this author or your Morning Consult team with any questions or comments.
Contact Us