For Brands Responding to Political Violence, Skip the Snark and Go Formal on Social Media
76% of Americans said screenshots of full-sentence statements are appropriate for brands to tweet
Key Takeaways
64% of consumers said a more formal, stylized tweet from a brand would make them view it more favorably.
After the riot at the U.S. Capitol earlier this month came a flood of tweets, posts and statements from some of the country's biggest brands, condemning the violence and calling for peace. While brands risk alienation by staying silent on political and social justice issues, new polling from Morning Consult shows what kind of statements would garner the best reaction from the public.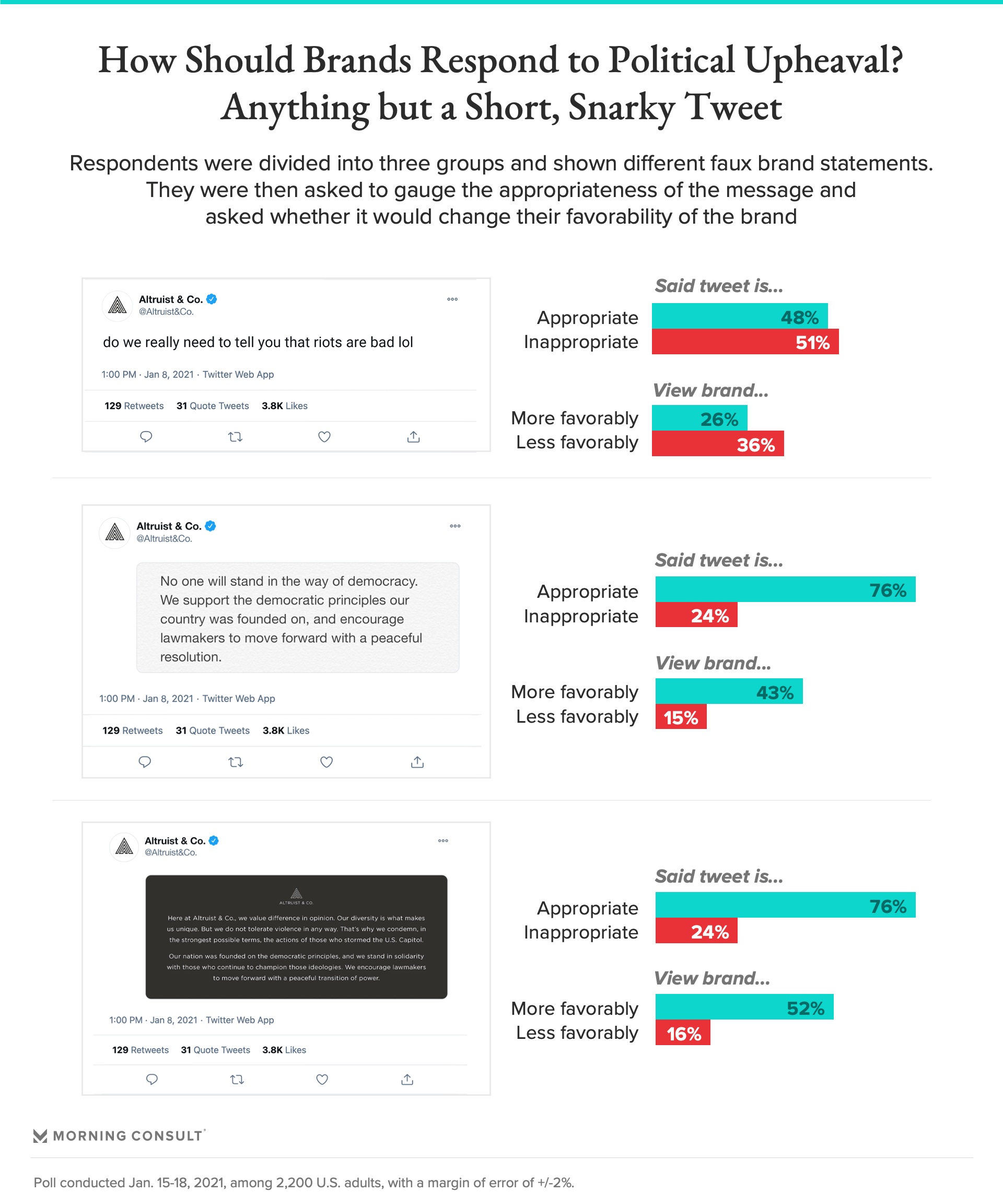 Morning Consult showed poll respondents three fake brand statements, ranging in formality and loosely worded to reference the country's ongoing political chaos: one lowercase tweet with no punctuation and a hint of snark; one tweet featuring a screenshot of a short message written in Apple Inc.'s Notes application; and one tweet including a more stylized, formal brand statement.
More consumers reacted positively to the more stylized, formal faux brand statement, with 76 percent of respondents saying it was appropriate and 64 percent saying they would view the brand more favorably. 
Brands in a pinch to release a statement might turn to the Notes app. A fake statement formatted in that application produced a nearly identical reaction from poll respondents in terms of appropriateness and favorability.
But for casual tweets, such as one posted and deleted by Kraft Heinz Co. frozen snack brand Bagel Bites, Americans are evenly divided on whether they're appropriate or inappropriate, proving them risky for brands that appeal to large audiences. 
More consumers also viewed this fictional brand unfavorably after seeing the more casual tweet: 36 percent perceived it less favorably, compared to 26 percent who said more.
The survey was conducted Jan. 15-18 among 2,200 U.S. adults. Respondents were not shown more than one faux brand statement when asked about appropriateness and favorability. 
Bagel Bites was quick to tweet in response to the Jan. 6 attack meant to stop the certification of the Electoral College votes. The brand's tweet seemed to denounce the riot, but was unspecific and casual, written in all lowercase letters and without punctuation ("all this for someone that hates them").
While some Twitter users applauded the post, the company deleted it and said in a statement to PRWeek that, "As a brand, we should not have entered this conversation."
Bagel Bites was far from the only brand to do so, but it did perhaps take the most informal approach, a move that Morning Consult polling indicates is likely to rub many consumers the wrong way.
Other brands, such as Coca-Cola Co. and Comcast Corp., took to Twitter to condemn the violence in the Capitol, but instead used the platform to post images of longer explanations as opposed to 280-character takes.
Alyssa Meyers previously worked at Morning Consult as a reporter covering brands and marketing.
We want to hear from you. Reach out to this author or your Morning Consult team with any questions or comments.
Contact Us