Exclusive: As Demand for Virtual Events Grows, an Industry Leader Is Teaming With a Premium Video Provider to Enhance Offerings
Toldright and Brandlive also debut new logo for partnership
Key Takeaways
Brandlive developed a video production platform used by President Joe Biden's campaign and was responsible for taking Food & Wine Magazine's annual celebrity fundraiser virtual.

Toldright connects clients such as ESPN, Twitter Inc. and Twitch with 1,700 experienced content creators, who help put together their videos and live events.
Toldright and Brandlive, two companies in the video and virtual event production space, are forming a multiyear partnership aimed at helping brands create and share high-quality video content in an increasingly virtual world.
News of the pairing, shared exclusively with Morning Consult, reflects the steadily growing demand for live and pre-recorded video content as the pandemic keeps companies disconnected from consumers, clients and their own employees.
As the spread of the COVID-19 delta variant continues to worry consumers and force the delay of return-to-office plans, Toldright and Brandlive solidified their working relationship to give clients a one-stop shop for their video needs, from internal events to consumer-facing product demos, executives said.
"We realized the world is trapped in Zoom, and more important messages needed a differentiated format in order to have impact in a hybrid and a virtual world," said Thomas Iwasaki, chief product officer of Brandlive.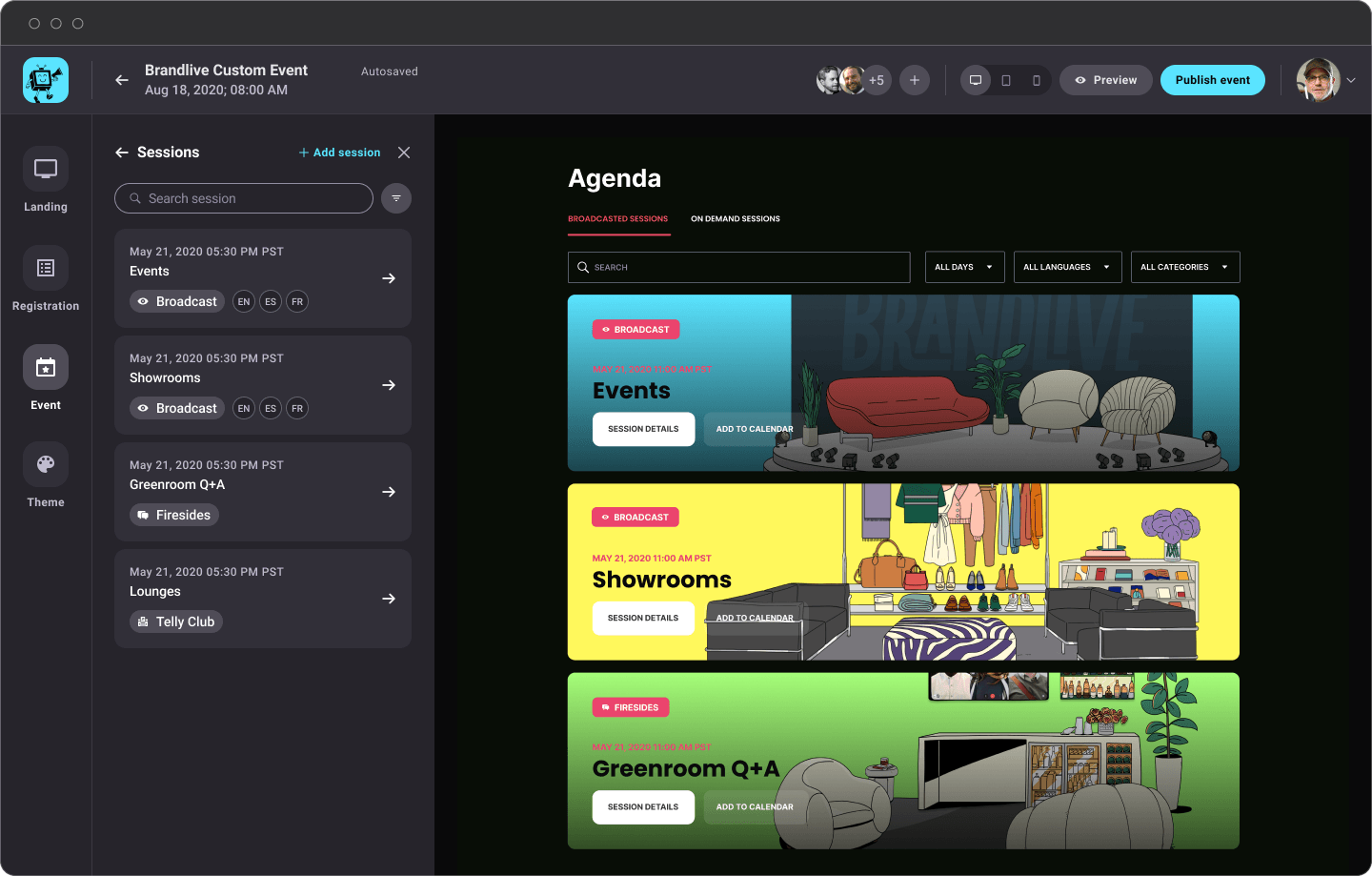 Thanks to the pandemic, the virtual events space is surging and expected to generate about $701 billion by 2028, up from about $58 billion in 2019, according to Allied Market Research. And with people around the world tied to their screens, keeping the attention of young consumers in particular has proven challenging. 
The first project to come of the partnership was an internal VIP event this summer at a client company, which Toldright and Brandlive declined to name, that featured Olympian Michael Phelps.
Brandlive, which enables clients to create and share broadcast-style content through its product suite, provides the platform for developing and sharing such content. Toldright, a technology company that connects clients such as ESPN, Twitter Inc. and Twitch with a slate of 1,700 experienced content creators -- and which recently closed a multimillion-dollar Series A funding round -- assists with on-site production and creative services, thus expanding upon Brandlive's software offerings. 
When the pandemic hit the U.S. in March 2020, Brandlive received an influx of client requests to rework in-person events into virtual gatherings, Iwasaki said. It led to the creation of the company's video production platform, Greenroom.
The tool landed Brandlive on Fast Company's list of top 10 most innovative live events companies of 2021, and was used by President Joe Biden's campaign, as well as agencies and brands including Adidas AG, Meredith Corp. and Alibaba Group Holding Ltd.
For Meredith, Brandlive helped Food & Wine Magazine pivot its annual celebrity fundraiser -- which featured Martha Stewart and raised over $30,000 for nonprofits this year -- from an in-person event to a virtual one. It also worked with UNICEF on a December fundraiser that brought in $4.7 million and served 1,300 paid guests.
But Brandlive's clients often need additional assistance beyond software. That's where Toldright comes in. The two companies are formalizing their partnership after working together for dozens of client events and will now share revenue from collaborations, said Jason Bernstein, Toldright's senior vice president of content. 
The companies, which declined to share financial details of the agreement or its exact length, also created a new logo featuring both brand names to use for joint work.
For both parties, interest in content designed for internal use (like company-wide meetings) increased as executives started to see hybrid work as more than a temporary solution to office closures. 
"What we've heard from clients, particularly big brands, is that if there's been an event for senior leaders that was wholly in person, there's a need for them to cascade that information down after," said Max Heineman, chief executive and co-founder of Toldright. "That's a trend I think a lot of HR departments are going to pick up on."
While services for big events like galas can cost clients upwards of $150,000, Heineman said, Toldright also offers assistance with smaller productions for closer to $5,000.
Well-presented communication to stakeholders will continue to be important to executives, Iwasaki said, which is why they're investing in platforms and strategies that will be "durable for the long haul."
"Smart companies have realized that their employee base is their most important audience, and in a hybrid or remote format, you can't take that audience's attention for granted," Iwasaki said. "Audiences are distributed at this point, and they're going to stay that way."
Alyssa Meyers previously worked at Morning Consult as a reporter covering brands and marketing.
We want to hear from you. Reach out to this author or your Morning Consult team with any questions or comments.
Contact Us