Brands Are Getting Involved in the Black Lives Matter Movement. Here's How Black Consumers Want to See Them Participate
20% of Black adults said they want companies to address racism internally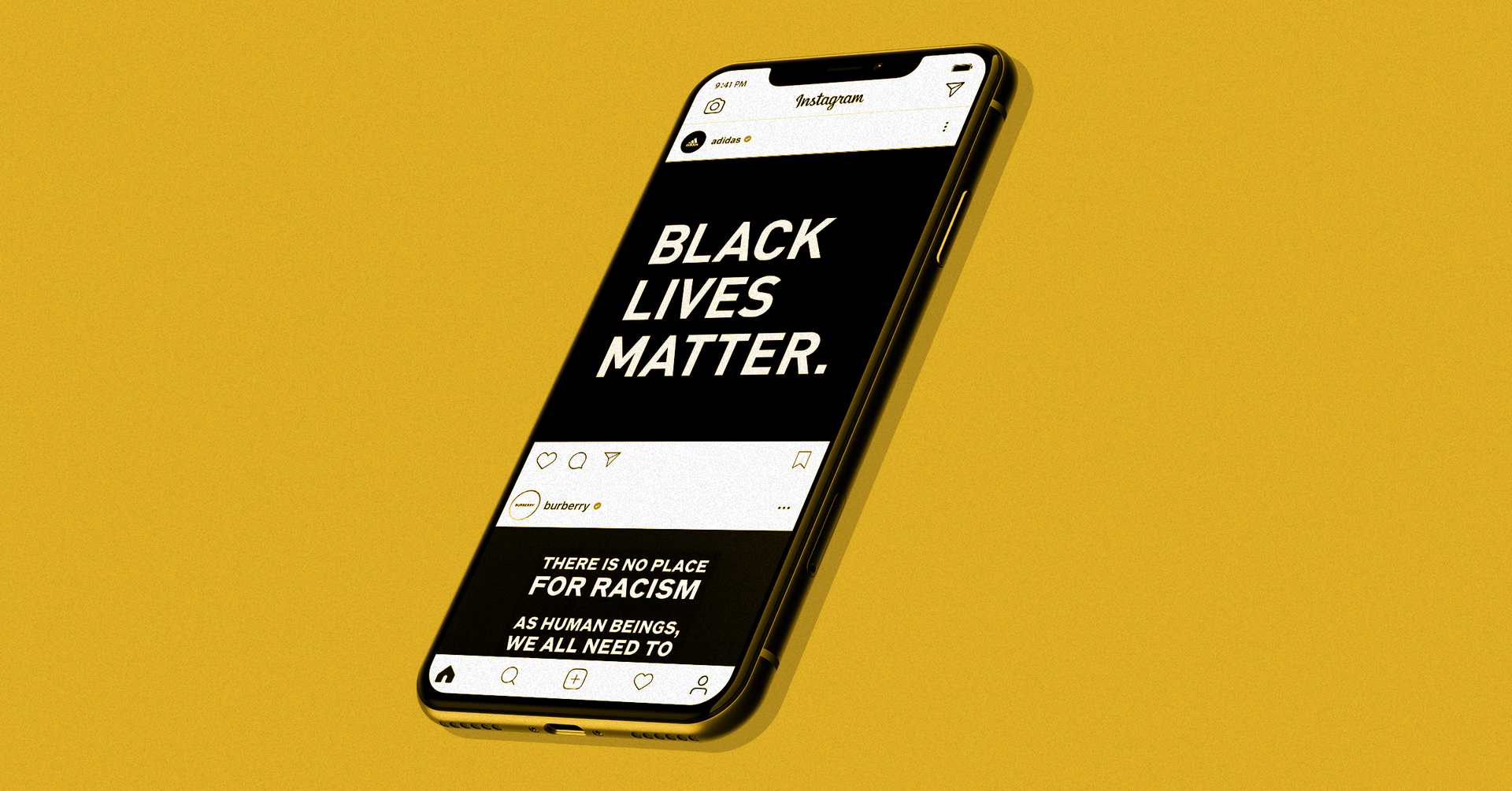 Key Takeaways
53% of Black adults in Generation Z said they think brands are supporting the movement in order to retain customers.

66% of Black baby boomers agreed with that statement.

When asked what companies can do to fight racism, responses varied, but 20 percent of Black consumers suggested addressing the issue internally.
Over the weekend of June 5, as Black Lives Matter protests broke out across the country, social media feeds began filling with identical images: black boxes, white text and corporate logos. Brands, nearly two weeks after the killing of George Floyd in police custody, were professing their support for the movement to their online followers.
Critics called some of the statements opportunistic. And new Morning Consult polling finds that Black Americans remain skeptical as to whether brands claiming to support the Black Lives Matter movement and other anti-racism causes are sincere in their efforts, and would rather see companies address racism within their ranks, as opposed to posting about it on social media.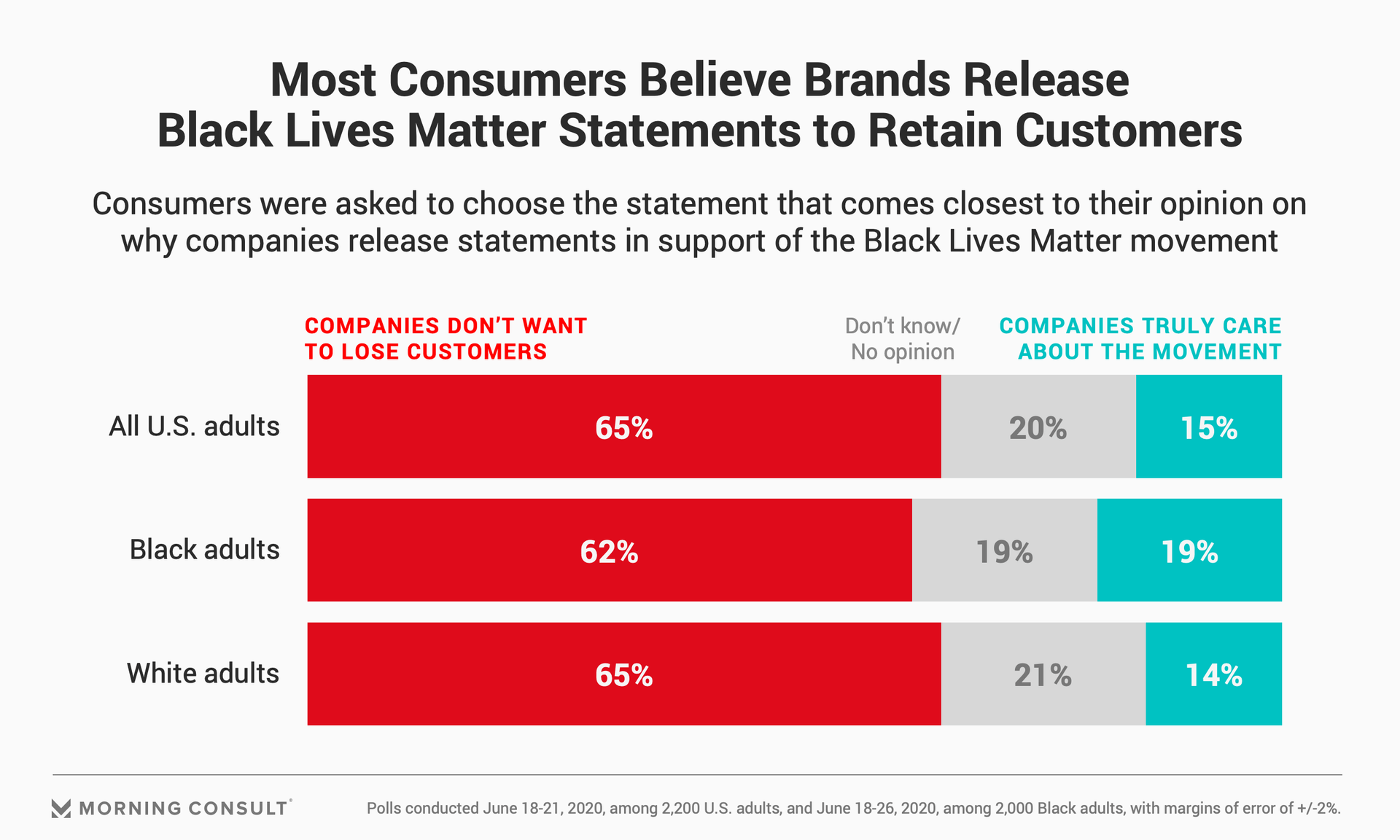 But the fear of losing customers for not speaking out is a real possibility: Previous Morning Consult polling found that a majority of adults, regardless of race and ethnicity, said that they would view a company in a less favorable light if it remained silent. 
"One of the best ways to show the authenticity to the consumer is to tie the words with the actions," said Desiree Bell, a brand strategist who runs the public affairs firm DPBell & Associates and serves as an executive consultant for digital marketing company H Code. "Silence is not an option. Silence knows complicity."
Bell said in order to back up their public statements, companies should take steps internally such as analyzing their diversity numbers and making that information publicly accessible, even if diversity levels are not where they should be. 
With so many expressing skepticism of corporate intentions, Morning Consult asked Black adults to write, in their own words, one thing companies can do to fight racial inequality. Respondents were given unlimited space to write what they wanted, and new machine-learning technology from Morning Consult analyzed and visualized the open-ended responses.
When 2,000 Black adults were asked in a June 18-26 survey to choose whether they think companies are addressing the Black Lives Matter movement because they are afraid of losing customers or because they truly care about the mission, the majority (62 percent) said the former. 
Majorities of all adults, including white respondents, also sided with the more opportunistic view, according to separate Morning Consult polling conducted June 18-21 among 2,200 U.S. adults. 
The youngest generation of Black Americans is less likely to be suspicious of corporations' intentions than the oldest: 53 percent of Generation Z said they think brands are motivated to speak out about Black Lives Matter to support their bottom lines, compared with 66 percent of baby boomers.
Black adults with higher education and income also tended to be more wary of companies' statements on racial issues. (The survey of Black adults, all adults and the subsample of white adults all carry a margin of error of 2 percentage points.)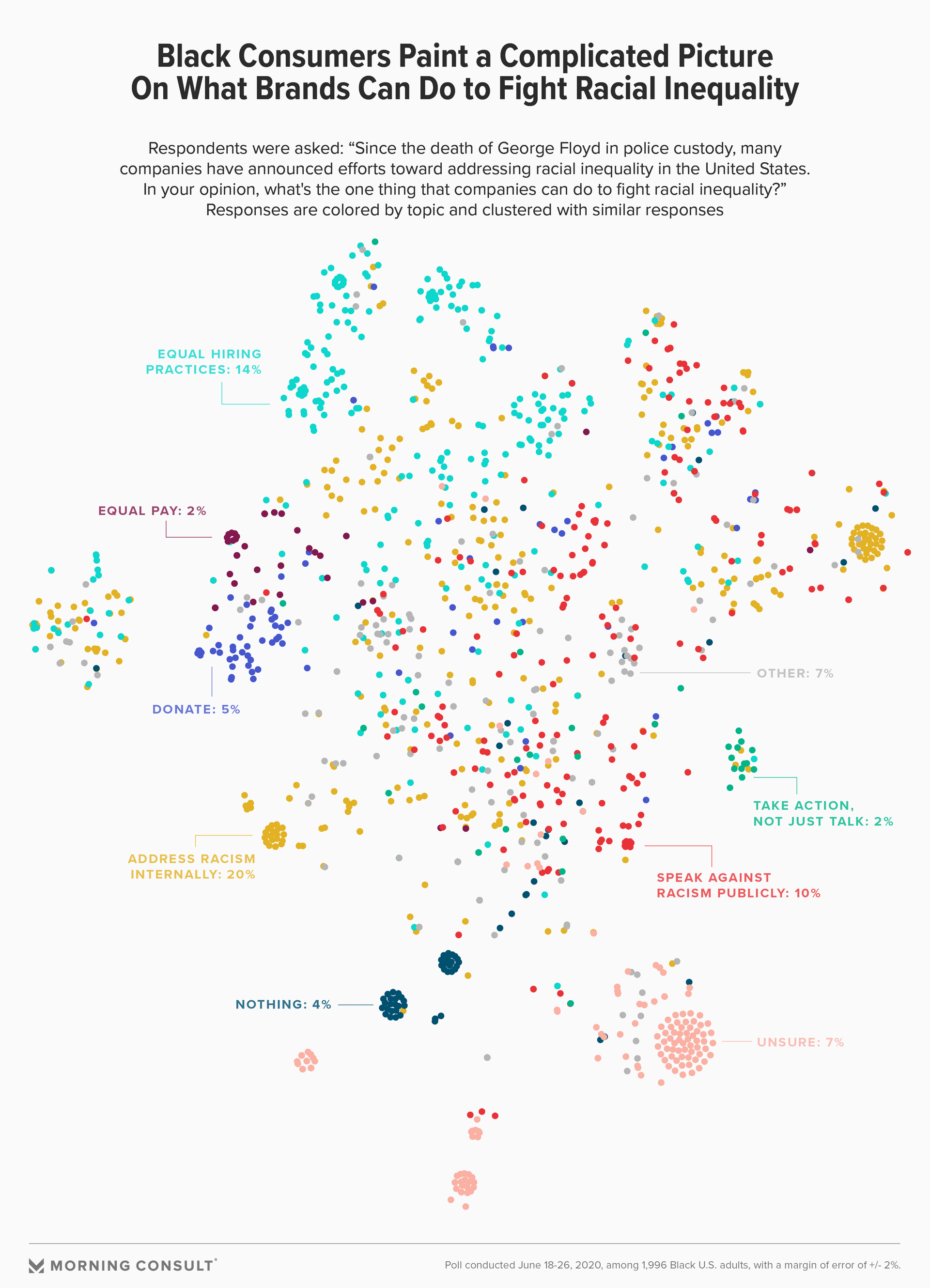 The results revealed a potential hurdle for brands: While there was no obvious pattern, the largest category, encompassing 20 percent of responses, urged companies to veer away from the kinds of social media posts that have defined corporate activism over the past decade. Fourteen percent suggested equal hiring practices.
Black adults of every generation were more likely to write something about addressing racism internally than any other topic, but some small differences emerged. Baby boomers and members of Gen X are most enthusiastic about suggesting ideas that address racism internally, while Gen Z is the cohort most likely to say donating to charitable causes would suffice.
The youngest generation is also the most likely to say they're not sure brands can do anything to show support for racial inequality causes.
Methodology: The analysis in this article leverages custom-built Natural Language Processing (NLP) tools that Morning Consult data scientists built to analyze, visualize and distill meaning from open-ended survey responses. The approach leverages machine-learning models that "understand" the semantic and syntactic meaning of words, are aware of grammatical structures in sentences and are mindful of most misspellings. The tool's design includes a "human-in-the-loop" element that allows Morning Consult journalists and data scientists to combine their domain expertise with recommendations from NLP models. When the analysis is complete, the tool maps survey respondents to a number of response categories, which compose the basis for the analysis in this article.
Data scientists Haley Sorensen and Sam Goodgame assisted with the story's analysis.
Correction: Due to an editing error, a previous version of a chart in this story misstated when responses were gathered.
Alyssa Meyers previously worked at Morning Consult as a reporter covering brands and marketing.
We want to hear from you. Reach out to this author or your Morning Consult team with any questions or comments.
Contact Us