California's EV Plan Would Lower State's Total Transportation Emissions by 16% in Next Decade, Analysis Finds
But electricity demand expected to rise 9.6%, increasing natural gas use, limiting state's total emissions reduction to 2% by 2030
With California Gov. Gavin Newsom's (D) announcement Wednesday that the state will ban the sales of new gasoline-powered cars by 2035, significant reductions are now expected in its transportation-related greenhouse gas emissions, which make up roughly 40 percent of the state's total. The question, however, is by just how much those emissions levels will fall.
New modeling provided to Morning Consult from the nonpartisan energy policy firm Energy Innovation has quantified precisely what California can expect those reductions to be, showing cumulative emissions dropping by 70 million metric tons of carbon dioxide equivalent. This represents a 16 percent decrease for the state's transportation sector, as compared to business as usual, or roughly 18.1 MMT CO2e.
However, when factoring in increases in electricity demand and emissions from the grid, that decrease shrinks by more than half, potentially limiting the overall impact of the policy.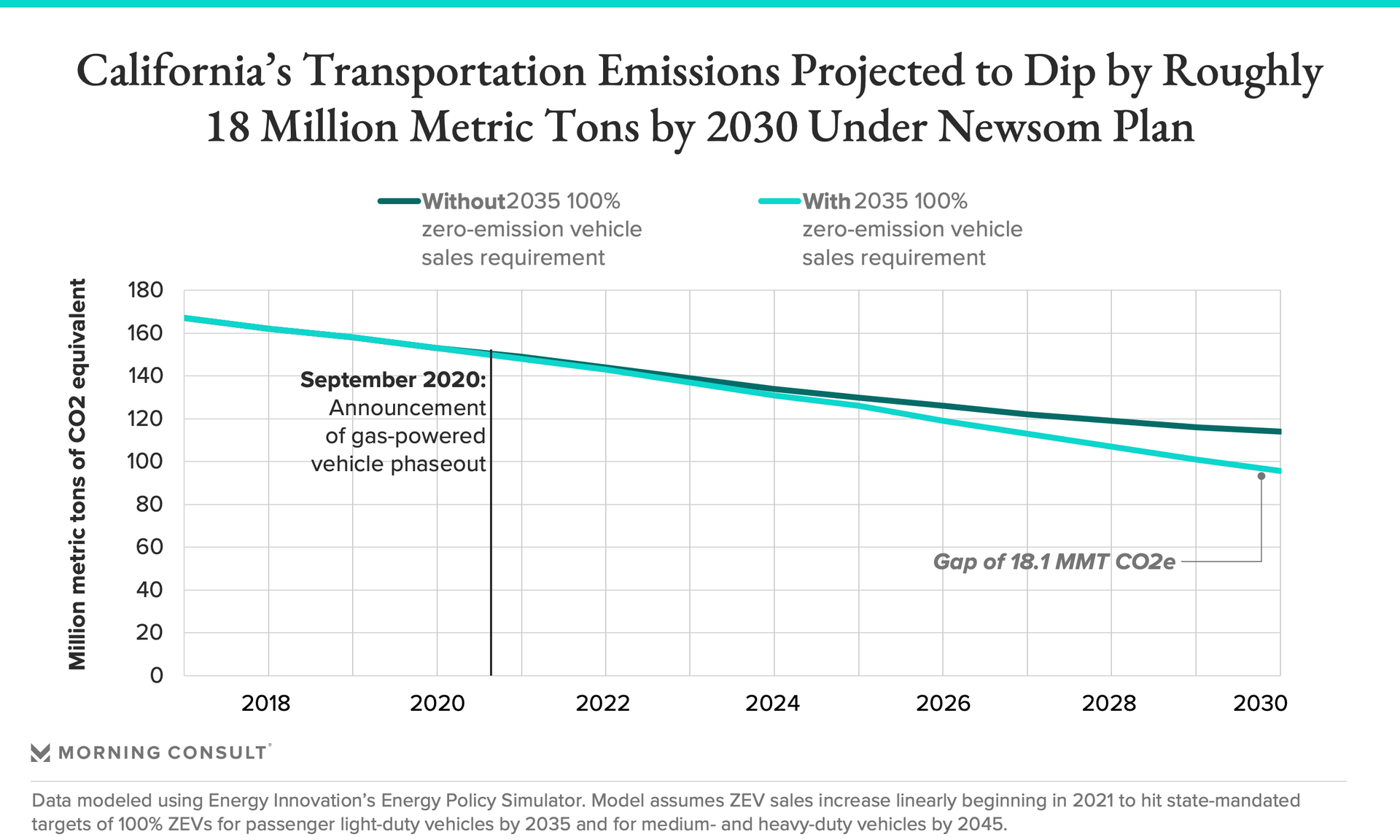 The modeling, which was performed by senior policy analyst Megan Mahajan, assumes that sales of zero-emissions vehicles will increase linearly beginning in 2021 in order to hit the state-mandated targets of 100 percent ZEVs for passenger light-duty vehicles by 2035 and for medium- and heavy-duty vehicles by 2045. By 2030, she predicts, roughly 9 million battery-powered vehicles will need to hit California's roads to put the state on its path to an entirely ZEV fleet by 2050. 
(Energy Innovation's policy simulator for California only runs through 2030, but Mahajan's research accounted for the predicted sales of electric vehicles ramping up to 2035 and to 2045, depending on the vehicle type.)
While Newsom's plan has received plaudits from progressives and climate activists, it has also seen pushback from those worried about the pressure of widespread EV use on the electricity grid. And indeed, Energy Innovation predicts a steady increase of electricity demand in California, up to 9.6 percent in 2030. 
While this increased demand will in part be met by the wind and solar resources that are increasingly integrated into California's grids, the research also found that it results in an uptick in natural gas generation to meet the added demand. Accordingly, the projected reductions are mitigated by the increase in electricity use as a consequence of the widespread use of ZEVs.  
As compared with a business-as-usual scenario, overall grid emissions of CO2e under Newsom's plan are expected to increase by 10 MMT, to 56.55 MMT CO2e. This leaves emissions reductions hovering around 8 MMT CO2e, or a 2 percent reduction in the state's total emissions by 2030.
Amanda Myers, a policy analyst with Energy Innovation, said the adoption of these policies "would yield even bigger emissions reduction benefits from that point on given the climb in EV adoption after 2030."  
California's economy-wide greenhouse gas emissions in 2017 hovered around 425 MMT CO2e, with its passenger vehicle emissions making up 120 MMT CO2e of that total.  
Myers said of the projected increase in demand accompanying drops in transportation emissions: "This needs to be taken into account in the California Public Utility Commission's Integrated Resource Planning proceeding, which has emissions targets and projected electricity demand that need to be adjusted based on this new policy."
Furthermore, she highlighted the fact that the state currently has a dearth of EV infrastructure needed to support such a wide-scale transportation transition, especially in lower-income areas and communities with multi-unit buildings. 
Newsom's office did not respond to a request for comment by the time of publication.
Lisa Martine Jenkins previously worked at Morning Consult as a senior reporter covering energy and climate change.
We want to hear from you. Reach out to this author or your Morning Consult team with any questions or comments.
Contact Us